Mushroom Ragout over Creamy Polenta #SundaySupper
A recipe bucket list, hmmmm this was a tough one for me. I have made so many things already I wasn't sure what to make but I started thinking and remembered a conversation that I had with a friend of mine Randy, about a polenta that he had while out at a restaurant. A mushroom polenta. When he mentioned that I thought I would have to try a Mushroom Ragout over Creamy Polenta.
I had never made a creamy polenta, years ago I had made one that you slice but never a creamy one. I deposited that conversation in the back of my mind to try someday. Well, here is the day!!! I was also recently flipping through a my Fine Cooking magazine and came across this recipe. Exactly what I wanted to try so off I went to make this delicious dish.
Wow was it fantastic. Another recipe for the vegetarian archives. I recently have been upping the vegetarian meals from one to two a week and if they are super delicious like this one I am not hearing complaints from my family as to where the meat is?
Try this around your table, it would make a great side too!! Happy #SundaySupper to everyone!!!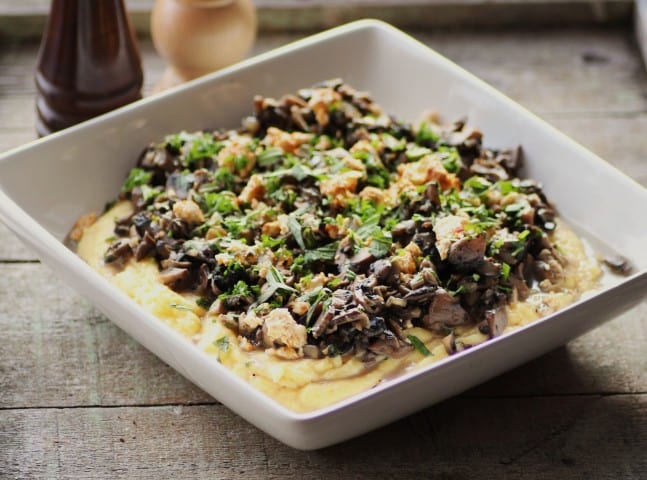 The Recipe
Mushroom Ragout over Creamy Polenta for New Year's Bucket List #SundaySupper
A fabulous vegetarian entree that is hearty and delicious!
Ingredients
½ oz. dried mixed mushrooms or porcini
3 Tbsp. butter
2 Tbsp. olive oil
3 shallots, minced
Kosher salt
2 lb. mixed fresh mushrooms (shitake, portabello, button, cremini, oyster etc.), coarsely chopped
½ cup dry vermouth
2 Tbsp. heavy cream
¼ cup chopped fresh mixed herbs (parsley, tarragon, basil)
Freshly ground black pepper
1⅛ cup cornmeal
¼ cup mascarpone
½ cup finely grated Parmigiano Reggiano
⅓ cup crumbled goat cheese (the one I use had a dusting of spices)
Instructions
In a small bowl with 1½ cups warm water soak the dried mushrooms for 10 min. Remove the mushrooms reserving the liquid and coarsely chop. Pour the liquid through a small sieve reserving one cup. Set both aside.
Meanwhile in a large pot add the butter and olive oil and heat over medium heat, when the butter is melted add the shallots and saute until tender, about 4 min.
Add the fresh mushrooms and 1 tsp. salt. Cook until they start to soften, 6 min. Add the dried mushrooms and continue cooking for about 4 min. more or until the mushrooms have released their liquid and are very tender.
Add the vermouth and cook until it is evaporated about 2 min. more. Add the reserved mushroom water from the dried mushrooms and reduce to ⅓ cup. Stir in the heavy cream and 3 Tbsp. of the herbs. Adjust seasoning with salt and pepper. Keep warm.
In a medium pot bring 4½ cups of water to a boil and add cornmeal, 1 tsp. salt and stir. Cover and cook for 5 min. stirring occasionally. Whisk if needed to make it smooth. Whisk in the remaining 2 Tbsp. butter and the mascarpone. Add the parmesan and stir with a spoon.
Serve the polenta with the mushrooms on top, sprinkled with the remaining herbs and the goat cheese.
Adapted from Fine Cooking Magazine
This week's Sunday Supper is all about trying something new, something that's been on your bucket list but you have yet to tackle. We have had so much fun with this and can't wait to share these recipes with you!
Join us this Sunday at 7 pm Eastern Time on Twitter as we share our bucket list recipes during our #SundaySupper chat.
The variety of recipes this week is incredible. Many different cuisines are featured. There is something for everyone:
Sunday Supper Specialty Breads:
Sunday Supper Main Dishes:
Sunday Supper Desserts and Snacks:
Are you ready to tackle your culinary bucket list? I'm one down and lots to go. Perhaps my next one will be a recipe in today's event. They all look so good. Choices, choices…
Join the #SundaySupper conversation on twitter each Sunday. We tweet throughout the day and share recipes from all over the world. Our weekly chat starts at 7:00 pm ET and you do not want to miss out on the fun. Follow the #SundaySupper hashtag and remember to include it in your tweets to join in the chat. Check out our #SundaySupper Pinterest board for more fabulous recipes and food photos.
Would you like to join the Sunday Supper Movement? It's easy. You can sign up by clicking here → Sunday Supper Movement.