Mini Orange Bundts with a Grand Marnier Glaze for Tangy January #BundtaMonth
I just joined this fun group and will bring you this Mini Orange Bundts with a Grand Marnier Glaze for Tangy January #BundtaMonth. Some familiar faces, some new, all giving you amazing bundt cakes month after month.
January is called Tangy January and the theme is citrus. I hummed and hawed about what to make but then just before Christmas I found a little present for myself and nabbed this gorgeous bundt cake pan that makes little one. I made the first batch but filled them too much so had to make a second one.
Special Occasions
Not that Amber was upset as she loved them and we also served them for New Year's Eve. A delightful orange flavor that came shining through from a bunch of different orange sources. Orange juice, orange extract, orange zest, and orange yogurt. You would think it would be too much flavor but it was just right.
Then I added a little Grand Marnier glaze and that just finished it off perfectly. I am so happy to share this with you today being my very first bundt cake in a very long time. Enjoy, it is a perfect cake for any time of the year!!!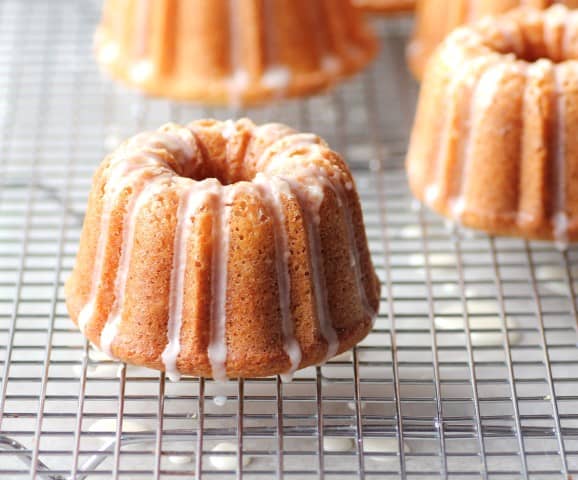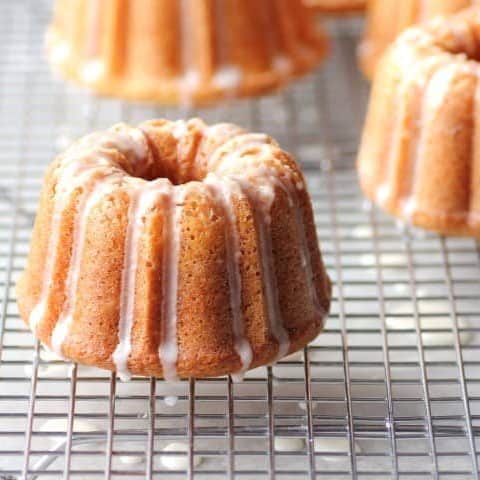 Mini Orange Bundts with a Grand Marnier Glaze for Tangy January #BundtaMonth
Yield: 6 mini bundt cakes
Prep Time: 20 minutes
Cook Time: 25 minutes
Total Time: 45 minutes
A delicious moist mini bundt cake with the gorgeous flavor of orange.
Ingredients
Cakes
1/2 cup butter, softened
1 1/4 cup sugar
2 eggs
1 tsp. orange extract
2 Tbsp. orange juice
Zest of an orange
2 cups cake flour
1 tsp. baking soda
1/2 tsp. salt
170 gm. container orange yogurt or a scant 1/2 cup
1/2 cup buttermilk
Glaze
1/3 cup icing sugar
1 Tbsp. Grand Marnier
2-3 drops orange extract
Water for desired consistency
Instructions
Preheat oven to 350F. Grease and flour a six-cup mini bundt pan.
In a large bowl of a standup mixer with a paddle attachment blend butter and sugar together for 2 min. on medium speed until light and fluffy.
Add eggs, orange extract, orange juice, and orange zest and blend. Mix flour with the salt and baking soda and add to the mixture along with the yogurt and buttermilk.
Beat for 2 min. scraping down the bowl often.
Divide the batter among the cavities to 3/4 full. I also made four cupcakes for the size of the pan I had. Don't overfill as you won't have a pretty result with them oozing over the edge.
Bake for 20-25min. Cool in pan for 10 min. Invert onto rack and cool completely. Prepare glaze and drizzle over each cake. Serve at once or store them up to two days.
Here is the line up of all the other wonderful Bundts from this month.
Almond Clementine Bundt Cake
by Carrie from
Poet In The Pantry
Citrus Bundt Cake with Sparkling Wine and Fiori di Sicilia
by Laura from
The Spiced Life
Citrus Cocktail Mini Bundt Cakes
by Renee from
Magnolia Days
Citrus Lust Mini Bundt Cakes with Lemon Curd
by Stacy from
Food Lust People Love
Glazed Lemon Bundt Cake
by Alice from
Hip Foodie Mom
Grapefruit Poppyseed Bundt Cake
by Deb from
Knitstamatic
Lemon Bundt with Lemon Curd
by Holly from
A Baker's House
Mini
Orange Bundts with a Grand Marnier Glaze
by Tara from
Noshing With The Nolands
Orange Chocolate Marble Bundt
by Paula from
Vintage Kitchen
Soaked and Glazed Lemon Cake
by Dorothy from
Shockingly Delicious
Zesty Lemon Bundt Cake by Anita from
Hungry Couple NYC
Here's how you can be a part of Bundt-a-Month:
– Simple rule: Use mandarin, orange, Citrus lime, yuzu, lemons, Key lime or ANYTHING citrus – and bake us a Bundt for Tangy January
– Post it before January 31, 2013.
– Use the #BundtAMonth hashtag in your title. (For ex: title should read #BundtAMonth: Chocolate Cinnamon Bundt)
– Add your entry to the Linky tool below
– Link back to our announcement posts.
Follow Bundt-a-Month on Facebook where we feature all our gorgeous bundt cakes. Or head over to our Pinterest board for inspiration and choose from over 350 Bundt cake recipes.
Link to BundtaMonth on Facebook – http://www.facebook.com/BundtaMonth
Link to BundtaMonth on Pinterest –
https://pinterest.com/bakerstreet/bundtamonth/