Homemade Canned Tomato Salsa
We have been doing a lot of canning as of late and we love it. We have made for years Homemade Canned Tomato Salsa but this year we went out on our own and did our own recipe.
Nothing like a homemade product as opposed to store bought. Adding in our favorite parts of other recipes and coming up with something we can call our own.
So today I am sharing with you our recipe. This is how we like it and the heat we like but that can all be adjusted to your preferences too. 
Just be careful, we have done some mighty powerful stuff over the years that we have regretted.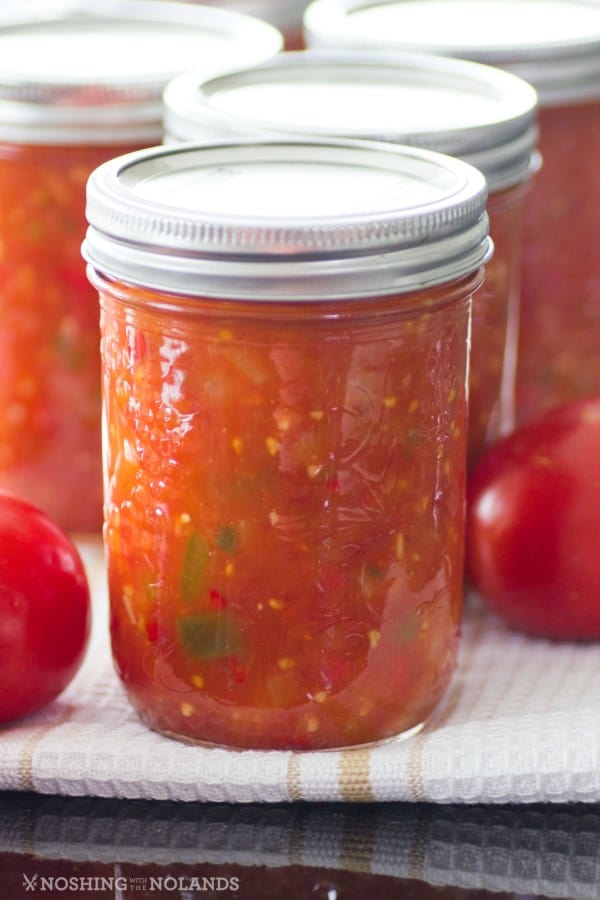 Helpful Items for This Recipe
This post contains affiliate links. 
Canning Salsa
We go to the farmers market a few times at this time of year getting the best produce we can find for our canning.
Plus, we grow some of our own tomatoes on the balcony and use them too. All the ingredients though are farm fresh making the best salsa you will ever have!!
I like a salsa that is between mild and medium so that the other ingredients of dishes can still stand out.
You can always add heat to your dish that you are serving. For example jalapenos on nachos to gain that extra heat you may desire.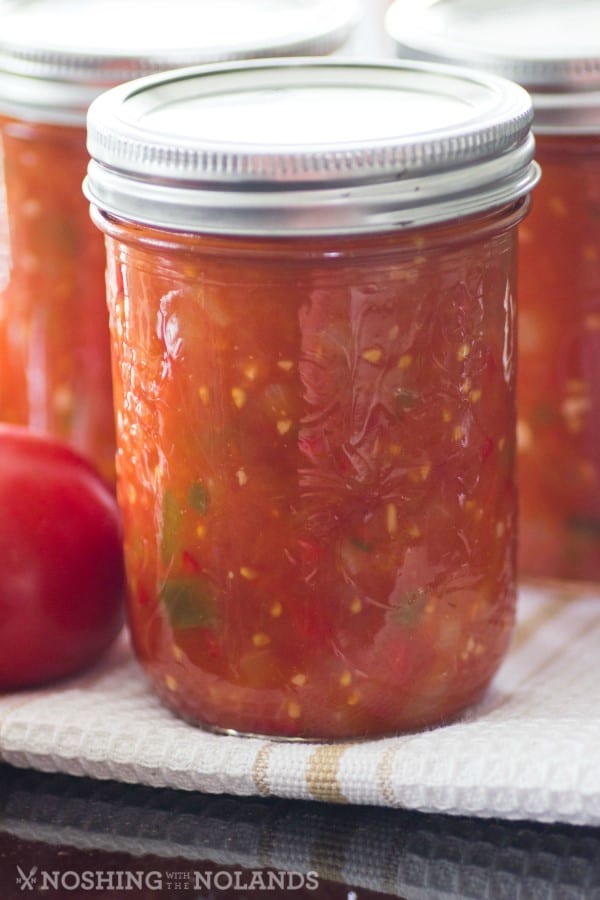 There are a variety of ways you can spice up your salsa. There are loads of hot peppers on the market, dried or fresh but some really hold a punch of heat.
We have used habenero peppers with success but for this salsa today we used red hot peppers, that are similar in appearance to jalapenos and also jalapenos but leaving some seeds in.
Also purchased from the market were Red Thai peppers and we added those in also. We have used these before for pickles to give them extra heat.
Simple Easy Homemade Canned Tomatoes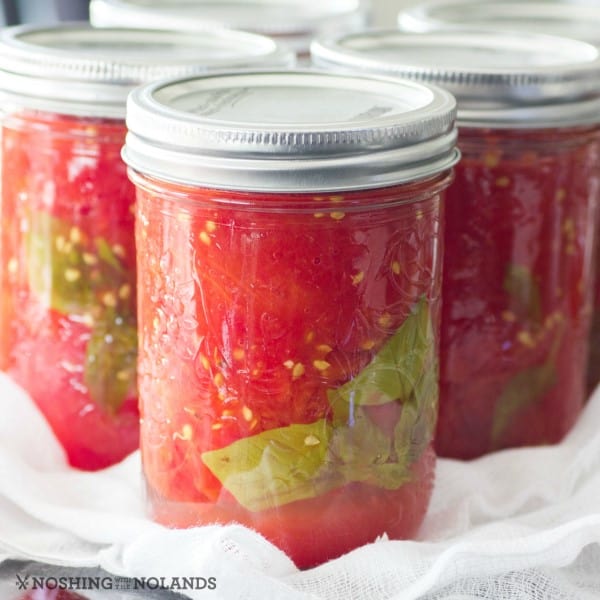 Also for Simple Easy Homemade Canned Tomatoes we have the best recipe and make them almost every year.
I love using my own tomatoes throughout the winter, they add so much more to my dishes!
I use my fresh basil and oregano that I have grown in the summer and add it to my tomatoes for some extra flavor. They are always a hit!!
PRINTABLE FOR WATER BATH CANNING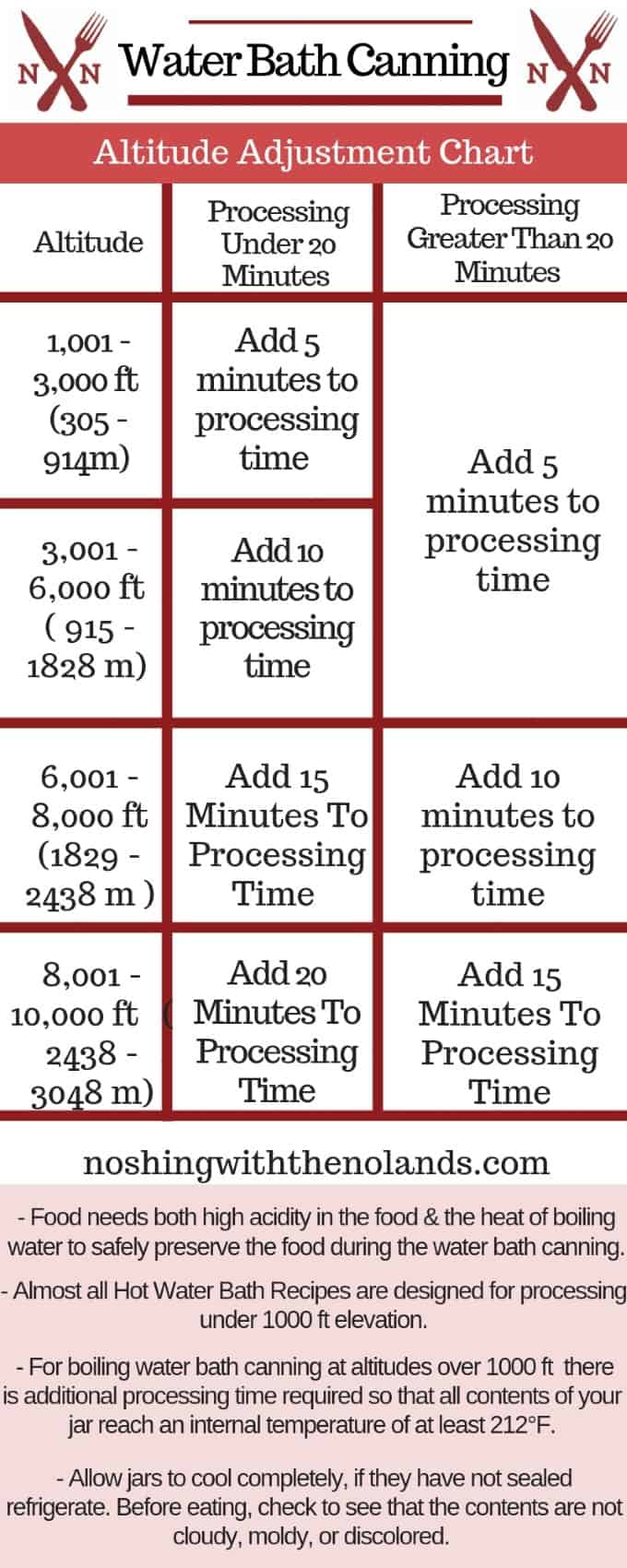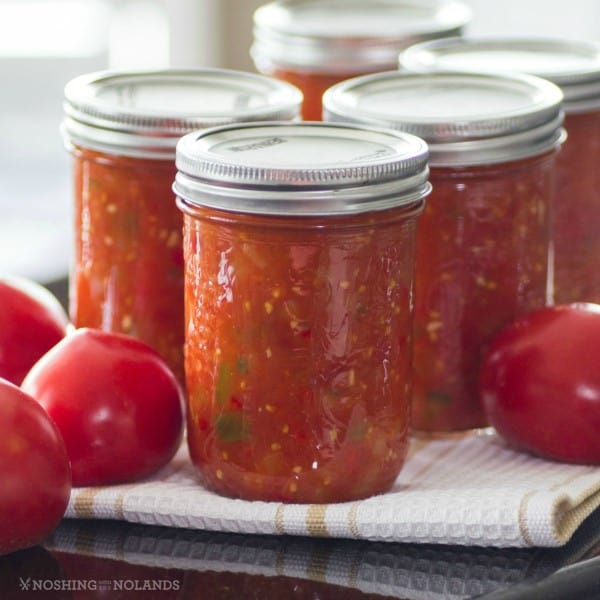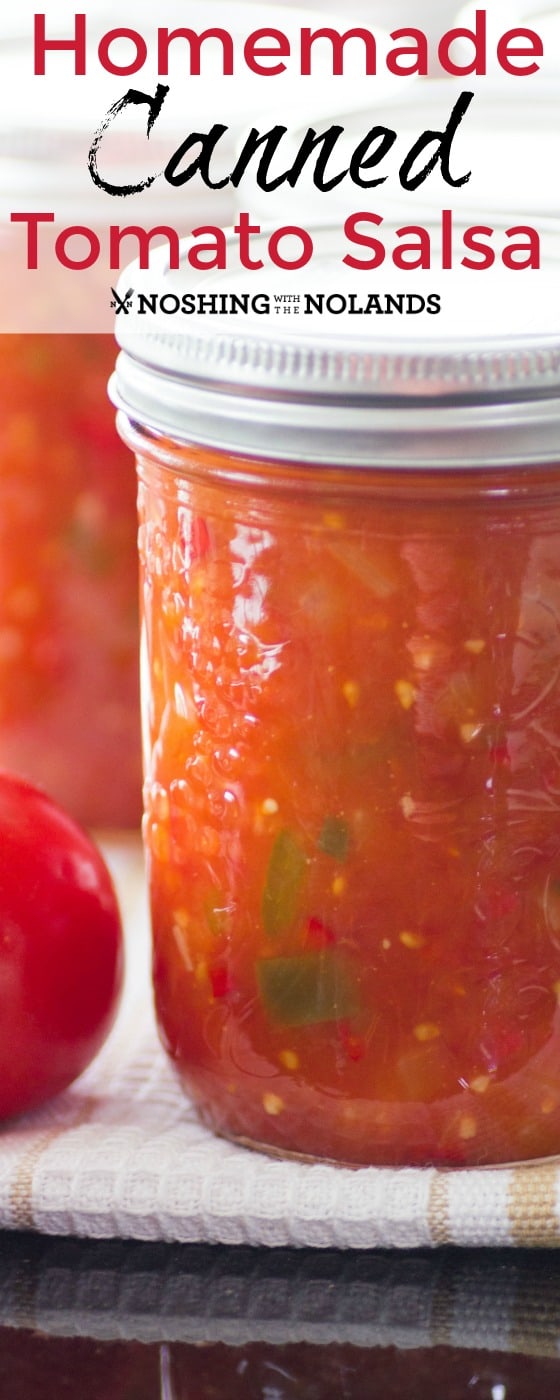 The Recipe
Homemade Canned Tomato Salsa
Homemade Canned Tomato Salsa is a fun way to venture into the world of canning. Using fresh produce from the farmers market gives you the best results.
Ingredients
14 cups peeled roma tomatoes, chopped
3 cups onions, chopped
1 red pepper, chopped
1 green pepper, chopped
2 red hot pepper, chopped and seeded
4 jalapeno peppers, chopped and two with seeds and two without
2 Thai chili peppers, chopped, one with seeds and one without
2 Tbsp. minced garlic
4 Tbsp. sugar
2 tsp. pickling salt
1 tsp. ground cumin
1¾ cups cider vinegar
Instructions
In a large pot add the tomatoes, onions, peppers, hot peppers, garlic, sugar, salt, cumin and vinegar. Stir often and bring up to a boil, reduce heat to simmer and boil gently for about an hour, continuing to stir occasionally. Sauce should be reduce by half and somewhat thickened. Adjust taste with salt if needed.
Add lids to hot water for 5 min.Pour into sterilized jars and remove air pockets, and fill to ½". Wipe rims and seal with lids and apply rims to fingertip tight. Process jars in a water bath. Cover the jars with at least 1-inch of water. Bring to a rolling boil and process for 20 minutes (25 minutes for altitudes 1000 to 3000 ft, 30 minutes for 3,001 to 6,000 ft, 35 minutes for 6,001 to 8,000 and 40 min. for 8,001 to 10,000 ft ). Then turn off heat and let the jars sit in the hot water for 5 minutes.
Remove the jars to a tea towelled lined counter and let cool. You should hear a popping noise when they seal. If any don't seal, place in the fridge and use within a week.
Canned salsa should be used within the year.