We love canning very, very much here at Noshing With The Nolands and have many successful recipes that I will share with you along with today's Easy Pickled Beets Recipe.
Pickled beets are one of my favorites besides roast beets. I love beets as a side dish with a quick lunch of cheese and crackers and maybe a pickle or two also. Ken is not a huge fan but he was actually the one pickling these beets for me today.
I love that he selected not only red beets but orange ones too. You can't blend them together as the red ones will make everything red but try some different colors when you are canning. They are so pretty together.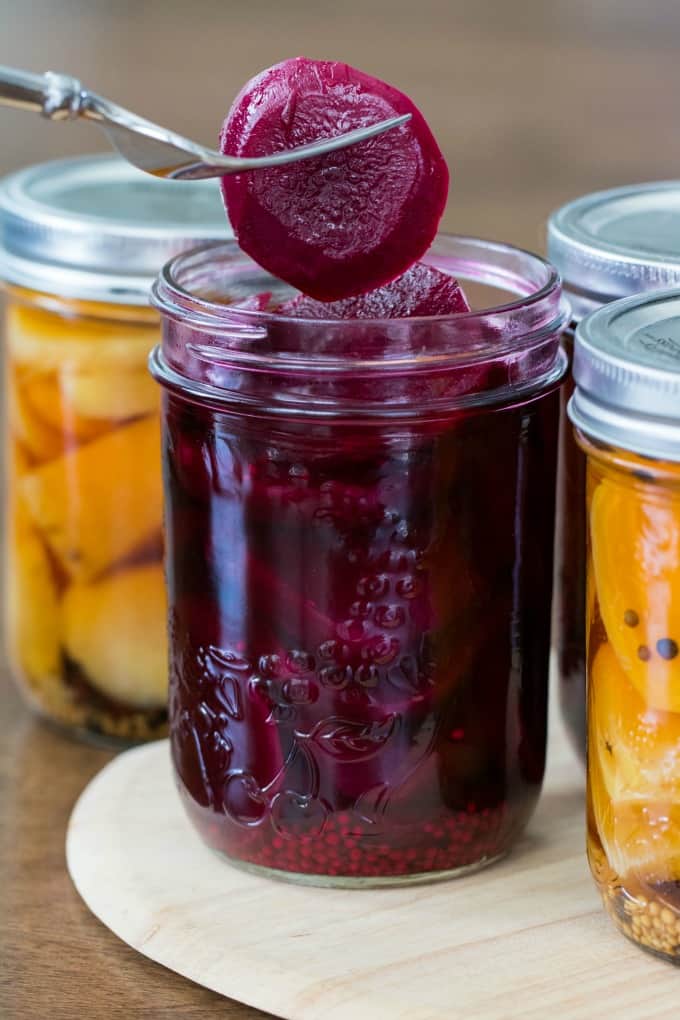 Helpful Items for This Recipe
This post contains affiliate links.
Look at how glorious these colors are!! But wait, the taste is really what excites me. Ken just nailed it with his ingredients!!
Is canning beets easy? It really is easy. Canning is easy once you know what to do. It is something that we have been doing for years and years now.
Let me walk you through the whole process and give you as many tips as I can. It honestly used to intimidate me but not anymore.
Before we dive completely into the Pickled Beets let me share with you a few other recipes that are sure-fire winners for canning. Our site has become kind of noted for our canning recipes and quick pickling. I know a lot of people are enjoying them.
Other Canning Recipes
Simple Easy Homemade Canned Tomatoes
How to Pickle Beets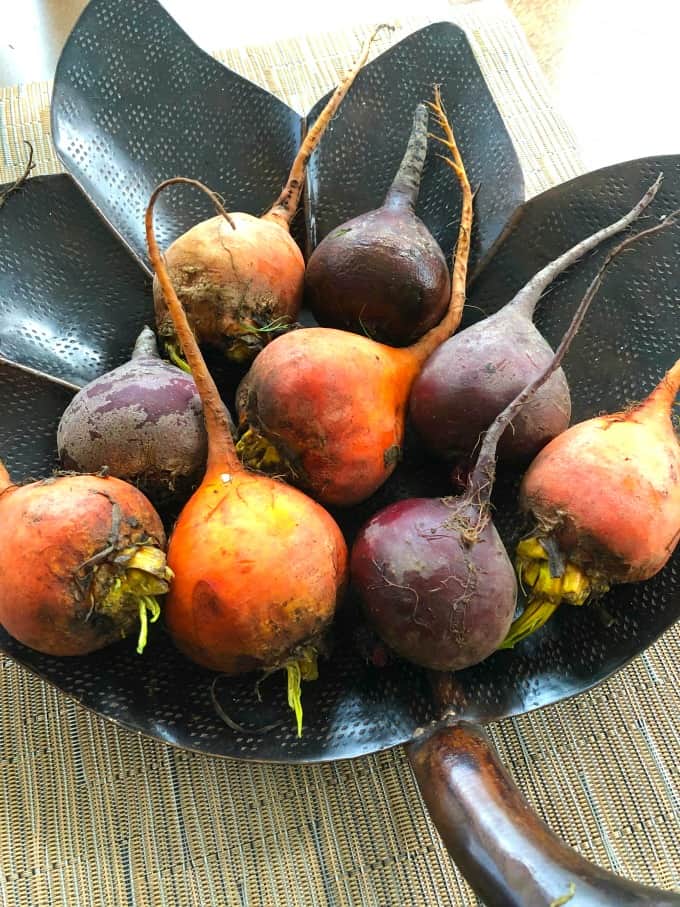 Pickling beets require some basic ingredients, vinegar, salt, spices, and sugar. Most recipes ask for sugar. I don't like them too sweet but just enough to balance the vinegar.
As for spices, it is more of a mixture than with other "pickled" recipes. For this one, we used mustard seeds, star anise, cloves, black peppercorns, and coriander seeds. This is a good combination for sweet beets.
I have been looking for a recipe for a while and really liked my girlfriend Jill's pickled beets. She had used the Canadian Living recipe so I followed along with only minor changes; it really didn't need too many revisions.
Cooking The Beets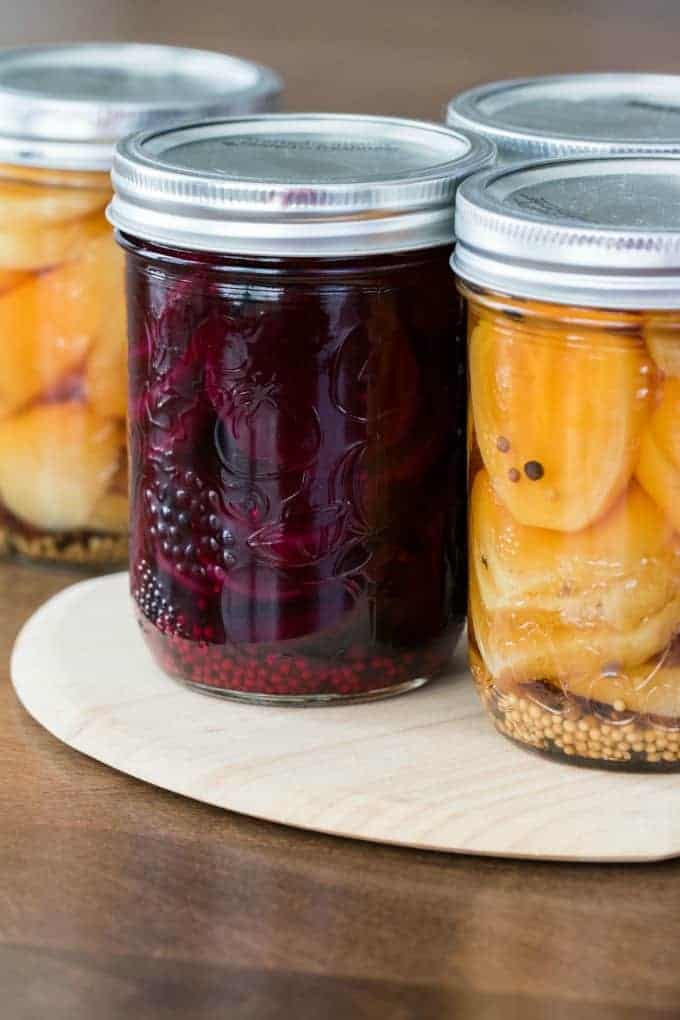 To start off with, you need to cook the beets. You want them tender but not falling apart. They should easily slice when cooked.
Don't buy beets that are huge as you won't get a nice round medallion when slicing or be able to put them in the jar without cutting them up!! Well, that is how I like them, you can cut them into chunks too.
You want to cover the beets with water while cooking and let them boil for about 30-35 minutes. Then let them cool, trim off the root and top ends and peel them. Don't try to do this before hand, it is much easier after they have been boiled.
Are Pickled Beets Good For You?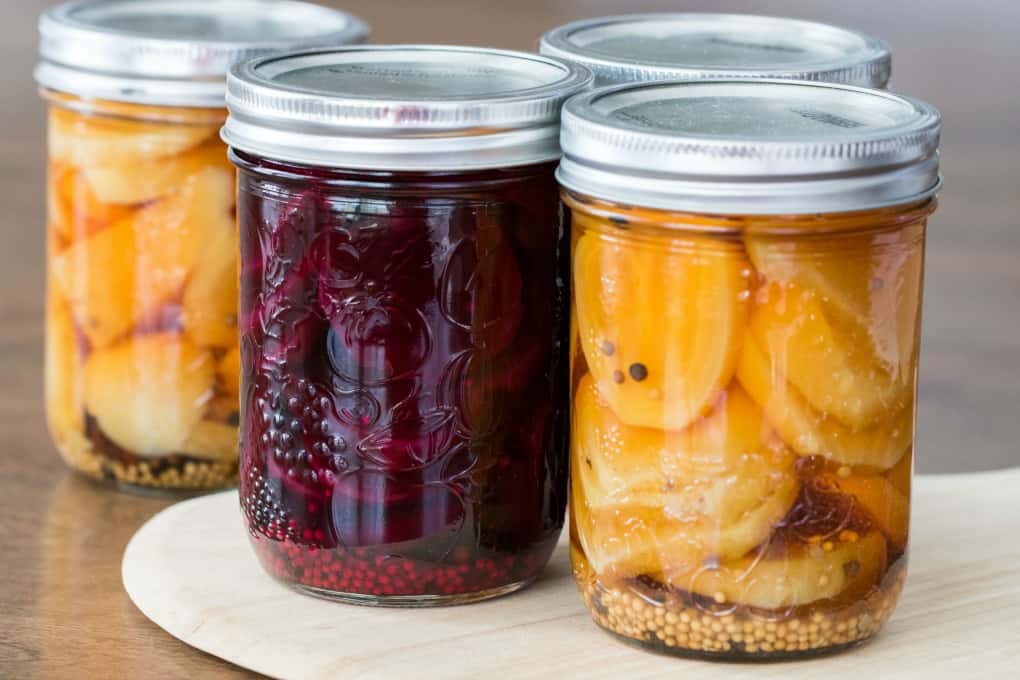 Beets are low in calories and a great source of many nutrients. They contain fiber, folate (vitamin B9), manganese, potassium, iron, and vitamin C. They are associated with lowering blood pressure and increasing athletic performance.
Because beets require salt and sugar for pickling you will want to monitor your intake but a couple of slices here and there are so satisfying and way better than cracking open that bag of candy or chips.
How to Can Pickled Beets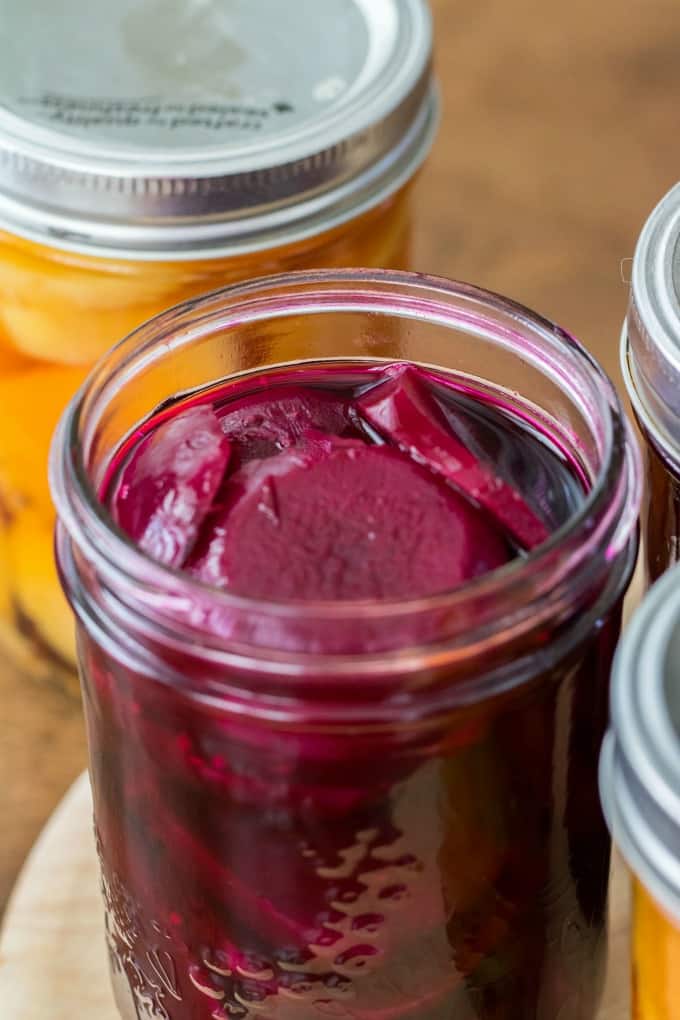 To can is a method of preservation. It is when food is processed and sealed in an airtight container. They are different methods to accomplish this. For me, it is almost always using a water bath.
Canning provides a shelf life of one to five years. I have definitely cracked open jars after 3 years of storage and had nothing wrong with them. For instance, my rule of thumb is two years though, but they usually don't last that long!
First, you need to cook your fresh beets. Bring to a boil a large pot of cold water and use enough water to cover the beets. They will take a while to boil probably 40 minutes until they are fork-tender. Then let the beets cool enough to handle to thinly slice.
Meanwhile in a saucepan combine a pickling liquid up of cider vinegar, water, sugar, and salt. This is boiled for about 5 minutes. In each jar goes the spices; mustard seeds, 1-star anise, 1 whole clove, black peppercorns, and coriander seeds.
Your sliced beets are then tightly packed into sterile jars (I run ours through the dishwasher and then into boiling water for 5 min. along with the lids and rings). Hot brine is then added to about 1/2″ from the top.
Now place the lids on and screw the rims to just fingertip tightness.
Sign-up for the Altitude Adjustment Chart

Now time for the water bath! Use the helpful guide above to adjust to the altitude. We have to do that here in Calgary.
Therefore the recommended time for us is 35 instead of 30 minutes for the altitude adjustment.
And that is it; you now have wonderful beets to start eating after about 1-2 weeks. Give them some time to pickle before you start diving in too. The wait is worth it!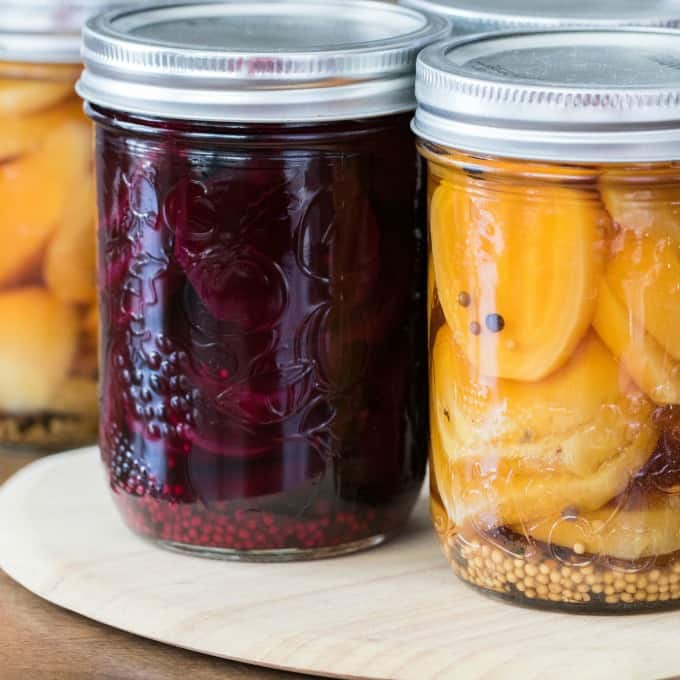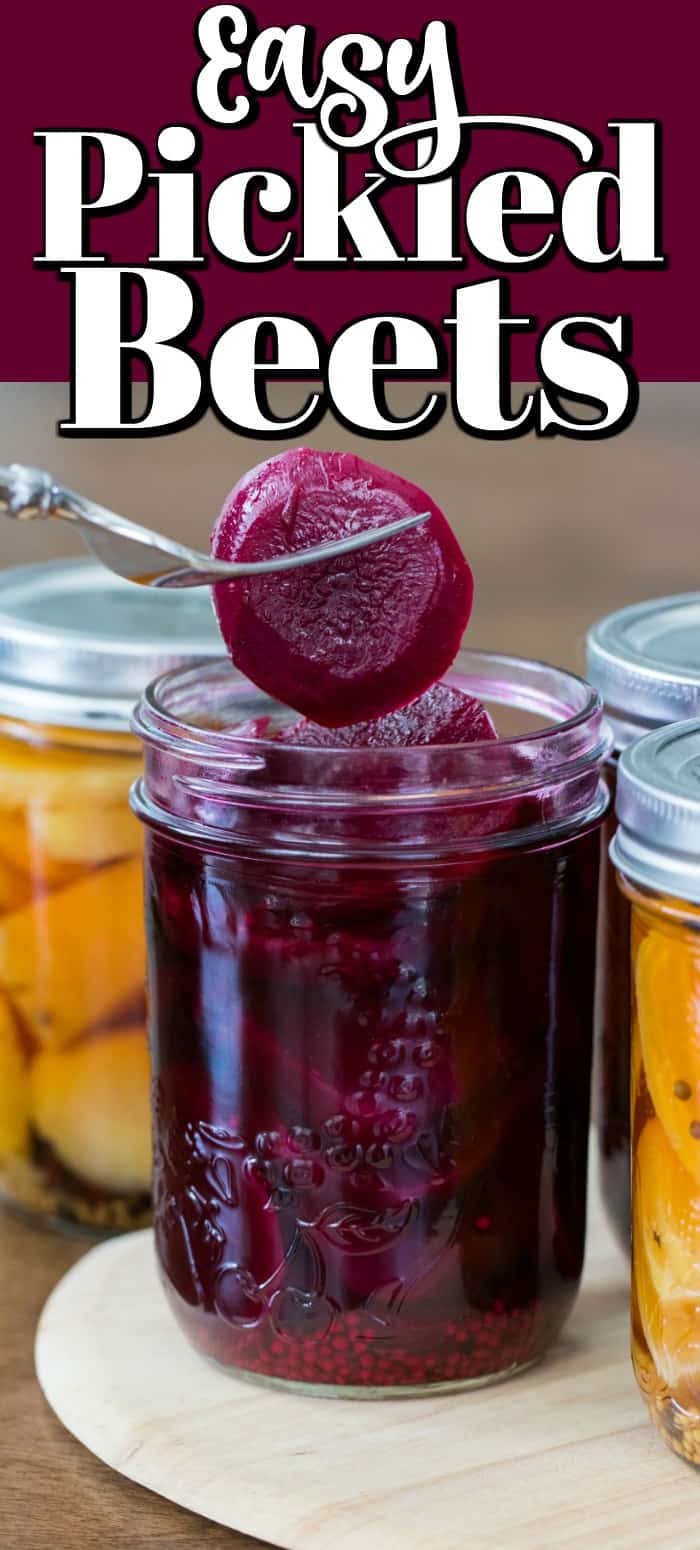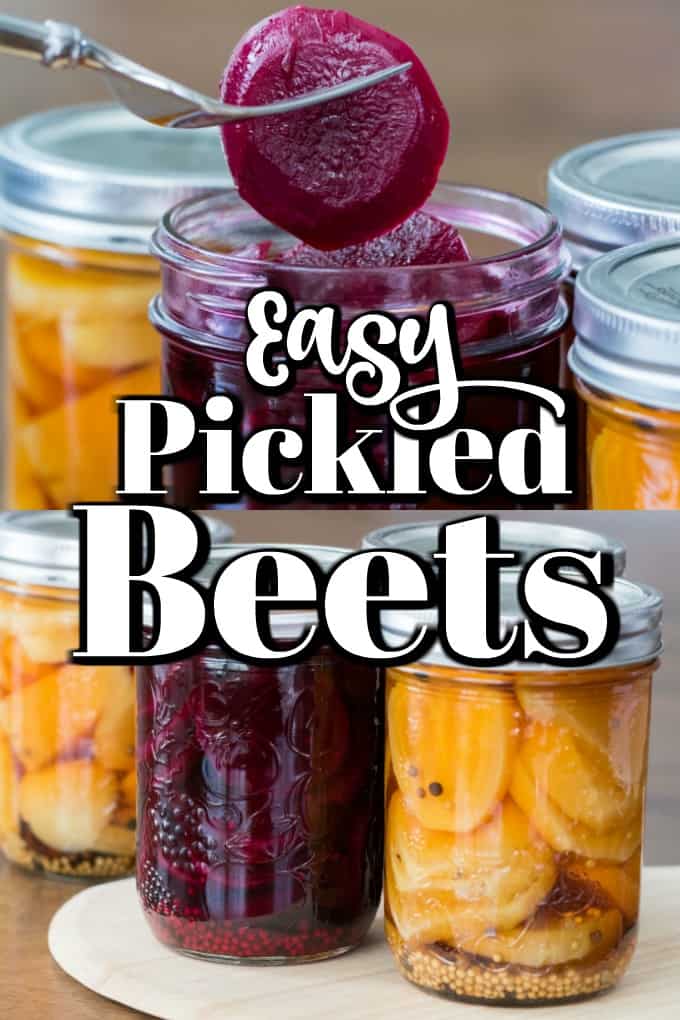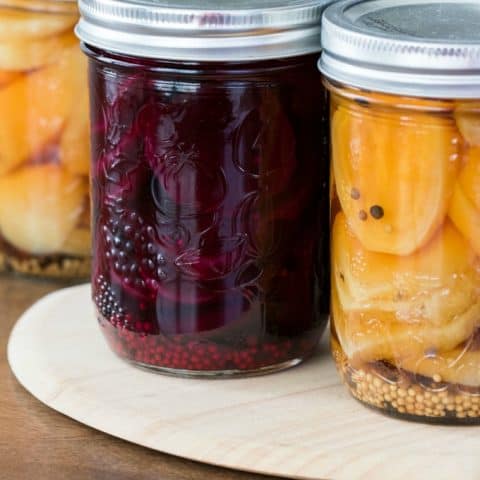 Easy Pickled Beets Recipe
Yield: 6 - 500 ml jars
Prep Time: 20 minutes
Cook Time: 1 hour 10 minutes
Additional Time: 14 days
Total Time: 14 days 1 hour 30 minutes
Easy Pickled Beets will be enjoyed all winter long; they are great with a charcuterie or make a delicious side with dinner or divine in a salad too.
Ingredients
5 lbs. small red beets or a mixture of red and orange or yellow
4 1/2 cups cider vinegar
1 1/2 cups water
3/4 cup white sugar
4 tsp. Kosher or Pickling salt
6 tsp. mustard seeds
6 star anise
3 tsp. black peppercorns
6 whole cloves
3 tsp. coriander seeds
6-500 ml. jars sterilized, including lids and rims
Instructions
Cook beets in a large pot of boiling water. If doing different colors cook them separately. Cook until tender for about 30-35 minutes. Let cool, trim the ends and peel. Slice and set aside.
In a large pot add vinegar, water, sugar and salt. Bring to a boil and boil for 5 minutes.
Sterilize jars in boiling water for 5 min. including the lids and rims.
Into each of your hot 6 - 500 ml. jars add 1 tsp. mustard seed, 1 star anise, 1 clove, 1/2 tsp. each peppercorns and coriander seeds.
Tightly pack in beets to within 3/4" of the rim. Add the hot brine to cover the beets and up to 1/2" of the rim. Cover with the lids and screw on the rims to fingertip tight.
Now process in a water bath on a rack for 30 minutes or according to chart for altitude adjustments. Submerging the jar to 1" above the lids.
Remove jars and let cool. Refrigerate and eat any jars that don't seal. You will hear them popping while cooling and sealing. If they don't seal you will be able to move the lid up and down when touching it.
Notes
You may have more brine than needed but it better to have a bit too much than too little. It will depend on how tightly you pack the beets. We didn't pack them overly tight and it made 6 jars.
Recommended Products
As an Amazon Associate and member of other affiliate programs, I earn from qualifying purchases.
Nutrition Information:
Yield: 36
Serving Size: 1
Amount Per Serving:
Calories: 55
Total Fat: 0g
Saturated Fat: 0g
Trans Fat: 0g
Unsaturated Fat: 0g
Cholesterol: 0mg
Sodium: 67mg
Carbohydrates: 12g
Fiber: 2g
Sugar: 10g
Protein: 1g
Recipe calculation was provided by Nutritionix and is an estimation only. If you need nutritional calculations for medical reasons, please use a source that you trust.