I was introduced to a tomato jam when I was in Seattle at the beginning of the year. I had ordered a healthy breakfast and it was an egg white omelet with poblano peppers and tomato jam on top. Trying just this one recipe I was instantly hooked.
Later that day I sourced some tomato jam while we were at the Pike Place Market. Now that it is long gone I have to source my own Tomato Jam Recipe.
We had an abundance of little cherry tomatoes this summer so I decided to make my own recipe using them. You could also use Roma tomatoes.
We love to can tomatoes here or make them into a salsa so canning this tomato jam recipe was easy. Once you get into canning you will be hooked. Also, try our Fig Jam that is great with savory dishes and charcuterie.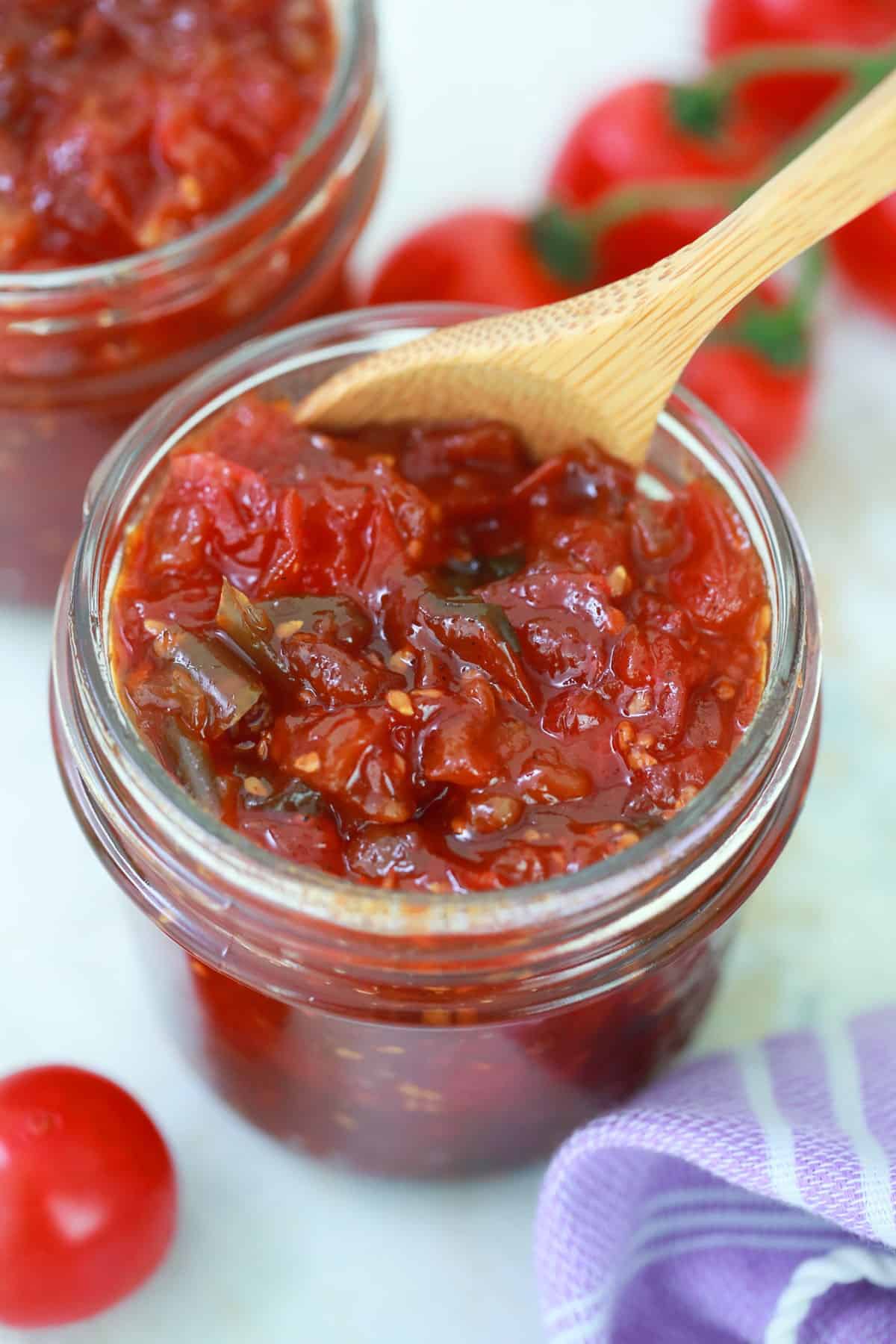 This is a good recipe as it is simple and you don't have to spend time seeding and peeling tomatoes which can always be a chore.
This is not a spicy tomato jam but one that is sweet and savory. I think I have just the right amount of heat with a scant teaspoon of red pepper flakes. It just gives a warming feeling to it.
To make a great tomato jam recipe you simply need great produce. Make sure your tomatoes are wonderful tasting and that is half the battle. You want fresh tomatoes that are unblemished and ripe.
To know if a tomato is ripe it will yield slightly to pressure when gently squeezed and have a slightly fragrant aroma. If they have a pungent aroma they are probably overripe and shouldn't be used.
Helpful Items For This Recipe
This post contains affiliate links. As an Amazon Associate, I earn a small portion from qualifying purchases at no extra charge to you.
What Goes into Tomato Jam?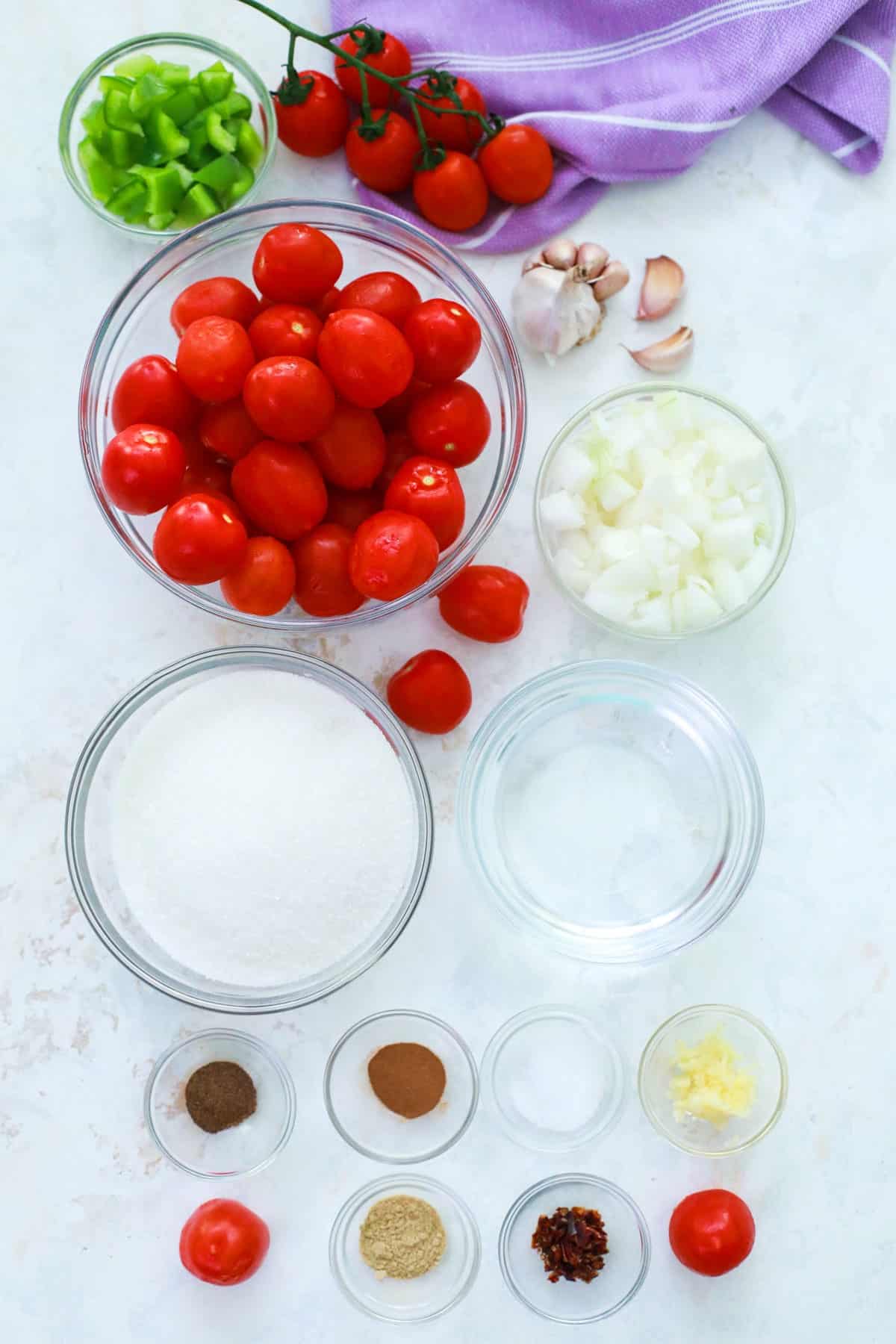 Lots of easy ingredients go into making this tomato jam but the end result is amazing!!
Ingredients
Cherry, Roma, or plum tomatoes
Medium onion
Green pepper
Cloves of garlic
Granulated sugar
Red pepper flakes
Pickling or canning salt
Ground cinnamon
Ground ginger
Allspice
Cider vinegar
How Do You Make Tomato Jam?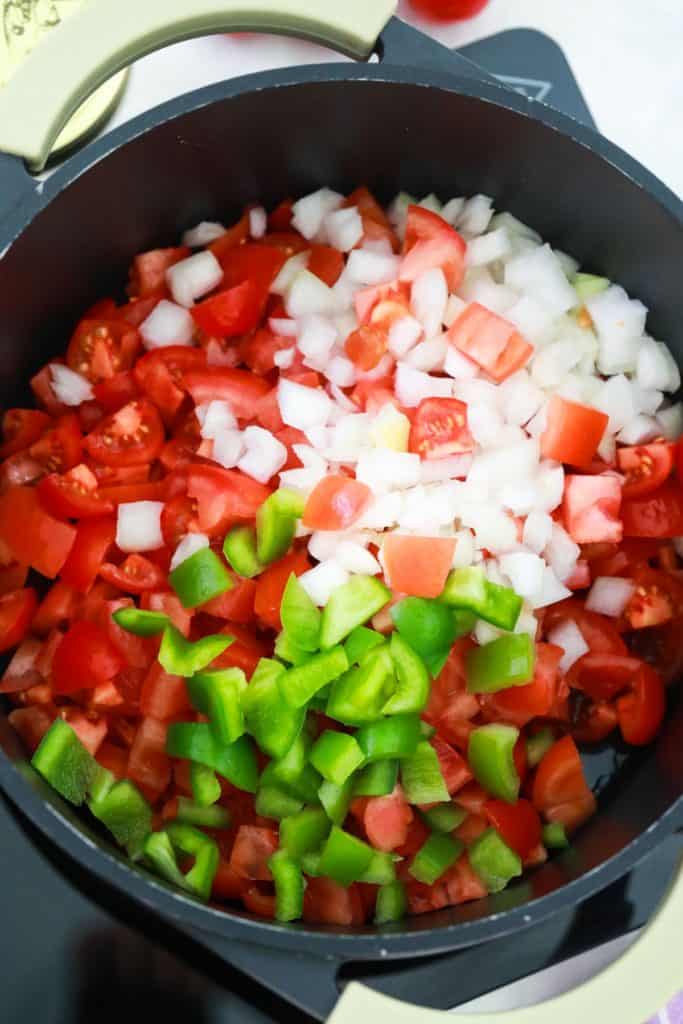 The recipe comprises tomatoes, onions, green pepper, and garlic, which are all pretty standard.
It is then spiced up with red pepper flakes, sugar, pickling salt, cinnamon, ginger, allspice, and cider vinegar. All of these ingredients make the perfect tomato jam recipe, you will love it.
Another tip that you need to know is that you can't use iodized salt for canning. Use a pickling salt which can also be called canning salt or preserving salt. Pickling salt is a pure granulated salt (sodium chloride). Iodized salt can turn your produce black in color and your liquid cloudy.
Kosher salt can also be substituted but because it is so much coarser you need more salt, about 50% more and it also takes longer to dissolve. 3/4 tsp. of Kosher salt would equal 1/2 tsp. pickling salt. I just stick to using pickling salt so I don't have to change measurements in the recipe.
Would you like it a bit spicier? Just amp up the amount of red pepper flakes! You can always taste this as it goes to see the spice level that you are comfortable with.
There is no need for any pectin in this recipe, it will thicken as you cook. Use a heavy bottom large pot and just heat and simmer gently while stirring occasionally at the beginning. Then stir frequently until the mixture is just thick enough to mound on a spoon.
What Do You Eat with Tomato Jam?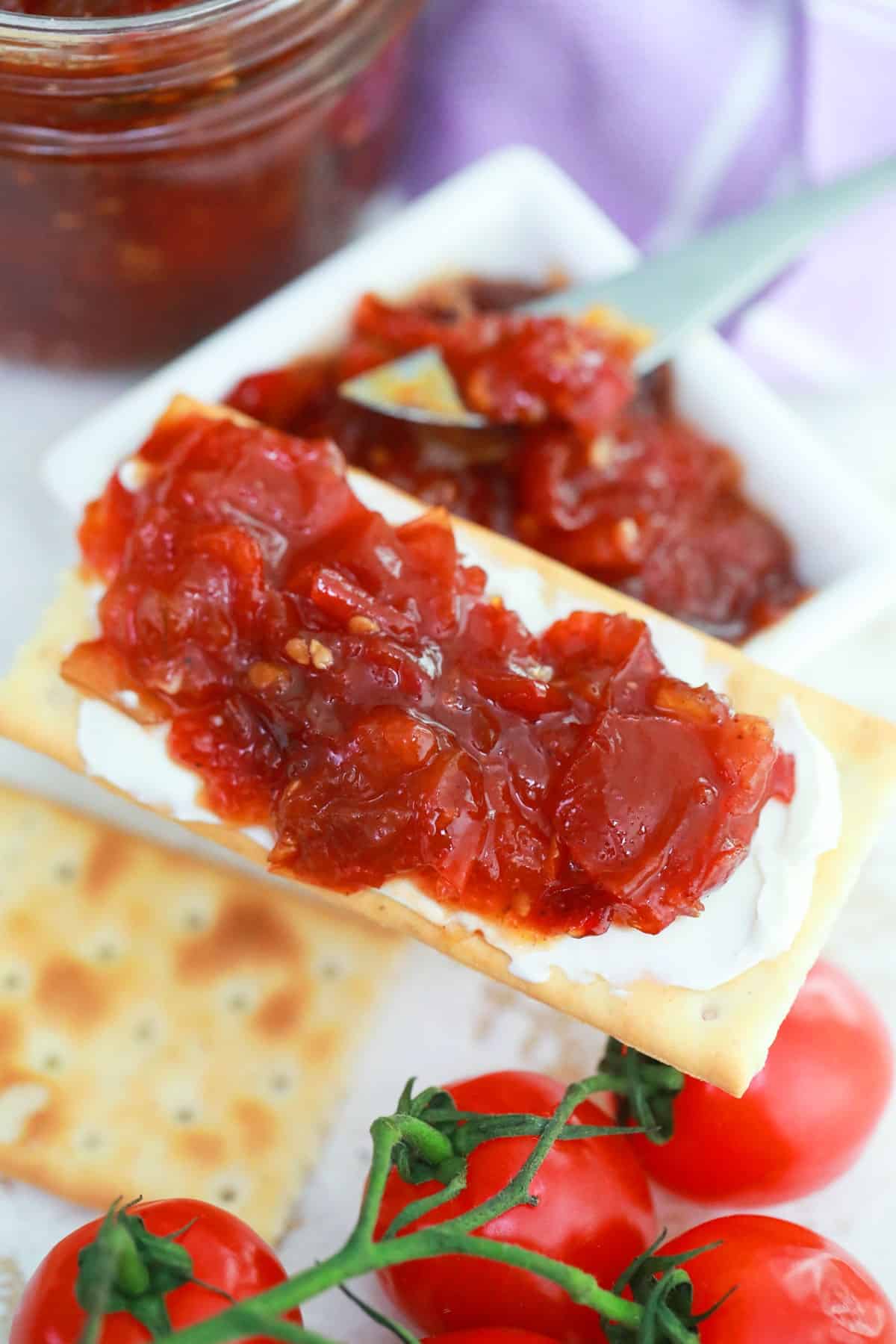 We have had a tomato chutney or chili many times and have always loved it with Tourtiere for the holidays! This thick jam is very similar to these and goes perfectly with the savory meat pie.
So what do you use this sweet tomato condiment for along with the amazing omelet I had or tourtiere? Try it with these yummy choices:
Add it to a grilled cheese sandwich or a ham and brie!
Dollop onto soup along with sour cream, great with a Middle Eastern lentil soup.
Try it with eggs of any kind, scrambled, sunny side up, omelet.
Makes a great condiment for a burger!
Douse it onto a hot dog!
Smear it on fish or pork!
Use it with cream cheese on a bagel.
Serve it with a charcuterie.
Slather it on a cracker with cheese as shown above.
Spread on as a base for a savory tart or a pizza.
Mix it into cream cheese with mayonnaise as a party dip.
Use it in a meatloaf instead of BBQ sauce or ketchup.
Make it in small 4 oz. jars and give it as a gift.
Serve it with Tourtiere (savory meat pie) for the holidays
Printable for Water Bath Canning

Can You Freeze Tomato Jam?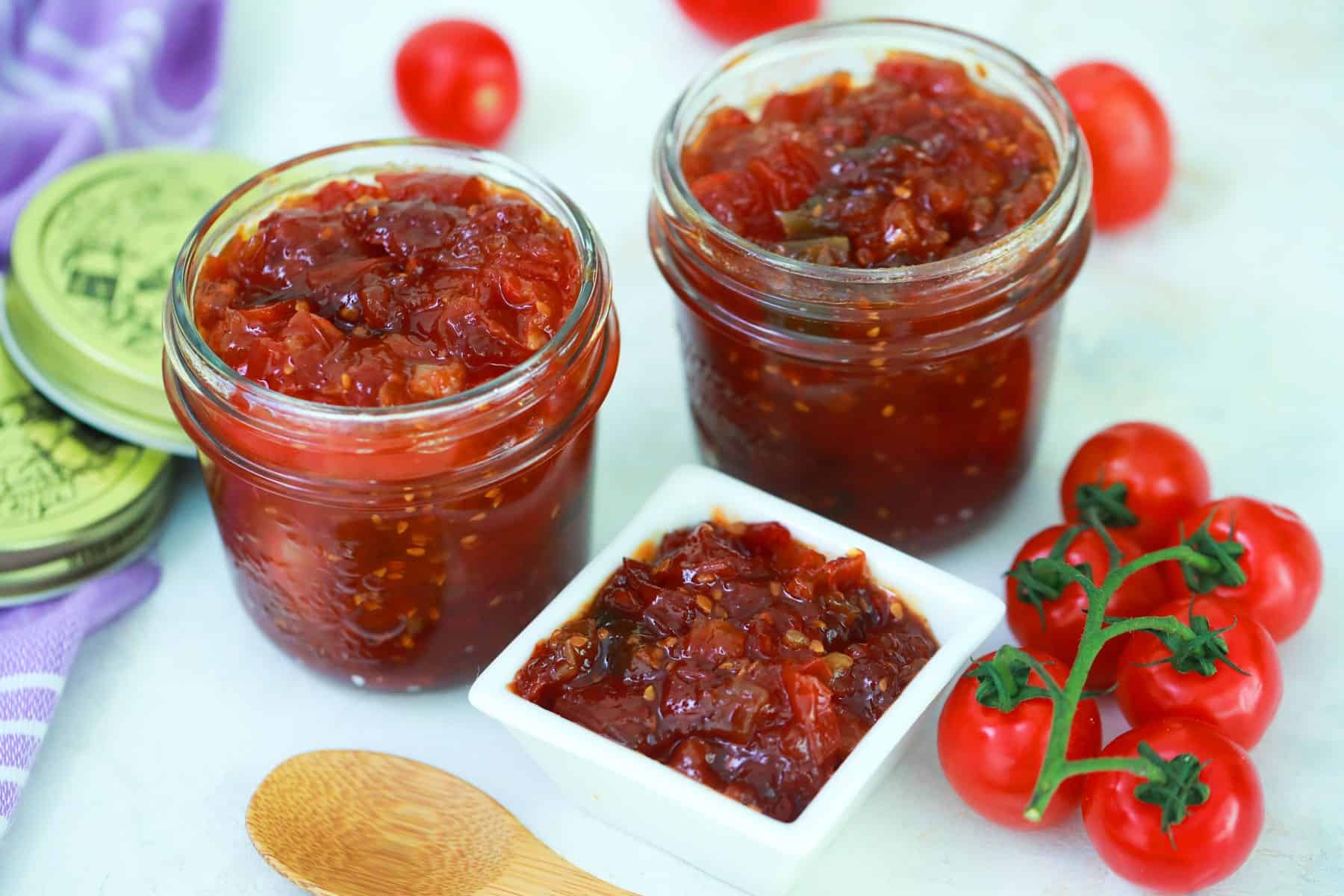 If canning is just not your thing don't get your buns in a knot, you can freeze this tomato jam just fine and use it jar by jar or give it away as gifts.
How long does tomato jam last? Stored in the refrigerator the tomato jam will also last for about 3-4 weeks after opening.
Another thing to note is that you have to adjust cooking times for high-altitude canning. This is required here in Calgary as we are above 3,000 feet. It is an easy solution if you follow this guide.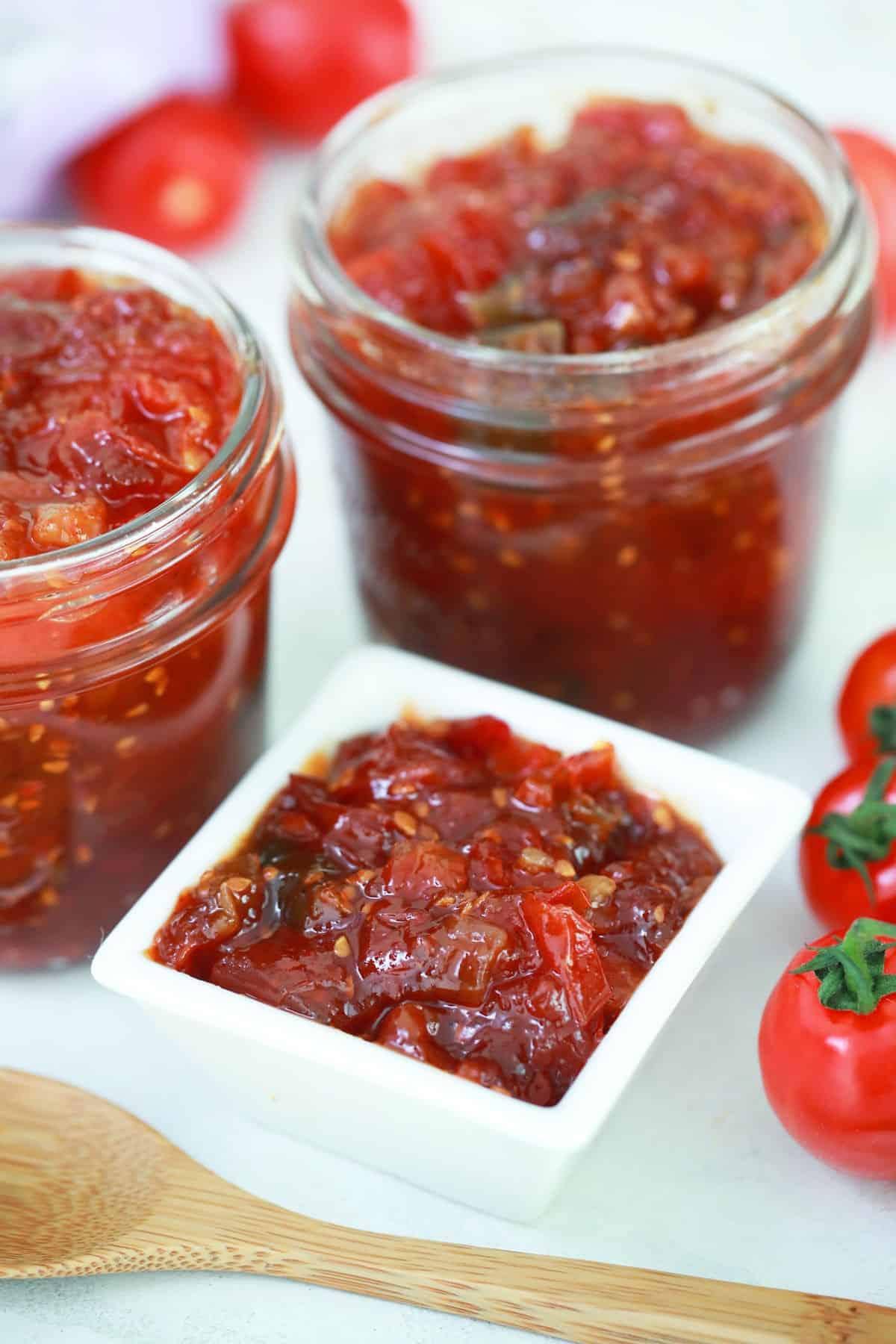 You can easily make double batches of this recipe if you would like to make more. Some other of our recent favorites for canning are Pickled Green Beans, Quick Pickled Onions, and Spicy Refrigerator Pickles.
Jams, jellies, and mustards have been popular too, both sweet and savory. Recently we made a Blueberry Rhubarb Jam and also in the past Brandied Cinnamon Apple Preserves, Crabapple Jelly, Red and Green Pepper Jelly, Jalapeno Jam, and Homemade Sweet Hot Mustard.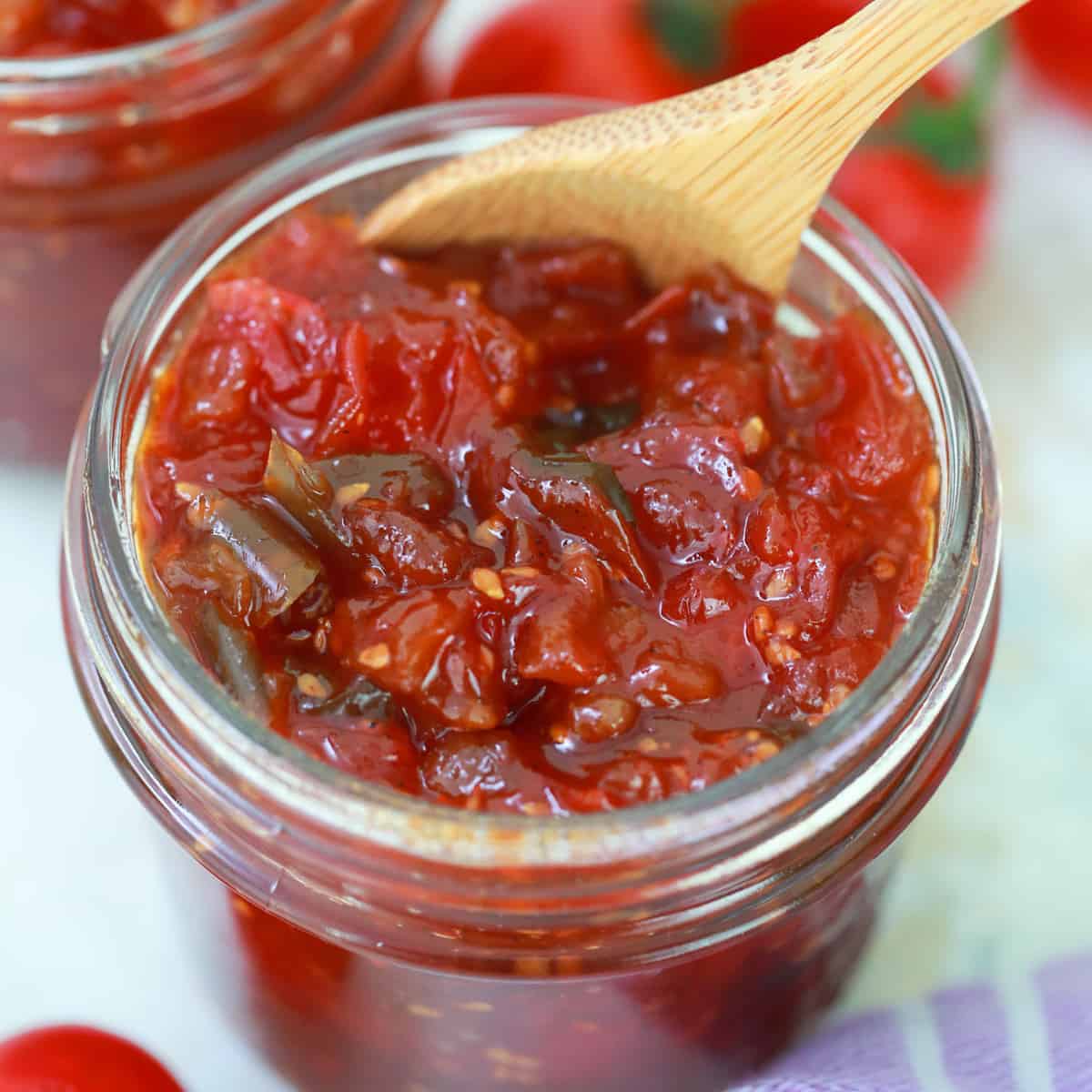 Pin it HERE!!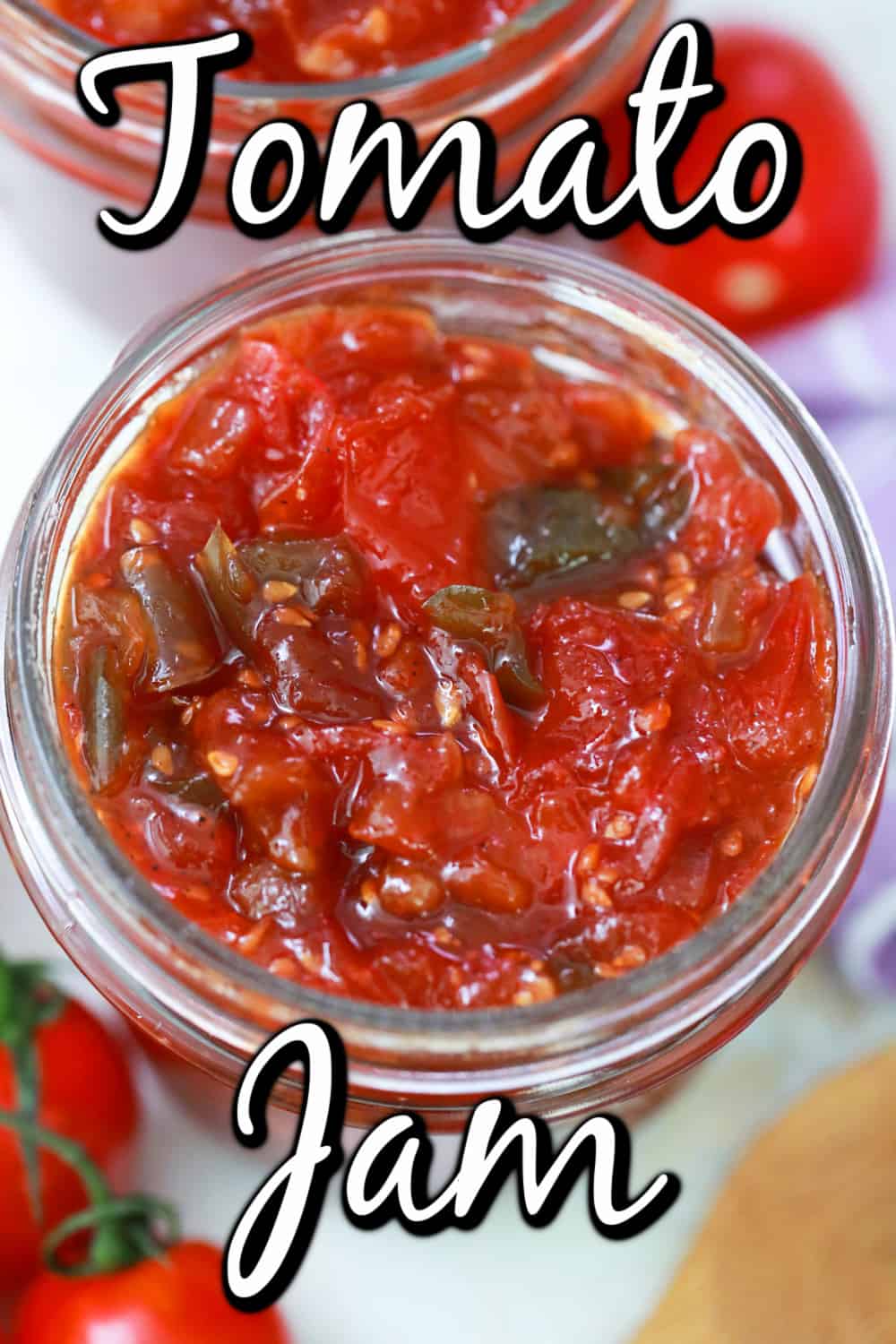 Pin it HERE!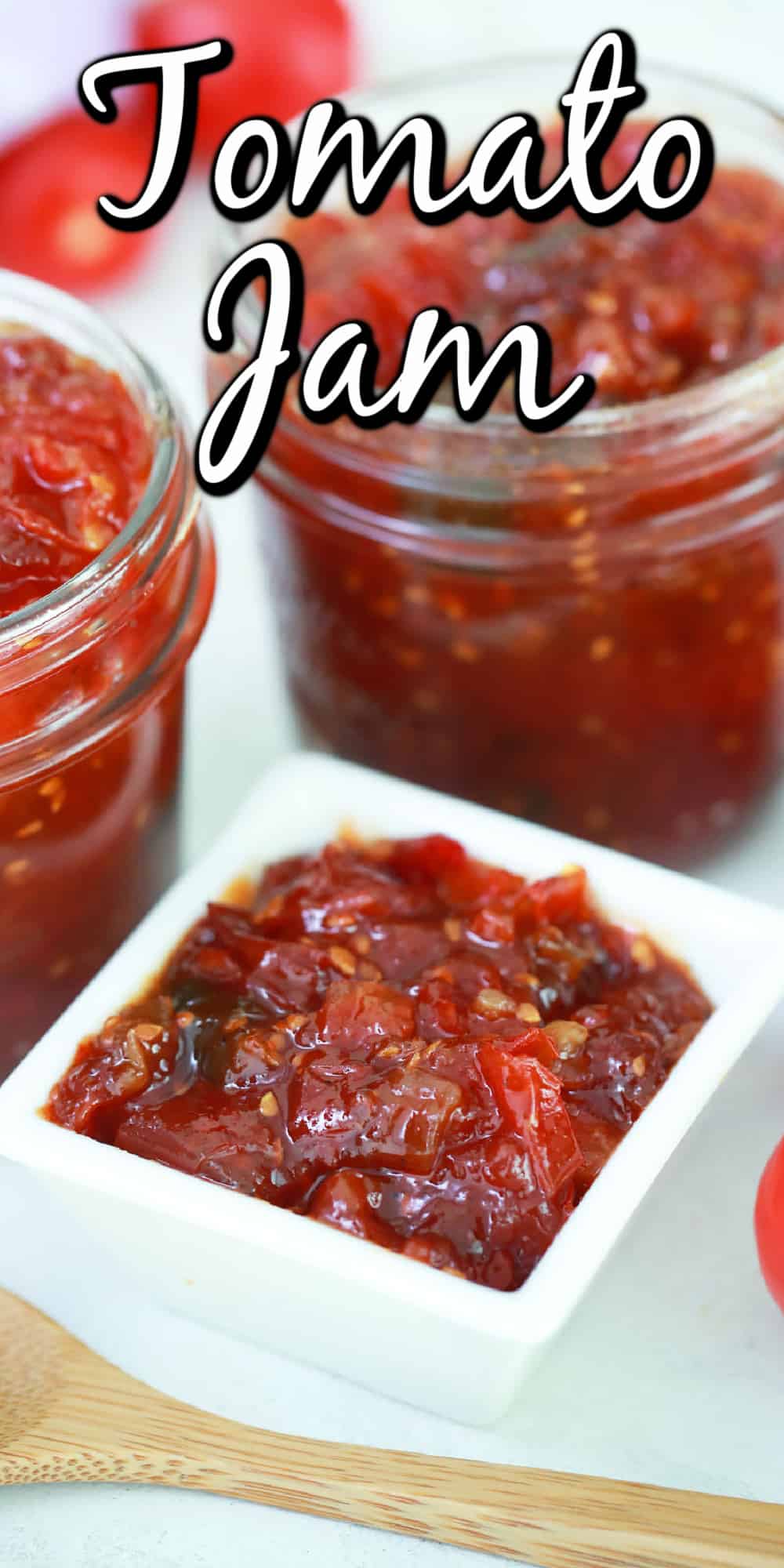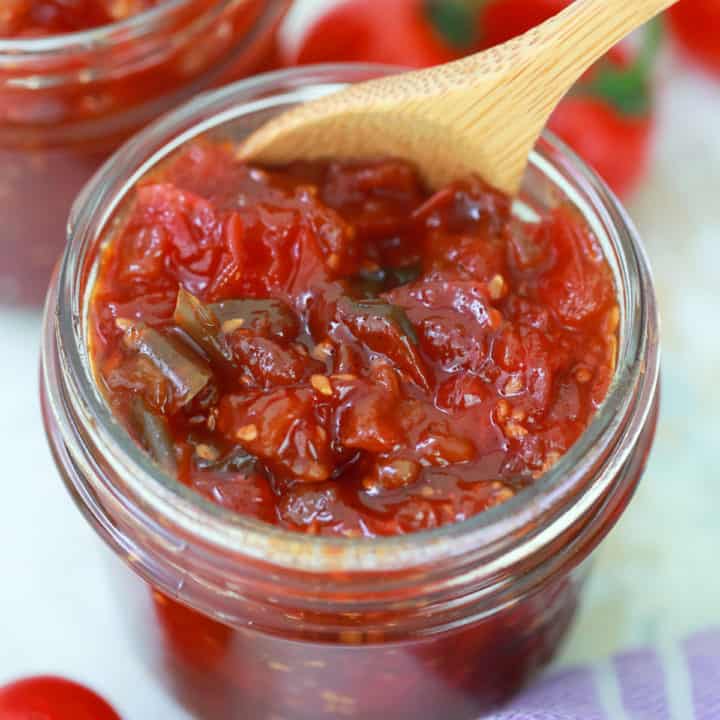 Tomato Jam Recipe
Yield: 4-5 8 oz. jars (250 ml. jars)
Prep Time: 20 minutes
Cook Time: 1 hour
Total Time: 1 hour 20 minutes
Tomato Jam Recipe is a fantastic condiment to go with so many entrees. It blows simple ketchup away! Make some also to give as presents for the holidays!
Ingredients
6 cups cherry or roma tomatoes, chopped (or a combination of both)
1 medium onion, diced
1/2 green pepper, diced
2 cloves garlic, minced
1 1/2 cups granulated sugar
1 scant tsp. red pepper flakes
1 1/2 tsp. pickling or canning salt
1 tsp. ground cinnamon
1 tsp. ground ginger
1/2 tsp. allspice
1 1/2 cups cider vinegar
Instructions
You can skin the larger roma tomatoes by putting an "x" in the bottom of them with a knife. Drop them in boiling water for a minute and then remove them to an ice bath. This will allow the skin to just peel off. I left the cherry tomatoes with the skins on.
In a large heavy-bottomed pot add all ingredients and stir well. Bring to a boil over medium heat while stirring often. Reduce heat and cook for about 45 min. or until mixture mounds on a spoon.
Ladle into sterilized jars to 1/2" below the rim. Remove air bubbles and add more jam as needed. Wipe rims and place on sterilized lids. Tighten rings to fingertip-tight.
Process jars in a boiling water canner for 10 min. submerged in 1" of water over the lids. Take lid off of the pot and turn off stove but leave jars in the water for 5 min.
Transfer jars to a towel-lined surface and let rest until they come to room temperature. Make sure jars have sealed. You will hear them popping.
Refrigerate any unsealed jars for up to 3-4 weeks.
Recommended Products
As an Amazon Associate and member of other affiliate programs, I earn from qualifying purchases.
Nutrition Information:
Yield: 40
Serving Size: 2 Tablepoons
Amount Per Serving:
Calories: 47
Total Fat: 0g
Saturated Fat: 0g
Trans Fat: 0g
Unsaturated Fat: 0g
Cholesterol: 0mg
Sodium: 15mg
Carbohydrates: 12g
Fiber: 1g
Sugar: 11g
Protein: 0g
Recipe calculation was provided by Nutritionix and is an estimation only. If you need nutritional calculations for medical reasons, please use a source that you trust.

Recipe adapted from Best of Bridge Home Preserving.