Jalapeno Jam
We love preserving here and Ken was right into this cookbook trying to decide what to make. He came across Jalapeno Jam and fell in love with the idea. It is different than our Red and Green Pepper Jelly and we have been devouring it ever since. The recipe is from the Preservation Society Home Preserves by Camilla Wynne.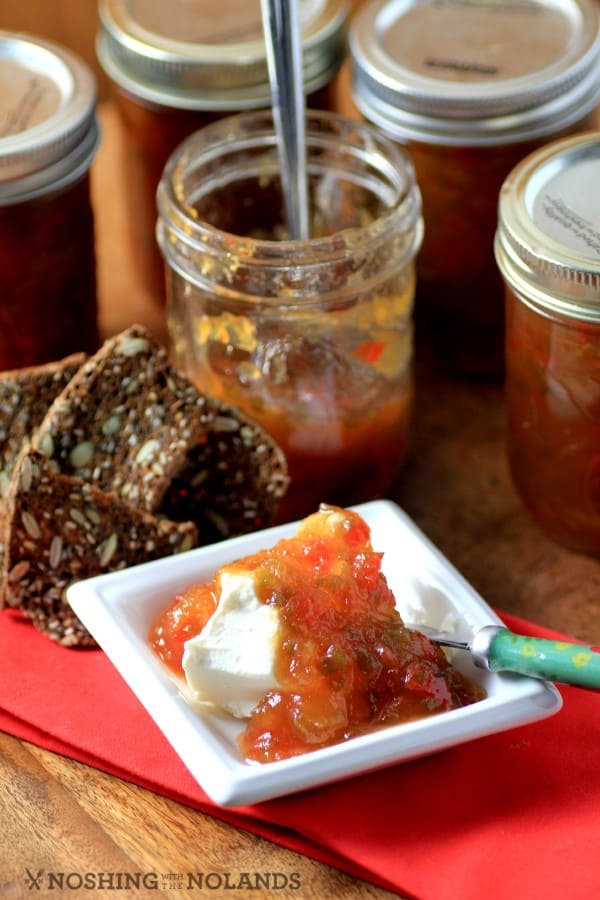 The Jalapeno Jam is sweet, slightly spicy, and tart. At first, I found it bitter from the added lemon but it mellowed very quickly, so this is a good recipe to make and then hide-away for a bit, even a week is fine. The added lemon with the apples make natural pectin so this jam has none added.
Canning is making a major comeback now as people want to shop locally to find fresh ingredients and preserve for months to come. DIY is hot right now and you know exactly what goes into your creations. Making homemade preserves uses a lot less sugar than store-bought items.
Canning supplies are readily available at most stores year-round. Canning and preserving is not hard and you don't need fancy equipment. Getting a great cookbook like this one is the only tool you need.
The cookbook is filled with wonderful preserving recipes that are easy for a beginner but can be enjoyed by a seasoned pro. Recipes like Fig Jam with Secrets, Pina Colada Jam, Apricot Butter, Sour Cherry Lemonade Concentrate, Dilly Green Beans, Miso Mixed Pickles, and more!!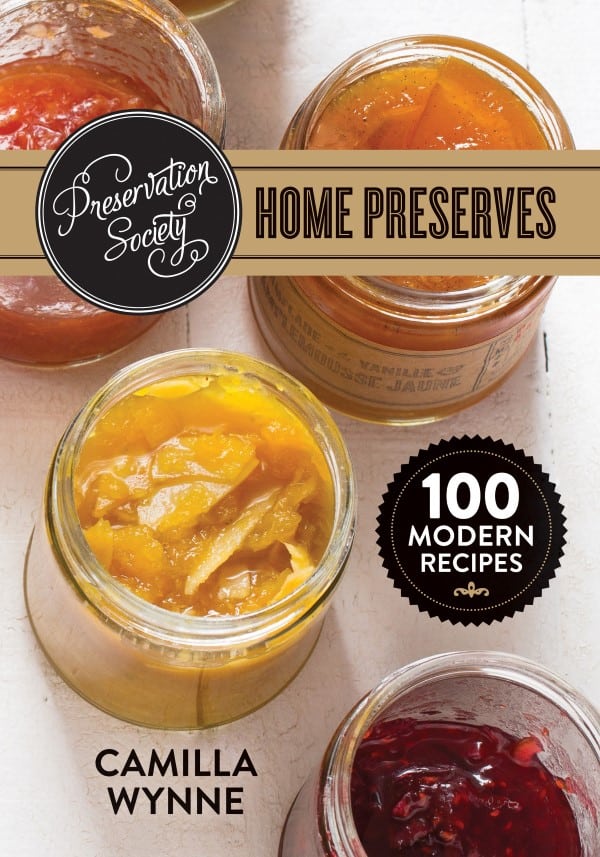 About The Author
Camilla Wynne, the author has worked with some of the top chefs and this shows in her recipes. The recipes aren't complicated, with difficult techniques or hard-to-find ingredients. The recipes are based on classic ideas with surprising twists!! This is why they are so mouth-watering and fantastic.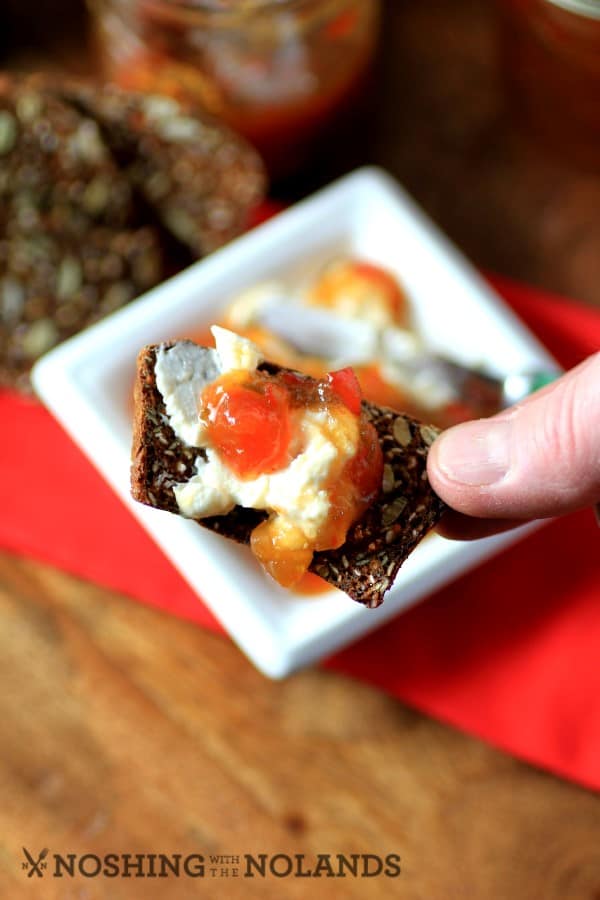 This jam is, of course, is scrumptious with the classic combination of cream cheese but you can go way further with it to accompany meats like pork chops, add it into sandwiches or try it with a little harder cheese like a Havarti (we did and it was Magnifique!!).
Camilla Wynne is a writer, home preserving teacher, and the founder of Preservation Society. She is one of Canada's only master preservers and has a small batch preserves company out of Montreal. Camilla has a professional pastry background but grew to love the art of preserving.
Her line of preserves quickly garnered a following as the products make a lasting memory. She is the author of another cookbook entitled Les conserves Selon Camilla. She resides in Montreal.
Do you want more canning recipes? Check out our amazing new ebook, THE BEST CANNING RECIPES!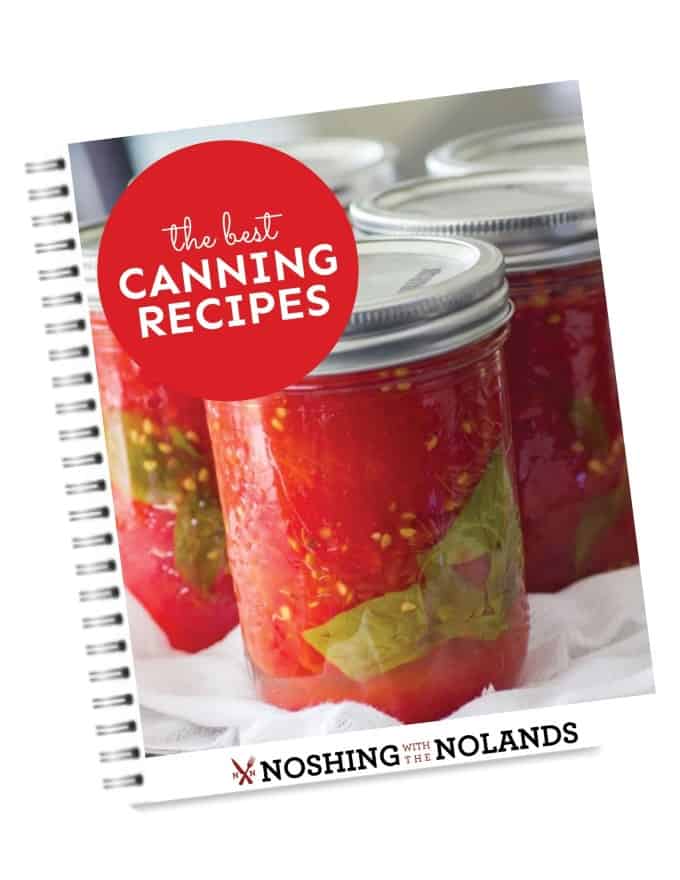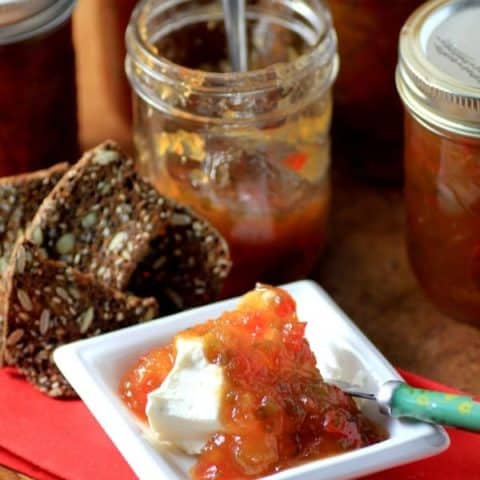 Jalapeno Jam
Yield: MAKES ABOUT FOUR JARS (8 OZ/250 ML EACH)
Prep Time: 20 minutes
Cook Time: 1 hour 15 minutes
Total Time: 1 hour 35 minutes
I LOVE PEPPER JELLY, a Southern staple frequently paired with cream cheese and crackers, but I'd never made it myself. Every time I saw a jar, I'd buy or trade for it, but every recipe I'd ever seen used pectin. My gustatory feelings about pectin aside, I'm just not very good at using it — often I can't get the right set, even when I follow instructions to a tee. (Maybe pectin is punishing me?) Finally, though, a client asked whether I could make some pepper jam, so I started experimenting with natural pectin boosters. First, I threw in a few apples, and then I saw a very old recipe in a vintage Time Life preserving book that used quartered lemons. Bingo! The result isn't quite the same as the pepper jellies you might know — it's a little looser, a little chunkier — but it's absolutely incredible with cream cheese and crackers. And biscuits, too!
Ingredients
2 lemons, quartered 2
1.2 lbs apples (3 to 4 medium), finely chopped 540 g
12 oz red bell peppers 350 g
(2 medium), finely chopped
12 oz jalapeÒo peppers (about 350 g
12 medium), seeded and finely chopped
1 tsp kosher or pickling salt 5 mL
3 cups granulated sugar 600 g
3 cups cider vinegar 750 mL
Instructions
Prepare the jars and lids.
In a large pot, combine the lemons, apples, red peppers, jalapeños, salt, sugar and vinegar. Bring to a boil over medium-high heat. Reduce heat and simmer, stirring often and reducing the heat as necessary, until thick. Remove from heat and fish out the lemons, which will now just be soft pieces of peel; discard lemons.
Ladle jam into the hot jars to within 1⁄4 inch (0.5 cm) of the rim. Remove any air bubbles and wipe rims. Place the lids on the jars and screw the bands on until fingertip-tight. Process in a boiling water canner for 10 minutes.
MAKES ABOUT FOUR JARS (8 OZ/250 ML EACH)
TIPS
I find it easiest to use a food processor to chop the apples, red peppers and jalapeños — just make sure not to chop them too finely!
I highly recommend you wear plastic gloves to handle the jalapeños; otherwise, you'll be sorry.
Nutrition Information:
Yield: 64
Serving Size: 1
Amount Per Serving:
Calories: 47
Total Fat: 0g
Saturated Fat: 0g
Trans Fat: 0g
Unsaturated Fat: 0g
Cholesterol: 0mg
Sodium: 10mg
Carbohydrates: 12g
Fiber: 0g
Sugar: 11g
Protein: 0g
Recipe calculation was provided by Nutritionix and is estimation only. If you need nutritional calculations for medical reasons, please use a source that you trust.
Courtesy of
Preservation Society Home Preserves
by
Camilla Wynne
, 2015 ©
www.robertrose.ca
Reprinted with permission. Available where books are sold.