Here is a great soup to make, using up leftover turkey. When you are tired after all the holidays and still feeling full from all the overindulging, try this Easy Light Turkey Noodle Soup. It will still fill you with that comforting feeling without all the calories again from the noodles. We are loving using Tofu Shirataki noodles in our dishes. They add the best flavor with few calories and really standup with a great texture in a soup, casserole or salad.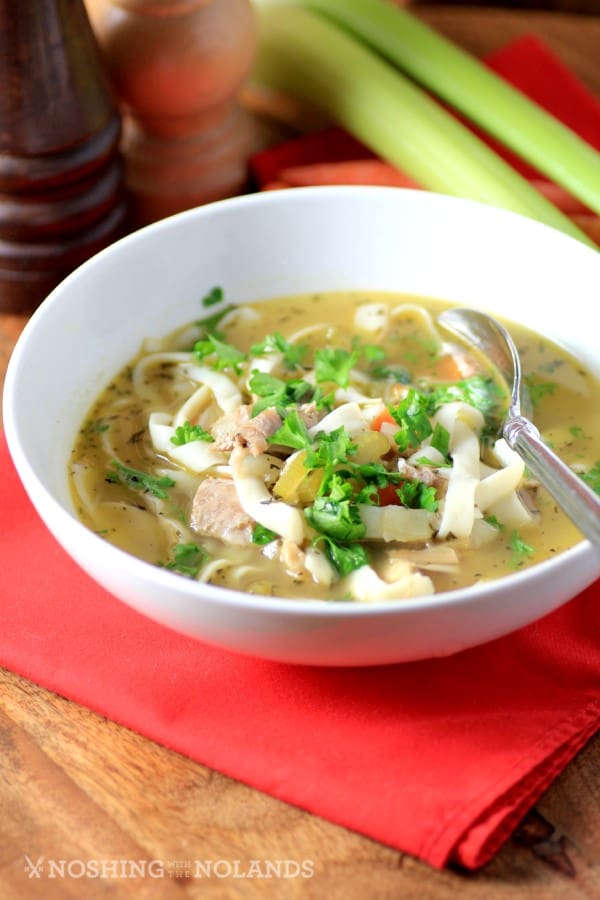 This soup is not only light but very simple to make. I love making a simple soup at dinner time. You can sit back and relax for a bit while the broth simmers and the flavors meld. At the end just add the noodles and turkey. The noodles only require a rinse and quick boil and they are ready to be used just like any other noodle.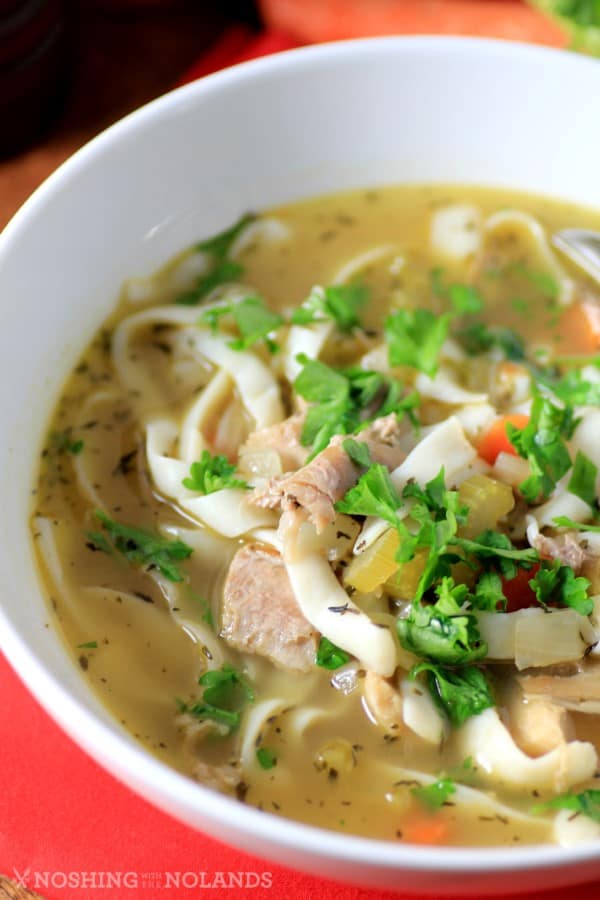 My family loved this soup so much and I loved that it was so easy!! Scrumptious flavors from thyme and sage mingle with the carrots, celery, onion, turkey and noodles. It really is a big bowl of comfort.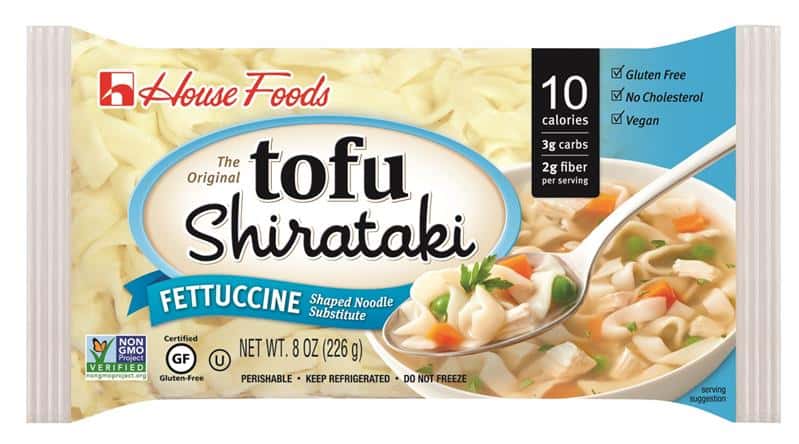 When I say very few calories I mean it, 10 per serving. Plus they are gluten free, vegan and have no cholesterol. They are also super versatile, just as any noodle is. So lighten up after the holidays and try these wonderfully delicious noodles!!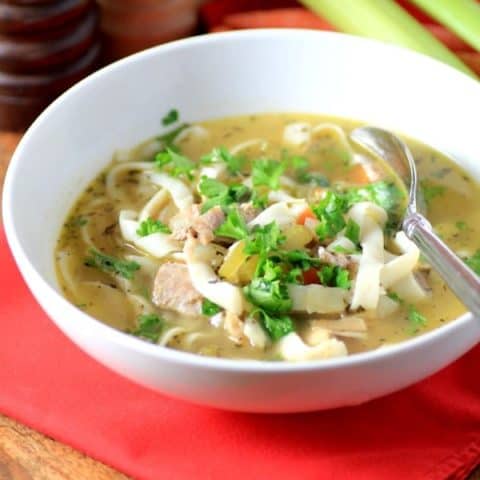 Easy Light Turkey Noodle Soup
Yield: 4-6 servings
Prep Time: 20 minutes
Cook Time: 50 minutes
Total Time: 1 hour 10 minutes
A delicious light and easy Turkey Noodle Soup that uses up that leftover turkey still in a comforting and warming way without all the calories.
Ingredients
1 Tbsp. canola oil
2 small onions, diced
3 celery, diced
2 medium carrots, diced
1 tsp. garlic, minced
Salt and pepper to taste
1 1/2 tsp. thyme
1/2 tsp. dried sage
2 x 900 ml. (30 oz.) no added salt chicken broth
3 cups cubed cooked turkey, white meat has fewer calories
2 pkg. Tofu Shirataki Fettuccine noodles
Parsley, chopped
Instructions
Saute the onions, celery, and carrots with the canola oil in a large soup pot. Stir to combine and start to cook over medium heat. Add the garlic and salt and pepper. Continue to cook until the onions are translucent but not browning. Add the thyme and sage and cook for 1-2 min. Pour in the chicken broth and simmer for 30 min.
Meanwhile, rinse and cook the noodles according to the package. When the soup is close to being ready to be served. Add the turkey and let cook for 10 min. Add the noodles in the end and eat through. Serve with chopped parsley.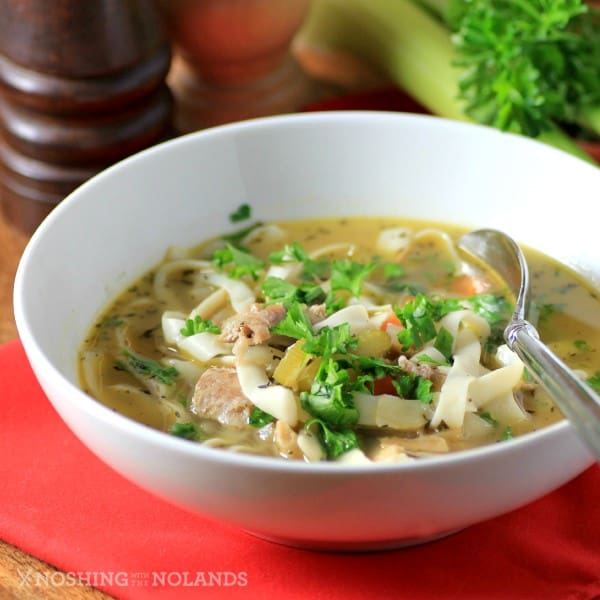 Here are two of the other recipes I have made recently using Tofu Shirataki Noodles.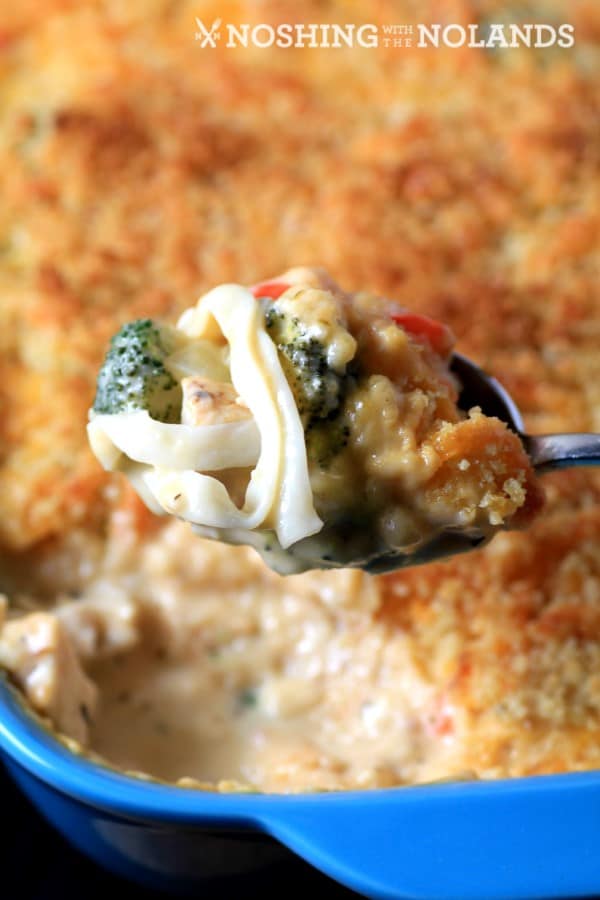 Cheesy Chicken Broccoli Noodle Casserole