Cheesy Chicken Broccoli Noodle Casserole
Don't you just love a comforting casserole in the fall? I have for you today Cheesy Chicken Broccoli Noodle Casserole and it has a whole lot of comfort in it. Cheese, noodles, chicken and veggies but it is also gluten free and has less calories than your standard big cheesy casserole. That is because I used Tofu Shirataki Fettuccine from House Foods. The most important thing though is that is tastes delicious and is easy to assemble for an amazing weekday supper. I received rave reviews on this recipe, my family loved it!! This would be a great side dish also for the holidays, you could omit the chicken and add a bit more veggies. The red and green make it festive too!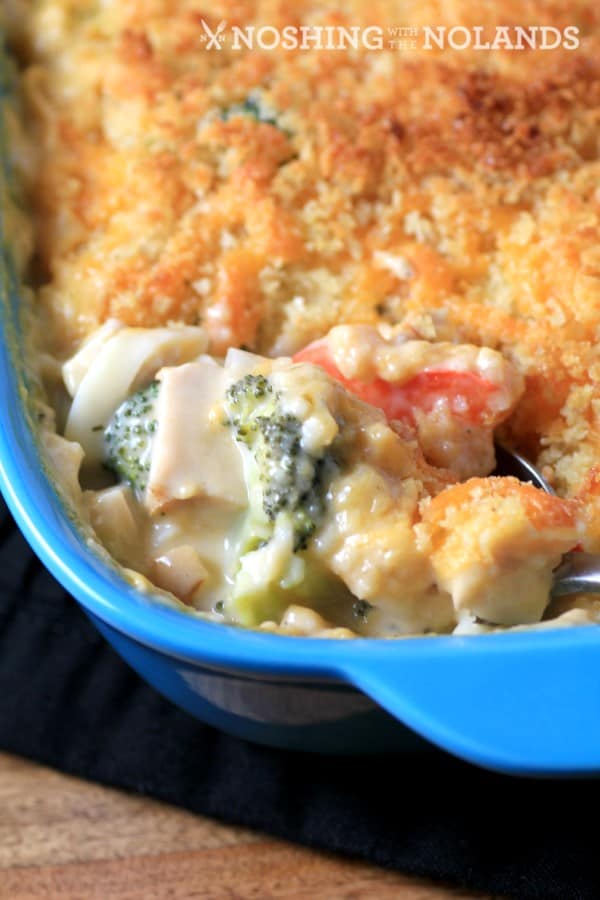 The noodles are exceptionally easy to work with, just a quick rinse and a quick 2 minute boil is all that is needed. We all found that they stood up way better than egg noodles to in this dish as they didn't get mushy when baked!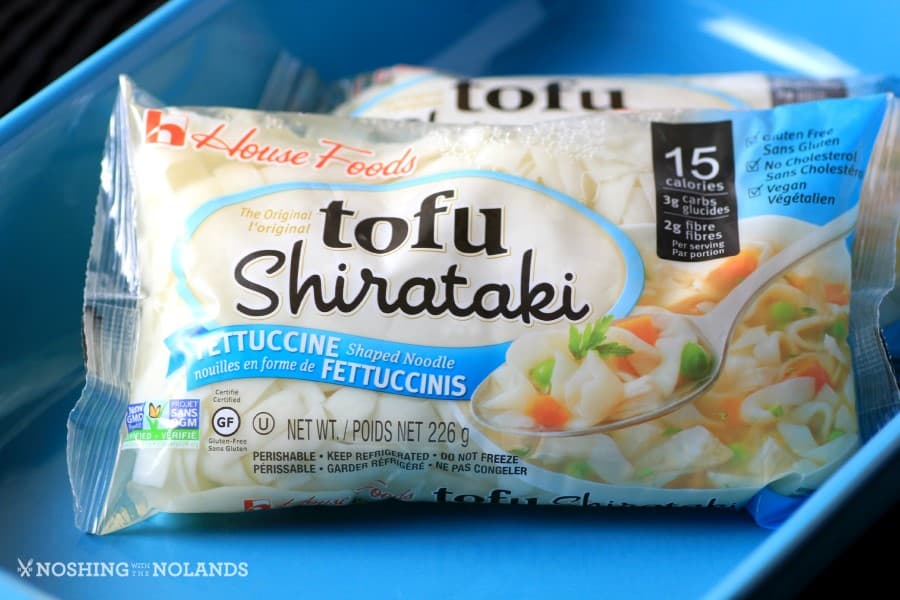 I have used their products now in dishes like this Asian Noodle Summertime Salad, stir-frys and salads. They are extremely low in calories, gluten free, non GMO and vegan. They are made by blending the flour of Konnyaku (a member of the Asian yam family) and tofu.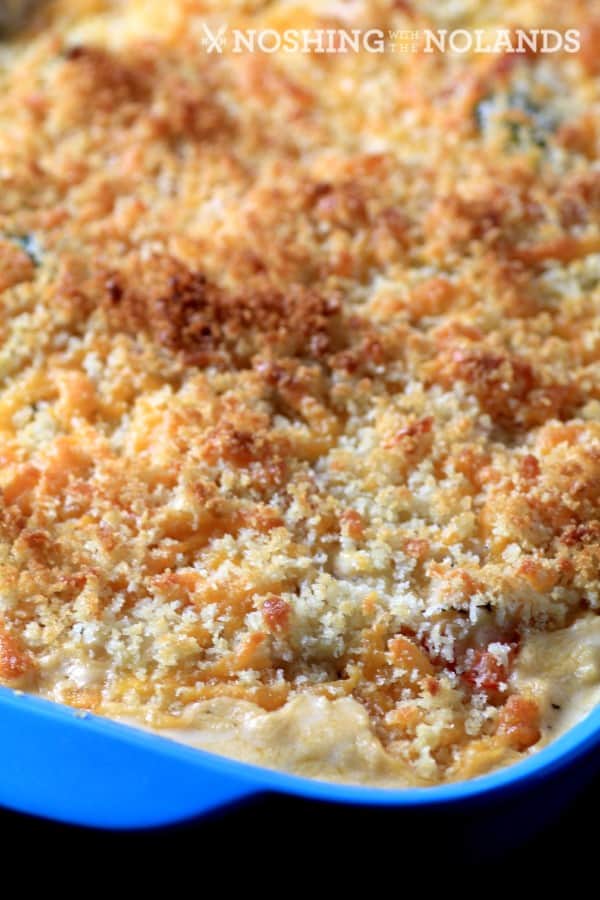 The topping is made with panko bread crumbs which can be gluten free if need be. Cheese and butter are added for flavor and crispness!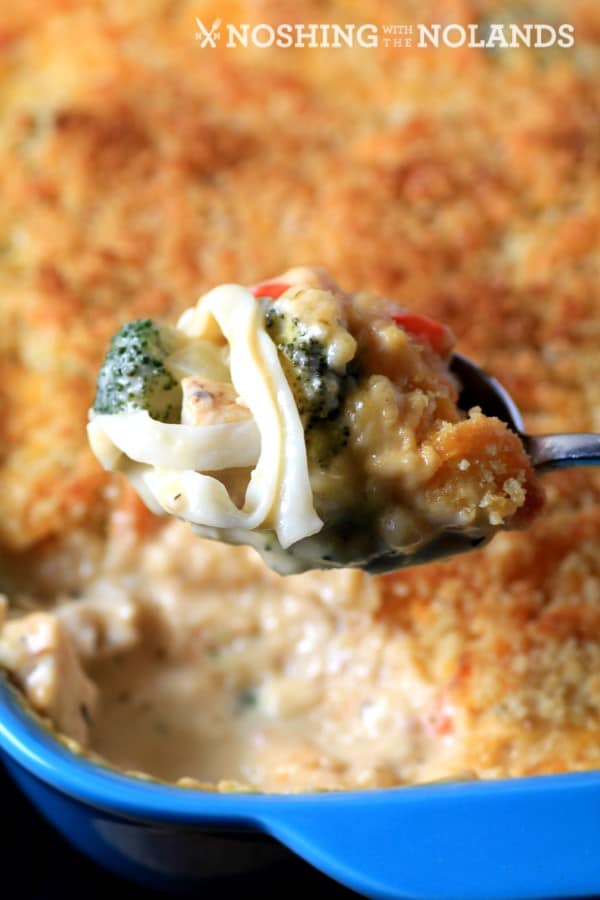 Look at all that deliciousness on one spoon. You will love making this for your family and your family will love you for it!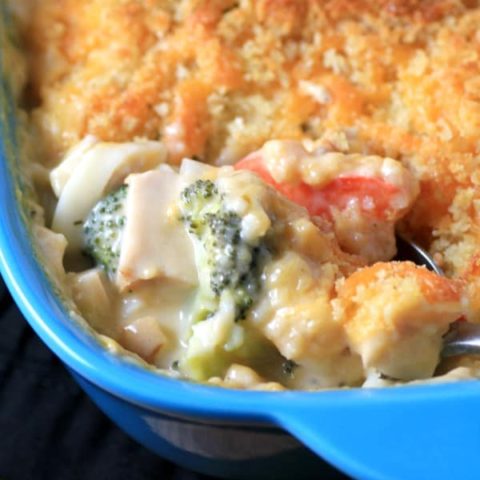 Cheesy Chicken Broccoli Noodle Casserole
Yield: 6 servings
Prep Time: 20 minutes
Cook Time: 40 minutes
Total Time: 1 hour
A delicious comforting chicken noodle casserole that is also lower in calories and gluten free.
Ingredients
2 Tbsp. butter plus more for dish
1 small onion, diced
1 red pepper, cut into 2" strips
2 1/2 cups broccoli, steamed until tender crisp and then submerged in ice water
6 Tbsp. flour or gluten free thickener eg. sweet rice flour (3 Tbsp.)
1/2 tsp. oregano
1/2 tsp. thyme
Salt and pepper to taste
3 cups sodium reduced chicken or vegetable broth
1 cup 2 % milk
4 oz. light cream cheese, large diced
1 cup aged cheddar cheese, grated
2 tsp. hot sauce
Large pinch of cayenne
2 pkgs. Tofu Shirataki Fettuccine noodles, drained, rinsed and cooked per package directions
3 cups cooked chicken, diced
Topping
2 Tbsp. butter
1/2 cup aged shredded cheese
2/3 cup panko crumbs, gluten free optional
Instructions
Butter a 9x12" dish and set aside. Add the 2 Tbsp. butter to a large saute pan and saute the onion and red peppers over medium heat until just tender and onions are transparent.
Preheat oven to 350F.
Stir in flour, thyme, oregano, cook for 1 min. Slowly add in the chicken broth and then milk, stirring constantly. Adjust seasoning with salt and pepper. Bring up to a simmer and cook for 2 min. or until thickened.
Remove from the heat and add the cream cheese and cheddar cheese and stir until melted. Stir in the cayenne and hot sauce. Again adjust seasoning with salt and pepper as needed. Add the cooked noodles, diced chicken, onions, red pepper and cooked broccoli. Pour into the prepared pan. Combine the topping ingredients and sprinkle over the casserole.
Bake for 30 min. or until top is golden brown and casserole is bubbling.