Asian Noodle Summertime Salad
I have been asked to do a series of posts for Tofu Shirataki using their delicious products in a variety of dishes. I love creating recipes, so thank you to House Foods for this delectable opportunity to make this Asian Noodle Summertime Salad. I have worked with the shirataki noodles before in stir frys and salads. They are easy to work with, a quick rinse and fast boil is all that is needed.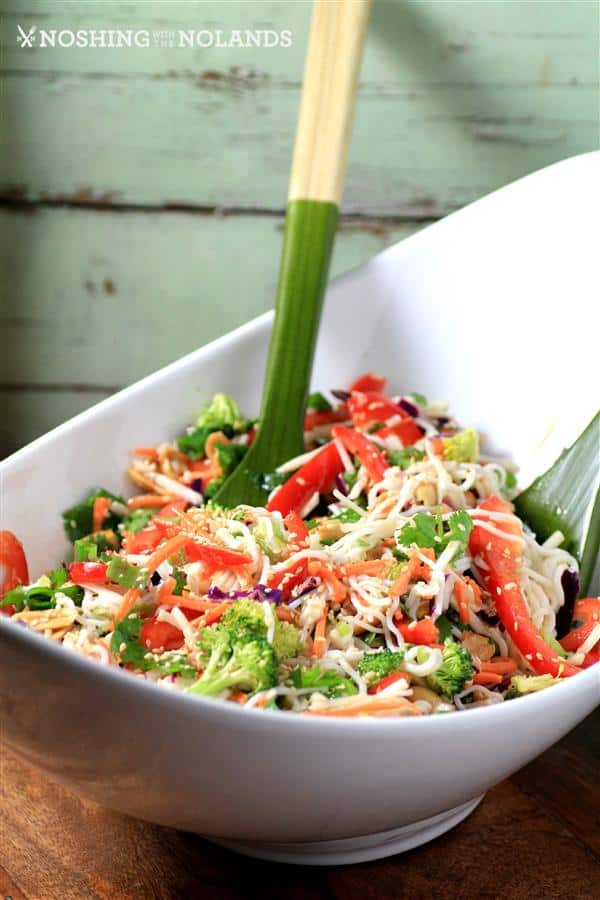 Do you scoff at tofu? Well then, you have never really tried it in a scrumptious recipe like this then. The Asian flavors are singing in this dish and the noodles give the perfect balance, not being too heavy and also have very few calories.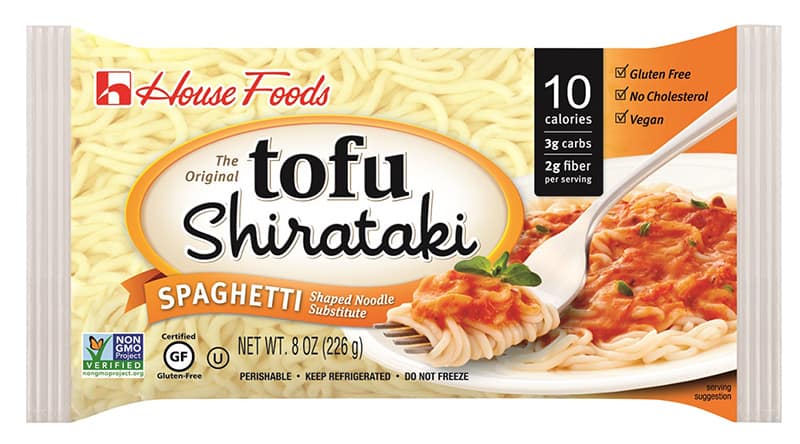 When I say very few calories I mean it, 10 per serving. Plus they are gluten free, vegan and have no cholesterol. They are also super versatile, just as any noodle is.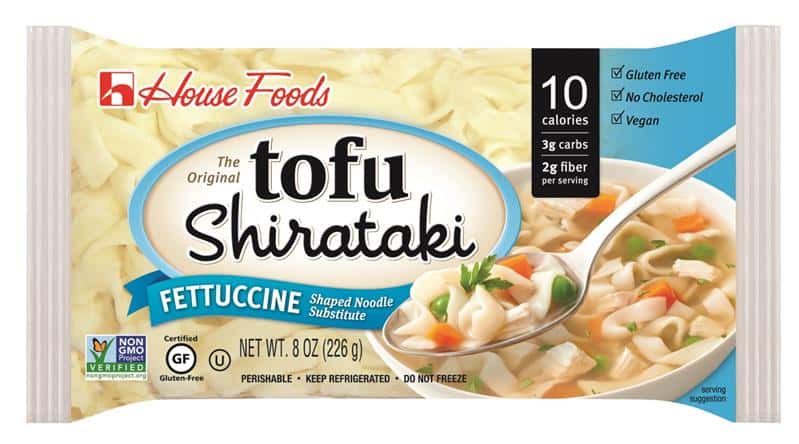 Can't wait to use these fetuccine style noodles, I am already thinking of an Udon type soup for the fall, YUM!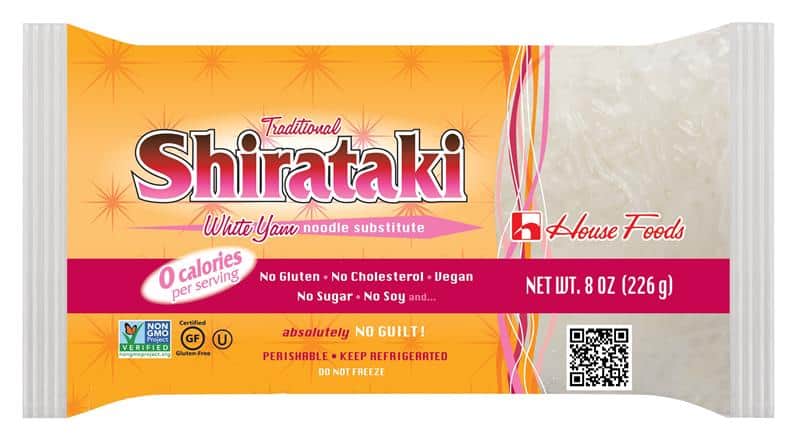 These have 0 zero calories, huh? Yes you have got that right. What has zero calories to eat? Can't wait to try these too, maybe in a spicy chicken stirfry, healthy and delicious!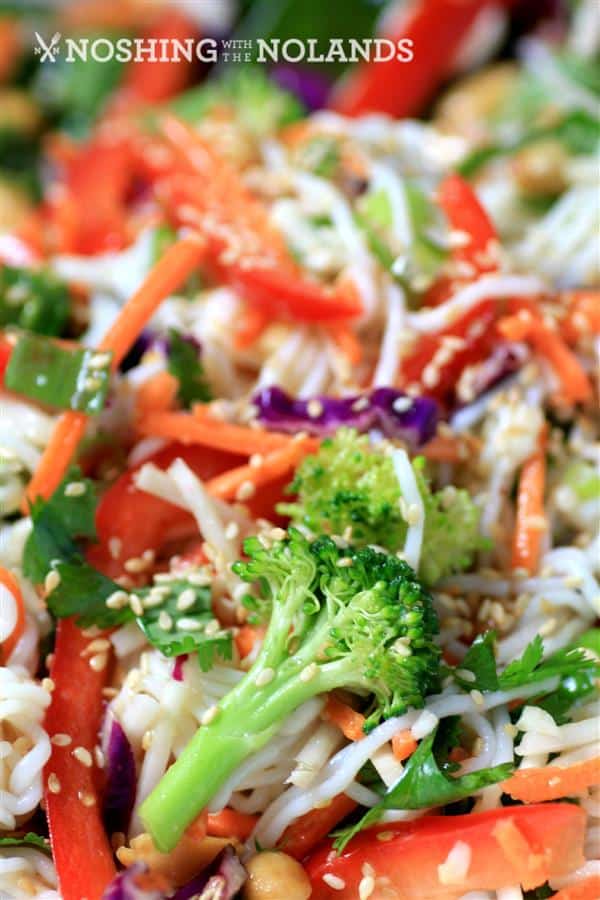 Okay back to this crunchy, flavor filled salad. I found a bag of rainbow slaw mix that had the addition of broccoli and carrots, so easy to just toss that in and so colorful too. This salad is great to accompany any BBQ this summer, it also packs perfectly for a picnic. It is quick and easy to make and can be a meal onto itself with the added protein from the peanuts.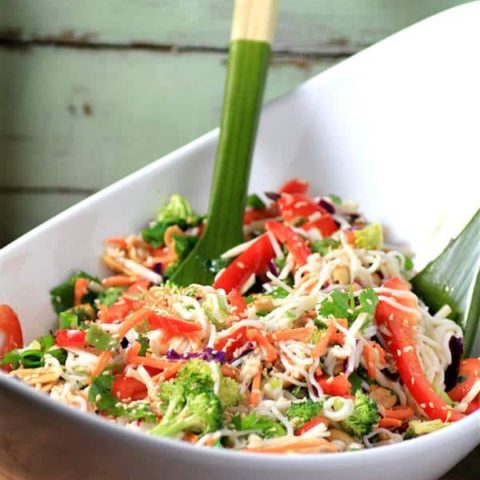 Asian Noodle Summertime Salad
Yield: 4-6 servings
Prep Time: 25 minutes
Cook Time: 3 minutes
Total Time: 28 minutes
A crunchy flavor filled salad with tofu noodles that is vegan and makes a meal on it's own or is great with any BBQ meat!
Ingredients
2 - 8 oz. packages of Tofu Shirataki spaghetti noodles
12 oz. bag fresh rainbow slaw mix, or plain slaw
3 green onion, thinly sliced
1 red bell pepper, thinly sliced
1/2 cup cilantro, chopped
1 cup salted, roasted peanuts
2 Tbsp. sesame seeds
Dressing
1 Tbsp. fresh ginger paste
3 Tbsp. super fine sugar or 4 Tbsp. sugar
1 tsp. finely minced garlic
1/2 tsp. crushed red pepper flakes
1/2 cup unseasoned rice vinegar
1/2 cup canola oil
4 tsp. sesame oil
Salt to taste
Instructions
Drain, rinse and cook tofu shirataki noodles according to the package. Set aside to cool.
In a small bowl or dressing shaker, mix the ingredients and whisk or shake well.
In a large bowl toss the the salad ingredients with the cooled noodles, omitting the sesame seeds for now. Toss the salad with the dressing, use as much as you want, there may be some left over for another use. Garnish the top of the salad with the sesame seeds. Let sit for a few hours or serve immediately.