Grilled Potato Wedges with Curry Aioli – Culinary Ginger
So thrilled to have Janette Fuschi today from Culinary Ginger. I adore Janette's work, her recipes are fantastic, her photography spot on. Janette is in a few of the groups that I am in and we work side by side sharing our recipes. Janette has some amazing ones like today's Grilled Potato Wedges with Curry Aioli, how fun are wedges these to serve. Some of her latest work are these scrumptious-looking Grilled Barbeque Spare Ribs or the mouthwatering Grilled Shrimp with Ginger Lemon Dipping Sauce.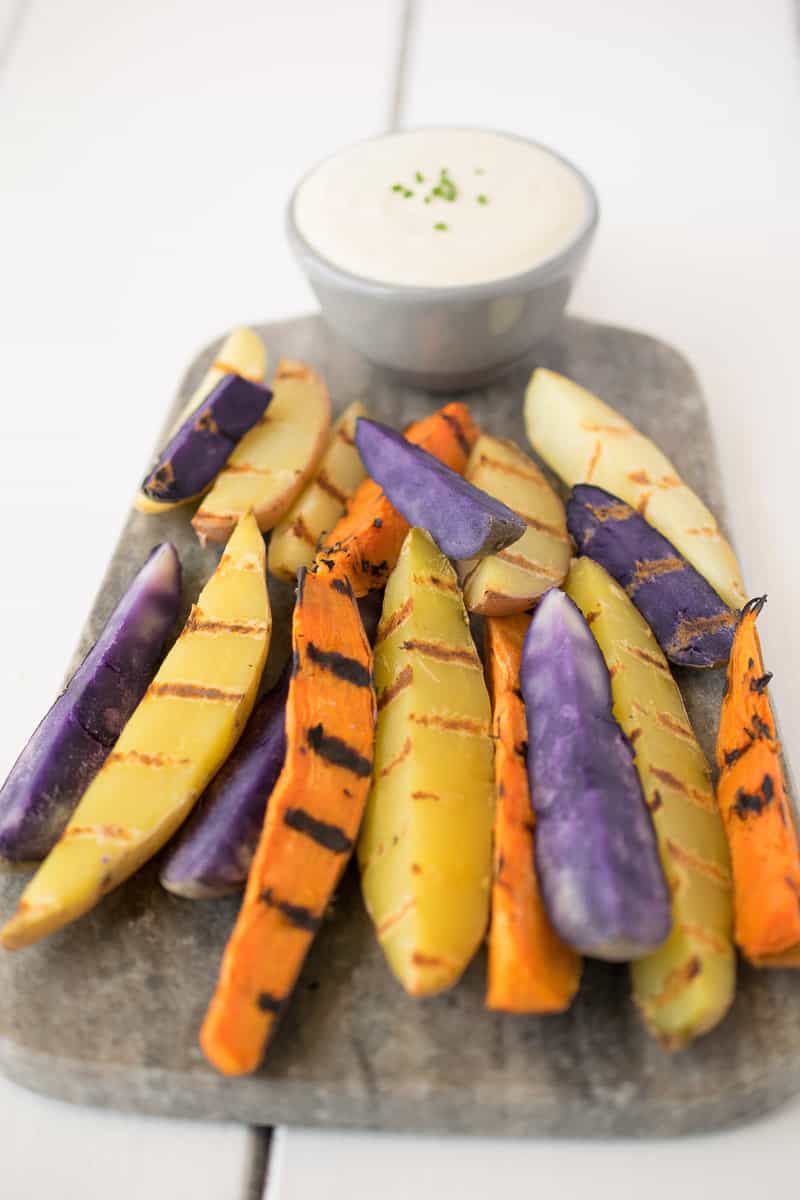 I would be so happy if you would follow Culinary Ginger on Facebook, Twitter, Instagram, and Pinterest. You will be very happy to see her recipes all the time and follow her journey!! Always delicious looking and made with fresh ingredients. No processed or pre-packaged foods are allowed in her kitchen. I now give the floor to Janette, enjoy everyone!!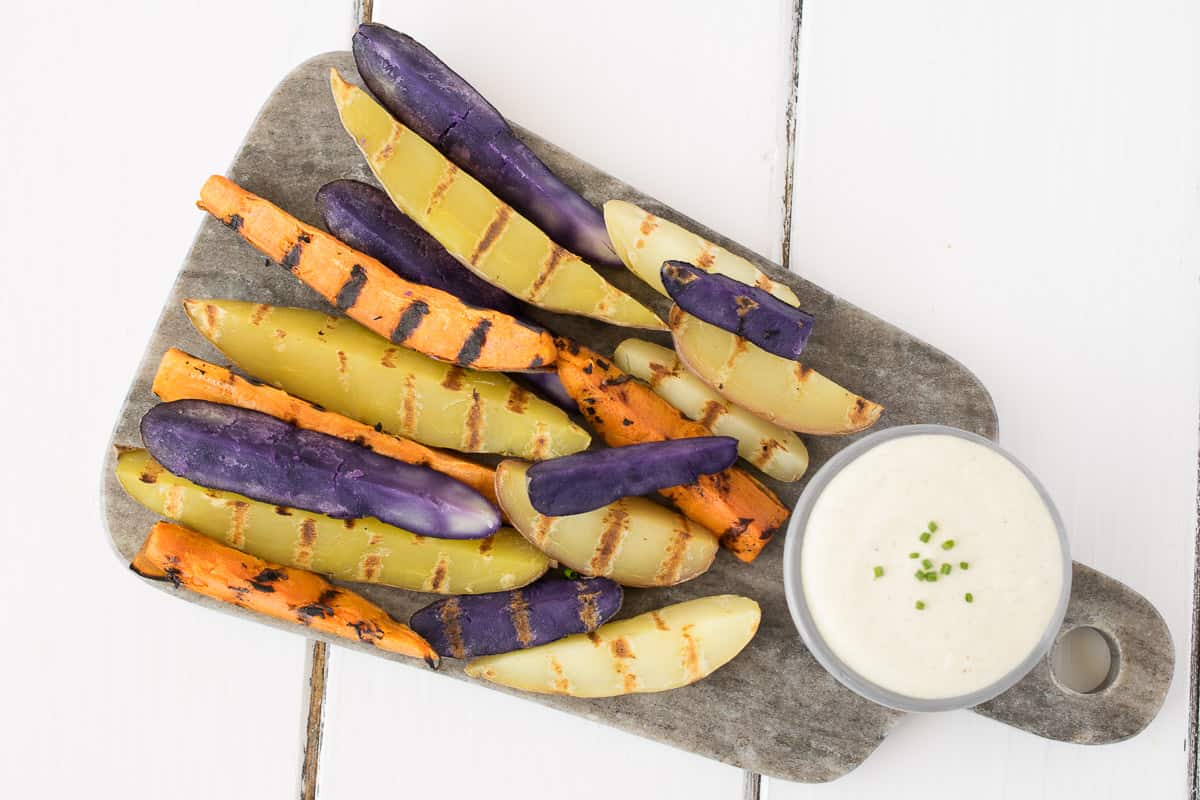 Hello again, this is Janette from Culinary Ginger and I'm so excited for Tara to have me back guest posting for her today. I hope you're all having a wonderful Summer, enjoying the weather and eating lots of great recipes from Noshing with the Nolands. Today I'm bringing you easy, but very flavorful (and colorful) grilled potato wedges with curry aioli.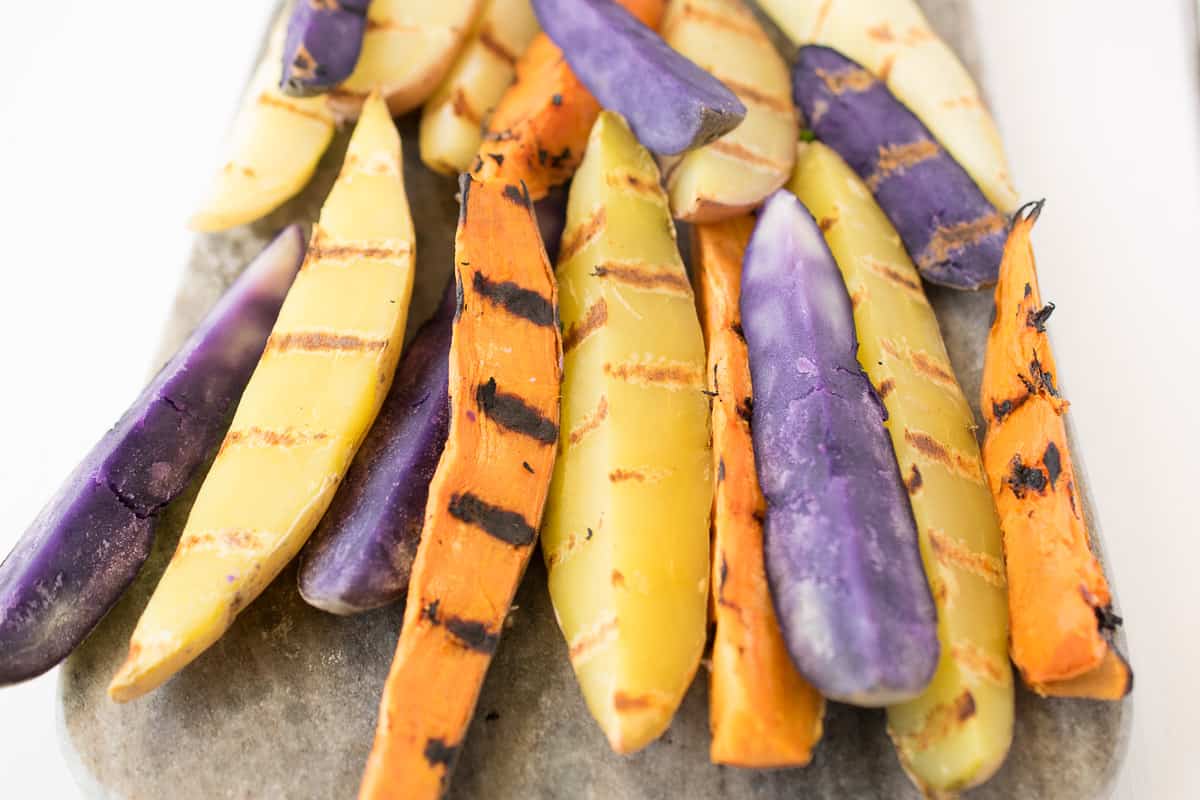 This is a great appetizer dish to serve with pre-dinner drinks or if you're just kicking back by the pool with friends. The aioli has a blend of Indian spices (my favorite cuisine) which I always have in the pantry. It is best and you should, cook spices when you add them to dishes. An easy way of doing this is if I'm making a curry dish I like to add them while the onions are cooking this will cook out the raw flavor and bring out the flavors of the spices.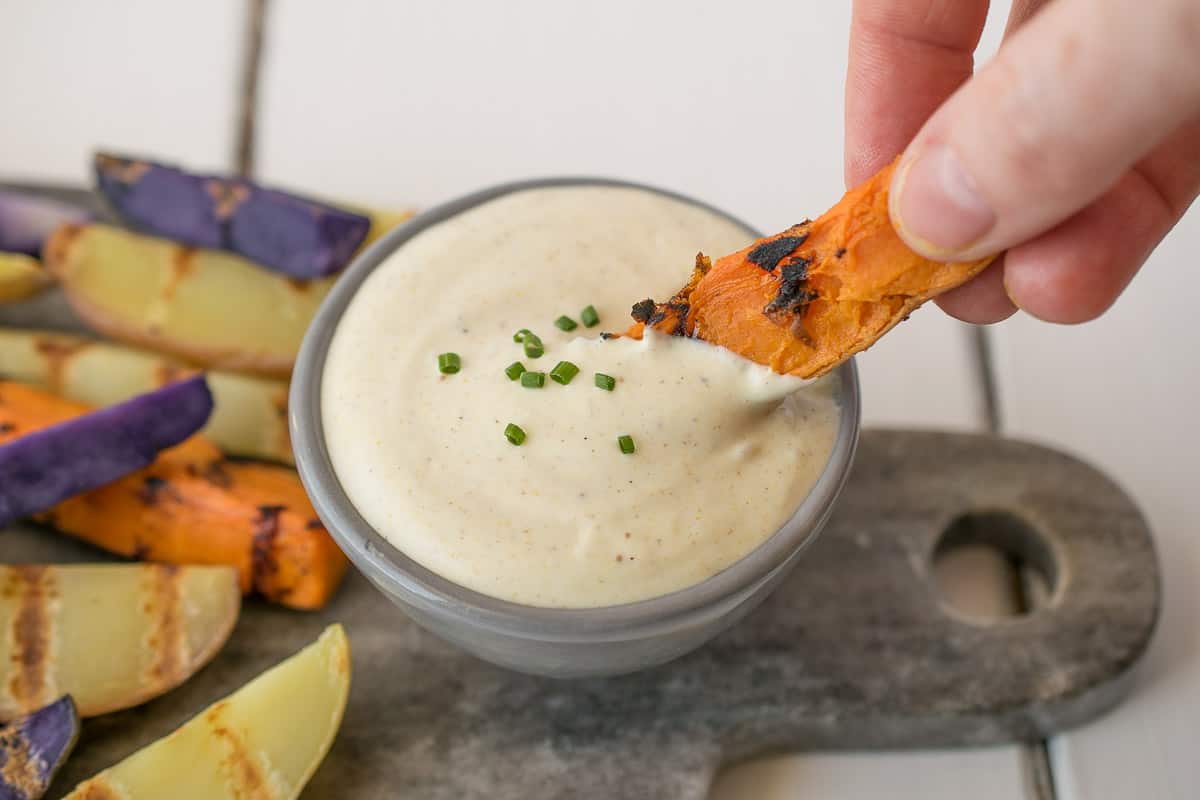 For this aioli, I cooked clove of garlic in oil and used some of the oil to cook the spices. The spices can tend to have a raw, bitter taste so it's always best not to skip this step, even though this dip is no cook I didn't want to add the raw spices, cooking gives more depth of flavor.
The potatoes are simply boiled and then allowed to cool before grilling to give them a little smoky grill flavor and grill marks are always make for a lovely presentation. Enjoy!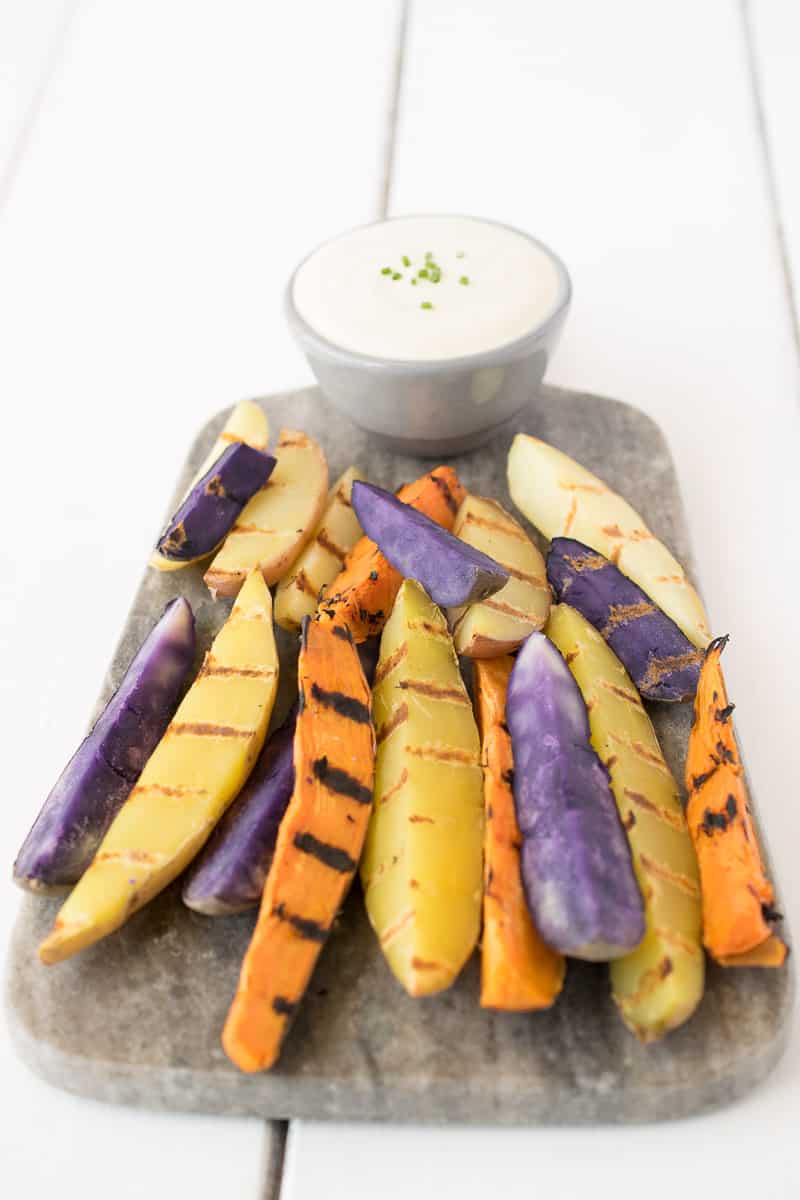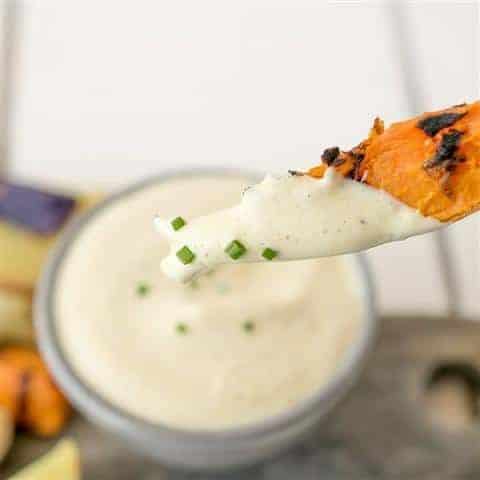 Grilled potato wedges with curry aioli
Yield: 4-6
Prep Time: 5 minutes
Cook Time: 38 minutes
Total Time: 43 minutes
These easy Grilled Potato Wedges with Curry Aioli are a great backyard treat with a before-dinner drink. The aioli is flavored with wonderful Indian spices to give this appetizer a new and interesting twist.
Ingredients
1/4 cup vegetable oil
2 garlic cloves, peeled
1 teaspoon garam masala
1/2 teaspoon ground coriander
1/2 teaspoon cumin
1/4 teaspoon fenugreek
1/4 teaspoon turmeric
1 cup good mayonnaise
1 cup greek yogurt
1/4 cup coconut milk
2 tablespoons fresh lime juice
1 teaspoon salt
1/2 teaspoon freshly ground pepper
2 pounds mixed potatoes (I used fingerling and sweet)
Instructions
Add the vegetable oil to a small saucepan and heat over medium low heat.
When the oil starts to ripple, add the garlic cloves and cook until they start to brown.
Remove the garlic cloves and leave 1 teaspoon of the oil in the pan.
Add the garam masala, coriander, cumin, fenugreek and turmeric to the oil. Mix well and cook over low heat to cook the spices and until they turn into a paste until fragrant. If the paste is too thick add more oil.
Transfer to a bowl to cool.
To a small mixing bowl add the mayonnaise, Greek yogurt, coconut milk, lime juice, salt, pepper and cooled curry paste. Mix well and refrigerate.
Bring a large pan of water to a boil.
Add the potatoes and cook for 25-30 minutes. When a knife is inserted it should go in easily then they are done.
Drain the potatoes and allow to cool.
Preheat an indoor or outdoor grill.
Cut the potatoes into wedges.
Grill the potatoes on the flesh side, about 4 minutes per side until you get good grill marks.
Serve with the curry aioli.
Nutrition Information:
Yield: 6
Serving Size: 1
Amount Per Serving:
Calories: 518
Total Fat: 39g
Saturated Fat: 7g
Trans Fat: 0g
Unsaturated Fat: 31g
Cholesterol: 17mg
Sodium: 616mg
Carbohydrates: 35g
Fiber: 4g
Sugar: 3g
Protein: 8g
Recipe calculation was provided by Nutritionix and is an estimation only. If you need nutritional calculations for medical reasons, please use a source that you trust.