We have an extra post you today using The Little Potato Company potatoes for kids with Cheesy Potato Stacks. If you know me well you know how this whole blog got started and that was with Friday Night Cooking Classes, soon it became FNCC.
When my daughter was 9, I felt she was old enough to get into the kitchen on a more serious basis and we cooked every Friday night with one of her friends. They created dishes that they wanted to cook.
They choose the menu for the next week and we soon moved from your regular kids fare to much more complicated dishes. The first one we started with was candy sushi but moved into dishes like tacos and macaroni and cheese.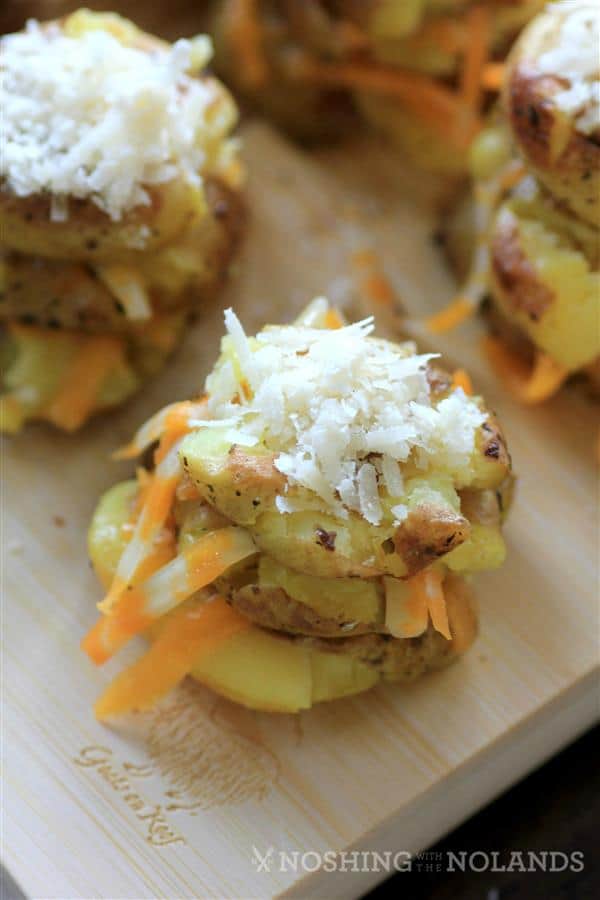 FNCC
Then onto more complicated dishes like homemade gnocchi, perogies, wor wonton soup and much more. We did this for a number of years and had grand finale shows with chefs coming into the house to help the girls cook or going to an actual restaurant and watching chefs cook in a kitchen.
The whole thing we shared on Facebook and we started to have a great following, people anxiously awaiting to see what the kids had created. It was a favorite part of our week. My husband joined in also teaching the kids recipes that he enjoyed.
So when The Little Potato Company asked me for a special post for kids, I jumped at the chance. Our daughter Amber is now 14 and is a great little chef in our kitchen when she has time to create.
Getting kids in the kitchen is a great way to show them important life skills through cooking and meal planning. They easily learn about food and nutrition in a fun way. Taking them also to the grocery store and talking about where food comes from gives them a deeper connection to the earth, air, and water.
Knowing that chicken, for example, doesn't just appear in a package is important for them to understand. They also feel great accomplishment being a contributor to important family activities.
When thinking of the recipe for this post, I hummed and hawed about what to make, going from recipe to recipe in my head. I wanted this to be fun for kids, something that the whole family could get into. I landed on this idea. A simple pan of BBQ potatoes can be created into these adorable stacks, even at the supper table.
Little Potato Company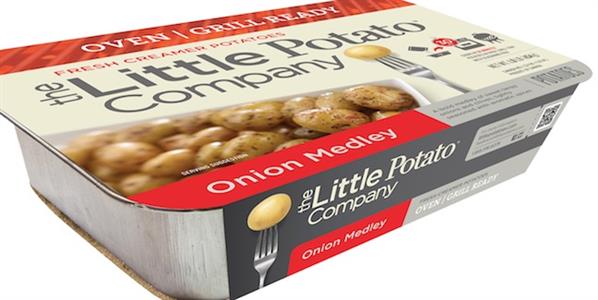 They are easy to make and super fun. Watch Amber in this step by step recipe to see how she created these.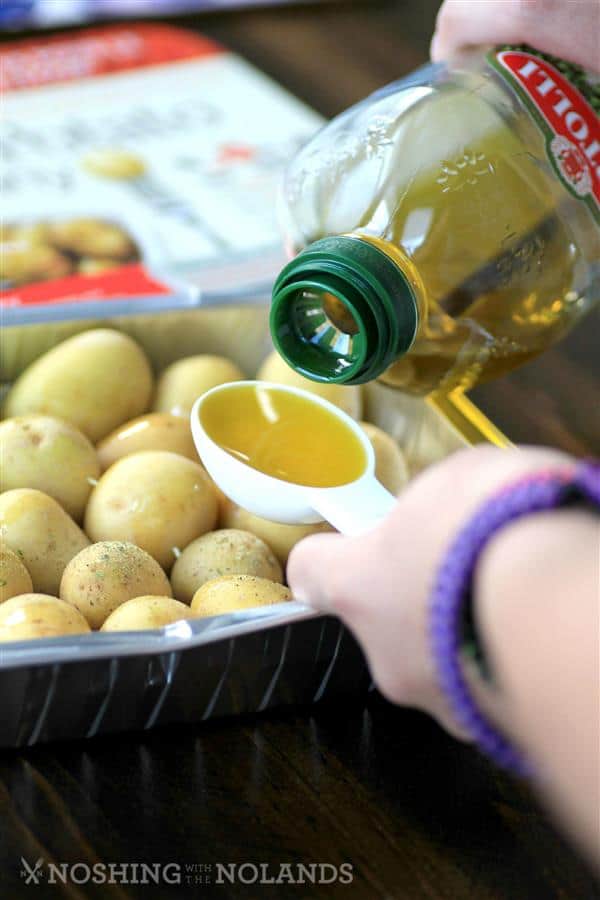 Amber followed the directions on the package of Onion Medley oven/grill ready potatoes, adding two tablespoons of olive oil to the container of potatoes. The potatoes are already washed and we are loving the ease of these trays for BBQ season. We always have a pack or three in the refrigerator!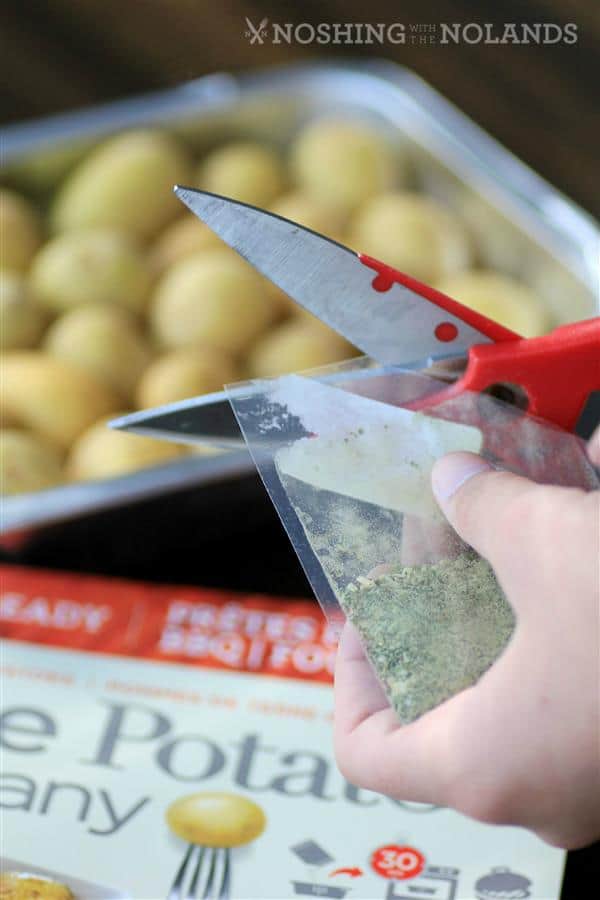 Next comes the seasoning package that is included with the potatoes. The spices are just awesome for the potatoes, no salt or pepper needed, they are perfectly balanced.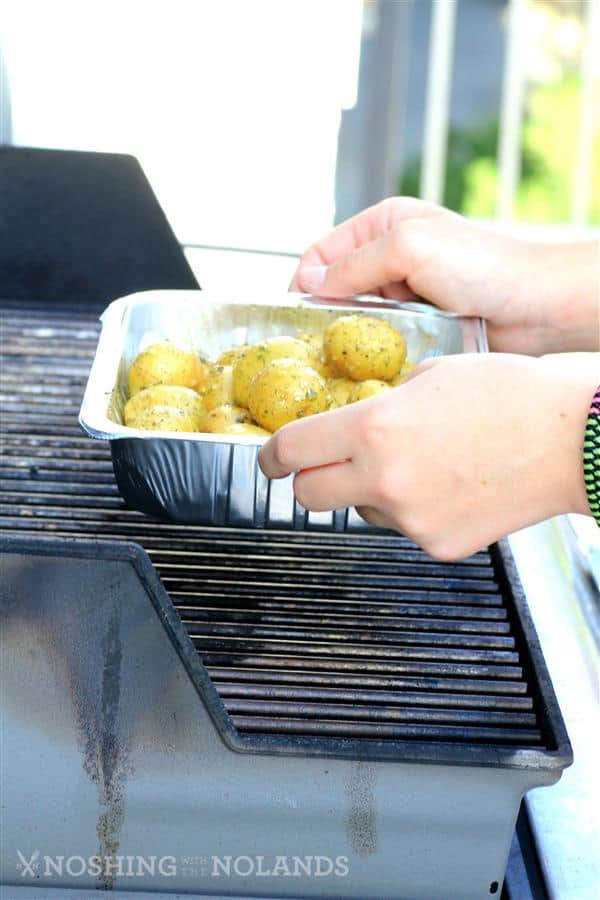 After a quick toss to combine the potatoes, spices and olive oil, they are ready for the grill. It couldn't be easier, a child's play!! If the kids are little, mom or dad may need to do the BBQing part.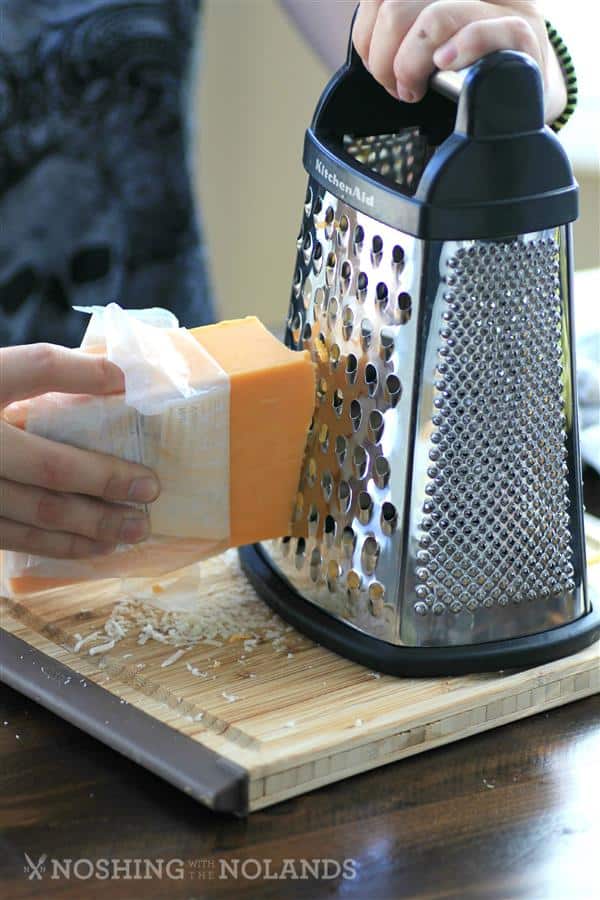 While the potatoes are roasting Amber grated up her favorite cheese. For the stacks she used a medium cheddar, marble and good quality parmesan. This recipe didn't have measurements we just eyeballed how much cheese she wanted to add and you can too!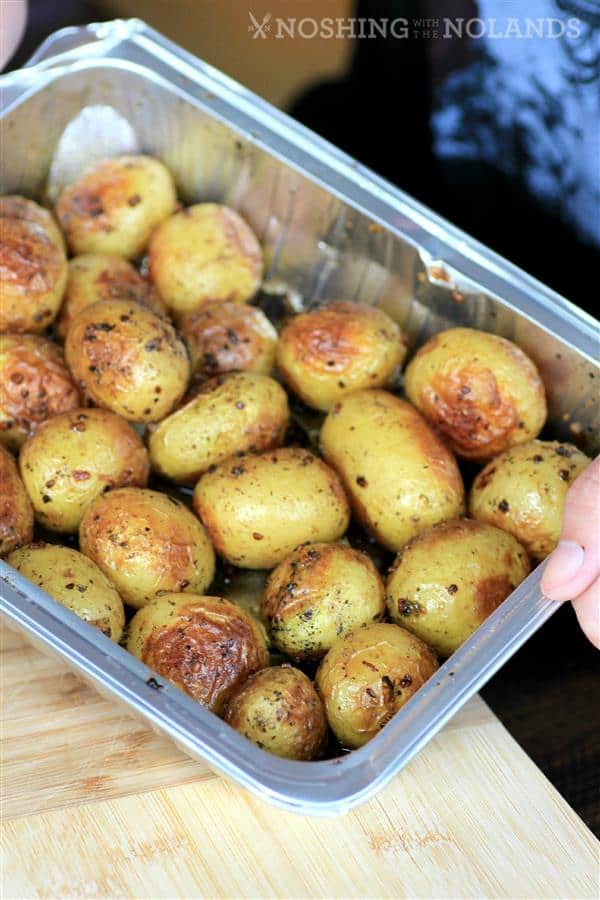 Once the potatoes are perfectly roasted on the BBQ, approx. 30 min., remove them to cool slightly. These can just be presented on the table like this. Have the kids use a potato masher or a fork. Put out a plate of cheese and let the fun start!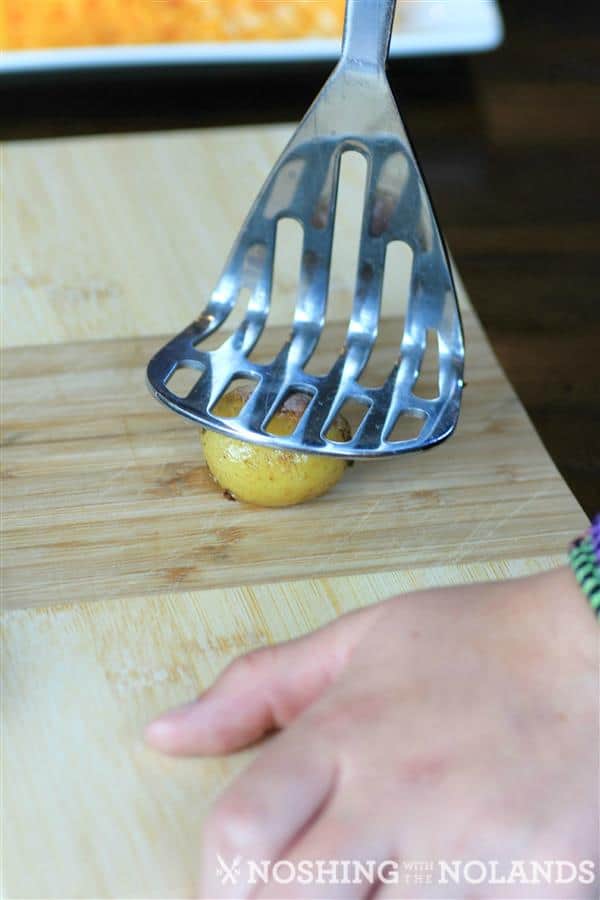 First the potatoes are smashed!!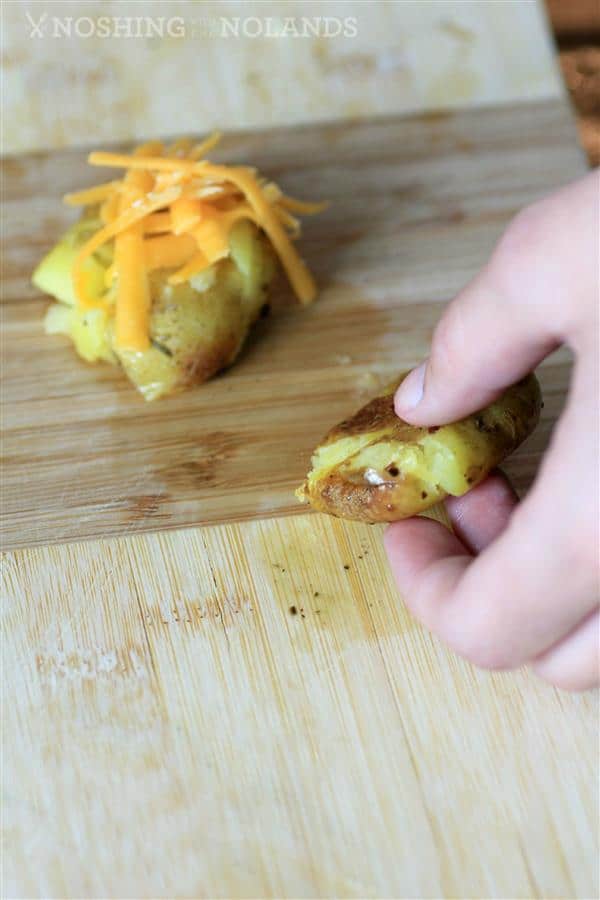 Then a layer of cheddar cheese and another potato on top!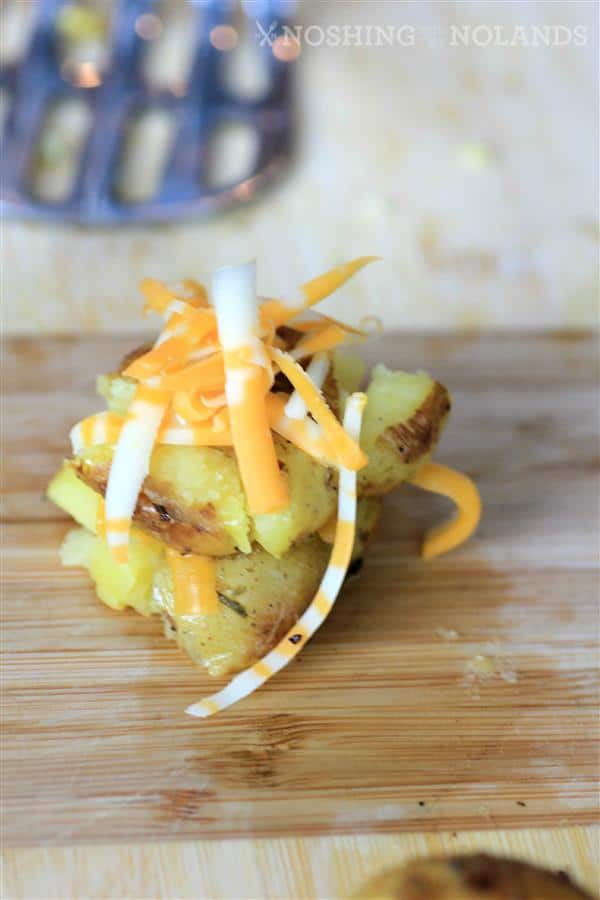 She followed that by marble cheese, other kids favorite cheese. We aren't finished yet though.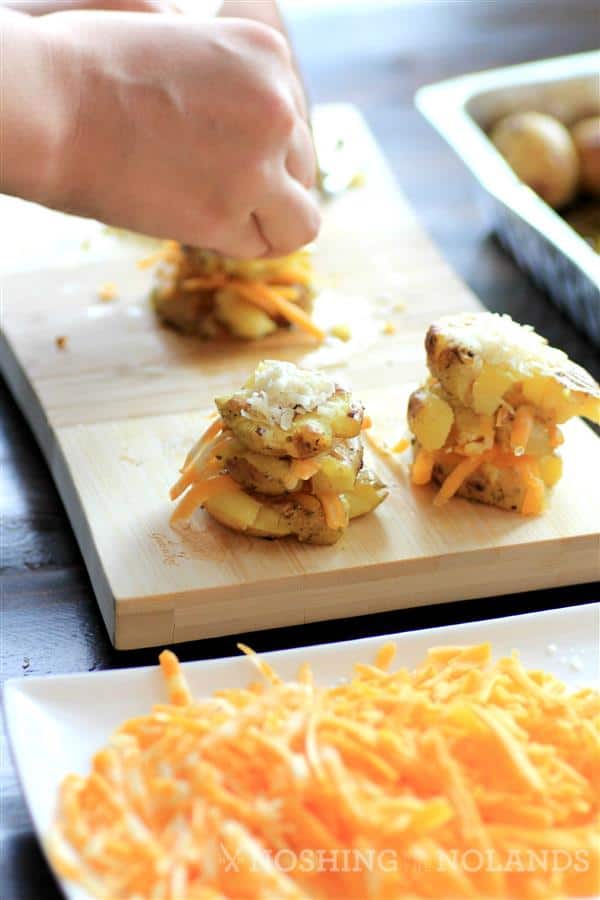 The final potato is on top and then parmesan to finish off the stack. She kept creating until all the potatoes were done.
Cute Stackable Potatoes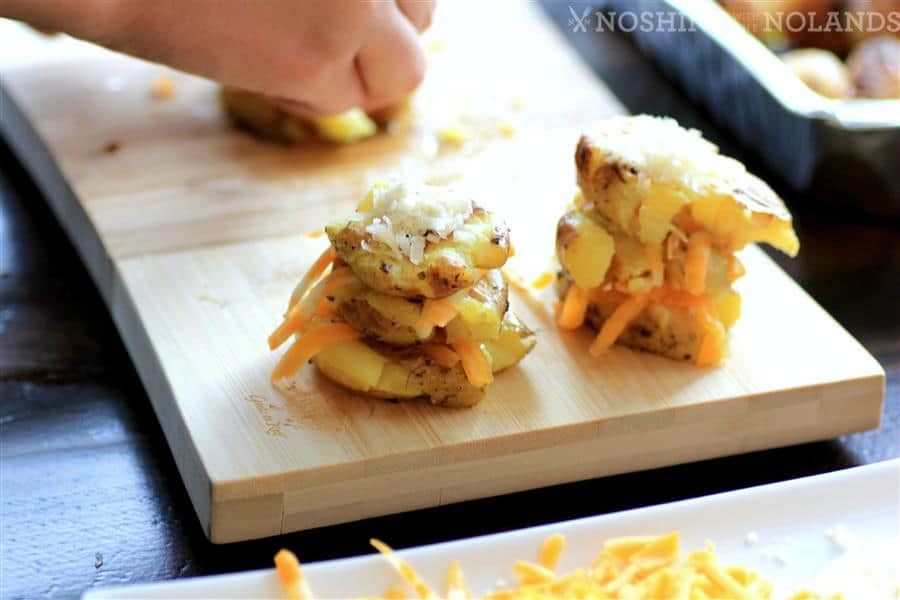 There was one left over that got quickly popped into her mouth, she was a happy girl with a perfectly roasted Creamer potato!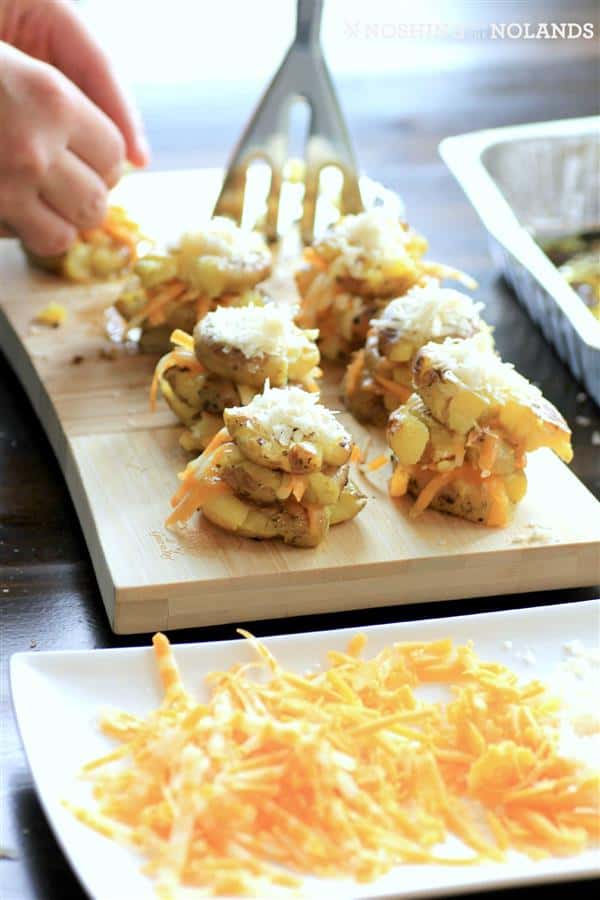 Dad grilled up some hot dogs to go with our Cheesy Potato Stacks and dinner was fun and fast!!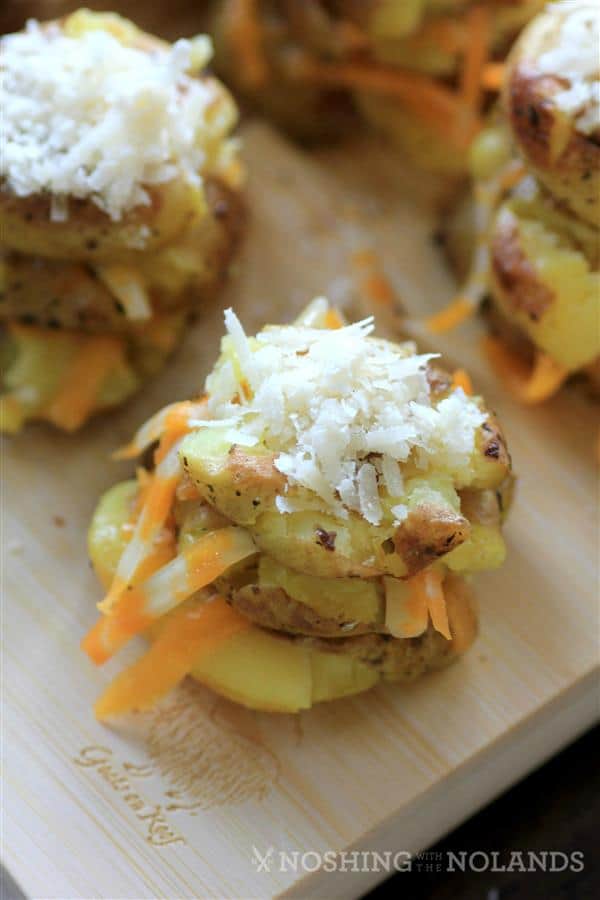 Everything can be done tableside, enjoy these potatoes as a side dish or a snack that the whole family will go crazy for!!
Cheesy Potato Stacks Recipe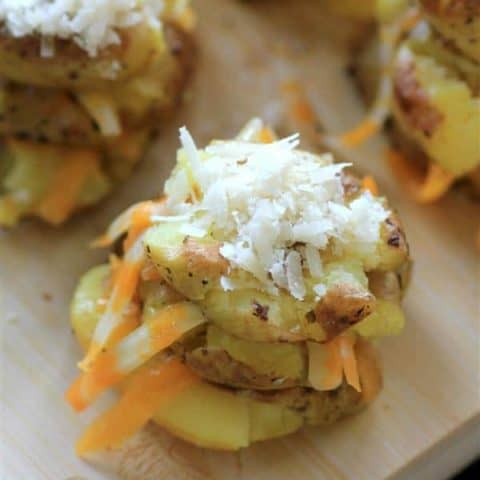 Cheesy Potato Stacks #LittlePotatoCompany
Yield: 4
Prep Time: 5 minutes
Cook Time: 30 minutes
Total Time: 35 minutes
Fun potato stacks that the whole family can get into making at the table.
Ingredients
1 BBQ/oven ready pan of Little Potato Company potatoes
2 Tbsp. olive oil
Cheddar Cheese
Marble Cheese
Parmesan Cheese, good quality
Instructions
BBQ the potatoes per the package instructions, adding in the olive oil and season pack that is supplied, for 30 min. until golden brown. Gently smash the potatoes with a potato masher or fork, this can be done at the supper table by each person. Layer cheddar on top of first potato then stack on another potato followed by marble, add a third smashed potato and then parmesan cheese.