Is this not one of your favorite appetizers?!! I just adore Red and Green Pepper Jelly over cream cheese. Christmas is coming if you like it or not and I have to tell you I adore it. This year I am on it as last year it was a bit of a miss. We had just moved in the fall and went right into renovations!! With an illness, the longest most suffering cold ever, to boot, by the time Christmas came I was done. A trip to Mexico brought me back again but that was a very different Christmas. So this year I want parties, and buttons and bows, cards and gifts, trees and decorations!! All the traditional fixins of Christmas.
This lovely jelly would make a fantastic hostess gift on it's own or as part of a kitchen basket, it would make a heart warming present under the tree. Red and Green Pepper Jelly is a quick fix too for that unexpected company coming over and it is so many peoples favorite! The recipe is from this cookbook that I received to review, Best of Bridge Home Preserving. With the name Best of Bridge I already knew it was a fantastic cookbook!! I have all their other cookbooks and have made so many of their fabulous recipes.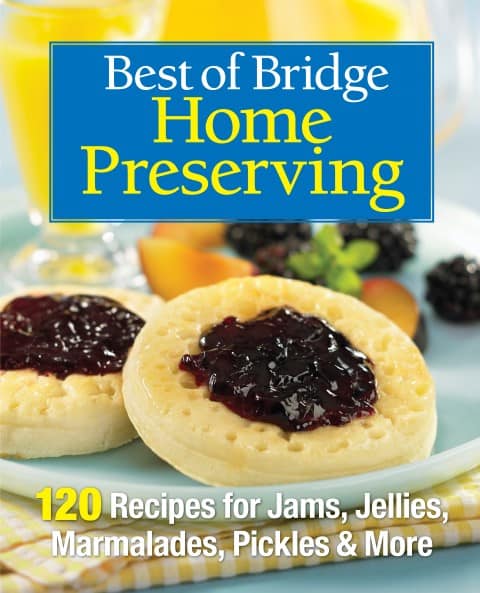 I love how the little flecks of red and green pepper are suspended, it makes for a very attractive jelly. Not only is this an easy recipe to make but it turned our fantastic too!!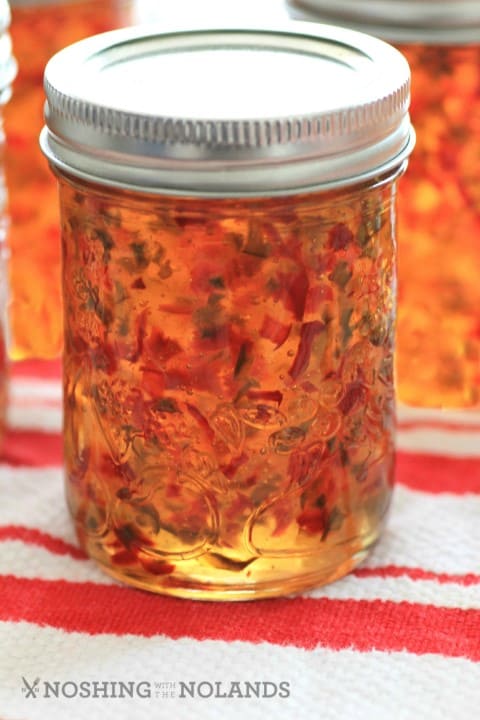 Best of Bridge recipes are all tried and true. There are recipes for jams, jellies, marmalades, conserves, fruit butters, chutney, relishes, pickles, sauces, salsas and more. It is a bible of wonderful recipes that will have you going back to make more and more in this cookbook. If you thought you couldn't make jams or jellies, think again. With easy to follow instructions and a lovely hard cover cookbook with a ringed binder that lies flat, it is easy to succeed in making delicious preserves! Big beautiful pictures throughout the cookbook make you want to create one after the other!!!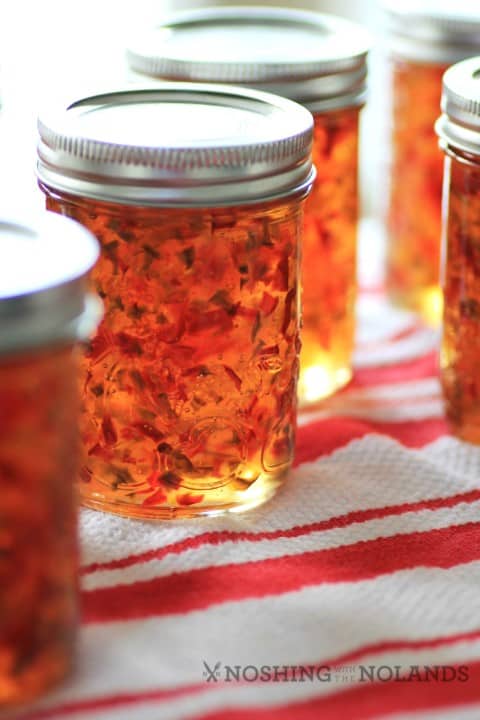 Make your jelly now and feel relaxed for the holidays!! Enjoy!!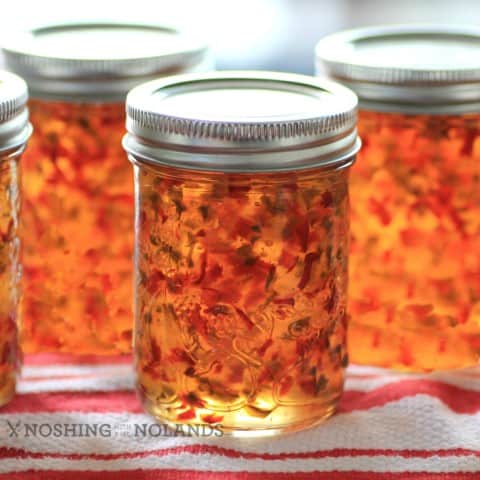 PRINTABLE FOR WATER BATH CANNING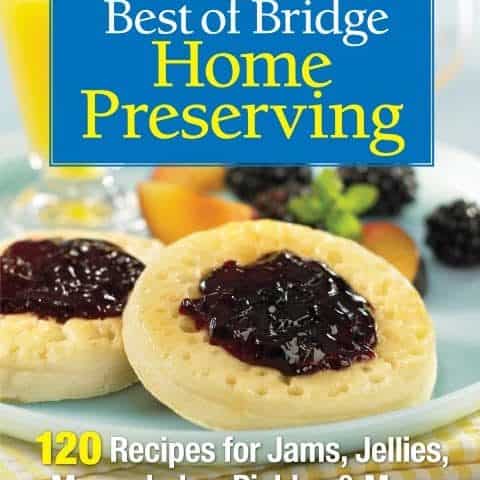 Red and Green Pepper Jelly
Red and Green Pepper Jelly Recipe Type : Appetizer Cuisine: American Author: Best of Bridge A holiday favorite and the perfect quick appetizer awaits with this sweet heat jelly.
Ingredients
1 cup finely chopped red bell peppers
1 cup finely chopped green bell peppers
1 or 2 jalapeño peppers, minced (optional)
1 1⁄2 cups cider vinegar
1⁄2 tsp hot pepper sauce (or 1⁄4 tsp/1 mL hot pepper flakes)
6 1⁄2 cups granulated sugar 1.625 L
2 pouches (3 oz/85 mL each) liquid pectin
Instructions
In a large, deep, heavy-bottomed pot, combine red peppers, green peppers, jalapeño peppers (if using), vinegar, hot pepper sauce and sugar. Bring to a boil over medium heat, stirring constantly. Reduce heat and boil gently for 5 minutes. Remove from heat and let stand for 20 minutes, stirring occasionally. Bring to a full boil over high heat, stirring constantly. Immediately stir in pectin; return to a full boil. Boil hard for 1 minute, stirring constantly. Remove from heat and skim off any foam. Stir for 5 to 8 minutes to prevent floating peppers.
Ladle into prepared jars to within 1⁄4 inch (0.5 cm) of rim; wipe rims. Apply prepared lids and rings; tighten just until fingertip-tight. Process jars in a boiling water canner for 10 minutes (see page 27). Transfer jars to a towel-lined surface and let rest at room temperature until set. Check seals; refrigerate any unsealed jars for up to 3 weeks.
Makes about five 8-ounce (250 mL) jars.
Tip: To test for floating peppers, fill one jar; let rest for 1 minute. If peppers start to float upward, pour jelly back into pot and keep stirring; begin again with a new sterilized jar.
Courtesy of Best of Bridge Home Preserving:120 Recipes for Canning Fruits & Vegetables by Best of Bridge Publishing Ltd. 2014 © www.robertrose.ca Reprinted with publisher permission.