Today I have for you something I simply love, this Crabapple Butter. It is a real fabulous fall treat!! Here at our home, we have a big huge crab apple tree in the backyard. Every year we get a bucket full of plump juicy crabapples. Some years we get a little less, and some years, like this year we get so many I have to find people to take them off my hands!
These are the large sweet crabapples, that look like a miniature apple. They are not the small hard crabapples that are wickedly sour. I have never made anything with crabapples before. We had loads of fruit and our daughter climbed the ladder to pick it.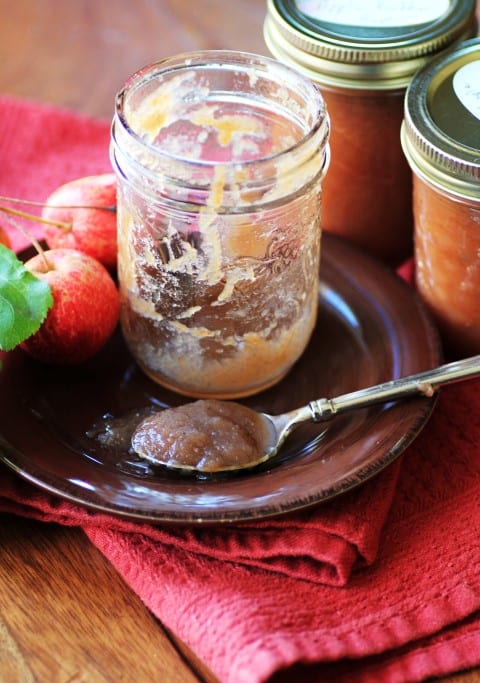 She picked 10 lbs., some went to me making crabapple jelly and the rest went to Ken, my husband to make crabapple butter. A smooth, rich with fall spiced apple butter. Simply delicious right out of the jar or even better on toast, ice cream, cake, or whatever you fancy.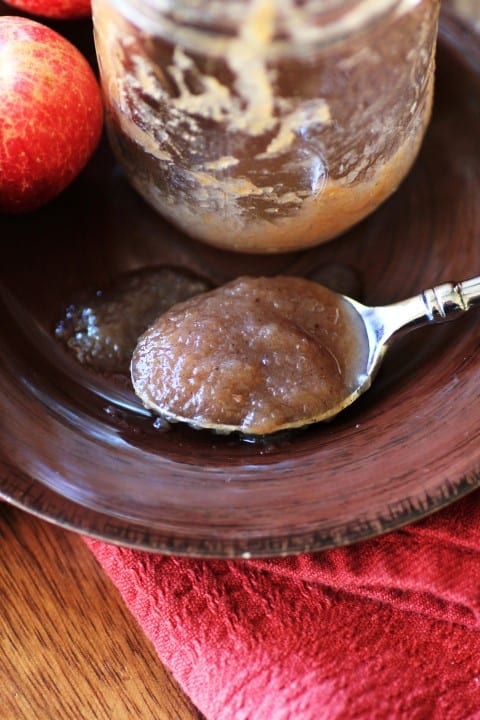 You can also substitute tart apples for crabapples if you like. This is an amazing recipe that I know you will love as much as we do!
Enjoy!!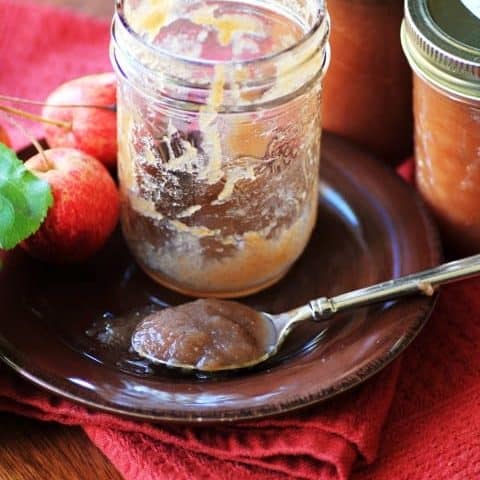 Crabapple Butter
Yield: 6 - 8 oz. Jars
Prep Time: 20 minutes
Cook Time: 2 hours 45 minutes
Total Time: 3 hours 5 minutes
This delicious crabapple butter is wonderfully sweet with a hint of cinnamon and is perfect for our morning toast, or a cracker with afternoon tea!
Ingredients
3 1/2 lbs of crabapples
1 1/2 - 2 cups sugar depending on the sweetness of your crabapples
2 tsp cinnamon
1/2 tsp nutmeg
1/2 tsp allspice
1/4 tsp ground cloves
Instructions
Wash crabapples, remove the stems, and blossom end.
Place in a large pot and add water to cover all the crabapples.
Cover with a lid and cook until soft, approximately 45 minutes, stirring occasionally to prevent sticking.
Drain water and put the cooked crabapples through a coarse sieve in batches so that all you end up with is the pulp, scraping it from the underside of the sieve.
Return this pulp to a smaller pot, add the sugar and all the spices and cook uncovered simmering slowly for 1 1/2 - 2 hours or to desired thickness.
Pour into sterilized canning jars and seal at once.
Process the crabapple butter according to the safe canning procedure for your area and altitude. For us here at plus 3000 ft above sea level we processed the jars for 20 minutes.
Nutrition Information:
Yield: 48
Serving Size: 1
Amount Per Serving:
Calories: 76
Total Fat: 0g
Saturated Fat: 0g
Trans Fat: 0g
Unsaturated Fat: 0g
Cholesterol: 0mg
Sodium: 1mg
Carbohydrates: 20g
Fiber: 0g
Sugar: 12g
Protein: 0g
Recipe calculation was provided by Nutritionix and is estimation only. If you need nutritional calculations for medical reasons, please use a source that you trust.