I am excited that is it #BundtBakers time again. I had to join in on this one with a delicious Chocolate Zucchini Bundt for the theme of Autumn Harvest. Due to a very early and huge snowfal everything from our our gardens was pulled out, including our zucchini. Last year I made chocolate zucchini bread and it was a huge hit. So this year I thought I would take those two ingredients to a new level and make a bundt with them.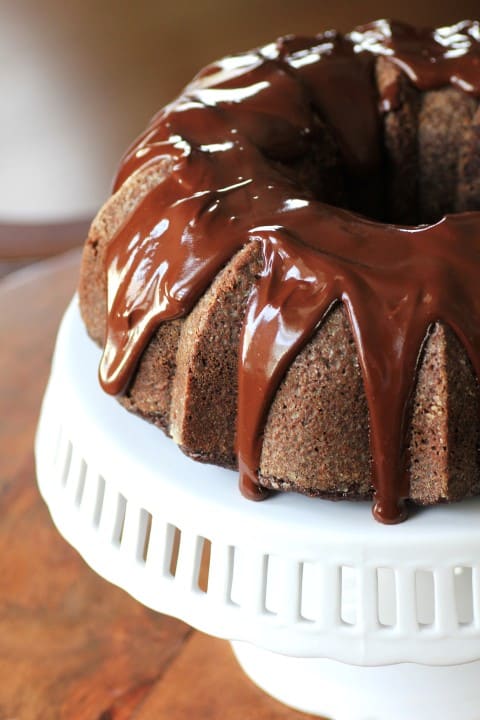 Rich, moist and full of one pound of zucchini that you would never know is there. Why add the zucchini at all? Well, it is a healthy way to get some veggies in but it adds such fantastic moisture to your bundt with little calories!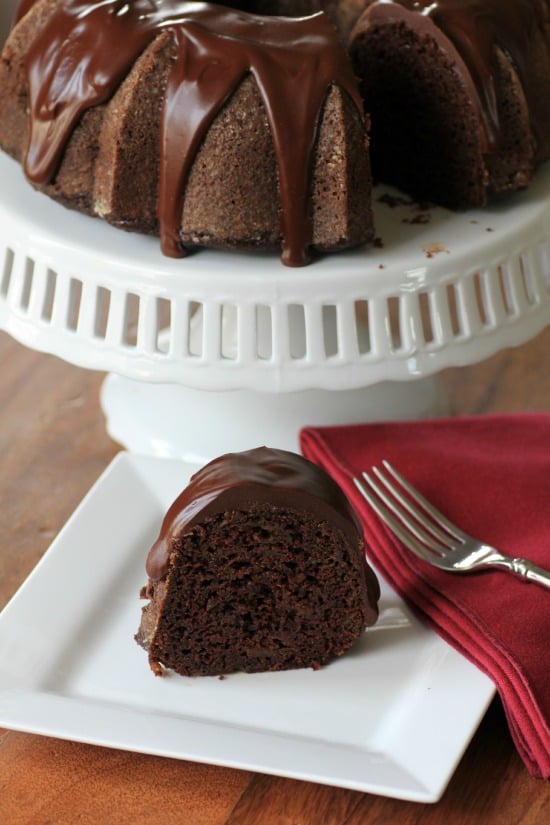 Not that we are really counting calories when eating cake, especially with this out of this world fudgy chocolate glaze on top!!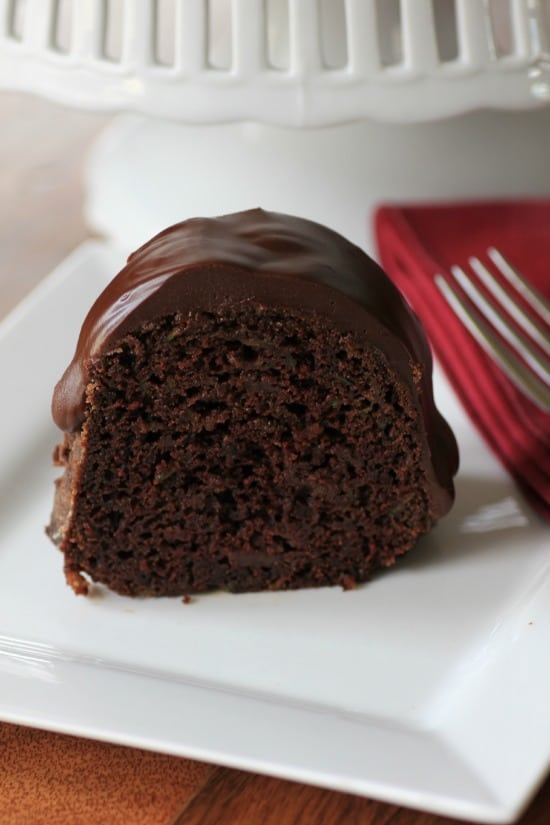 Chocolate Zucchini Bundt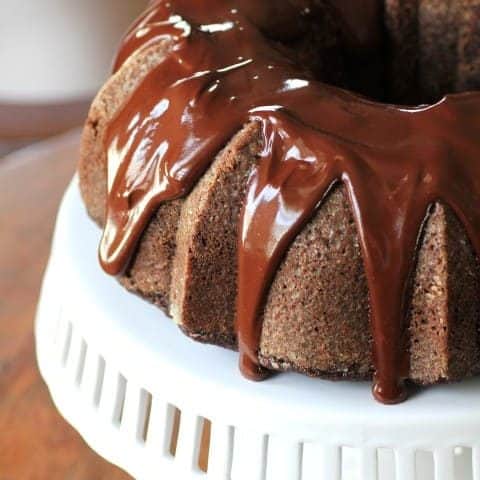 Chocolate Zucchini Bundt for #BundtBakers
Yield: 12
Prep Time: 15 minutes
Cook Time: 50 minutes
Total Time: 1 hour 5 minutes
A deliciously moist bundt made with a garden harvest of zucchini.
Ingredients
1 cup sugar
1 cup brown sugar
1/2 cup butter, softened
3 eggs
1/2 cup sour cream
2 tsp pure vanilla extract
2 cups flour
1/2 cup cocoa powder
1 1/2 tsp baking soda
1 1/2 tsp baking powder
1/2 tsp salt
1 pound zucchini, grated
Glaze
3/4 cup semi-sweet chocolate chips
3 Tbsp butter
1 Tbsp light corn syrup
1/2 tsp pure vanilla extract
Instructions
Preheat oven to 350F, coat a bundt pan with cooking spray and then flour. Invert and bang to remove excess flour.
Whisk together flour, cocoa powder, baking soda, baking powder, and salt. set aside
In the bowl of a stand up mixer with a paddle attachment cream together sugars and butter, add eggs one at a time and mix well after each addition, add sour cream and vanilla and mix well. Add dry ingredients 1/2 a cup at a time and mix well, then fold in zucchini.
Pour mixture into prepared bundt pan and bake 45 - 50 mins. or until cake tester comes out clean.
allow to cool in pan for 15 mins. invert onto wire rack and let cool.
For the glaze:
Melt the butter in a small sauce pan over low heat, remove from heat and add chocolate chips and stir until melted, add the corn syrup and vanilla, immediately pour glaze over the cake allowing it to run down the sides.
Allow glaze to cool completely before serving.
Recipe adapted from
That Skinny Chick Can Bake
and
Five Heart Home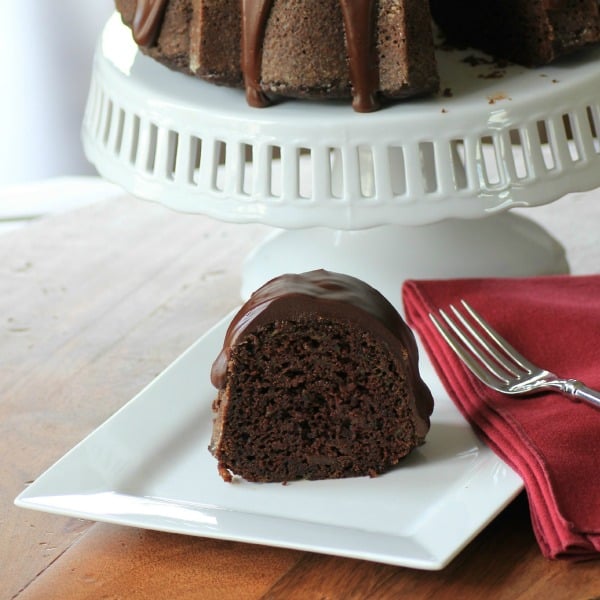 #BundtBakers is a group of Bundt loving bakers who get together once a month to bake Bundts with a common ingredient or theme. You can see all our of lovely Bundts by following our Pinterest board right here. http://www.pinterest.com/flpl/bundtbakers/ Links are also updated after each event on the BundtBaker home page. http://www.foodlustpeoplelove.com/p/bundtbakers.html
We take turns hosting each month and choosing the theme/ingredient.
If you are a food blogger and would like to join us, just send an email with your blog URL to [email protected].
Look at all the amazing bundts to celebrate Harvest, come and visit them ALL!!!