Chocolate Chambord Mini Bundt Cakes #BundtBakers
We have #BundtBakers for you today and it is a great theme, Boozy Bundts and hosted by the lovely Lauren From Gate to Plate and Stacy from Food Lust People Love. A big huge thank you ladies as I know how much work this is!! I couldn't miss this one!! Ken came up with the delicious idea of using Chambord, which is a raspberry flavored liqueur. I then wanted to pair it with a whole bunch of chocolate!! So the Chocolate Chambord Mini Bundt Cakes were born!!
These little bundts would get rave reviews from friends or family for the holidays. They don't need to know that they are quite easy to make. The cakes can be made ahead of time, the day before. Then an easy sauce is created and decorated with some fresh raspberries and it looks like something you have been slaving over them!!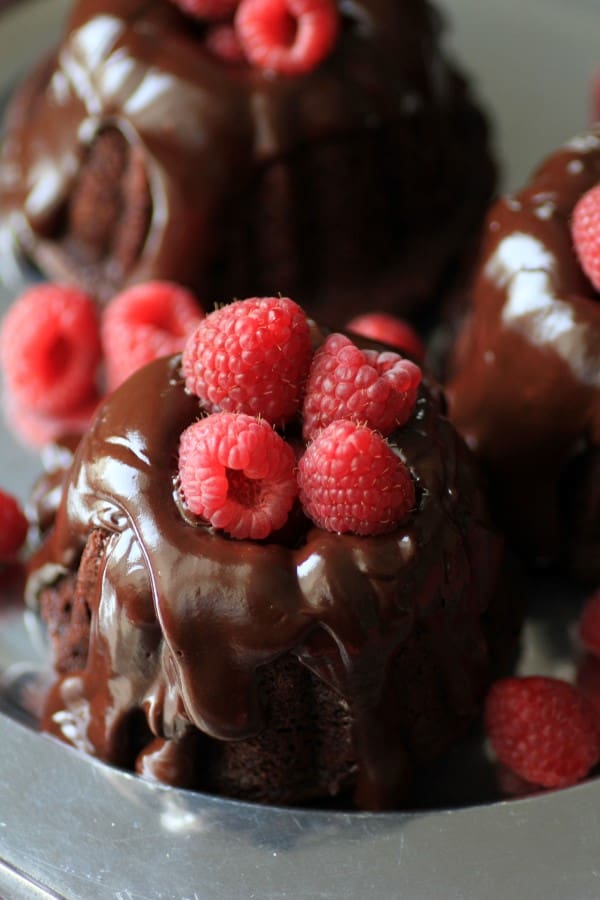 The cakes have Chambord in them and so does the luscious chocolate sauce which you serve freshly made and warm.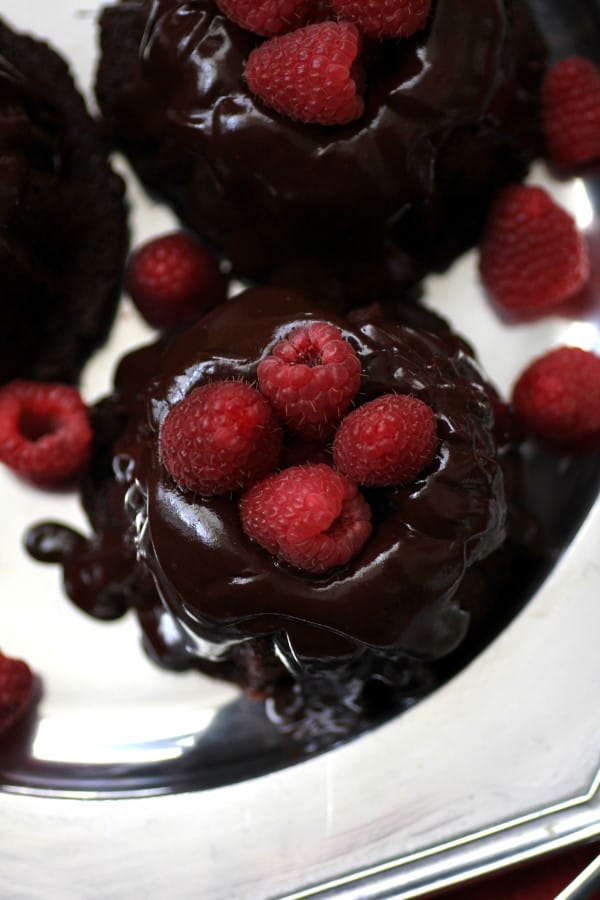 The Recipe
Chocolate Chambord Mini Bundt Cakes #BundtBakers
A scrumptious chocoatey mini bundt infused with the flavor of Chambord.
Ingredients
1 cup sugar
⅓ cup butter, softened
2 eggs
1 cup flour
½ cup cocoa powder
¾ tsp. baking soda
¾ tsp. baking powder
¼ tsp. salt
¼ cup + 2 Tbsp. half and half cream
2 Tbsp. Chambord
Glaze
½ cup semi sweet chocolate
2 Tbsp. butter
1 Tbsp. light corn syrup
1 Tbsp. Chambord
Raspberries for garnish
Instructions
Generously spray a six hole mini bundt pan with cooking spray. Preheat oven to 350F.
Whisk together the flour, cocoa powder, baking soda, baking powder and salt. Set aside.
In a standup mixer with a paddle attachment, cream butter and sugar together. Add eggs one at a time and mix well after each. Alternatively add in the flour and Chambord and cream. Beat well.
Divide the batter evenly between the mini bundt molds. Bake for 22-25 min. or until toothpick comes out clean and cakes are bouncing back when touched. Let the cakes cool in the pan and then turn out. They can be made a day ahead and stored in a tight container.
When ready to serve make the glaze, this is enough glaze to lightly glaze each cake, if you would like extra glaze as shown in the pictures. Double the recipe.
Melt the butter in a small saucepan. Remove from heat and add in chocolate chips and stir to melt. Add the corn syrup and Chambord. Immediately pour over cakes. Decorate with fresh raspberries and serve.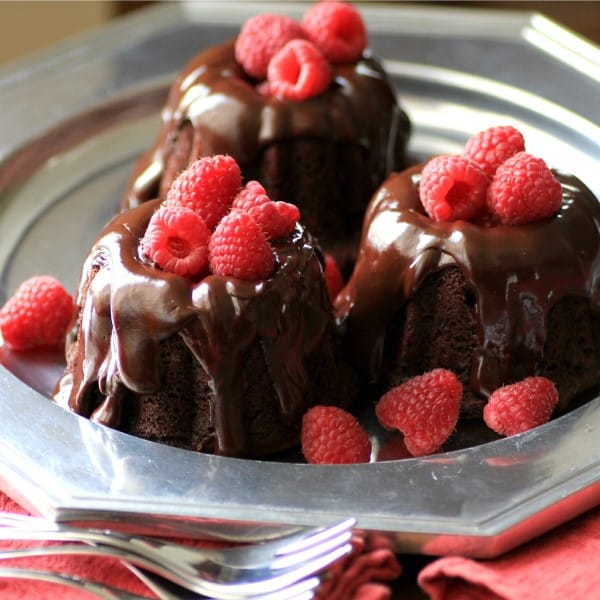 And as usual you lucky people get not only my recipe but all these other fantastic ones. Come on and take a peak!! Enjoy!!
#BundtBakers is a group of Bundt loving bakers who get together once a month to bake Bundts with a common ingredient or theme. Follow our Pinterest board right here. Links are also updated each month on the BundtBakers home page.
We take turns hosting each month and choosing the theme/ingredient.
If you are a food blogger and would like to join us, just send Stacy an email with your blog URL to [email protected].