I have a cookbook review for you today. What do you think of, when I say COMFORT FOOD? My mind races with a million dishes. Most are involving cheese. I am an admitted cheese hound. I love it from appetizers to desserts and all the yumminess in between. So when I was asked to review Adventures in Comfort Food, a cookbook by Kerry Altiero with Katherine Gaudet, I knew that the recipe that I was going to choose for you would have to involve cheese. For me CHEESE = COMFORT.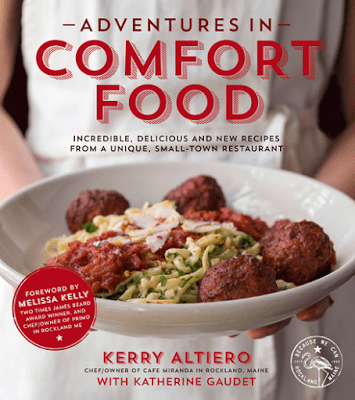 There are tons of recipes in this cookbook to whet your whistle, and lots of them have cheese. YUM!! I gravitated to a recipe called Steak Bomb. The name of the recipe intrigued me and the picture made me drool. There are loads of pictures, great pictures in this cookbook for you to enjoy. I like that in a cookbook.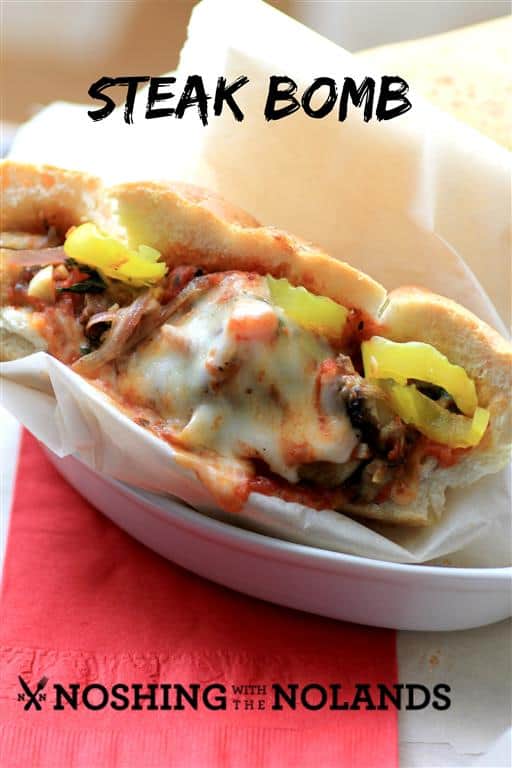 This is not a lady-like sandwich, this is a smack down!! It is a grab a napkin, don't wear a pretty dress, get your face in it kind of sandwich and it is DELISH!! The recipe even asks you to smash the mushrooms which I found oddly pleasing. I have never done that before, at least not on purpose! The cookbook has loads of fantastic looking recipes. What is old is new again, with fresh ingredients and unique twists. Salads with spicy sauce, tossed French fries, pizza topped with chicken, Thai chili sauce, crispy lime Asian coleslaw and cool pasta Bolognese for the summer months.
Recipes are taken to a new level in this cookbook. Many have a new spin like 50 MPH tomatoes, Wontons from Spaaaaace, New Age Chowder, Hot. Dressed. Salad., Lobster Mac 'N Cheese, Pot Roast Bleu and Pierogies a la Pink Plate. Intrigued? You should be!! There are loads of fabulous recipes to delve into. The cookbook will take you from breakfast, through to lunch, dinner and sides.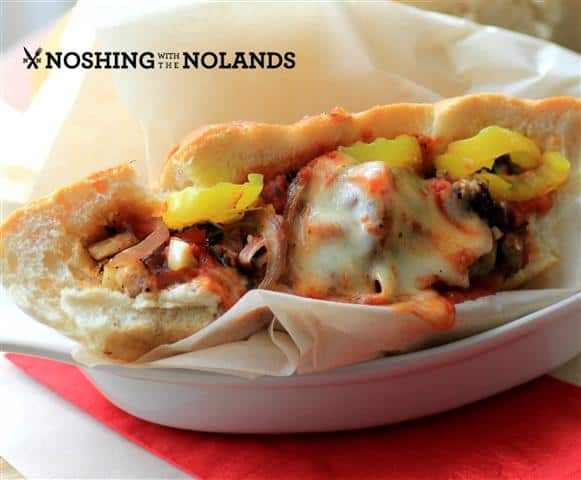 Chef Kerry says, "Our motto is "Because We Can." We can serve wonderful, surprising, innovative food that defies expectations and wins over all kinds of eaters. This cookbook will help you do the same at home, whether you are cooking for world-weary sophisticates or picky toddlers. Your kitchen will never be the same."
About the authors:
Kerry Altiero is the chef/owner of Cafe Miranda, a popular and multi-cuisine restuarant in Rockland, Maine. In 2012 Kerry won Maine's Lobster Chef of the year and Cafe Miranda was named Best Farm to Table Restaurant in 2013. Kerry lives in Owl's Head, Maine.
Katherine Gaudet works at the university of New Hampshire. She is a freelance writer and editor. She resides in Saco, Maine.
Foreword was done by Melissa Kelly , she is the chef/owner of Primo restaurant and two-time winner of the James Beard Best Chef award.
I tripled the recipe for us, this recipe is for one sandwich only. When you are making something like this you want to feed the forces or they will be very jealous they didn't get to indulge also!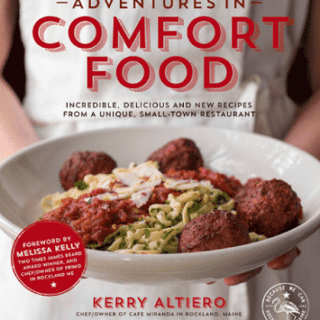 Steak Bomb
This is the best "sub" sandwich you will ever have. Loaded with steak, peppers, mushrooms, onions and cheese.
Ingredients
2 Tbsp. mushrooms, smashed
1/4 cup poblano pepper, seeded and ripped into 1" pieces
1/4 cup red bell pepper, seeded and ripped into 1 " pieces
1/4 cup red onion, sliced
5 oz. shaved steak, chopped roughly
4 leaves basil
2 tsp. garlic minced
1/2 cup Marinara sauce
1/4 cup mozzarella cheese, shredded
2 Tbsp. Romano cheese, grated
Focaccia
2 Tbsp. hot pickled banana pepper rings
Instructions
Preheat the oven to 400F. Toss the mushrooms, peppers and onion in olive oil and spread them out on a cookie sheet in a single layer. Roast for about 20 min. Add the steak and cook for 5 min. more, until cooked through.
Add the basil and garlic to the vegetables. Top with the marinara sauce, then the cheeses. Return to the oven to brown the cheese well.
Take your piece of focaccia and cut off a corner (or edge if it is round) piece, about 8 inches/ 20 cm. long and 3 1/2 inches/9 cm. wide. Split the soft part down the middle, leaving the edge intact. Shovel the filling into the bun and top with banana rings.
Arm yourself with mulitple napkins. Resist the fork and knife. Chianti in an old jelly glass would be the traditional bev.