Thanksgiving is long gone up here in Canada but just around the corner in the US. Today we have for you Thanksgiving Leftovers with Cheesy Mashed Potato Croquettes.
I can say I love leftovers but only once do I really enjoy the exact same meal again. Then what? You have all that leftover veggie, potato, cranberries and turkey. Well today we are here to help with Cheesy Mashed Potato Croquettes! Also for leftover potatoes check out our potato scones and potato pancakes.
I went with the leftover mashed potatoes and created them into something a little naughty but oh so lovely!! If you had one or two of these with some grilled fish and a salad the thoughts of Thanksgiving dinner will be long forgotten. Not that it wasn't fabulous to start off with but I really need a change by the third night of leftovers. Don't you?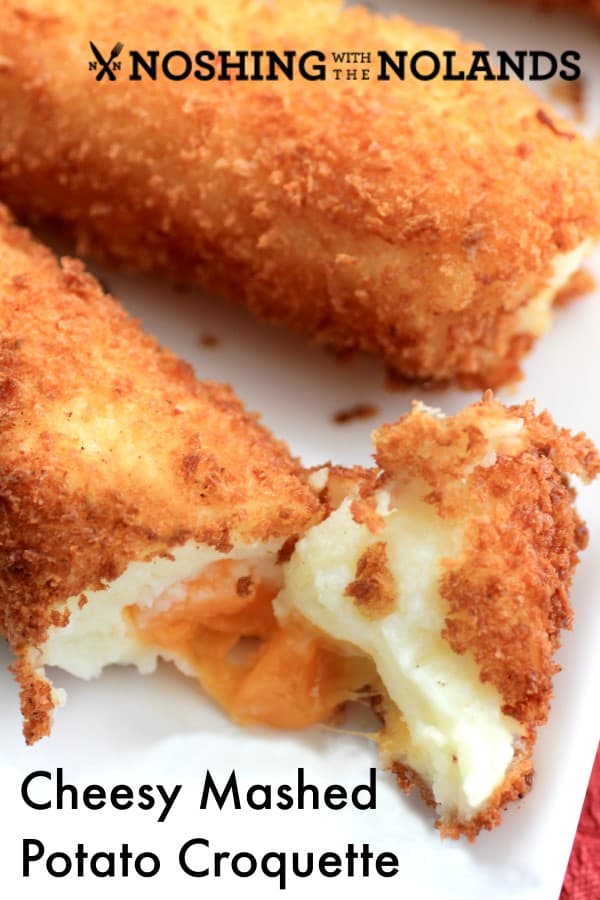 Cheesy Mashed Potato Croquette
These are a little persnickety I will admit. Not for the faint of heart. You have to have leftover mashed potatoes or potatoes that are well chilled. They will turn out different depending on your mashed potatoes.
Mine were very light and fluffy and they did have sour cream in them like when you have made a make ahead mashed potato casserole.
You want your oil hot of course but not too hot that the outside will burn and the cheese won't melt in the middle. I wouldn't go right into serving them for a dinner party if I had never made them before.
I made a batch and they turned out great. Ken made a batch later in the night and had difficulty with getting them just right. Like I said they are persnickety but so worth it once you perfect the right technique.
To help you form them I use wax paper.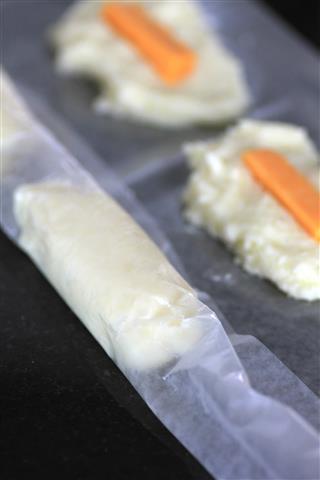 Place oblong mounds of mashed potato and shape to 4-4 1/2″ long on wax paper, place a strip of cheese that is 2 1/2″ long by 1/2″ into the center.
Using the wax paper roll up and make sure the potato is covering all the cheese evenly. You could add a little flour to your mashed potatoes to make a dough but I just used straight mashed.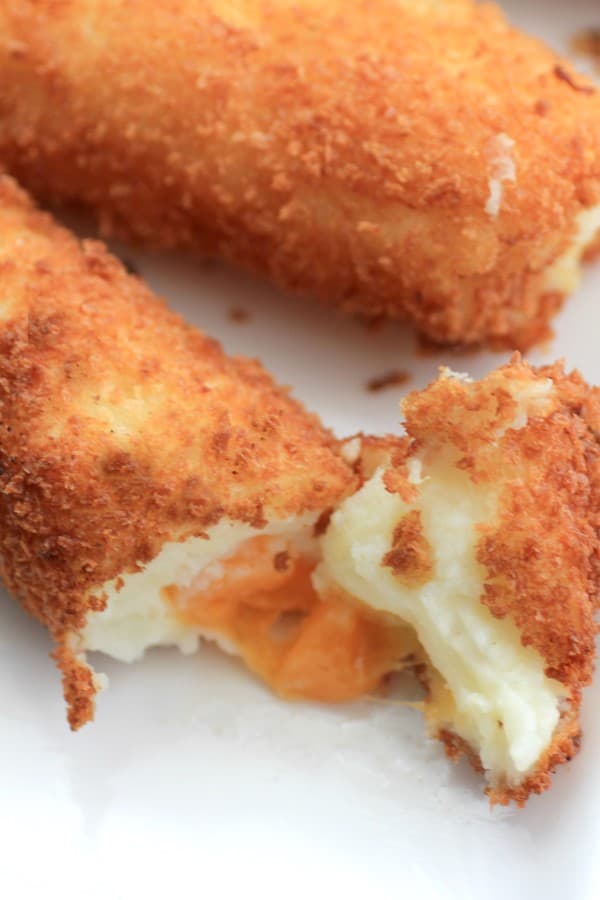 For leftover recipes, you can be completely specific or go with how much you have on hand. If I give you a recipe for 3 cups of mashed potatoes and you have 4 then what do you do with the extra cup. This way you can make as many as you want. Simple right?
They are crispy and salty on the outside and so creamy and cheesy on the inside, a real treat.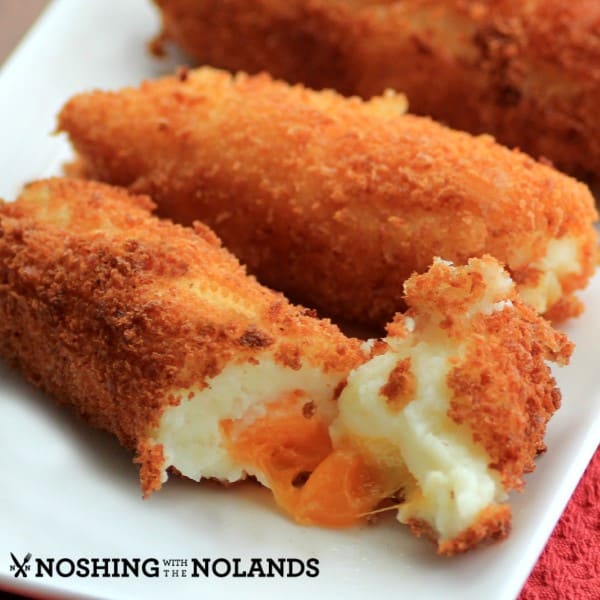 Cheesy Mashed Potato Croquettes Recipe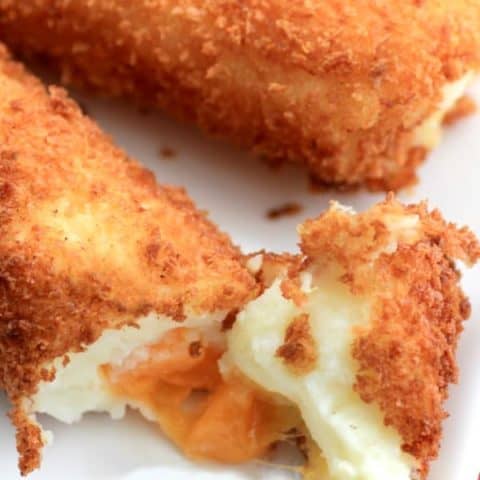 Cheesy Mashed Potato Croquettes #SundaySupper
Turn leftover mashed potatoes into a dreamy cheesy treat!!
Ingredients
Mashed potatoes, with added flour if needed, 2 Tbsp. for 3-4 cups mashed
Cheddar cheese cut into 2 1/2 by 1/2" pieces
Eggs, beaten
Panko bread crumbs
Salt and Pepper
Garlic Salt
Oil for frying (I used Canola)
Instructions
Mix in flour if desired. You may need it for looser potatoes. Place a long piece of wax paper on the counter and form oblong mounds of mashed potato. Shape them into 4 1/2" long mounds and flatten slightly. Place the cheese in the center of the mound. Using the wax paper to roll, make them into logs. Continue with the potatoes until you have enough made and you have used up your leftover mashed potatoes. You can also make these into little balls. Would be easier to work with if you have never made them before. Refrigerate for 30 min. (very important step)
Heat oil in a wok. Add 2-3 eggs into a rectangle dish and whisk. Add the panko crumbs into another, season with garlic salt and salt and pepper. Start off with smaller amounts you can always add more eggs or panko crumbs as needed. Once potatoes have been refrigerated carefully roll them in the eggs and then the panko crumbs. Fry until golden brown in the hot oil. Make sure the oil is not too hot. You want them to turn golden brown slowly, if they are done too quickly the cheese won't melt. Remove to a paper towel lined plate and season with salt. Keep warm in the oven on low as you make more.
You can fry two at a time but start to brown one first and then add the other so they won't stick together.
Look at all the wonderful recipes we have for you today with leftovers!! Come and see them all!!
Breakfast:
Sweet Potato Casserole Muffins by Magnolia Days
Italian Mashed Potato Pancakes by The Weekend Gourmet
Cranberry Sauce'd Corn Bread Muffins by Rhubarb and Honey
Main Dish:
Leftover Pie by Jane's Adventures in Dinner
Thanksgiving Leftover Waffles by Foxes Love Lemons
Stuffing Hash by The Girl in the Little Red Kitchen
Turkey Pizza by Meal Diva
Turkey & Caramelized Onion Risotto by kimchi MOM
Turkey with Creamy Mushroom Marsala Sauce by Casa de Crews
Moroccan Turkey Stew by What Smells So Good?
Peruvian Cilantro & Turkey Soup by The Little Ferraro Kitchen
Turkey & Butternut Squash Stew by Cooking Chat
Turkey Kreplach Soup by Panning the Globe
Turkey & Stuffing Crepes by Peaceful Cooking
Cranberry Apple Pecan Chicken Salad by NeighborFood
Herbed Turkey over Cornbread Waffles with Cranberry Sauce by girlichef
Creamy Peanut Gochujang Pasta by Wallflour Girl
Cranberry Sweet Potato Soup by Take A Bite Out of Boca
Turkey Croquettes by Cindy's Recipes and Writings
Side Dishes:
Cheesy Mashed Potato Croquettes by Noshing with the Nolands
Whipped Carrots with Sriracha Butter by Healthy Delicious
Cranberry-Balsamic Glazed Cauliflower Wings by Cupcakes & Kale Chips
Cheesy Jalapeño Potato Cakes by Bobbi's Cozy Kitchen
Sandwiches:
Cranberry & Turkey Sandwich by The Redhead Baker
Monte Cristo Sandwich by Nik Snacks
Hot Brown Turkey Sandwiches by The Life and Loves of Grumpy's Honeybunch
Sprouted Grain Turkey, Cranberry & Brie Panini by Amee's Savory Dish
Turkey Cranberry Flatbread by Peanut Butter and Peppers
Condiments & Sauces:
Leftover White Wine Syrup by Food Lust People Love
Dessert:
Banana Cheesecake with Pecan Graham Cracker Crust by Desserts Required
Cranberry Cream Cheese Bars by That Skinny Chick Can Bake
Gluten-Free Lemon Cake by Hezzi-D's Books and Cooks
Spiced Cranberry Sauce Buckle by The Wimpy Vegetarian

Cocktails & Drinks:
Cranberry Bellini by A Kitchen Hoor's Adventures
Join the #SundaySupper conversation on Twitter on Sunday!We tweet throughout the day and share recipes from all over the world. Our weekly chat starts at 7 p.m. ET. Follow the #SundaySupper hashtagand remember to include it in your tweets to join in the chat. To get more great Sunday Supper Recipes, visit our website or check out our Pinterest board.
Would you like to join the Sunday Supper Movement? It's easy. You can sign up by clicking here: Sunday Supper Movement.