I have done a lot of canning over the years but it is mostly on the savory side, pickles, salsa, beans, tomatoes. I even took a canning class but I have never made jams or jellies like this Crabapple Jelly.
We have a big crabapple tree in our back yard of our new home. This was the year, I really wanted to make a crabapple jelly recipe.
I had already purchased two packages of Pomona's Universal Pectin, natural pectin and had it waiting for me in the pantry when the time was right. All pectins are alike, right, nope, I was about to learn a whole lot more.
The recipe I had was for Red and Green Pepper Jelly, I thought I would start with that first before the crabapple jelly. I was on a jelly mission. The peppers had all been cut up and the whole process ready to roll.
I pulled the Pomona's Pectin from the pantry and then looked at my recipe again for the Red and Green Pepper Jelly, hmmm, this recipe called for liquid pectin.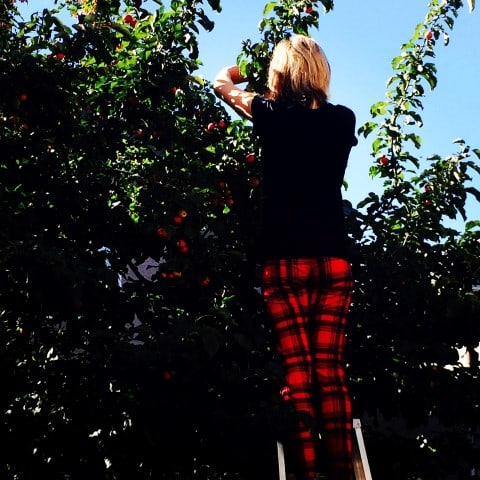 Why is pectin used in jam?
Pectin is essential when canning jams or jellies. It is the pectin in your jam or jelly that causes it to gel. without it you would just end up with syrupy juice!
Pomona is dry pectin that has two envelopes in a little box. One is the pectin and the other is to make calcium water. I was then confused about what to do. Can't you just substitute one for the other? What a minute, Pomona has a jamline!! Wow, that is helpful.
I was doing this on a weekend so I didn't have much hope in anyone answering. I decided to call it anyway. Low and behold I had a real live person on the other end of the phone. I was excited to ask her questions.
I learned that pectins are not alike at all. The Pomona's is to be used with low sugar recipes. The one that I was making had 6 1/2 cups of sugar, far from low sugar. The lovely lady on the phone said I needed liquid pectin like Certo for the recipe I was doing.
She was so very helpful and we struck up a long conversation. In the end, she offered me a copy of one of her lovely cookbooks, Preserving with Pomona's Pectin. I have a recipe in mind to make and can't wait to try it. It will be great for the holidays, stay tuned for that one.
Okay, Back to the Crabapple Jelly!
Up the ladder, our daughter climbed to pick crabapples.
She picked enough to make Crabapple Butter and today's Crabapple Jelly. Our tree produces varying amounts of fruit from year to year. Some we have just enough fruit to do some canning ourselves.
Other years, like this past year we had so much fruit we didn't know what to do with it all. It seemed like such a waste to let the fruit fall on the ground and rot.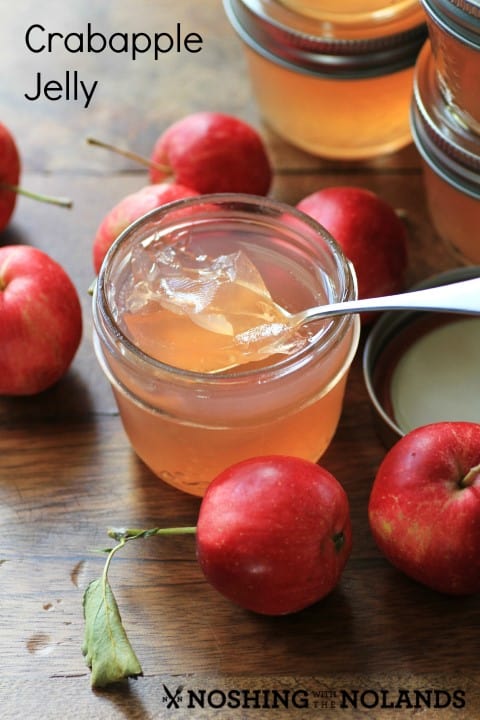 The actually process of making the jelly was a very fun experience. I loved making it and felt confident after my conversation with Pomona's Pectin and all their wonderful instructions that come with the pectin.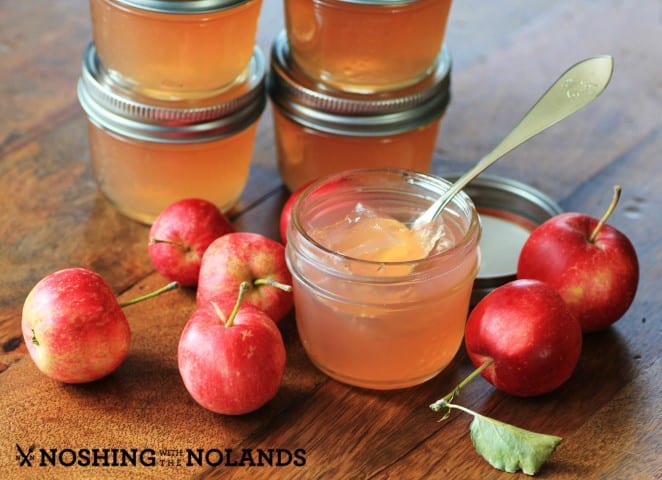 The jelly is such a pretty pink color and the flavor and sweetness are just right for me. You have to vary the sugar to your fruit. If your apples are tart then you may want to use more sugar but I would recommend no more than 2 cups, total.
High Altitude Canning
PRINTABLE FOR WATER BATH CANNING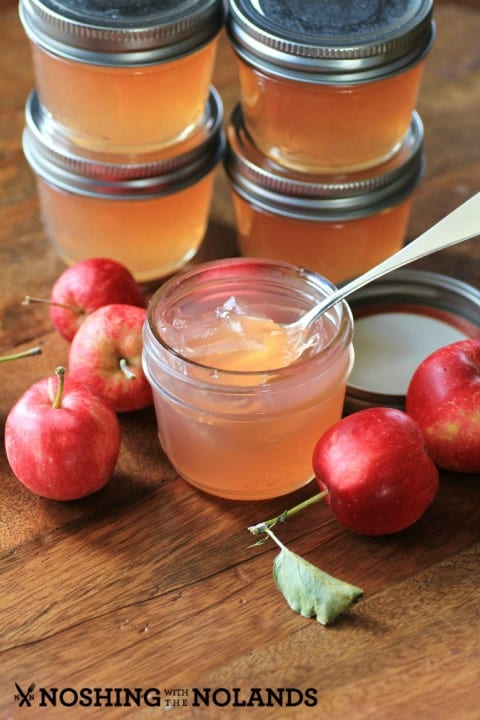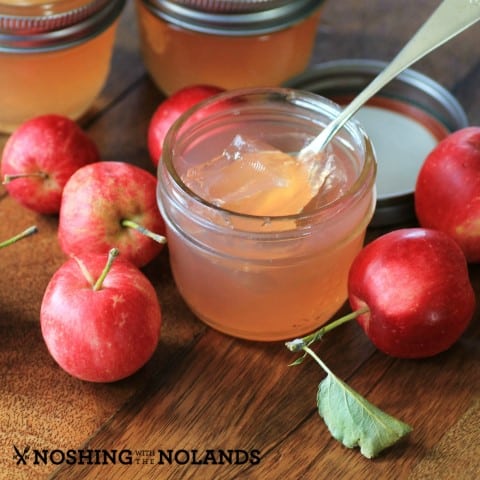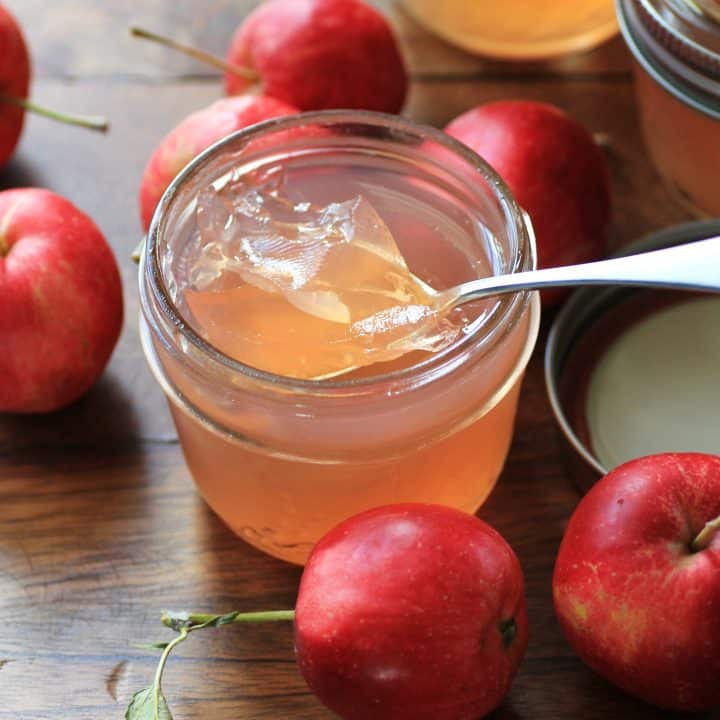 Crabapple Jelly
Yield: 9 - 125 ml. jars
Prep Time: 20 minutes
Cook Time: 20 minutes
Total Time: 40 minutes
A gorgeous homemade crabapple jelly that uses a low sugar natural pectin!! I love this jelly recipe as it is a great use of our homegrown crabapples.
Ingredients
4 lbs. crabapples, stems, and blossom ends removed or enough to give you 4 cups of juice
1/4 cup lemon juice
1 1/2 cups sugar
4 tsp. Pomona's pectin powder
4 tsp. Pomona's calcium water (directions come with the package for preparation)
9-10 125 ml. jars
Instructions
Run the crabapples through a centrifugal juice extractor. Skim off the brown scum that floats to the top. Run the juice through cheesecloth twice (clean cloth each time) to get the juice as clear as possible. You need 4 cups of juice.
There is also a method explained with the pectin to boil, mash and use a jelly bag. I didn't use this method.
Wash and rinse jars, let stand in boiling water for 10 min. along with the lids. Wash and rinse rims well and set aside.
Add crabapple juice and lemon to a medium saucepan. Add the 4 tsp. calcium water. Bring to a boil.
Meanwhile, in a separate bowl, mix the pectin and sugar together. Once the juice is boiling add the sugar/pectin mixture and stir vigorously for 1-2 min.
Return to a boil and then remove from heat. Fill jars to 1/4" from the top. Wipe rims clean, place the lid on and screw on the rim. until just tight.
Put jars into boiling water and boil for 10 minutes if at sea level. Refer to the chart above for additional time that may be required, depending upon your location and your altitude above sea level.
Remove from boiling water and place on a tea towel to cool. Once cooled check that lids have sealed. Keep refrigerated once opened and lasts up to three weeks.
*The pectin completely gels when cooled.
Notes
* Be sure to place the hot jars on a tea towel after they come out of the water bath, do not place them directly on the counter. The jars will mark a laminate, arborite or wood counters. In addition, it is possible that the jars may crack if placed directly on cold granite or stone surface.