Eggnog Cheesecake
Today I have for you this gorgeous Eggnog Cheesecake, not all of our recipes turn out so wonderful, life can end up being a #ScrambledPlan! This is true, especially at the holidays!!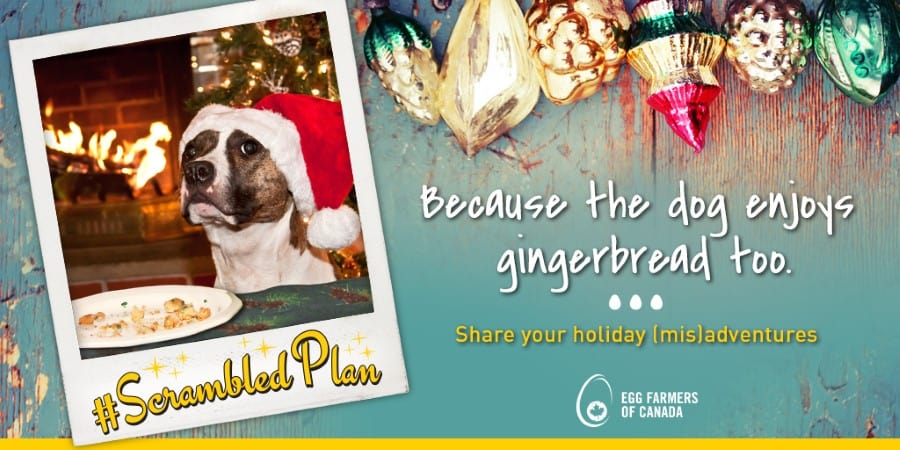 The holidays are a time for celebration and with that, lots of delicious food. At this time of year, we are entertaining at home or bringing portable creations and life can get a little scrambled. I remember wanting to build a gorgeous gingerbread trifle with an egg custard filling.
Reworking Things!
Knowing the recipe just wasn't right and it proved it. I stood peeking in the oven window watching a mountain of flowing lava in my oven, oh the horror! Well, back to the drawing board on that one. I continued with the trifle theme and I did end up with a gorgeous trifle to take with us for Christmas eve to our friends.
Memories are made out of good, bad, and tasty!! What mishaps have happened to you, come and share them on this post or on our social media, we would love to hear them.
Ken went to task to make this amazing cheesecake and it turned out wonderfully. Kudos to the other chef in the family!!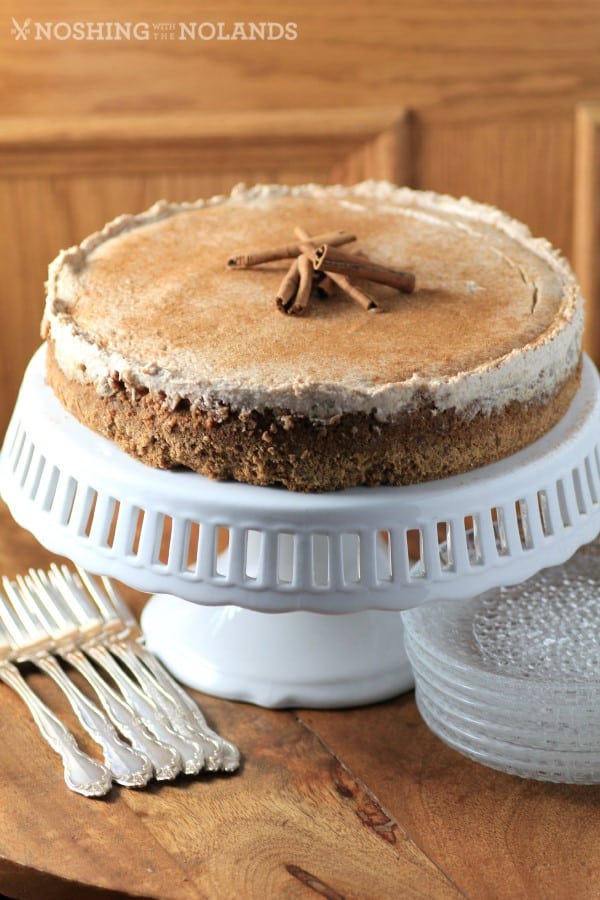 Who's Involved?
Egg Farmers of Canada along with Chef Lynn Crawford and Food Bloggers of Canada are joining forces to invite you also to share with them the good, bad, and tasty of the holiday season with #ScrambledPlan. Just like I said before our best-laid plans can sometimes go awry and leave us with a holiday mess.
Have you had burnt cookies, had grandma spilling gravy across your carpet, uncle getting a little too fancy, and helping himself to a piece of your perfectly cooked pie? Pets always add fun to the holidays too with licking platters of food or spilling the eggnog. It is all part of the celebration and memories!!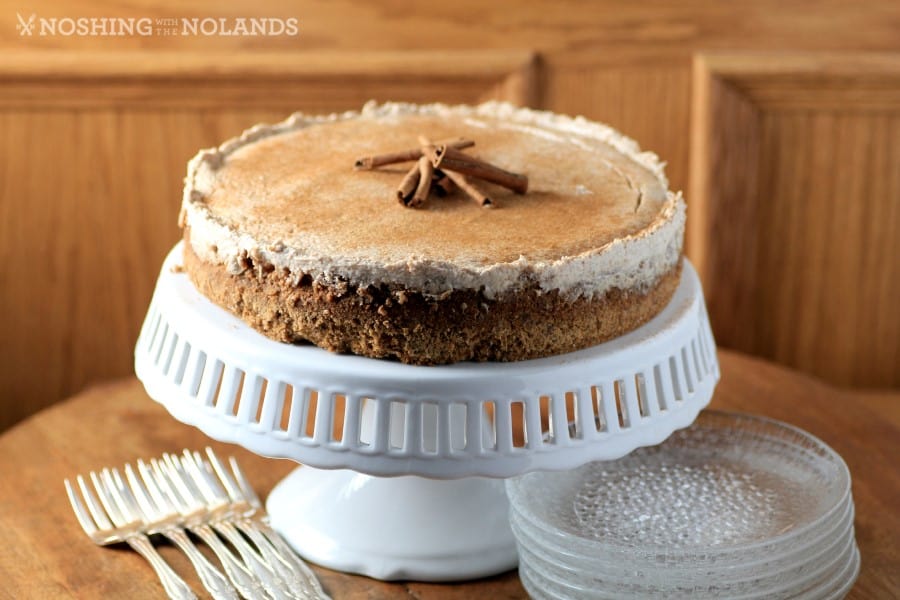 Eggs are extremely versatile for the holidays, from appetizers (who doesn't love a plateful of deviled eggs) to desserts!! They give the holidays the comforting feeling you want!!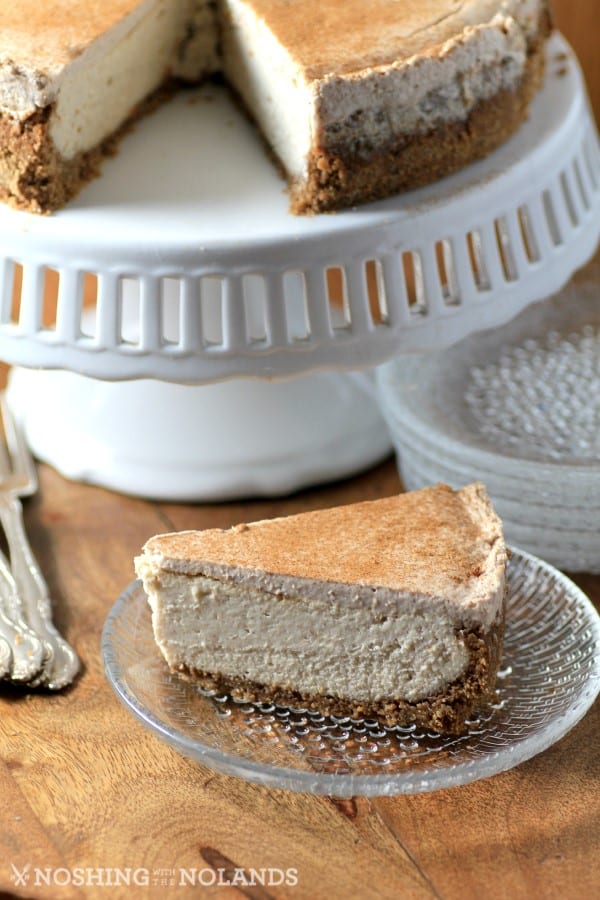 We are lucky in Canada as we have some of the best eggs in the world. This is because of our fantastic supply management which delivers quality and freshness. In Canada, we have over 1,000 regulated farms that ensure food safety. You can be sure of quality with the Grade A symbol.
Eggs are a wonderful high-quality protein. We have them in our fridge by the dozens, especially for all the wonderful holiday baking. Eggs have 6 grams of protein plus 14 important nutrients, so you can be ensured that your family is getting great nutrition. We love our eggs from morning to night in this household.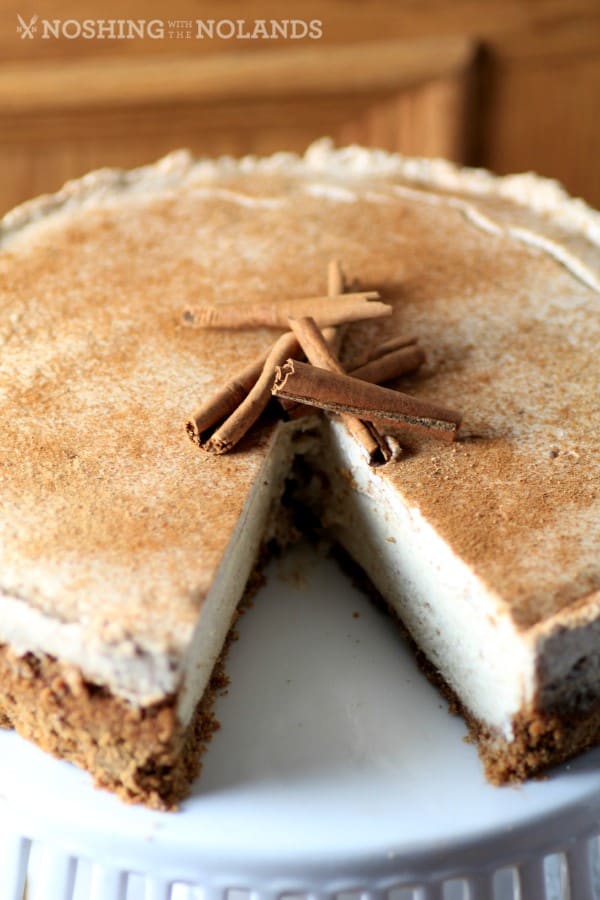 Ken took this cheesecake to work and it was so enjoyed it was gone by 9:30 am. I know there will be a few people coming over for this wonderful holiday recipe!! This cheesecake is rich, creamy with the right amount of cinnamon, nutmeg, brandy, and rum to rival the best eggnog you have ever had.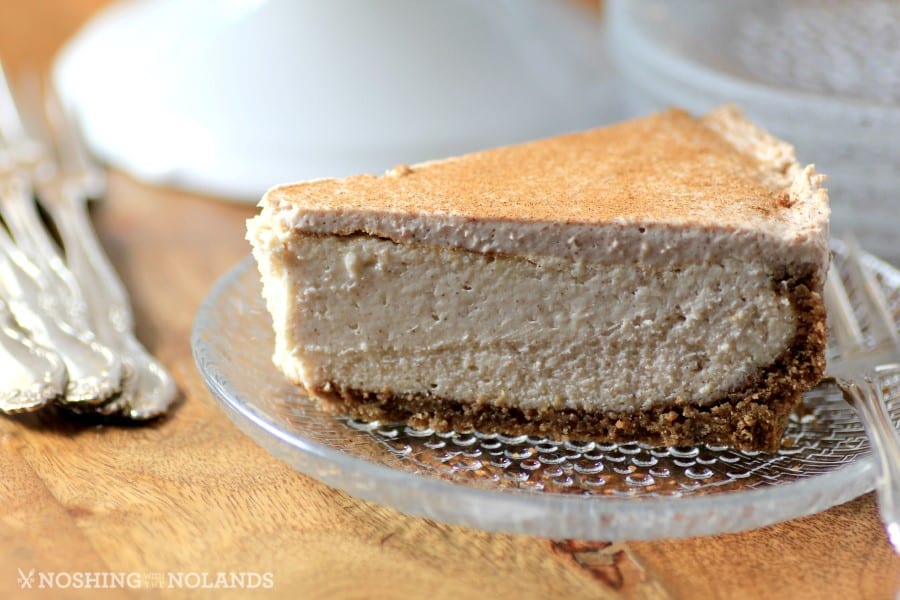 With two dogs and a new kitten, our holidays are the #ScrambledPlan but that what makes it fun. Just trying to keep the tree standing and everyone out of the goodies is a daily challenge.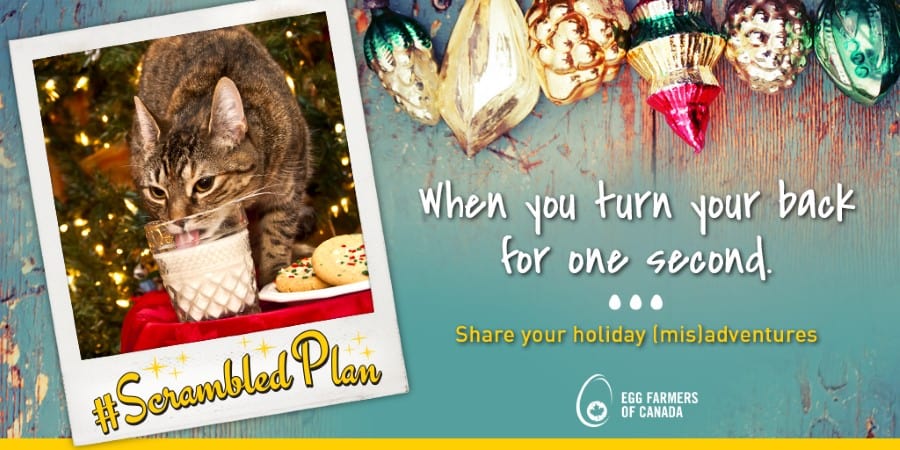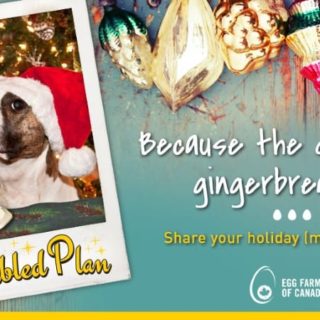 Eggnog Cheesecake #ScrambledPlan
Yield: 12 servings
Prep Time: 30 minutes
Cook Time: 1 hour 1 minute
Total Time: 1 hour 31 minutes
A grand eggnog cheesecake filled with cinnamon, nutmeg, brandy and rum that is perfect for the holidays!!
Ingredients
Crust
1 1/2 cups graham cracker crumbs
2 Tbsp. sugar
2 tsp. cinnamon
Fresh grating of nutmeg
Pinch of cloves
1/4 cup butter, melted
Filling
1 1/2 pounds regular or light cream cheese
3/4 cup sugar
2 Tbsp. dark rum
2 Tbsp. brandy
1 tsp. vanilla
1 tsp. cinnamon
1/2 tsp. ground nutmeg
3 large eggs, room temperature
Topping
1 1/2 cups sour cream
1 1/2 Tbsp. sugar
1/4 tsp. vanilla
1 tsp. cinnamon
1/2 tsp. nutmeg
Cinnamon sticks
Instructions
For the crust, mix together the graham crackers with the sugar, cinnamon, nutmeg, and cloves. Stir in the butter and mix well. Into a 9" springform pan, press in the crumbs and work up the sides for about 1 3/4". Freeze crust for 10 min.
Preheat oven to 375F having a rack positioned in the middle. Bake crust for 8 min. Remove the crust from the oven and let cool while you make the filling.
For the filling, in a large bowl of a standup mixer beat the cream cheese with the sugar. Add in the rum, brandy, vanilla, cinnamon, and nutmeg. Beat well to combine. Add in the eggs, one at a time, beating well after each addition.
Spoon filling into crust and bake for 45 min. or until softly set in the center. If the top begins to brown too much cover it with foil. Take the cheesecake out and allow to cool for 30 min.
Increase oven temperature to 400F.
For the topping, whisk the sour cream, sugar, and vanilla in a medium bowl. Pour mixture carefully over cheesecake. Bake until set for 8 min. Let cheesecake cool completely then cover and refrigerate overnight.
To serve, cut around the edge of the cheesecake to loosen and then release. Slide cheesecake carefully onto a serving dish, removing the bottom pan. Sift the cinnamon and nutmeg on top and decorate with the cinnamon sticks.
Nutrition Information:
Yield: 12
Serving Size: 1
Amount Per Serving:
Calories: 344
Total Fat: 21g
Saturated Fat: 11g
Trans Fat: 0g
Unsaturated Fat: 7g
Cholesterol: 104mg
Sodium: 309mg
Carbohydrates: 31g
Fiber: 1g
Sugar: 23g
Protein: 8g
Recipe calculation was provided by Nutritionix and is estimation only. If you need nutritional calculations for medical reasons, please use a source that you trust.
Recipe adapted from Bon Appetit Christmas.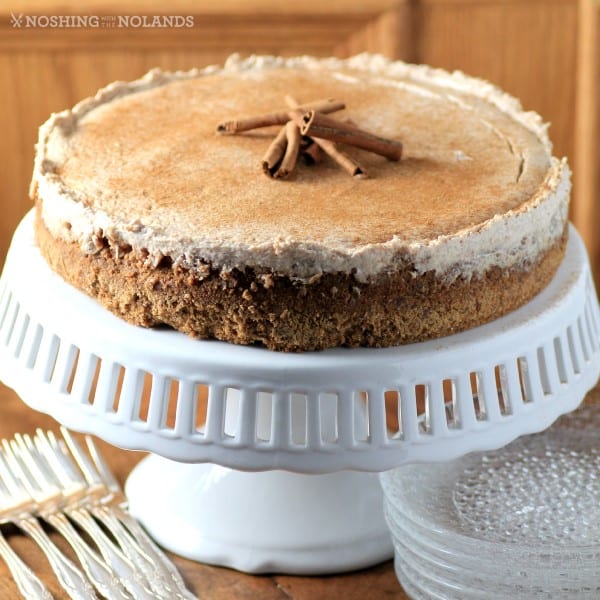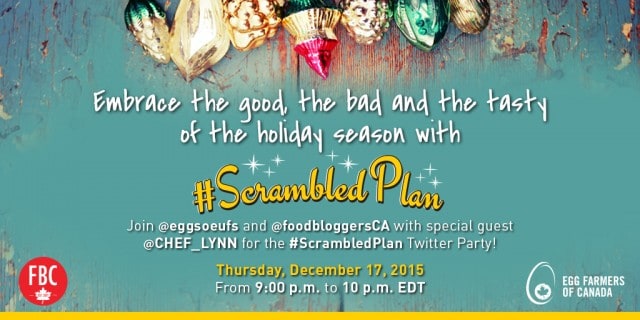 Celebration!!
To celebrate we also have a wonderful #ScrambledPlan Twitter Party for you to partake in on Thursday, December 17th, 2015 with special guest Chef Lynn Crawford. For full details come
HERE
, you must RVSP and tweet at least once during the party.
Five prize packs! Each one includes everything below and delivered right to your door! Perfect timing for the holidays!!
4 x $50 Visa Gift Card including a Get Cracking Prize Pack!
2 x $100 Visa Gift Card including a Get Cracking Prize Pack!
1 x $500 Visa Gift Card including a Get Cracking Prize Pack!
Good luck everyone and come and join in the #ScrambledPlan, we would love to hear your stories!!
This post is sponsored by the Egg Farmers of Canada and I have been monetarily compensated.