Spicy Bacon Wrapped Little Potatoes
I am always thinking of little potatoes and new recipes as I love them so much!! These Spicy Bacon Wrapped Little Potatoes popped into my head and I thought they would be a fantastic appetizer for the holidays. Creamer or little potatoes from The Little Potato Company are so easy to work with as they are versatile and can be incorporated into dishes from morning to night.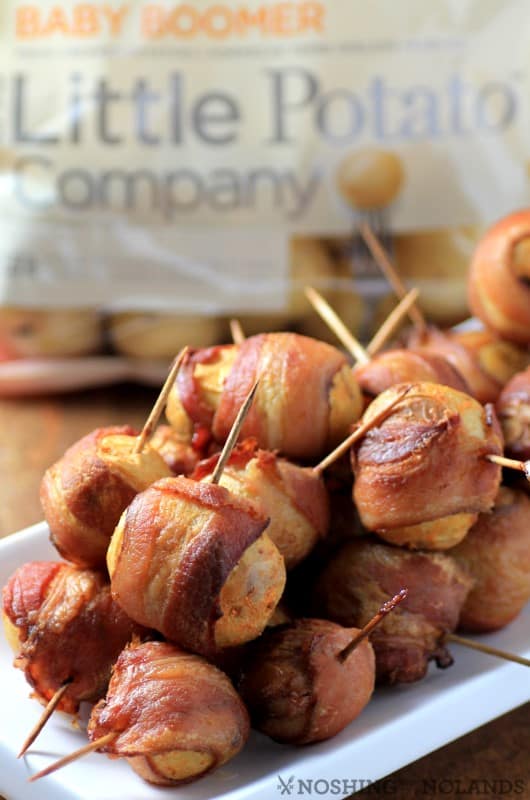 These little potatoes get a quick toss in some spices and hot sauce and then are wrapped in bacon. They are then skewered with a strong toothpick, you can't use the weak little ones for this recipe.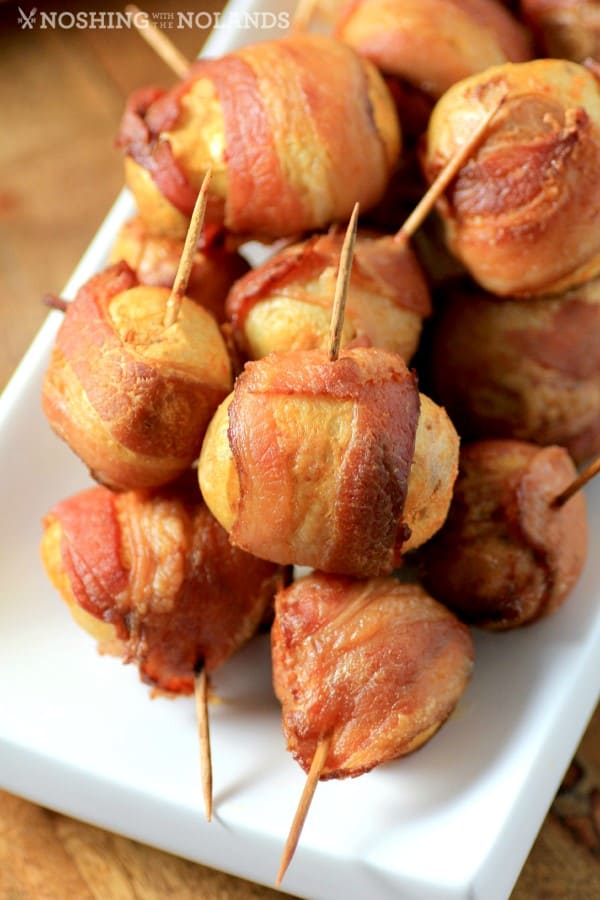 After roasting the bacon is crisp, the potatoes perfectly tender. These are great for little mini poppers or they would be excellent with a steak, chicken or pork. A lot of people have just appetizer parties over the holidays and serve lots of wine and cocktails, these are a great appetizer to fill you up and keep you going for the evening.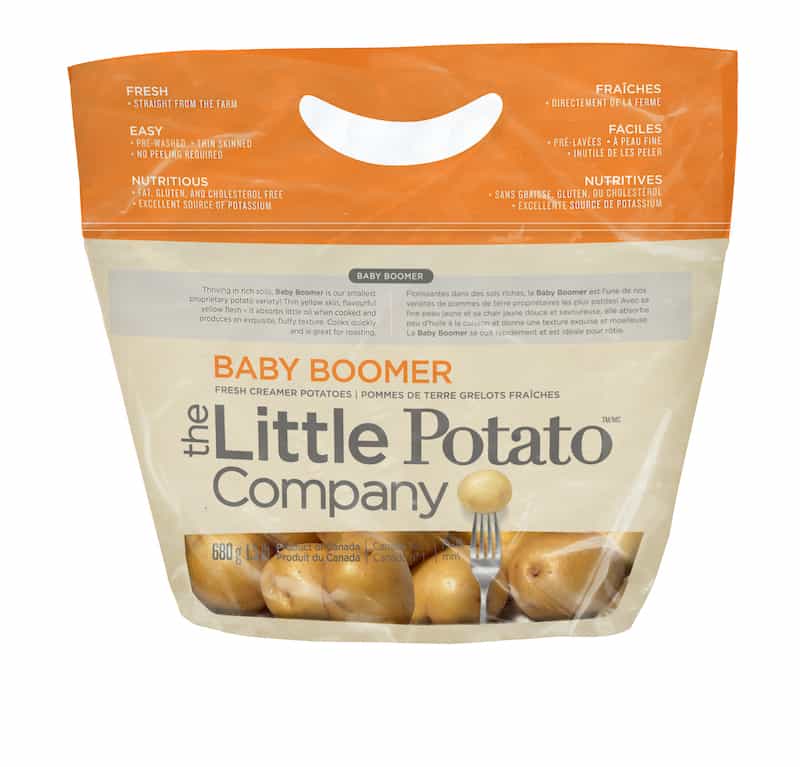 Baby Boomers are fabulous little potatoes from The Little Potato Company. Did you know that they are naturally fat-free, sodium-free, cholesterol-free, gluten-free and only 90 calories per serving, Little potatoes can be added to any meal quickly as they come prewashed, they don't need peeling and require only 15 min. to boil or 5 min. in the microwave!! Dinner can be on the table in no time with these little guys helping you out. They also contain 12% of your daily fiber and 19% of your daily potassium.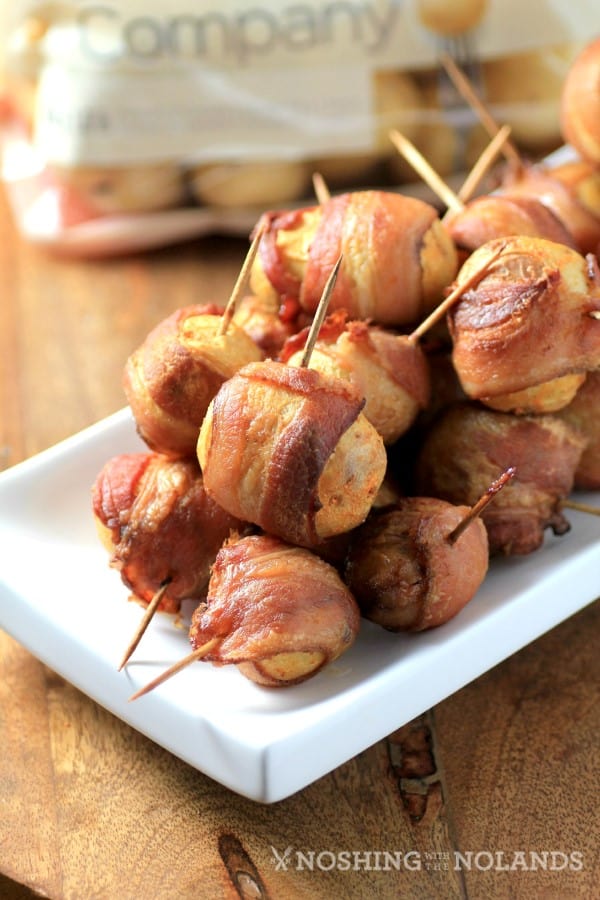 Make the holidays happy and serve up these Spicy Bacon Wrapped Little Potatoes!!! They are just slightly spicy and would go great with a bleu cheese dip also!!
The Recipe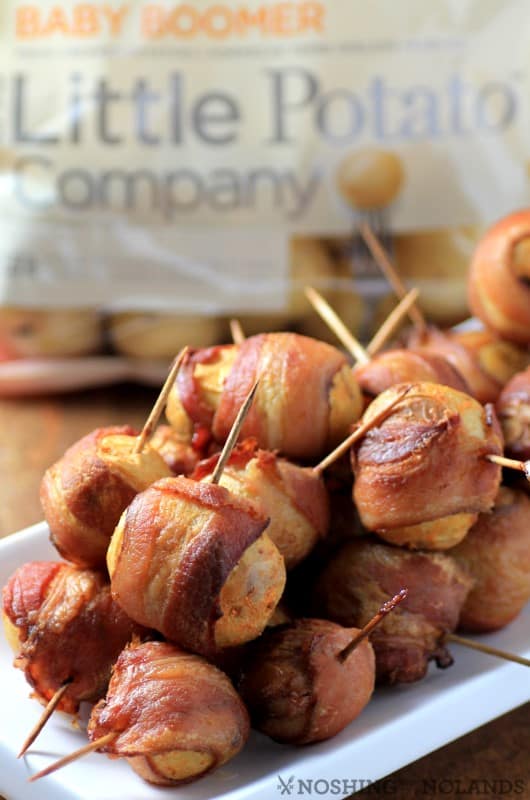 Spicy Bacon Wrapped Little Potatoes
Yield: 24
Prep Time: 15 minutes
Cook Time: 45 minutes
Total Time: 1 hour
Little potatoes take a quick dunk in hot sauce and some spices and are then wrapped in bacon and baked to perfection!!
Ingredients
24 The Little Potato Company, Baby Boomers (about 1.5 lbs.)
12 strips bacon, sliced in half crosswise
2 Tbsp. hot sauce (we love Frank's)
1/2-1 tsp. salt
1/2-1 tsp. onion powder
1/2 tsp. garlic powder
Sturdy toothpicks
Ziplock bag
Instructions
Preheat oven to 375F. Line a baking sheet with foil.
Place potatoes in a plastic zip bag and add the hot sauce, salt, onion powder and garlic powder. Toss to coat well.
Wrap potatoes with 1/2 strip of bacon, pulling it to overlap and secure with a toothpick. Lay them on the foil lined baking sheet. Roast in the oven for 45 min. or until the potatoes are tender and then bacon is crisp. Let cool slightly and serve.