Cheesy Chicken Bruschetta
I have a post today, Cheesy Chicken Bruschetta, that just thrills me, I couldn't be more excited than to be working with Epicure. I have been completely enamored with their products for so long, so when they approached me to do a collaboration I couldn't have been more excited. We have used and loved their brand forever.
Having had parties and I have been to parties with their wonderful products is always fun. My cupboards full of their products and I use them all the time. I also adore their cookware and other collections. Come over and see all they have to offer, you will get hooked like I am.
This recipe today for Cheesy Chicken Bruschetta is easy and amazing. Your family and company over the holidays and beyond will be asking you to make this again and again. You can have this appetizer (or main even) all ready and then at the last minute assemble and bake.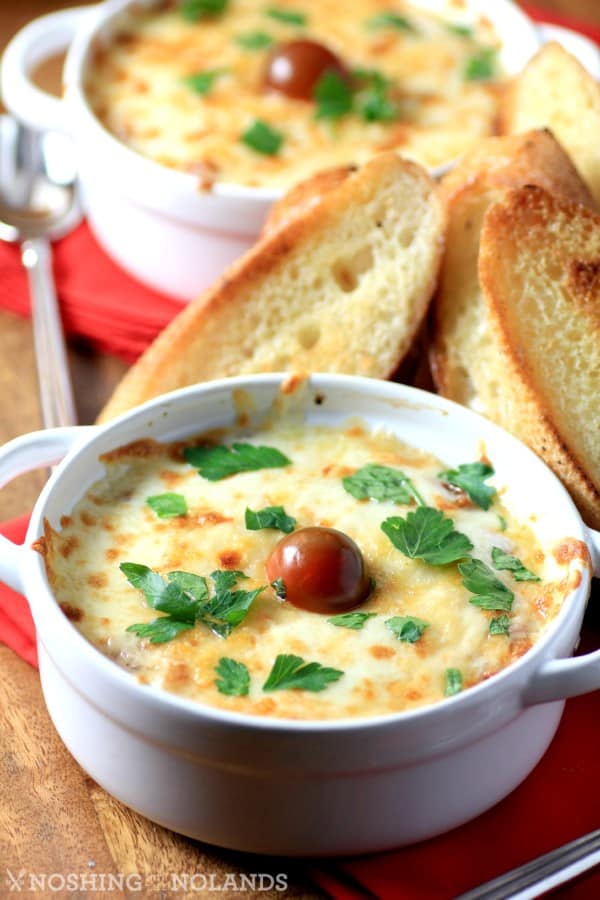 This is a great sharing appetizer that can be made in four smaller bakers or one large baker. It would be an entree also with a lovely salad. I used the Epicure Bruschetta Seasoning to make this and it is perfectly balanced with herbs and garlic.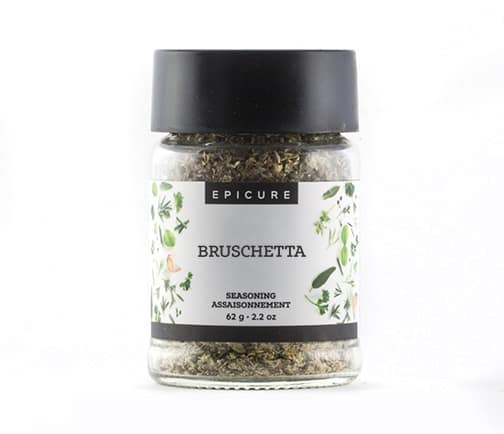 I love that Epicure products are low in sodium, I use their taco seasoning exclusively for that reason as I don't like the high sodium some packaged mixes can have. They have a clean eating motto with only using ingredients they trust.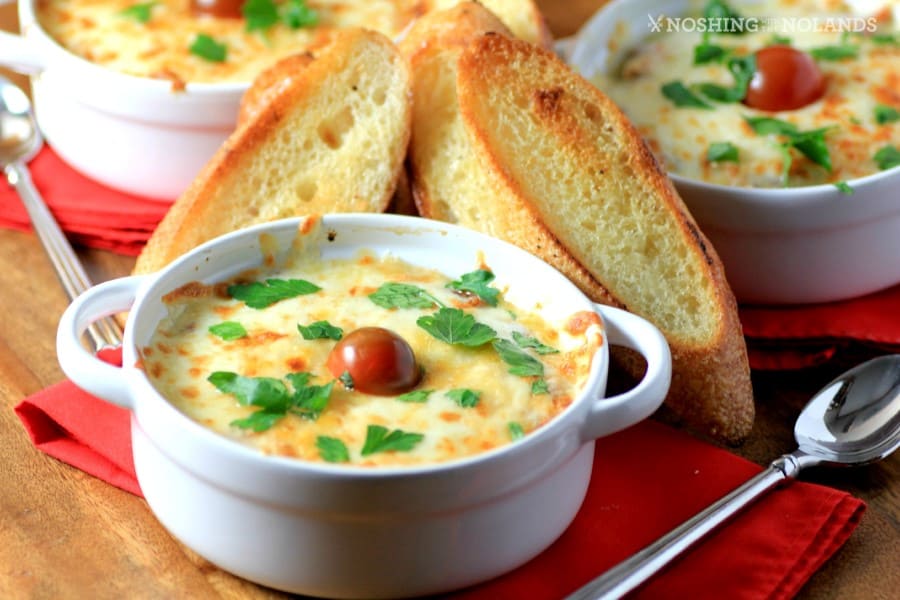 Epicure bakers are fantastic to work with, not only are they very attractive they are also the perfect size for a little appetizer like this.
Epicure Bakers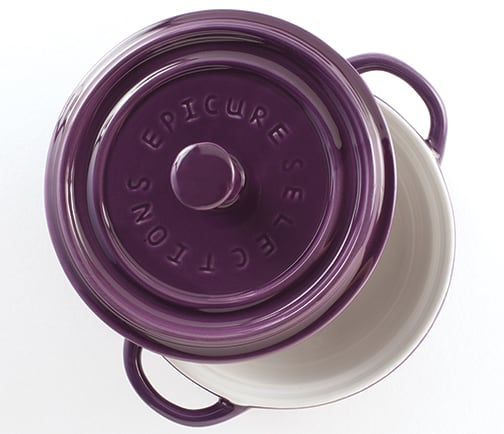 The bakers come in two sizes and all come with lids. The have them in classic French White or Aubergine!! I chose to show you the Cheesy Chicken Bruschetta served in the classic white.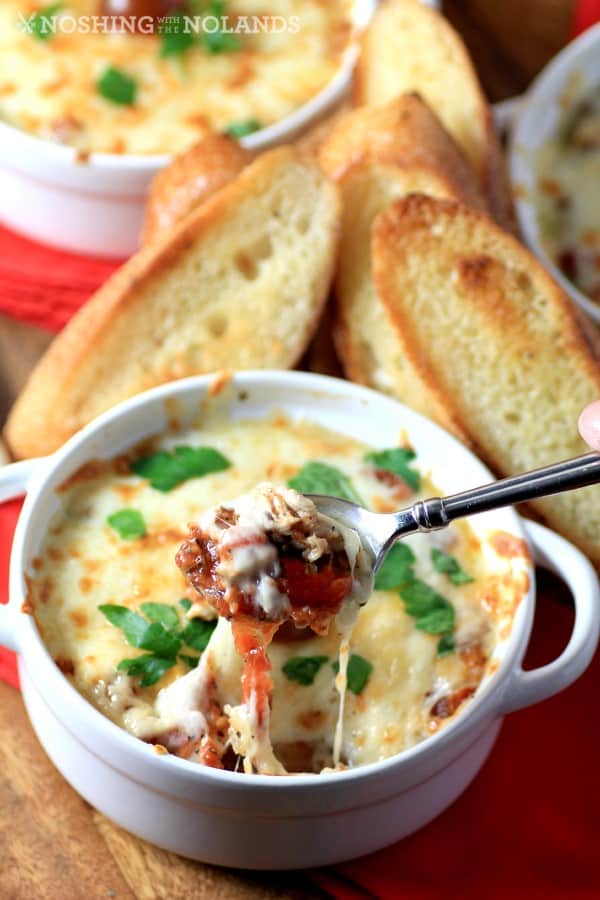 The chicken in this dish is extra juicy from a quick brine and bake and then flavored with the bruschetta seasoning for the perfect taste. I am drooling thinking about how good this was.
Epicure Spices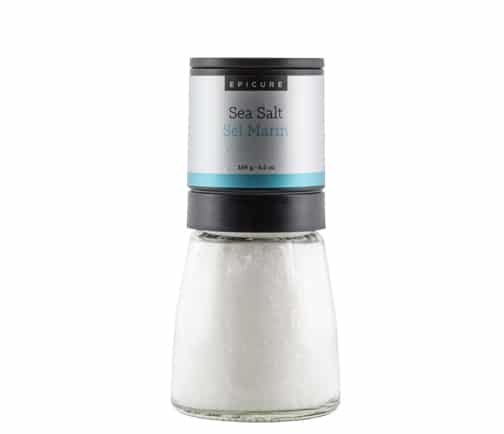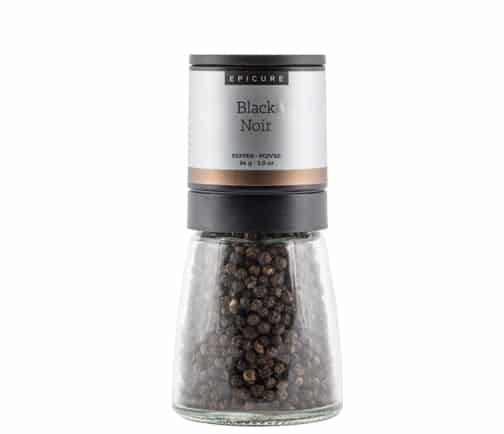 The chicken and bruschetta were seasoned with their sea salt and black pepper grinders. These two products have a home on my counter so that they are at the ready to add to any recipe!!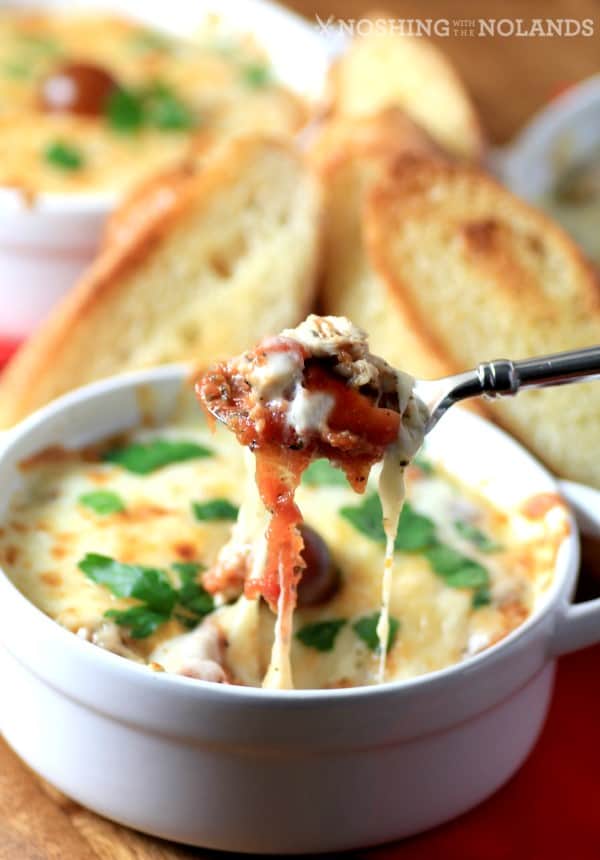 This is a winner of a dish, cheesy, garlicky and scrumptious. All made with wonderful Epicure products.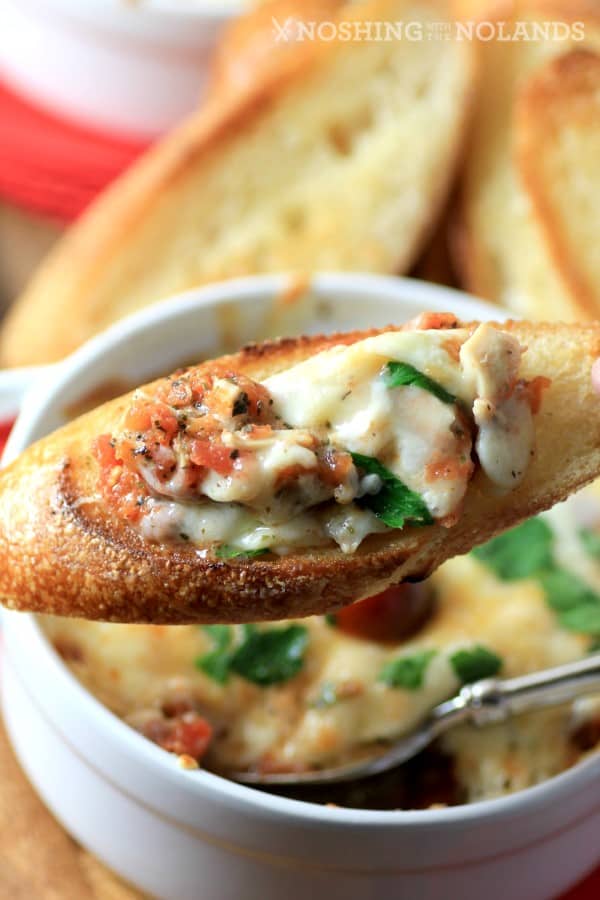 Serve this wonderful bruschetta on crispy fried crostinis and you will be getting rave reviews from everyone over the holidays. I didn't bake the crostinis like I usually do but fried them in butter, oh ya amazing!! Come on, it is the holidays!!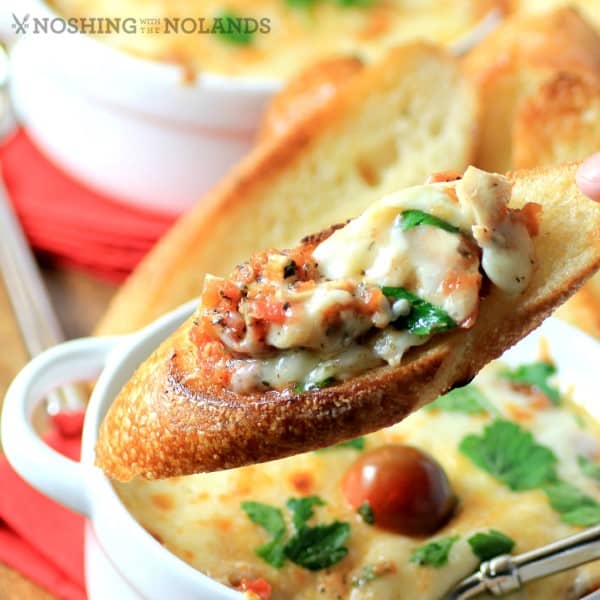 And now I have a fantastic giveaway for you!! You can get all the products I have talked about plus more!! A value of $120. This giveaway is open to Canada only and runs until December 16, 2015 at 12:00 am. At that time a random winner will be chosen. The winner has 48 hours to respond by email or another winner will be chosen.
Look at the fantastic seasonal products along with everything I used to make this recipe.
A large White Baker
Bruschetta Mix
Sea Salt Grinder
Black Pepper Grinder
Hot Buttered Rum
Mulling Spices
Dark & Dreamy Hot Chocolate
Egg Nog Cheesecake Mix
Chocolate Truffle Sweet Dip Mix
Chocolate Velvet Cheesecake Mix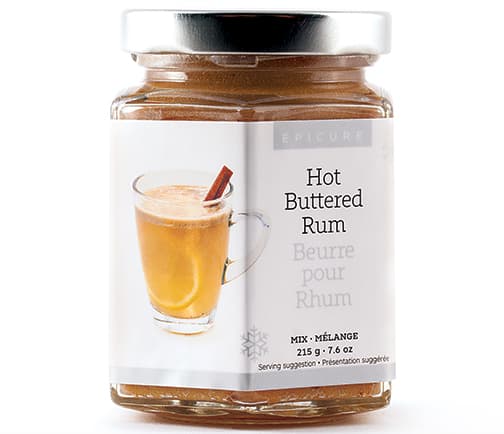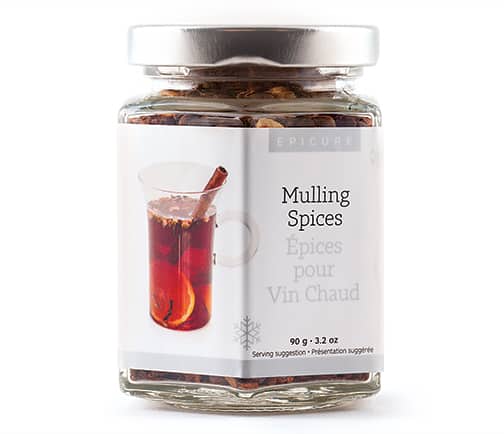 I can't wait for company to come over and serve them these!! What a wonderful Christmas it will be!! Good luck with the giveaway everyone!!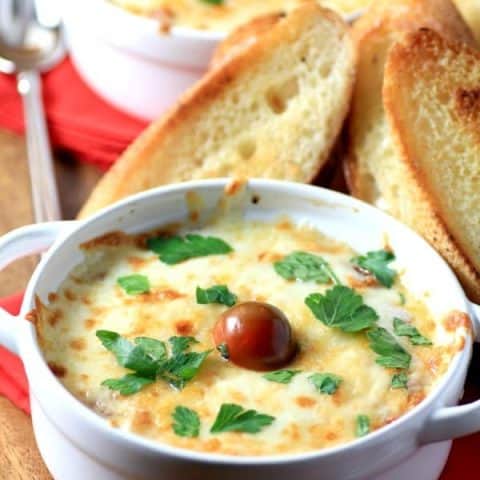 Cheesy Chicken Bruschetta
Yield: 8-10
Prep Time: 30 minutes
Cook Time: 45 minutes
Total Time: 1 hour 15 minutes
A decadent cheesy chicken bruschetta that will be a huge crowd pleaser for the holidays!!
Ingredients
3-boneless skinless chicken breasts
Table salt
1 Tbsp. butter, melted
2-28 oz. cans diced tomatoes, drained very well
2 rounded Tbsp. Epicure Bruschetta Seasoning, plus more for chicken
2 Tbsp. olive oil
Epicure Sea Salt
Epicure Black Pepper
2 cups mozzarella, grated
1 cup Parmesan cheese, grated
Grape or cherry tomatoes for garnish, optional
Parsley, torn for garnish
Crostinis
1 loaf French stick, sliced diagonally
8 Tbsp. butter
Instructions
To brine the chicken, fill a medium bowl with warm water and add 1 Tbsp. salt and stir to dissolve. Add the chicken and let sit for 20 min.
Meanwhile add the Epicure Bruschetta Seasoning and the olive oil to the drained tomatoes. Season with Epicure Sea Salt and Epicure Pepper to taste.
Drain the chicken and then pat dry. Place the chicken in a baking dish. Preheat oven to 450F. Season both sides of chicken with Epicure Sea Salt and Epicure Pepper Grinders. Sprinkle the chicken with the Epicure Bruschetta Seasoning. Drizzle one Tbsp. butter on chicken breasts. Bake for 15-18 min. until chicken reads 160-170F. Let chicken rest and cool until able to handle. Chop chicken into small bite size pieces and divde among four Epicure small bakers or one large baker (you may have some extra if using the large baker).
Top each baker with 1/4 of the bruschetta followed by 1/4 of each of the cheese, putting on mozzarella first and the Parmesan last. Bake at 350F for 20-25min. until bubbly.
While the bruschetta is baking, fry the bread in the butter until lightly golden and working in batches. Start with the 4 Tbsp. of butter for the first half of the French stick, then repeat. Keep the pan to medium low to not burn the butter.
Garnish the top of each of the bakers with a sliced grape or cherry tomato and sprinkle on parsley. Serve immediately with the crostinis.