This delectable Cranberry White Chocolate Cheesecake is a showstopper! It's the fall and winter dessert that will have everyone coming back for seconds.
The holidays are fast approaching and this Cranberry White Chocolate Cheesecake is the dessert recipe you need in your repertoire. With its signature blend of tangy fresh cranberries and silky sweet white chocolate, it's the perfect dessert for your holiday spread.
If cheesecake gets you as excited as it does me, then be sure to check out this Streusel Topped Pumpkin Cheesecake for fall and this easy Cherry Cheesecake Dip when you need a quick fix. Lastly, we have for you a very easy No-Bake Chocolate Cheesecake or an amazing Light and Airy Strawberry Cheesecake too!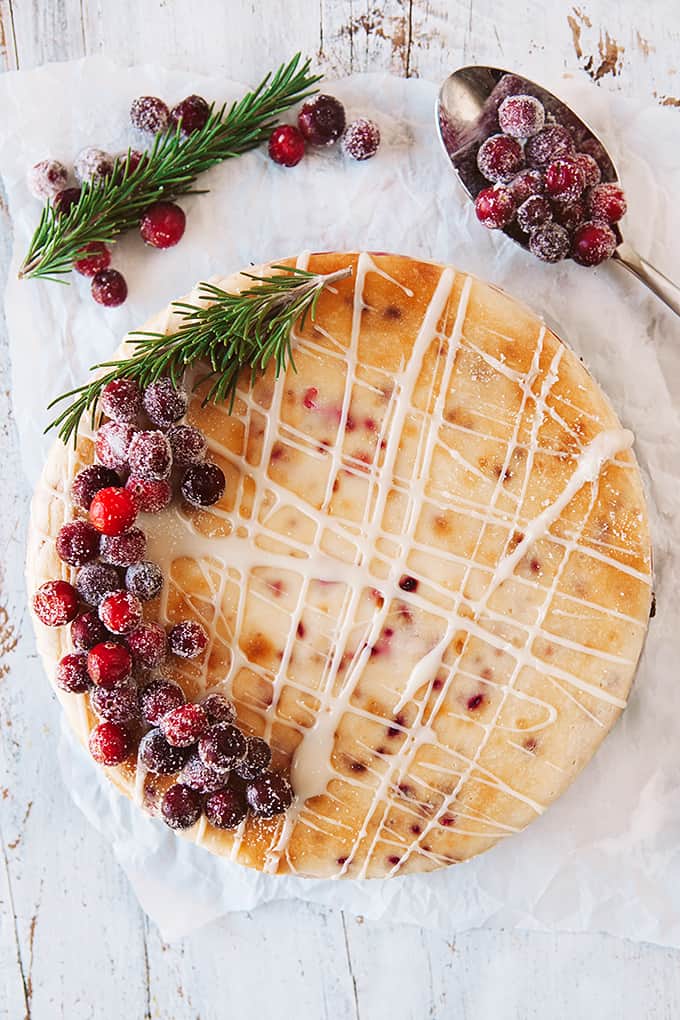 Hi everyone! It's Allison from Some the Wiser. I'm extra excited about this cheesecake recipe because fresh cranberry treats are my most favorite. I'm also crazy about these Cranberry Orange Sweet Rolls and my number one favorite Cranberry Pear Tart.
Helpful Items for This Recipe
This post contains affiliate links. As an Amazon Associate, I earn a small portion from qualifying purchases at no extra charge for you.
9″ Non-Stick Springform Cheesecake Pan
How to Make White Chocolate Cheesecake Recipe
For the longest time, I was scared to make a cheesecake. It seemed daunting and too involved – surely something that fancy looking must be hard to make, right? But I was actually very wrong.
Cheesecake is really pretty simple when you have a good recipe, even for the home baker!
Here are all my best tips for making this White Chocolate Cheesecake the perfect cheesecake: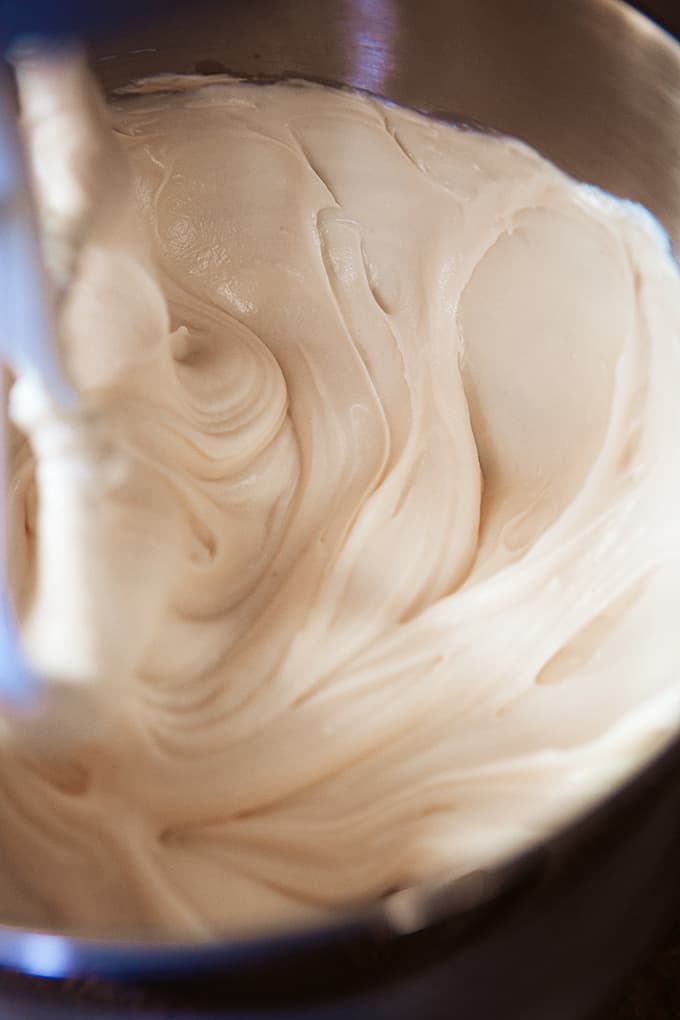 First, make sure all of your ingredients for the filling are at room temperature before you begin. The key to a smooth and silky cheesecake is to mix the filling until it's completely smooth and creamy. This is easy to do if you have room temperature ingredients.
Second, use a water bath to bake the cheesecake. This is an important step because it will keep the finished cake from cracking. To do this, wrap the bottom half of the pan in 3 or 4 layers of aluminum foil so it's watertight, then place the cake pan on a baking sheet or in a roasting pan and fill the pan with an inch or two of hot water while you bake.
The steam from the almost boiling water will help to lift up the cheesecake while it bakes and therefore preventing the cracking that you sometimes see.
Lastly, add your eggs one at a time to get a good emulsion of fats spread throughout the batter; this will give you an even creamy batter.
Cranberries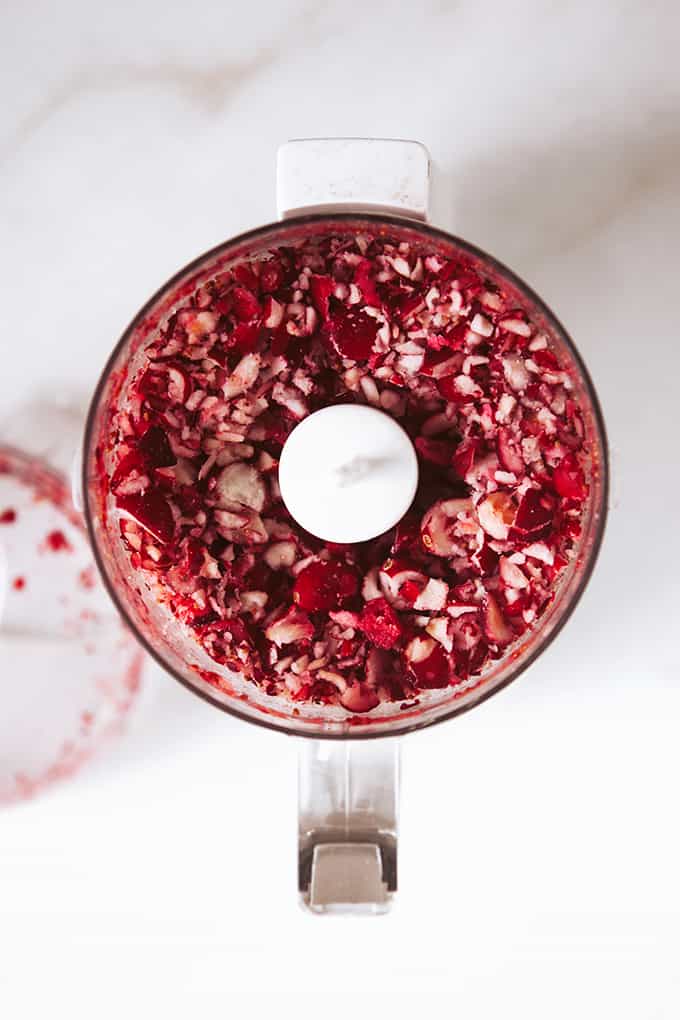 Finally, double down on the flavors. Think of your cheesecake like an empty canvas just waiting for you to fill it with delicious flavors. Berry flavors are always delicious in cheesecake and you can't go wrong with strawberry, raspberry, or blueberry. Traditionally you see them used as a sauce like a raspberry sauce when serving the cheesecake.
Fresh cranberry, however, is a real showstopper in a cheesecake! It's tart and tangy and pairs beautifully with the silky smooth cream cheese base. I just chop the fresh (or frozen) cranberries in a food processor so they are the perfect size to swirl through the cheesecake batter.
The addition of sweet white chocolate chunks really takes this recipe from good to great. Not only are there white chocolate chunks inside, there's also a delicious white chocolate drizzle across the top of the cheesecake. Delicious!
As for the crust, we didn't want to use plain graham cracker crumbs but tied more chocolate in using Oreo cookies. Yum!
When ready to serve, heat and stir the 1/2 cup white chocolate chips in a double boiler with the heavy cream until smooth. It will take a minute stirred to get it smooth. Drizzle over the top of the cheesecake and garnish with sugared cranberries if desired.
INGREDIENTS
FOR THE CRUST
Oreo cookies (without the cream)
Melted butter
FOR THE FILLING
Cream cheese, at room temperature
Sugar
Salt
Vanilla
Large eggs, at room temperature
Sour cream, at room temperature
Heavy whipping cream, at room temperature
Fresh or frozen cranberries
High-quality white chocolate chips
FOR THE TOPPING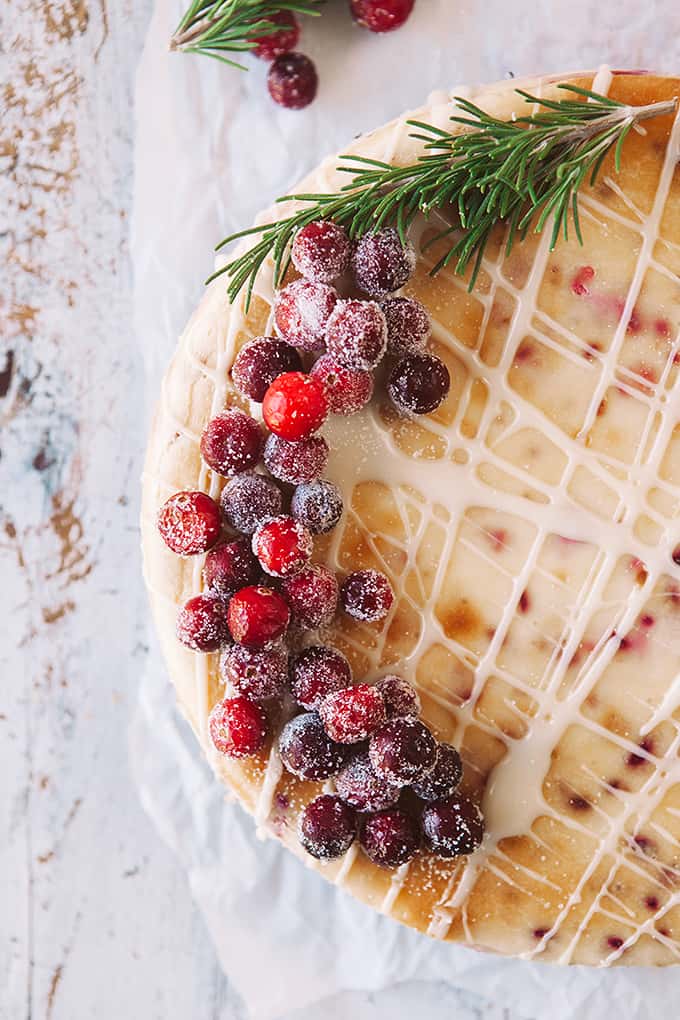 What is the Difference Between New York Style Cheesecake and Regular?
A typical cheesecake has a base of cream cheese and eggs. A New York style cheesecake, however, adds both heavy cream and sour cream to the base to create a more dense and silky smooth cheesecake filling.
New York style cheesecake is also normally cooked in a spring form pan and is known for its golden brown crust along the top.
This Cranberry White Chocolate Cheesecake is a riff on a classic New York style cheesecake. It's dense, creamy, and smooth, just like the classic New York slice, but it's also filled with chunks of white chocolate and fresh cranberry for a big burst of flavor.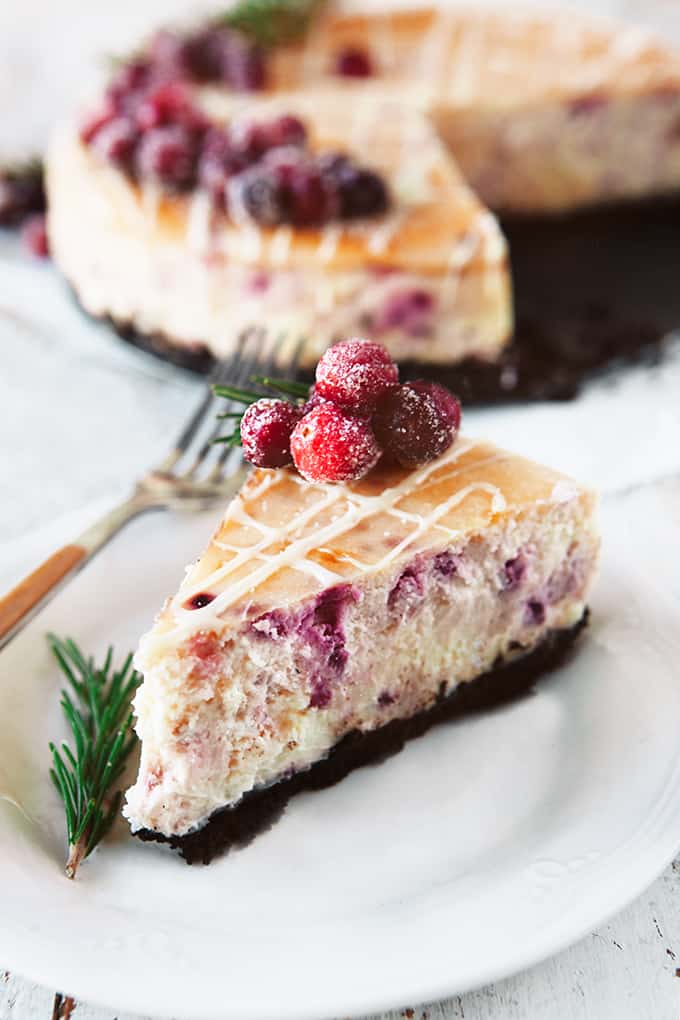 What is the Difference Between a Baked Cheesecake and a Continental
Cheesecake?
A baked cheesecake and a continental, or no-bake cheesecake are really very different. They have entirely different textures and despite sharing a similar name, they're really two completely different desserts.
This Cranberry White Chocolate Cheesecake is a baked cheesecake. It is made from cream cheese, eggs, sour cream, heavy cream, and sugar. Because of the addition of raw eggs, it must be cooked. The texture is dense and velvety.
Likewise, a continental cheesecake doesn't include eggs and instead of baking, is refrigerated until it is set. Its texture is lighter and fluffier, more like a mousse than a traditional cheesecake.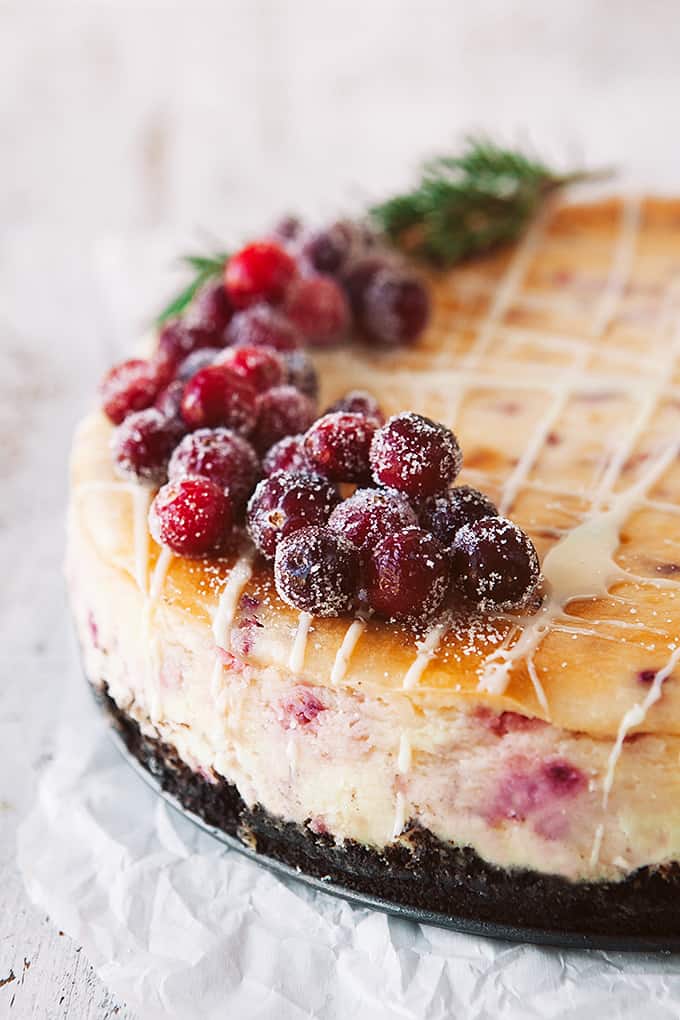 Can You Freeze White Chocolate Cheesecake?
You can easily freeze this Cranberry White Chocolate Cheesecake! In fact, you can make it ahead of time and freeze it up to a month before you're ready to serve it.
You can freeze it whole, or cut it up and freeze individual slices.
Before freezing, make sure you've had it in the fridge for at least 6 hours. Then, place it in an airtight container, or wrap it tightly with plastic wrap to prevent freezer burn. When you're ready to eat it, just let it thaw in the fridge for a few hours before serving.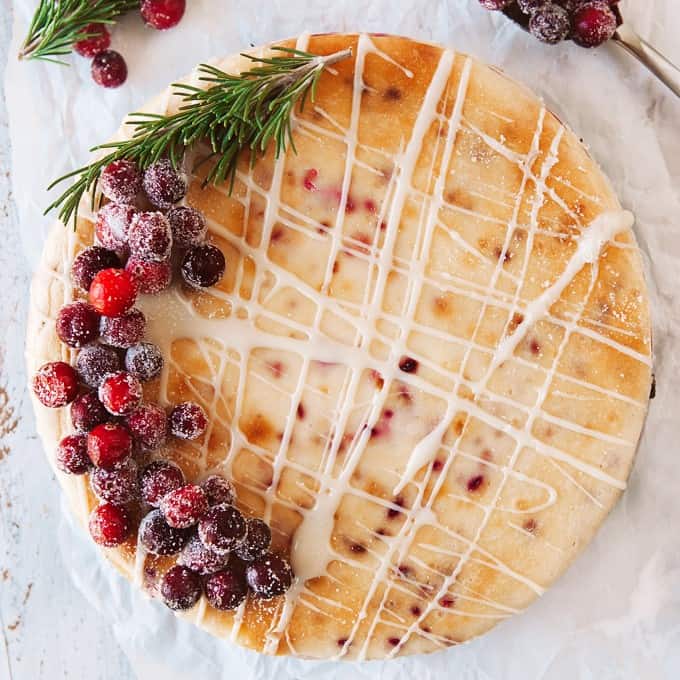 Pin it HERE!!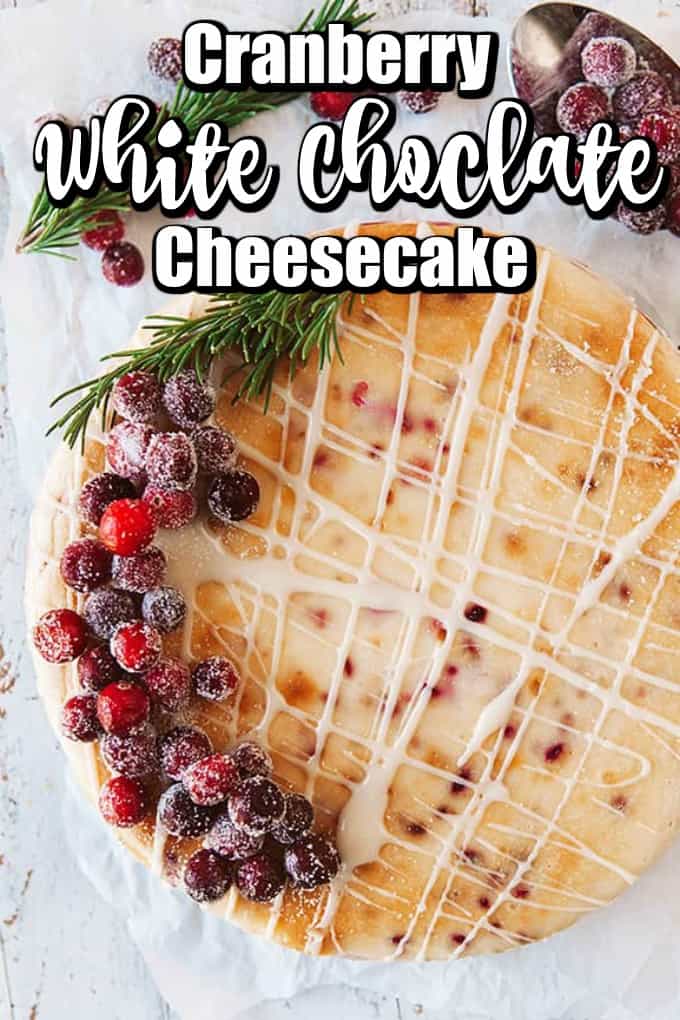 Pin it HERE!!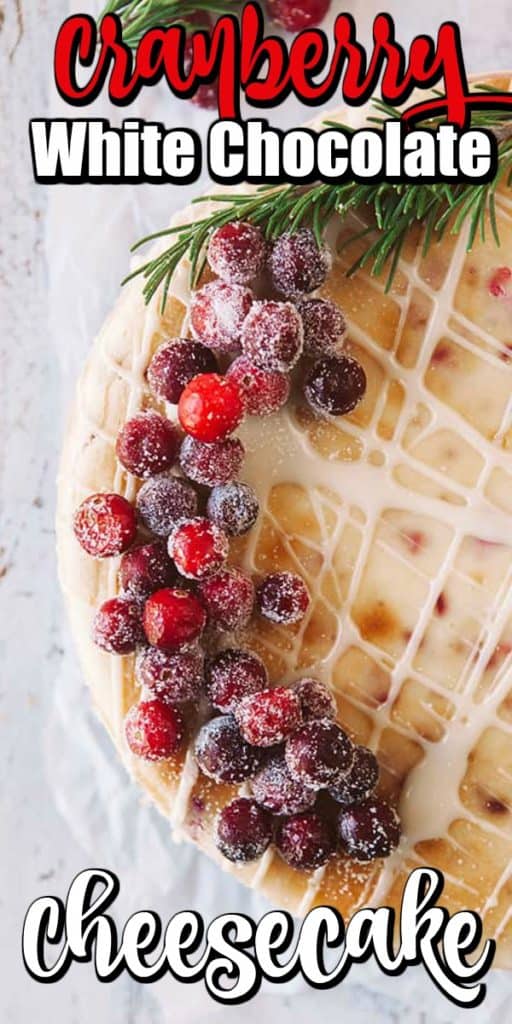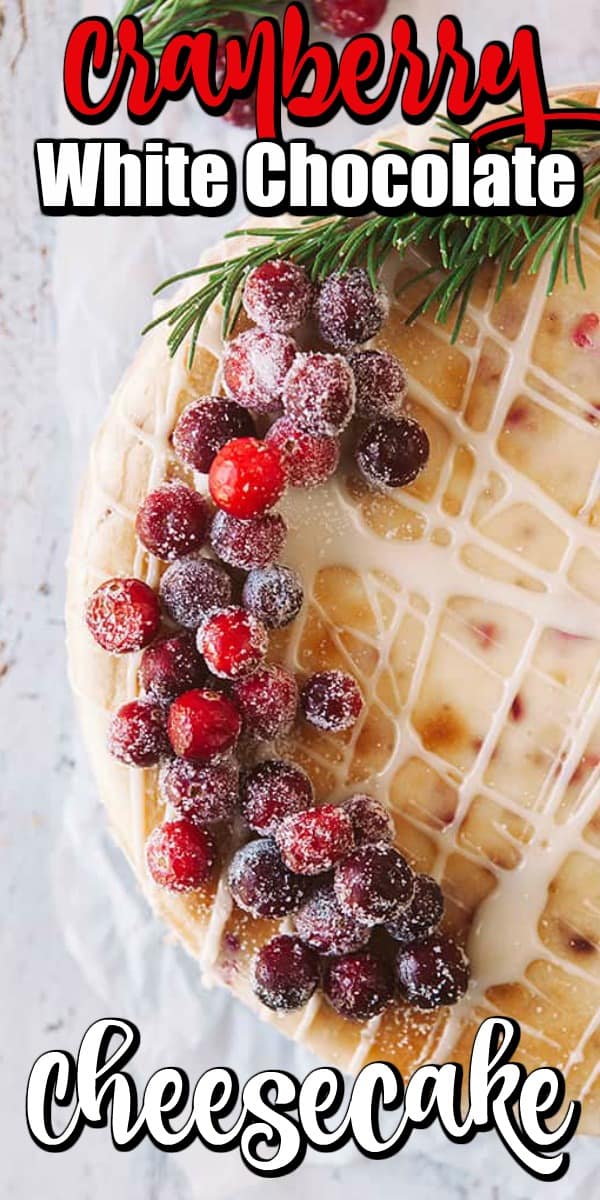 Cranberry White Chocolate Cheesecake
Yield: 16 slices
Prep Time: 25 minutes
Cook Time: 2 hours
Additional Time: 4 hours
Total Time: 6 hours 25 minutes
This Cranberry White Chocolate Cheesecake doesn't get any more festive than this! With easy instructions to make a perfect cheesecake, this recipe will be one you can make throughout the year with other berries also.
Ingredients
For the crust
1 3/4 cups finely crushed chocolate Oreo cookies (without the cream)
4 tablespoons, plus 1 teaspoon salted butter, melted
For the filling
2 pounds cream cheese, room temperature
1 1/3 cup granulated sugar
pinch of salt
2 teaspoons vanilla
4 large eggs, room temperature
2/3 cup sour cream, room temperature
2/3 cup heavy whipping cream, room temperature
2/3 cup coarsely chopped fresh cranberries
1 generous cup high quality white chocolate chips
For the Topping
1/2 cup white chocolate chips
1 tablespoon heavy cream
sugared cranberries for garnish (optional)
Instructions
Preheat oven to 350 degrees Fahrenheit. Place a 9-inch springform pan on a large baking sheet. Lightly grease the bottom and sides of the pan with cooking spray.
Combine the finely crushed cookie crumbs and melted butter. With your fingers, gently press the mixture into the bottom and just slightly up the sides of the prepared springform pan. Bake on the baking sheet for 10 minutes. Remove from oven and cool.
Once the pan is cool, prepare it for the water bath. Place the springform pan onto a large sheet of heavy-duty aluminum foil so that it completely covers the bottom of the pan and comes up the sides. Gently fold the foil around the pan to prevent any water from getting in. Repeat with 2 or 3 more layers of foil so it is airtight along the bottom. Place the prepared pan onto a baking sheet with sides at least 2 inches, or a deeper roasting pan.
Reduce oven heat to 325 degrees Fahrenheit.
In the bowl of a stand mixer, beat the softened cream cheese with the paddle attachment until completely smooth (about 3 or 4 minutes). Add the sugar, and beat until smooth.
Add the salt and vanilla, and beat until smooth. Then add one egg at a time, beating after each addition. Then add the sour cream and heavy cream and beat until completely smooth.
Scrape down the sides, then add the chopped cranberries and white chocolate chips. Beat for 1 minute.
Pour the filling into the prepared crust, smoothing the top with a rubber spatula if needed.
Place the prepared springform pan and baking sheet or roasting pan into the oven. Pour in boiling water so that it comes up 1 or 2 inches around the foil-wrapped pan. Bake at 325 degrees Fahrenheit for 1.5 hours.
When the cheesecake is done, the top will no longer be shiny and will look golden (it may still be a bit jiggly, but that's normal). Turn off the oven and open the door 1 or 2 inches and let the cheesecake cool in the oven for 1 hour. This will help prevent cracking as the cheesecake cools.
Place the cooled cheesecake into the fridge to chill for at least 4 hours or overnight.
When ready to serve, melt the white chocolate chips in a double boiler with the heavy cream until smooth. Drizzle over the top of the cheesecake and garnish with sugared cranberries if desired.
Recommended Products
As an Amazon Associate and member of other affiliate programs, I earn from qualifying purchases.
Nutrition Information:
Yield: 16
Serving Size: 1
Amount Per Serving:
Calories: 556
Total Fat: 37g
Saturated Fat: 20g
Trans Fat: 0g
Unsaturated Fat: 13g
Cholesterol: 126mg
Sodium: 329mg
Carbohydrates: 50g
Fiber: 1g
Sugar: 40g
Protein: 8g
Recipe calculation was provided by Nutritionix and is an estimation only. If you need nutritional calculations for medical reasons, please use a source that you trust.