Cherry Cheesecake Dip
I love an easy no bake dessert in the summer time. Something that is all made ahead and waiting for you. Just pull it out of the fridge and serve this nice, cool dessert on a hot day. Everyone gets to dip their favorite cookie into this delicious Cherry Cheesecake Dip! We used vanilla wafers, waffle cookies and graham cracker cookies but a chocolate cookie would be great here too.
This only takes a handful of ingredients and a very quick pull together. The best part is that it tastes like scrumptious cheesecake and you did hardly anything to create it. Sweet cherry pie filling from the can adorns the top of a cheesecake bottom. The perfect combination for dunking!! Want this served up cold, try our Cherry Cheesecake Popsicles. Or for a variation on another dip try our Easy Pina Colada Fruit Dip.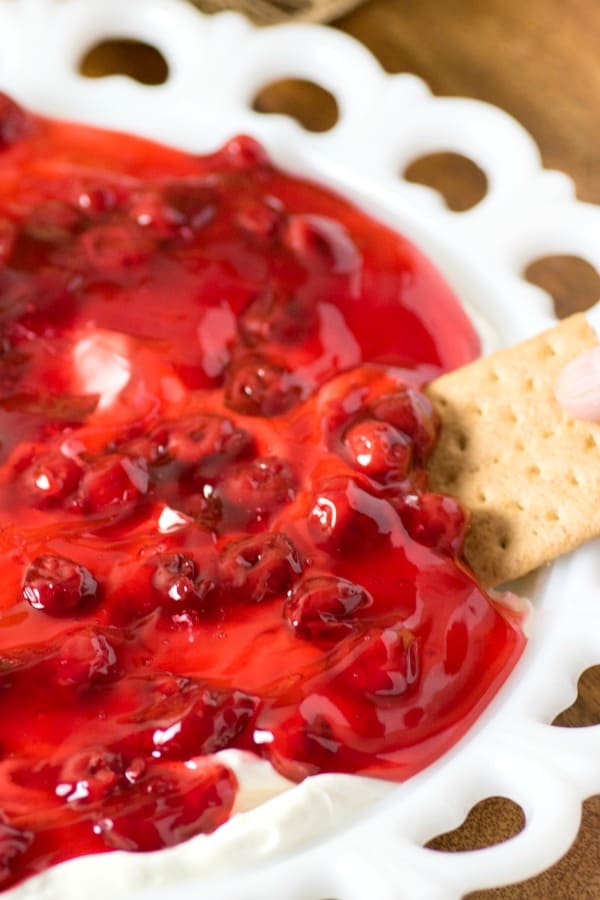 I love cheesecake but sometimes it can be so filling after a big meal especially in the summer. And who wants to be in the kitchen with a hot oven going. Surely not me!! This would also make a great picnic dessert or one to take to a potluck. Put it in a large plastic container and slide it to the bottom of the cooler to keep cold. Everyone will be thrilled when you pull that out for dessert!!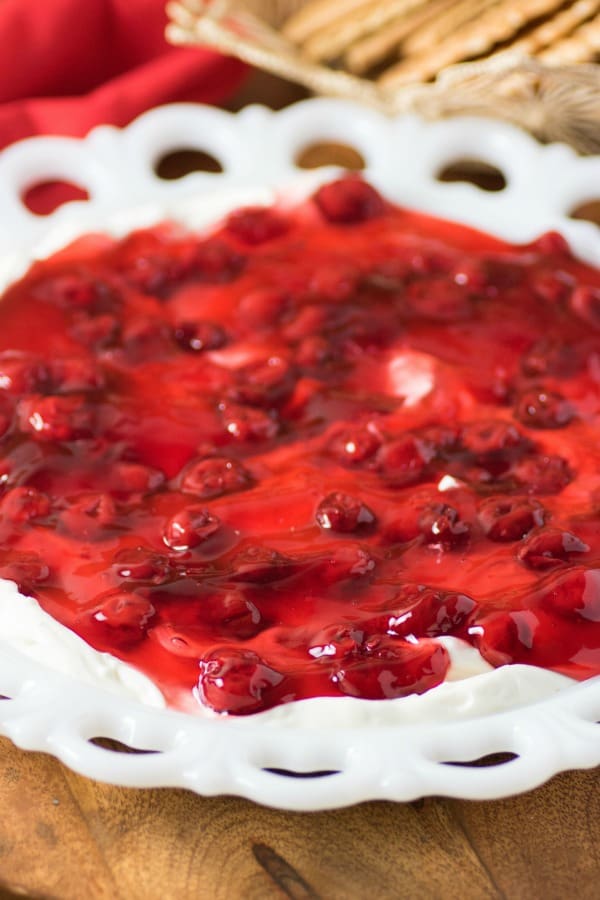 This dessert or even appetizer literally comes together in 10 minutes. You can lighten things up too a bit if you like with light cream cheese (I don't think I ever use the regular) and fat free vanilla yogurt. No one would be the wiser! Enjoy this for a lovely get together with your family and friends.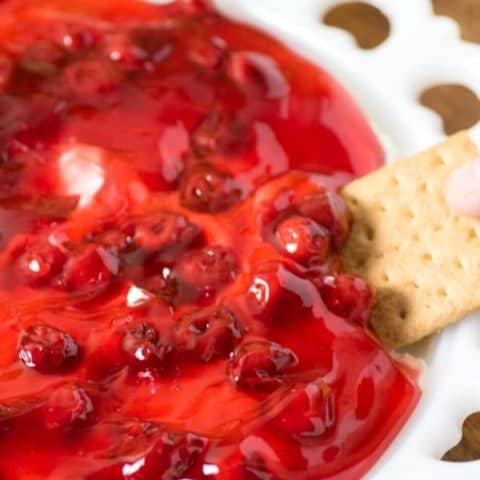 Cherry Cheesecake Dip
Yield: 10 servings
Prep Time: 10 minutes
Total Time: 10 minutes
This fast to pull together Cherry Cheesecake Dip is perfect for a hot summer day for your next cookout, picnic or potluck!!
Ingredients
8 oz. light cream cheese, softened
1/2 cup powdered or confectioners' sugar
1 cup vanilla yogurt
1 can (19 oz.) cherry pie filling
Graham crackers, Italian waffle cookies, and vanilla wafers
Instructions
Place cream cheese and the powdered sugar in a bowl and mix well until smooth.
Add in the yogurt and continue to beat by hand or with a hand mixer until all lumps have smoothed out.
Spread onto a serving plate and top with cherry pie filling. Serve immediately or refrigerate.
Let stand for 15 min. before serving if refrigerated.
Serve with the graham crackers, waffle cookies and vanilla wafers. Serve with a spoon for the more delicate waffle cookies.