Three Mushroom Pecorino Truffled Flatbread
When you are out at an amazing restaurant and you have one of their flatbread or pizzas with mushrooms, garlic, cheese and truffles and you wonder how on earth do they get it to taste so incredibly good! Well, I have for you today a gourmet flatbread that will rival any restaurant's pizza. This Three Mushroom Pecorino Truffled Flatbread is out of this world with wonderful flavor.
Not too much from the truffle oil. Not too many toppings. Plain and simple yet there is nothing plain and simple about this flatbread!! Instead of a traditional tomato sauce we went for a truffled cheese sauce and wow, what an amazing flavor. It is not hard to make but does take a little more time than cracking a jar open but let me tell you it is so worth it.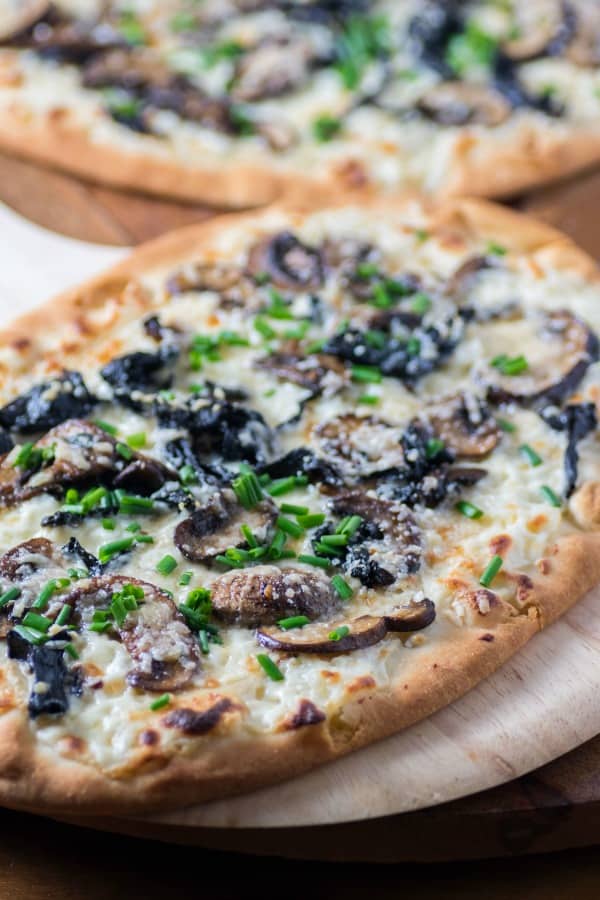 Find flatbreads or pizza shells in your local grocery store. A good quality base will get you great results and all you have to do is work on the toppings!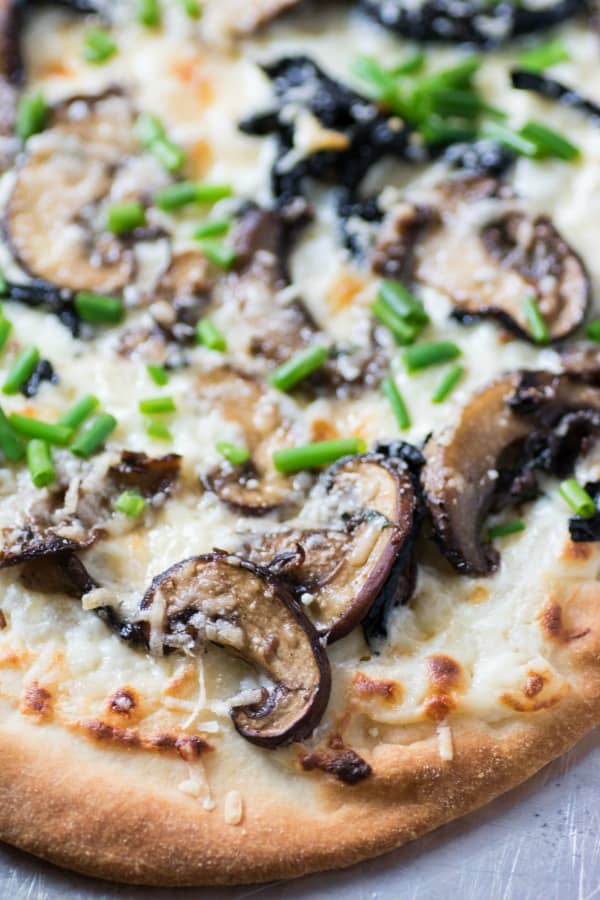 Three different mushrooms adorn this pizza, dried black trumpet that I redhydrated, cremini and white button. This gives the flatbread different flavors and textures, a wondeful combination but you choose the mushrooms you would like to add.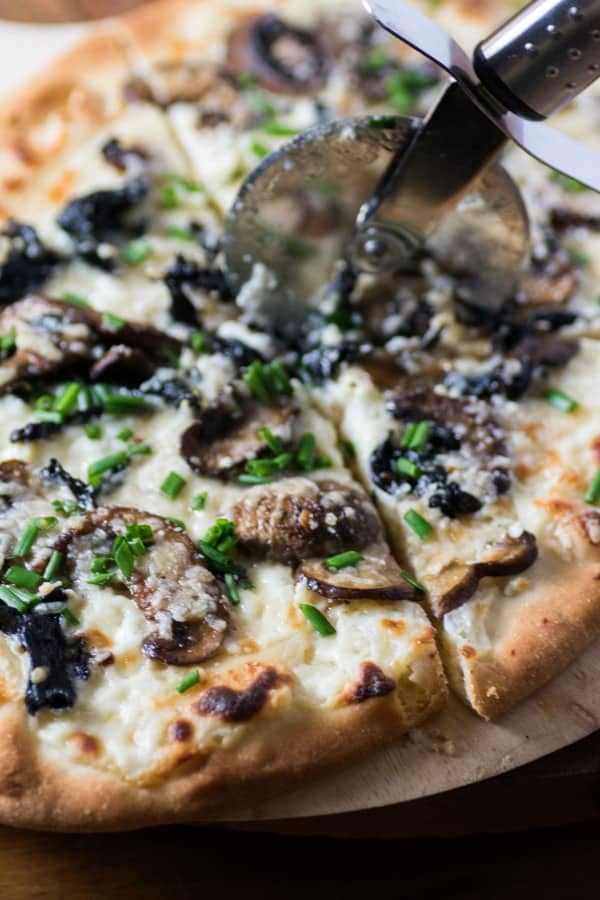 Hot and fresh out of the oven! This will take Friday night pizza to a whole new level! The 10″ flatbread that we found make a perfect individual size served up with a salad!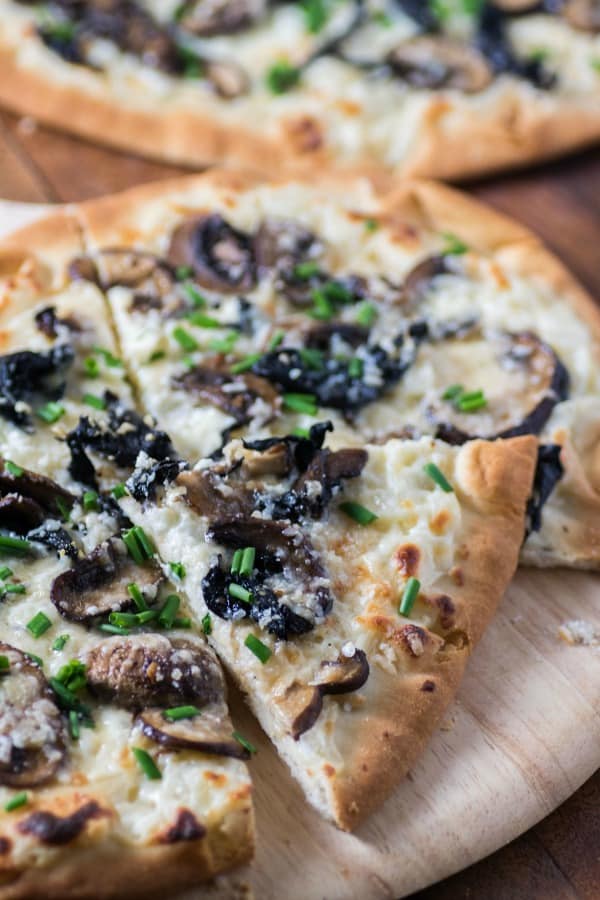 This would make a stunning appetizer also to serve friends. A recipe that you will get rave reviews from. If the truffle oil is the right amount it just adds the perfect umami taste of earthy mushroom to the flatbread.
The Recipe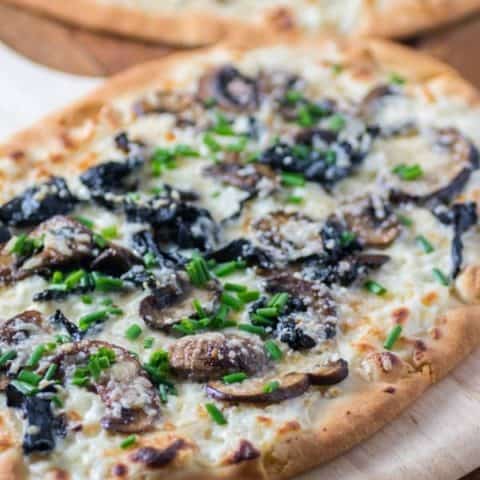 Three Mushroom Pecorino Truffled Flatbread
Yield: 4 flatbreads
Prep Time: 20 minutes
Cook Time: 25 minutes
Total Time: 45 minutes
Three Mushroom Pecorino Truffled Flatbread elevates pizza to a whole new level with it earthy wonderful mushroom and truffle flavors!
Ingredients
Truffled Cheese Sauce
1/2 cup diced white onion
2 tsp. minced garlic
2 Tbsp. olive oil
2 cups half and half cream (10%)
2 cups pecorino cheese, grated
1 cup Parmesan, grated
1/2 tsp. truffle oil
Additions
14 gms. dried black Trumpet mushrooms, soaked 20 min. in hot water and drained
5 large white button mushroom, thinly sliced
5 cremini mushrooms, thinly sliced
2 Tbsp. butter
1/2 tsp. truffle oil
Salt and freshly ground pepper
1/4 cup Parmesan cheese, grated
3 Tbsp. chopped fresh chives
Instructions
To make the cheese sauce, saute the onions and garlic in a medium saucepan on medium heat for about 5 min. or until translucent. Add the cream and simmer until reduced by half. Add the cheese and the truffle oil and stir until melted. Set aside, covered.
Saute the mushrooms in the butter until soft. Season with salt and pepper and another 1/2 tsp. of truffle oil.
Preheat oven to 425F. For each flatbread spread on the cheese sauce dividing it among the flatbreads. Divide the mushrooms on top. Sprinkle with the Parmesan cheese. Bake for 10-12 min. or until golden brown.
Top with chives and serve immediately.
Recipe adapted from the
Food Network
.