This Pina Colada Fruit Dip is quick, easy, and fun addition to any summer BBQ or Luau! Make it kid-friendly with your favorite fruit, or take it to the next level with a few added ingredients for adult-only parties. This sweet dip with a creamy texture, fresh fruit, and serving dish will remind you of Pina Coladas and dancing in the rain!
If you like this dip for fruit, you'll love our Cherry Cheesecake Dip and Dolly's Original Fruit Dip.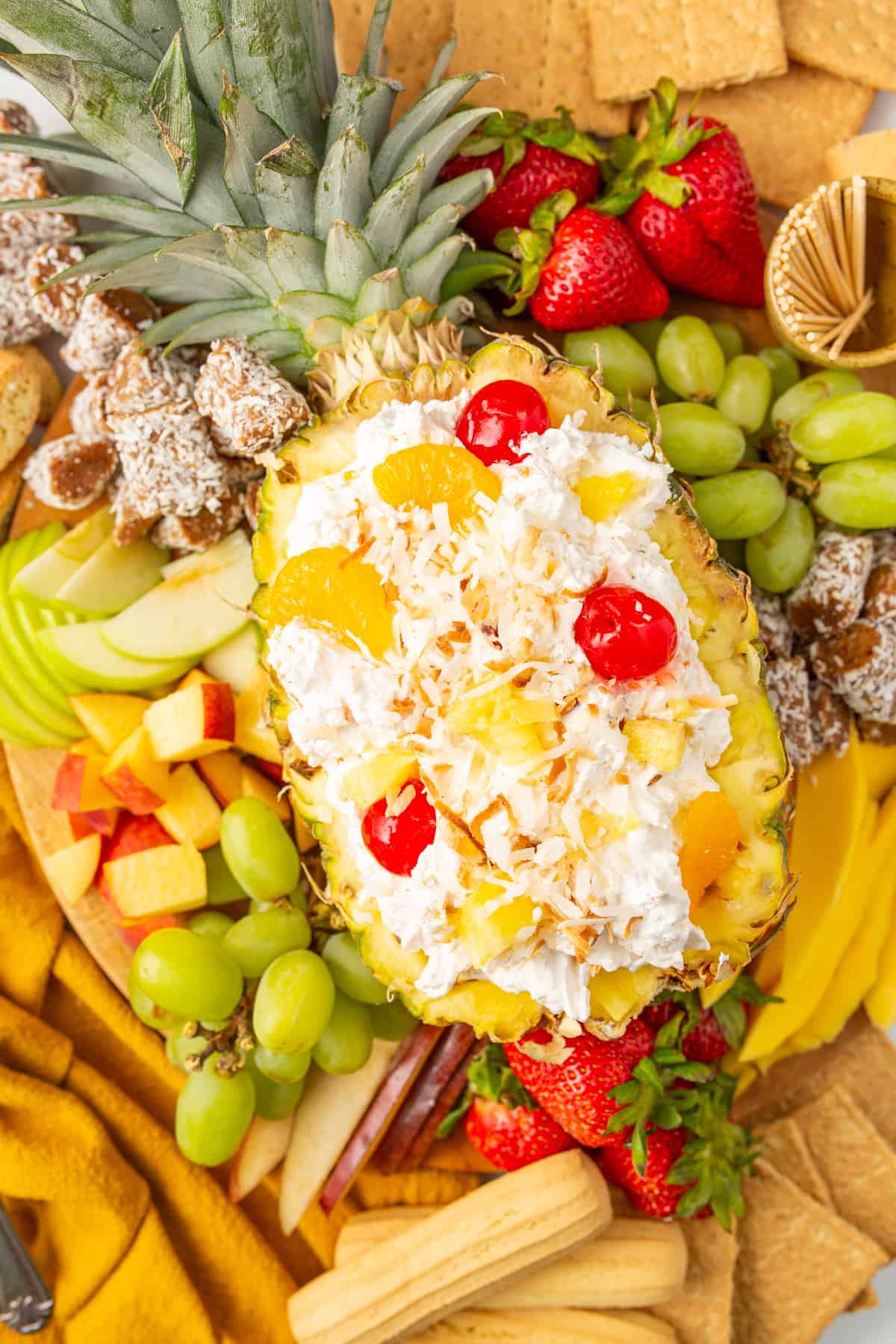 What Goes Into Pina Colada Fruit Dip?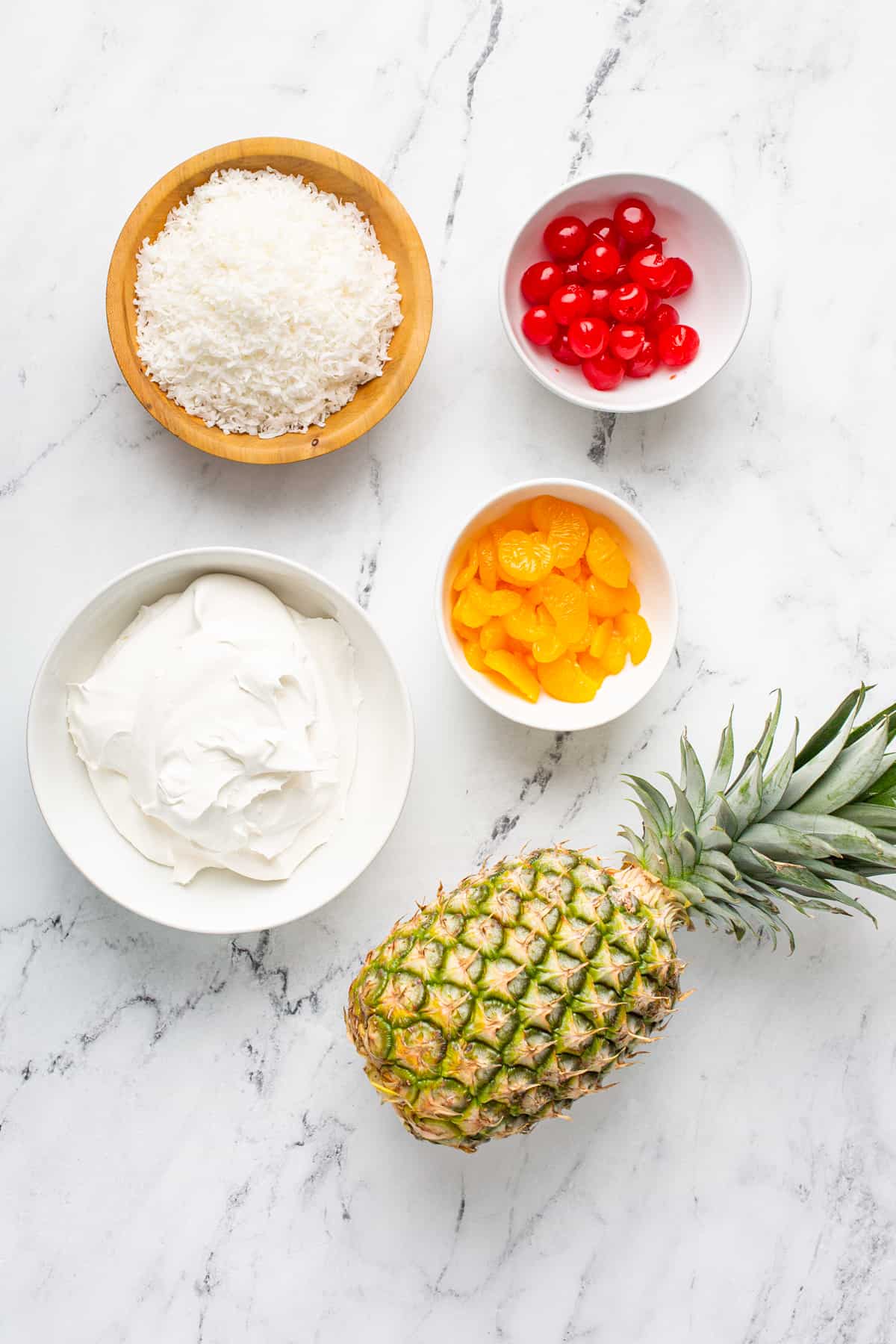 Really simple ingredients go into this easy fruit dip recipe that you can grab quickly from the grocery store. Instead of using the usual culprit of marshmallow creme for a marshmallow fruit dip, we changed it up completely and just simply used Cool Whip. I find the marshmallow fluff hard to deal with too.
Ingredients
Mandarin oranges in lite syrup, drained
Maraschino cherries, drained
Pineapple, fresh and whole
Shredded sweetened coconut
Cool Whip
How to Make Fruit Dip
This dip will be your favorite way to eat fruit for any spring or summer party. Even in the winter months, we love it to serve with fruit so you can imagine a tropical island.
Start by draining the fruit in liquid. Place them separately or together in a fine-mesh strainer over a bowl to allow as much excess liquid or syrup to drain off as possible while you build the rest of the dip.
Add the shredded coconut to a sheet pan and spread out evenly. Bake at 350F for about 7 minutes, stirring occasionally so as not to burn, but brown.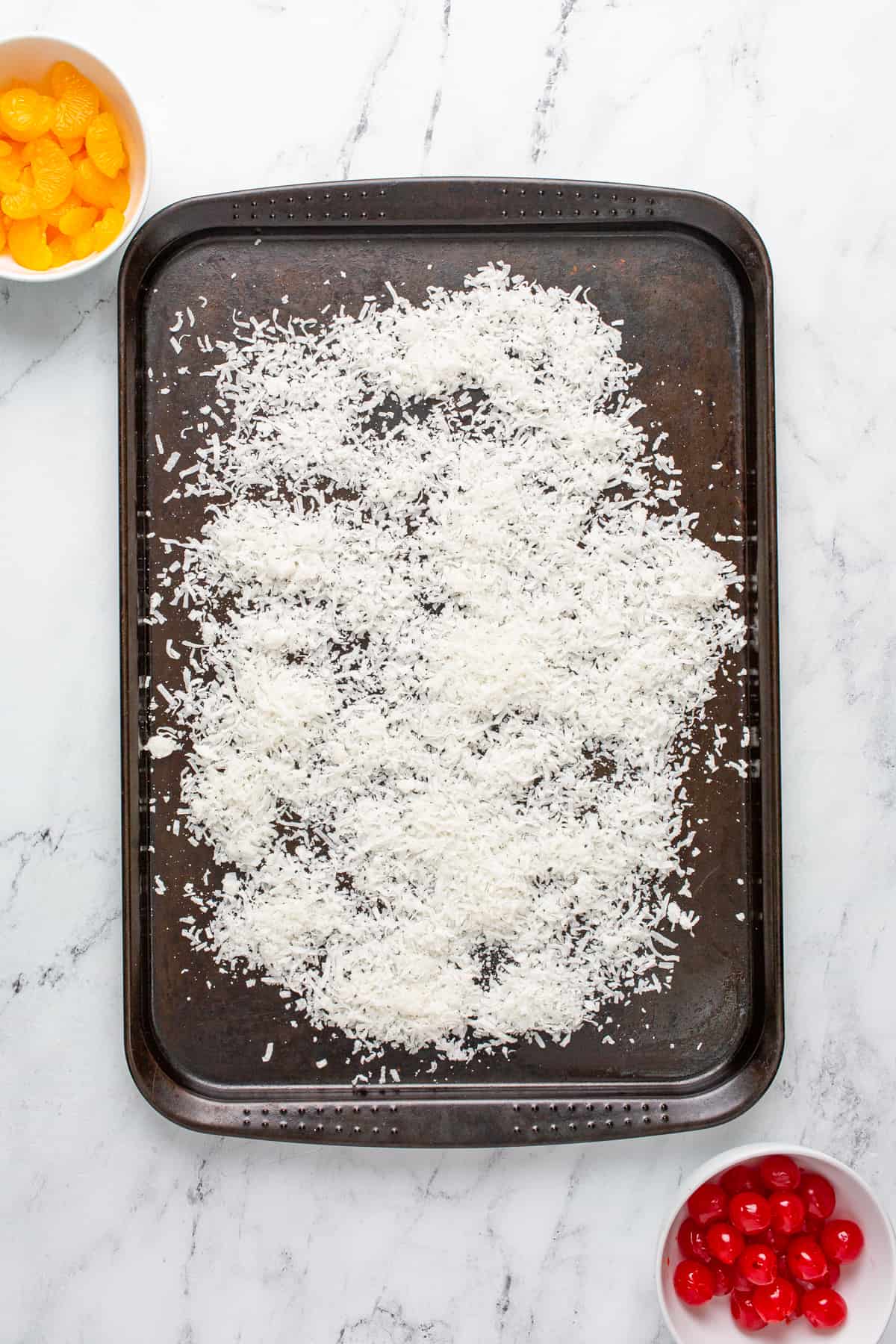 While the coconut is toasting, cut the pineapple in half, leaving the stem and leaves attached. Use a knife to cut a checkered pattern into the pineapple without going all the way through. Then use an ice cream scoop to remove all of the inside pineapple pieces. Dice further on a cutting board to incorporate into the dip.
TIP: the middle core is a bit harder than the outer flesh. Remove those pieces before folding them into the dip.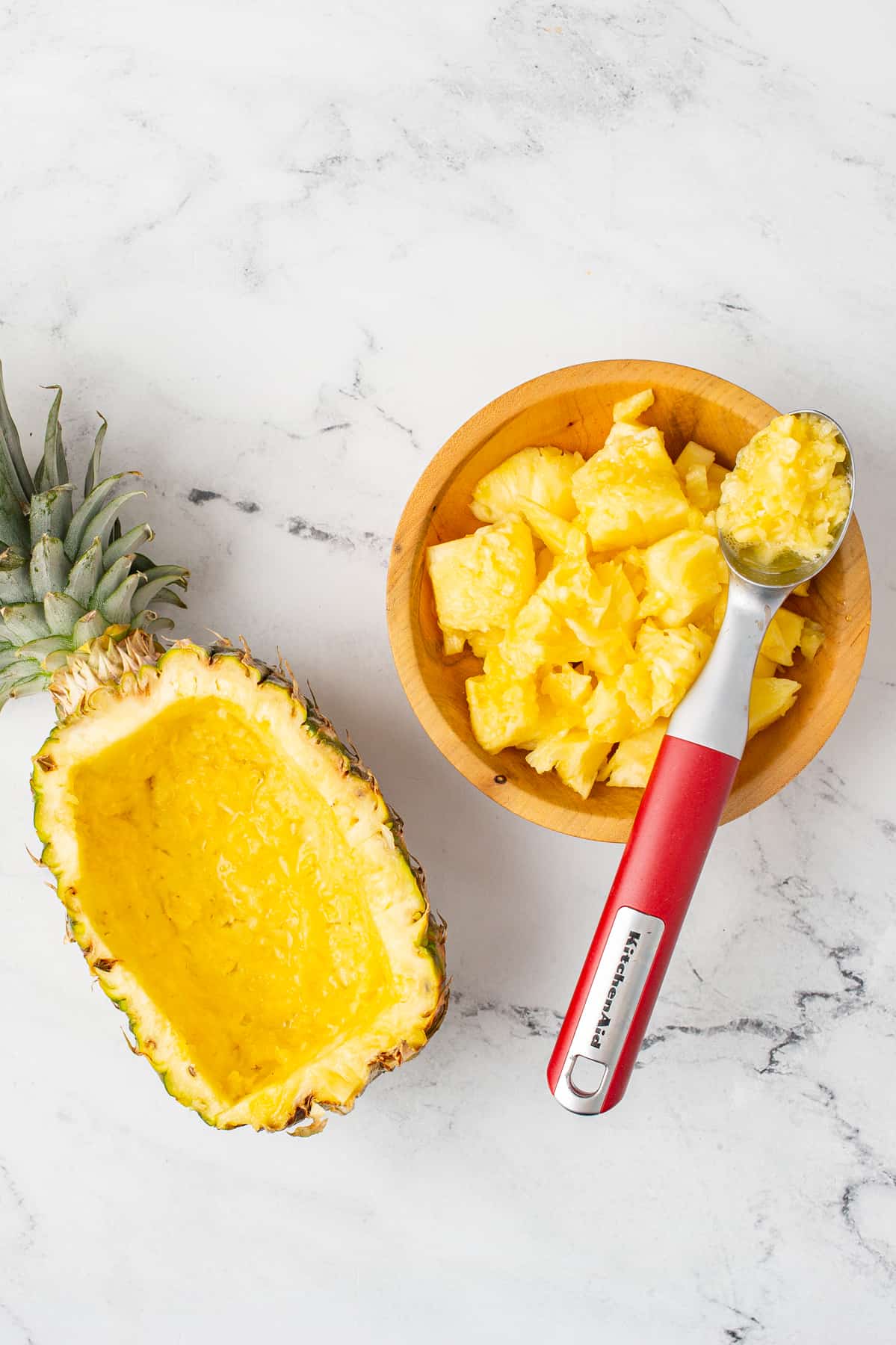 Fold all of the ingredients together in a mixing bowl and spoon them into the empty pineapple. Place on a serving platter and surround with fruits and snacks.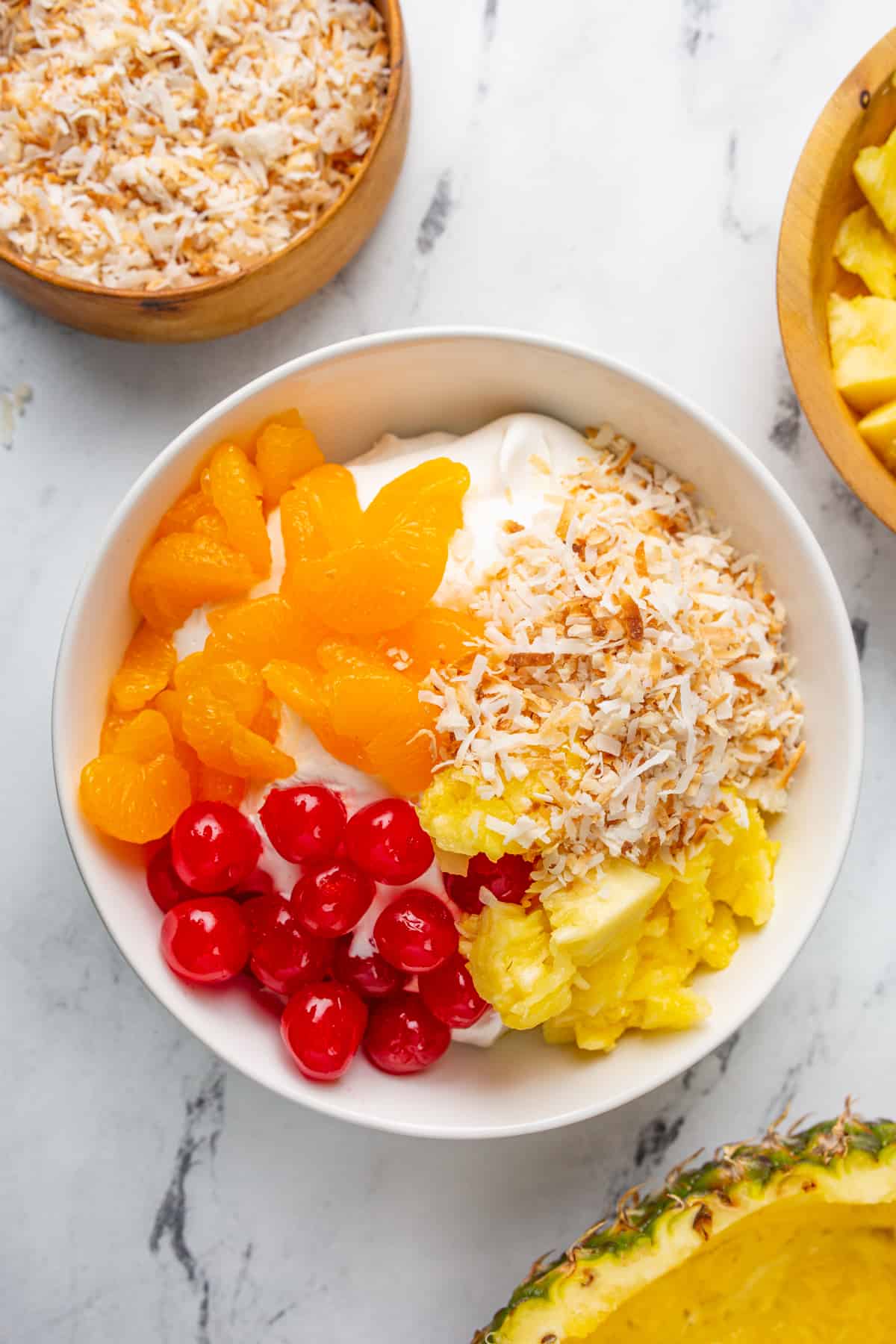 How to Pick a Pineapple
If you're not familiar with picking the perfect pineapple, here are the top three tips on what to look for next time you're at the grocery store.
Look for vibrant colors! We're talking full saturation, people. Green leaves are meant to be green, not wilting and brown. The pineapple body should be slightly green but more yellow, golden color for optimum ripeness.
Squeeze the body. A pineapple body should be firm but have some give. You don't want to feel it squish under your hands or put your thumb right through it, but you should be able to tell the pineapple meat under the skin is loaded with juice! A rock-hard pineapple is the sign of an underripe pineapple.
The sweet smell of pineapple. Smell the base of the fruit. If it smells like pineapple, you're onto something sweet! If there is no smell or a bitter smell, it's best to pick another.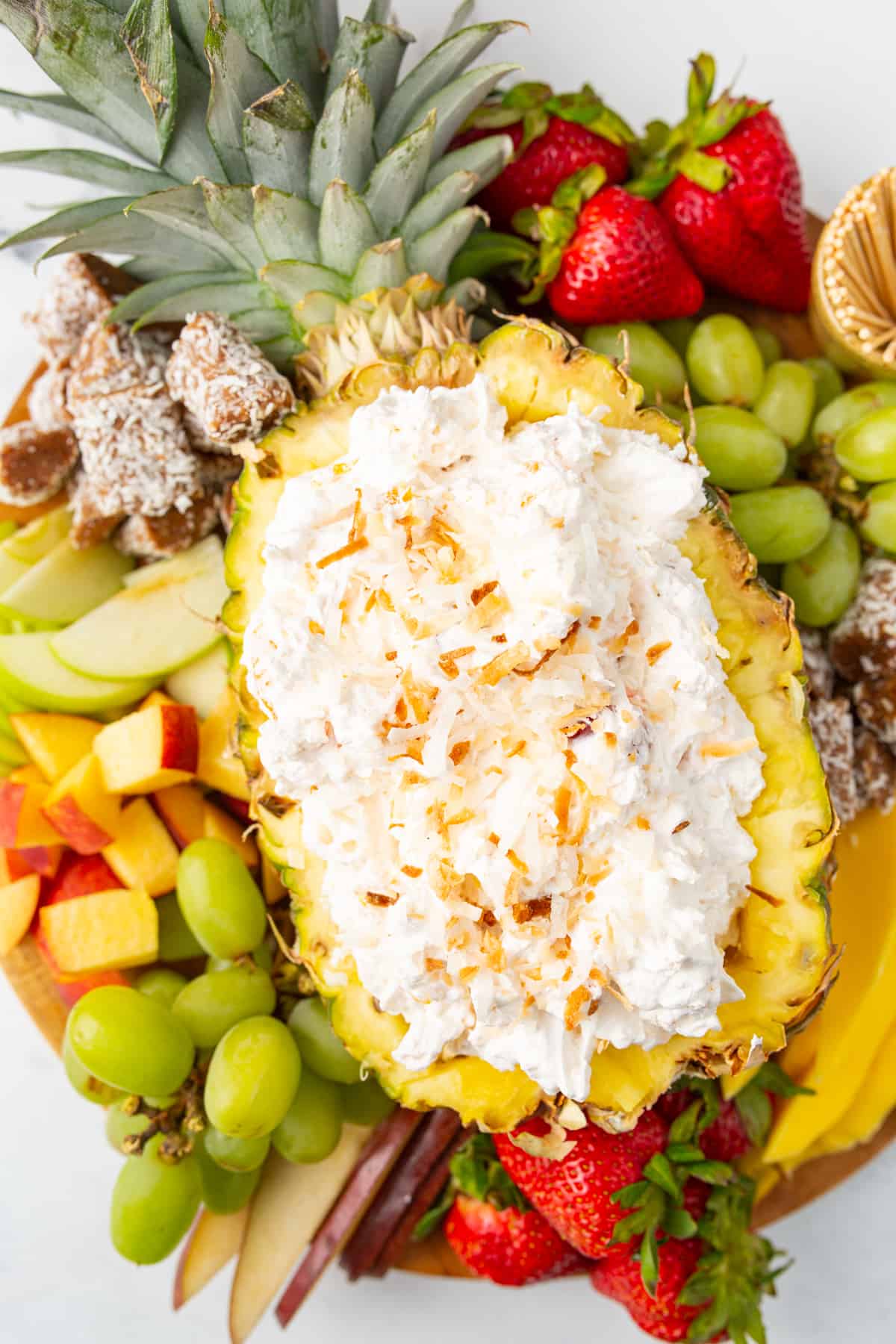 Fruit Ideas for Summer BBQs
Starting in May, you'll notice the grocery stores start to flood with fresh fruit! Everything from strawberries to more exotic fruits such as golden kiwis or papayas. Here's a list of fruits that will make any summer fruit platter a fresh experience!
Berries: strawberries, blueberries, blackberries, raspberries, goldenberries
Tropical Fruit: mango, pineapple, papaya, kiwi, dragon fruit, guava, star fruit, dates, banana
Traditional Fruit: apple, pear, peach, plum, watermelon, cantaloupe, honeydew, pomegranate, grapes, orange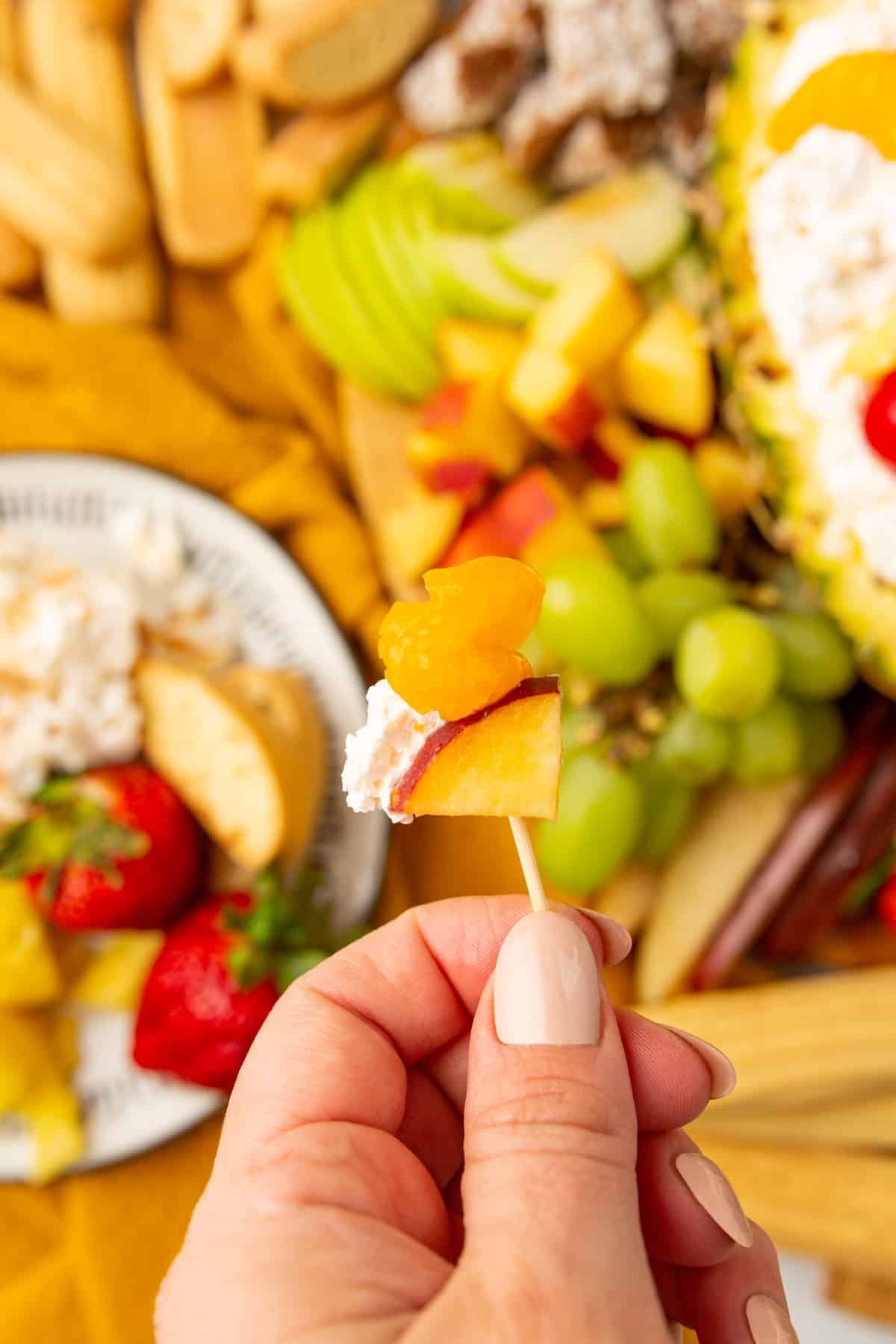 Non-Fruit Pairings for Fruit Dip
Include a few non-fruit pairings for your fruit dip. This will add a bit of texture and often some stability to your guests' plates. Add easy snacks such as pretzels, ladyfingers, graham crackers, and biscotti to the fruit board.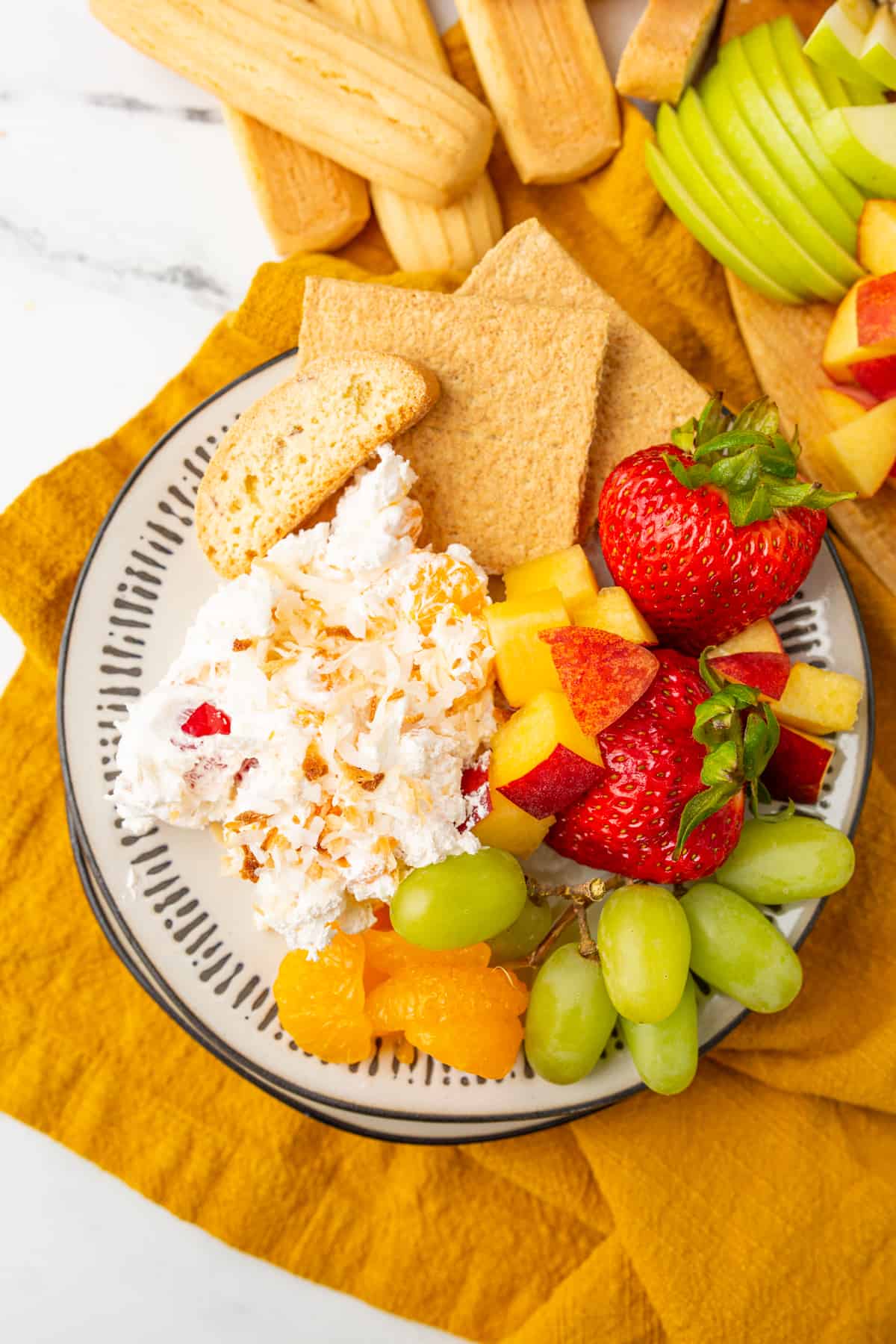 Spiked Pina Colada Fruit Dip
If you're wanting to make this dip taste as much like a pina colada as possible, try these simple tricks for spiking the dip. Of course, make sure this is served to adults only with a warning label!
Swap out the maraschino cherries for Tipsy Cherries. These cherries can typically be found in your wine or liquor section and have been infused with whisky. You can also make your own by draining the maraschino cherries of their liquid the night before and filling the jar with rum. Recap, refrigerate and allow them to sit overnight and up to 48 hours before draining again and adding to the dip.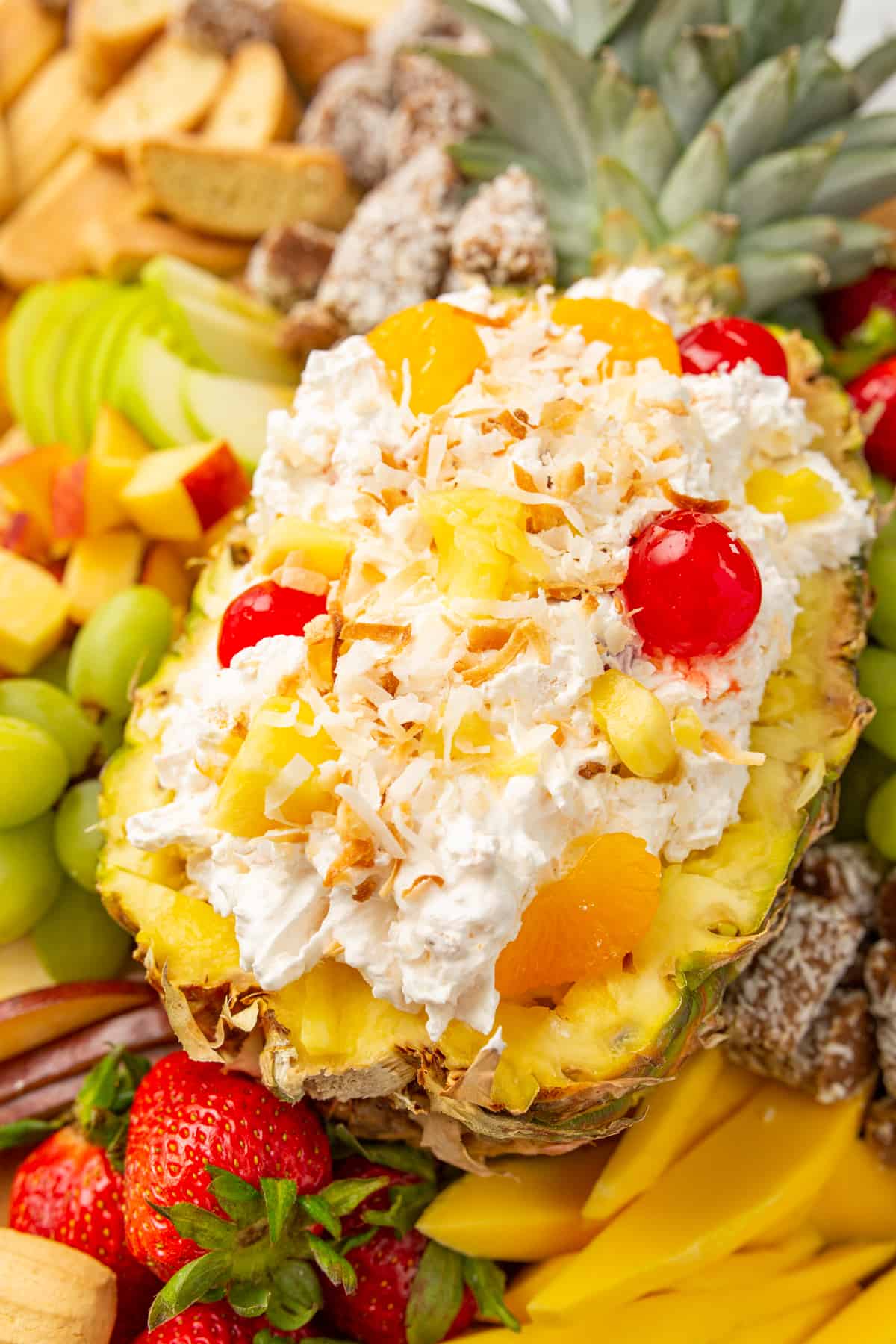 Add white rum. Simply drizzle about a 1/4-1/2 cup of white rum, depending on your desired consistency, to the prepared dip. It will thin it out a bit but makes this a bit more dippable for guests who would rather use toothpicks to dip their fruit on the fly.
Other Non-Alcoholic Variations
Pina colada mix, cream of coconut, or Jello Pina Colada can be added as well to help enhance the traditional tropical flavors of a pina colada. For a thicker version of this dip, whip a room temperature block of cream cheese using a hand mixer with a whisk attachment, add the pina colada flavoring mentioned previously, and a few splashes of milk to thicken and then fold into the cool whip mix. This will make the dip thicker and able to withstand the additional ingredients.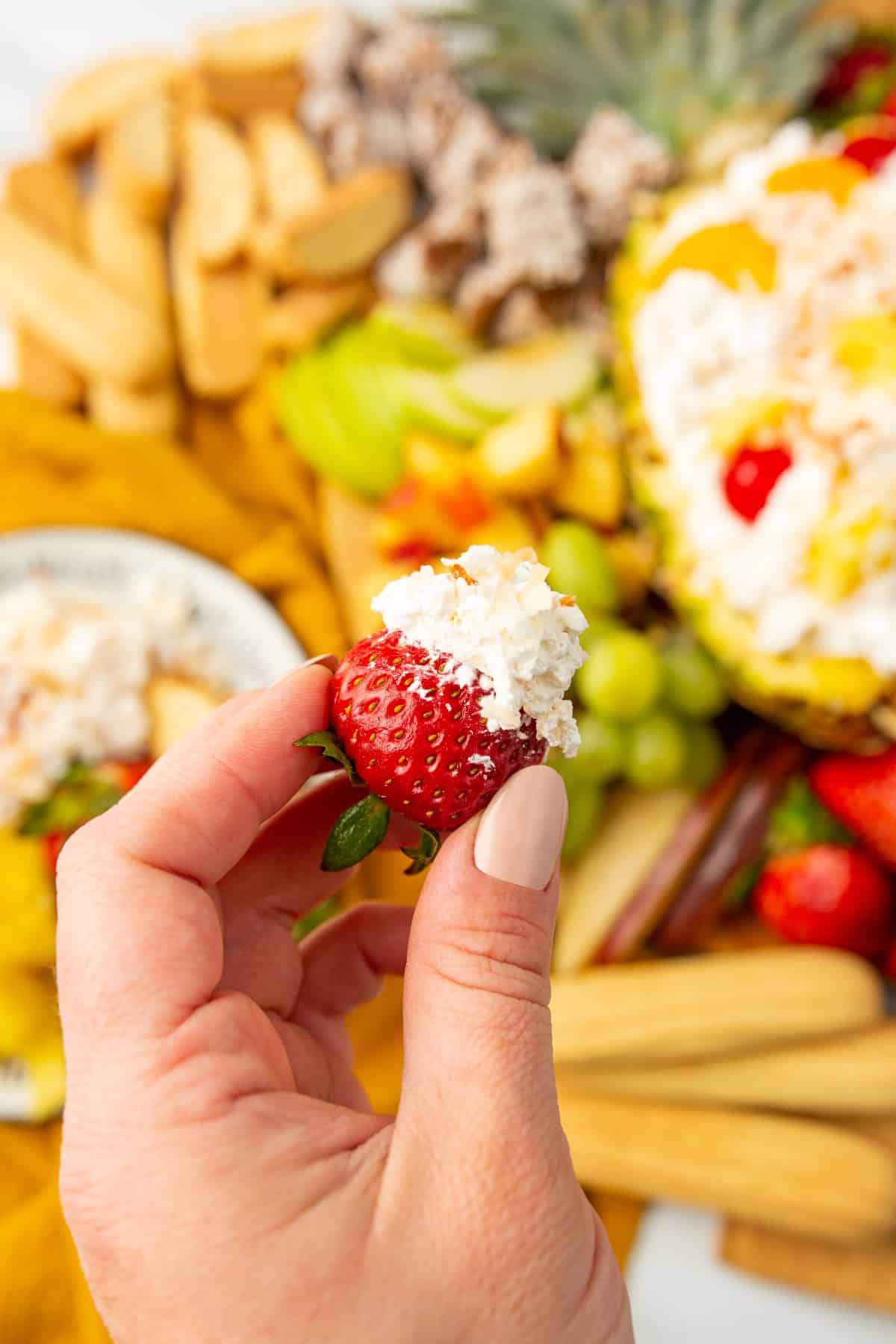 Can you make this ahead?
While you can, because nothing in it will go bad, I would recommend waiting until the day of to combine everything. The Cool Whip will start to change in texture the longer it sits out. There's nothing wrong with it, but you'll notice air pockets starting to form, especially around the cherries and oranges within the dip.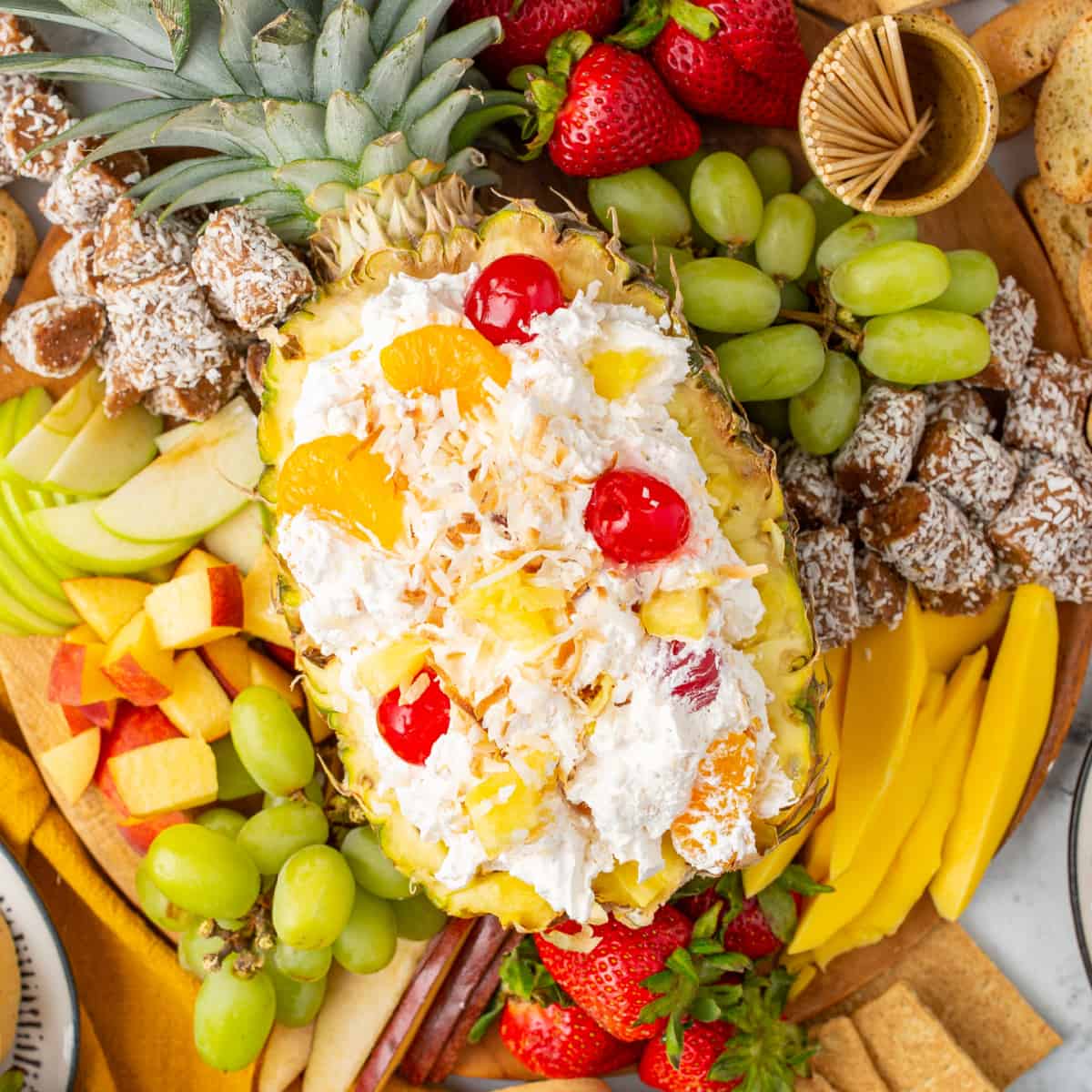 More Pina Colada Recipes
If you like Pina Coladas and getting caught in the rain, you'll love to have more pina colada recipes. They always transport you to someplace a little warmer with a side of seawater. Choose between this Pina Colada Smoothie, Pina Colada Cheesecake Squares, or Pina Colada Ice Cream.
Pin it HERE!!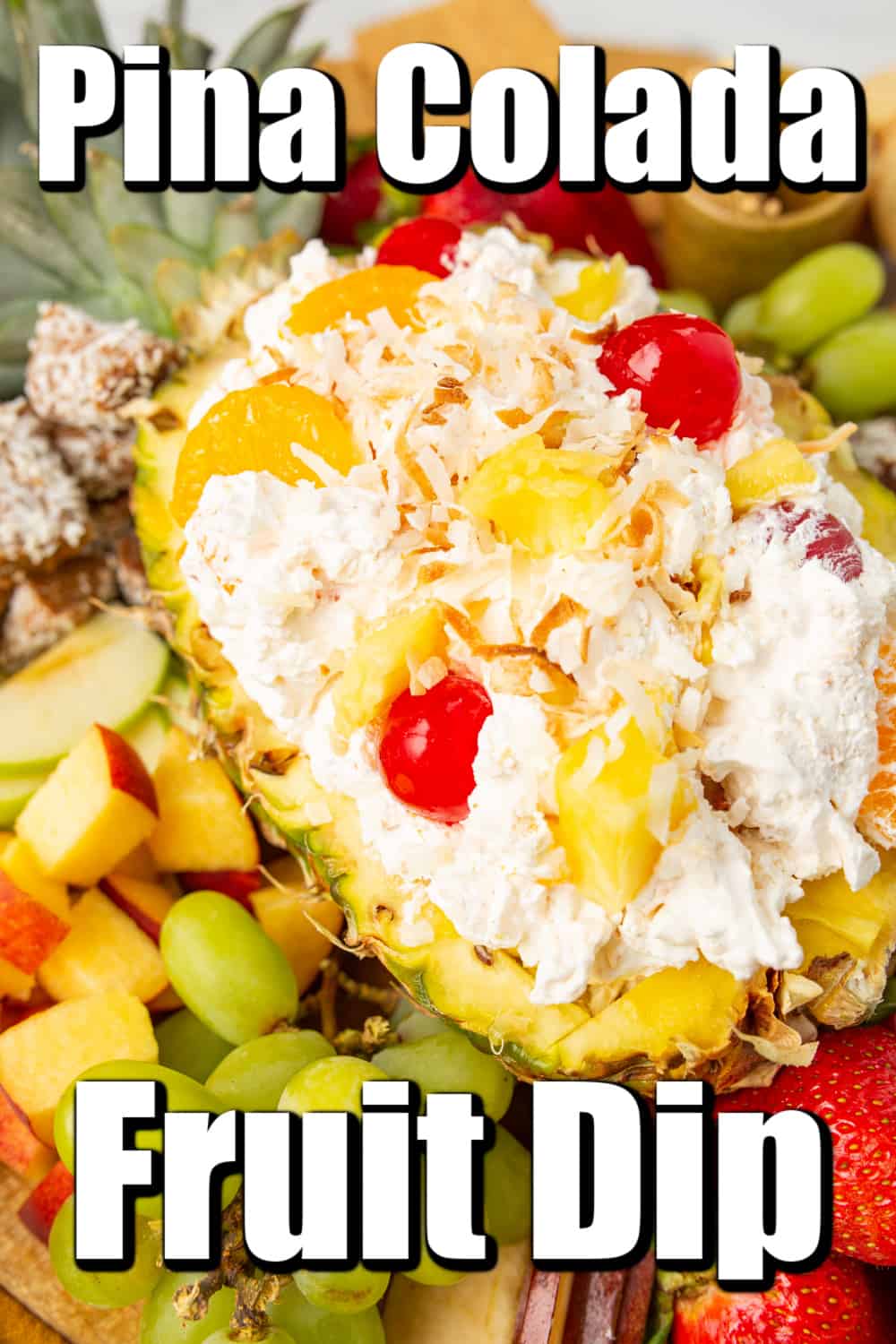 Pin it HERE!!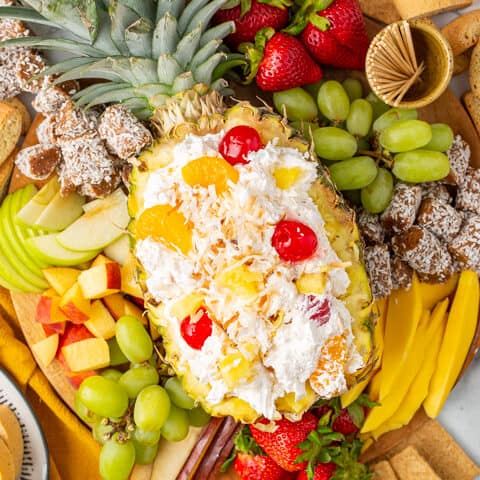 Easy Pina Colada Fruit Dip
Yield: 10 cups
Prep Time: 8 minutes
Cook Time: 7 minutes
Total Time: 15 minutes
This tropical easy pina colada fruit dip is light and creamy. It makes the perfect addition to any summer BBQ with fresh fruit and cool whip.
Ingredients
11 ounces mandarin oranges in lite syrup, drained
16 ounces maraschino cherries, drained
1 pineapple
7 ounces shredded sweetened coconut
16 ounces cool whip
Instructions
Preheat the oven to 350F.
Drain the oranges and cherries through a fine-mesh strainer over a large bowl. Allow to drain until ready to combine with the dip.
Spread the shredded coconut on a sheet pan in an even layer. Toast in the oven for 7 minutes, tossing with a spatula occasionally so as not to burn.
While the coconut is toasting, cut the pineapple in half, leaving the stem leaves intact. Cut the "meat" of the pineapple into a checkered pattern and scoop out with an ice cream scoop. Remove the harder rind pieces and dice the remaining pineapple chunks into bite-sized pieces.
Combine the toasted coconut and fruit into a large bowl with the cool whip using a rubber spatula. Spoon what will fit into the halved pineapple. Reserve the leftover in a covered bowl in the refrigerator to replace as it is eaten.
Notes
Refer to the post for notes on how to make an adult-only version.
Recommended Products
As an Amazon Associate and member of other affiliate programs, I earn from qualifying purchases.
Nutrition Information:
Yield: 40
Serving Size: 1/4 cup
Amount Per Serving:
Calories: 87
Total Fat: 4g
Saturated Fat: 4g
Trans Fat: 0g
Unsaturated Fat: 0g
Cholesterol: 0mg
Sodium: 21mg
Carbohydrates: 12g
Fiber: 1g
Sugar: 11g
Protein: 0g