Happy Canada Day!!!!!!!!
I really wanted to make something special for you for today!! A delicious red and white cheesecake!! Not an ordinary cheesecake though, I wanted a light and airy strawberry cheesecake. One that didn't way you down but was still rich and decadent to help celebrate this special day!!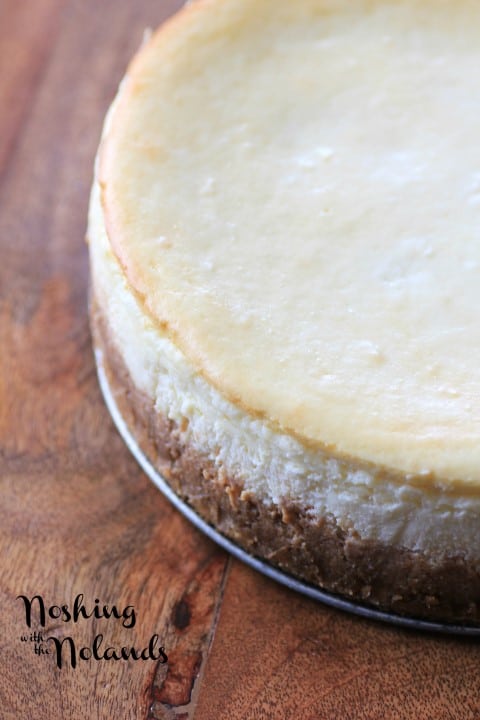 When I was growing up, learning all about cooking, I left baking to a simple cookie, square or maybe some fudge. If I did venture to a cake it was always from a box. That has changed over the years and I have more confidence in baking that I used to.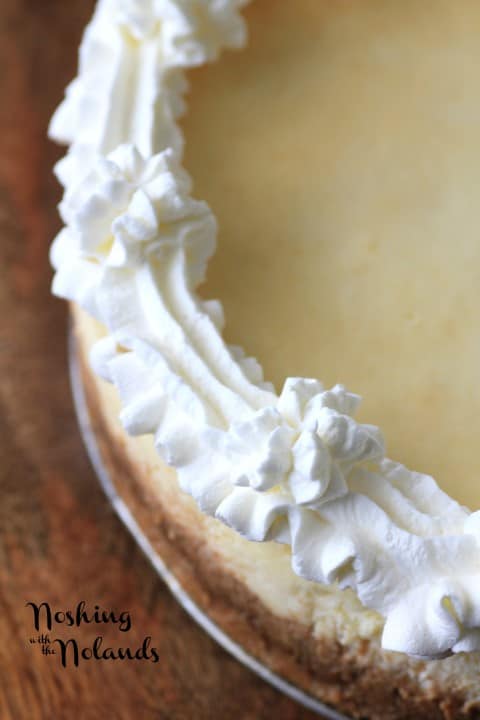 I knew I wanted this cheesecake to be light and airy not heavy like a NY cheesecake usually is. Not that there is anything wrong with that but I was seeking something different. Experimenting if you will!!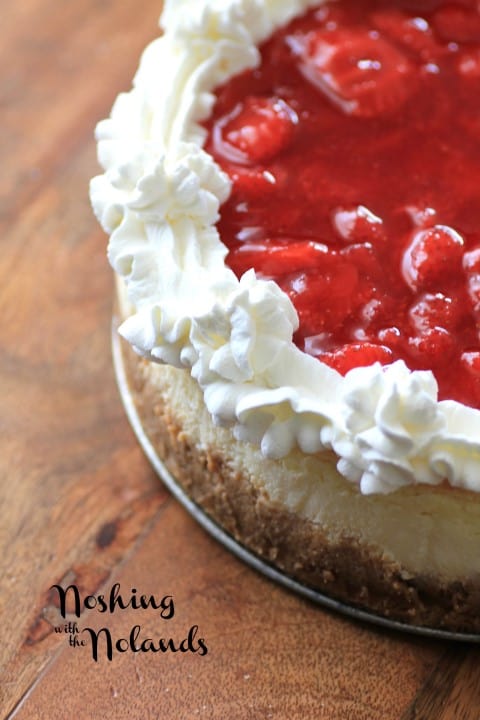 Amber, our daughter came into help, she is only 13 but knows her way around the kitchen pretty well. With instruction she is good to go, mixing, whipping, melting, etc.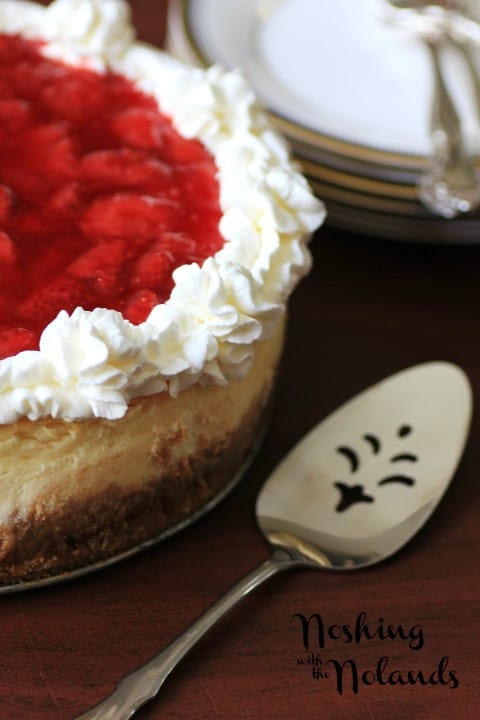 The cheesecake turned out to be the best I have ever made. One trick is to be patient with it. Low and slow baking. To make it light as air I whipped the egg whites and folded them in. Also I added sour cream and eliminated any flour that would drag it down. The result were a deliciously tasting airy cheesecake with a scrumptious homemade strawberry sauce!!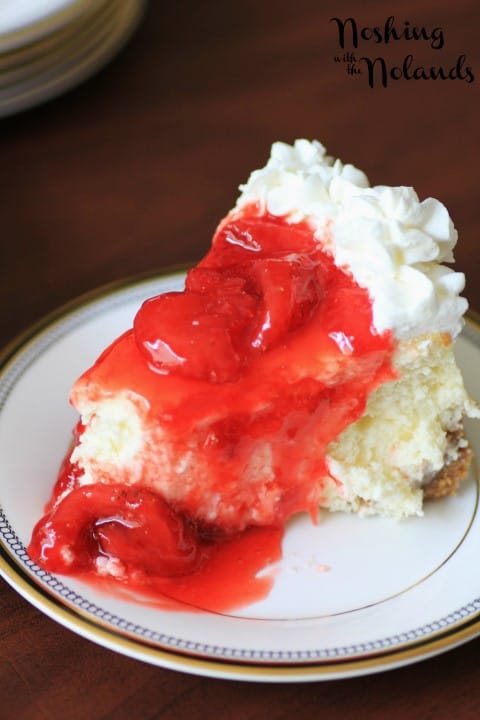 The addition of lively lemon was added to the strawberry sauce to awaken the whole experience. Traditional yet with a new twist, at least a new twist for me!!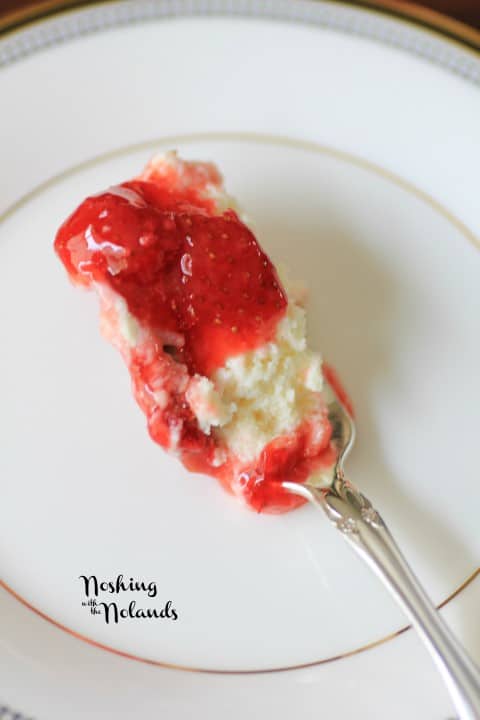 Yield: 12
LIght and Airy Strawberry Cheesecake for #CanadaDay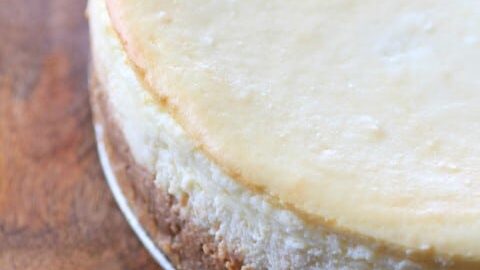 Light and airy cheesecake with all the taste of a traditional cake.
Cook Time
2 hours
30 minutes
Ingredients
1 1/4 cup vanilla wafer cookie crumbs
3 Tbsp. butter, melted, plus more for the pan
1 1/4 cups sugar
3-8 oz. pkg. light cream cheese, at room temperature
1 tsp. lemon juice
2 cups sour cream
5 eggs, divided
Strawberry Topping
1 1/2 lbs. strawberries, sliced
1 cup sugar
1 tsp. lemon zest
1 Tbsp. lemon juice
2 Tbsp. water
1 Tbsp. cornstarch
I cup whipping cream with 2 Tbsp. berry sugar (optional)
Instructions
Preheat oven to 325. Grease a 9" spring form pan with butter. Mix the cookie crumbs and butter together. Press the cookie crumb mixture into the prepared pan coming up the sides to 1/3 of the way.
Place the cream cheese in the bowl of a standup mixer with a paddle attachment and whip. Add the sugar and mix well. Add the lemon juice and sour cream. Scrap down the sides of the bowl with a spatula as needed Add the egg yolks one at a time and mix well after each. In a separate bowl beat the egg whites until soft peaks. Remove the bowl from the standup mixer and fold in the egg whites.
Pour the mixture into the prepared pan, it will fill it but be careful not to overfill. Place the cake in the oven and bake for 30-45 min. until just starting to brown. Reduce the heat to 300F. and continue to bake for a total of an hour. Reduce heat to 200F and bake an additional hour. Turn oven off and let sit in the oven for 1/2 hour while the oven cools. Cool completely on a rack. Cover loosely with foil leaving an area open to vent so condensation doesn't form.
For the strawberry sauce, this can be made at anytime and refrigerated until ready to use. I decorated the cake for you today but would serve the cheesecake with the sauce at the time of serving each piece.
Place the strawberries, sugar, lemon juice and lemon zest in a small sauce pan. Stir and cook over medium heat for 5 min. Skim off the foam. Mix the water and cornstarch together and add to the pan, stirring. Bring back up to a simmer and cook until slightly thickened. Let the sauce cool and then refrigerate for up to 3 days. Serve with the cheesecake and with whipped cream if desired. Whip cream in a cold bowl with a cold whisk until thickened, add the sugar and mix well.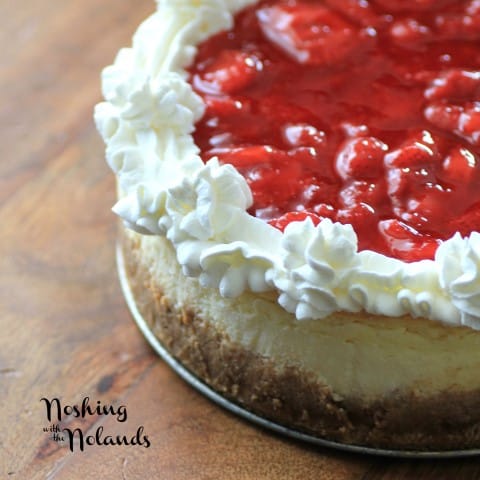 " />