Moo Shu Chicken is a delicious and easy dinner option that is ready faster than you can say 'Let's order Chinese takeout'. Enjoy this American Chinese classic on steamed rice or rolled up in pre-made Mandarin pancakes.
Are you as inspired by Asian flavours as we are? Here at Noshing with the Nolands, we have many recipes to crush your cravings. Check out our Slow Cooker Asian Cashew Chicken for a slower take on Asian cuisine. Serve it up with this bright and flavourful Cucumber Salad or try our Egg Roll in a Bowl for another fun twist on an Asian meal. Another great meal is our Easy Chicken Ramen, so quick and delicious.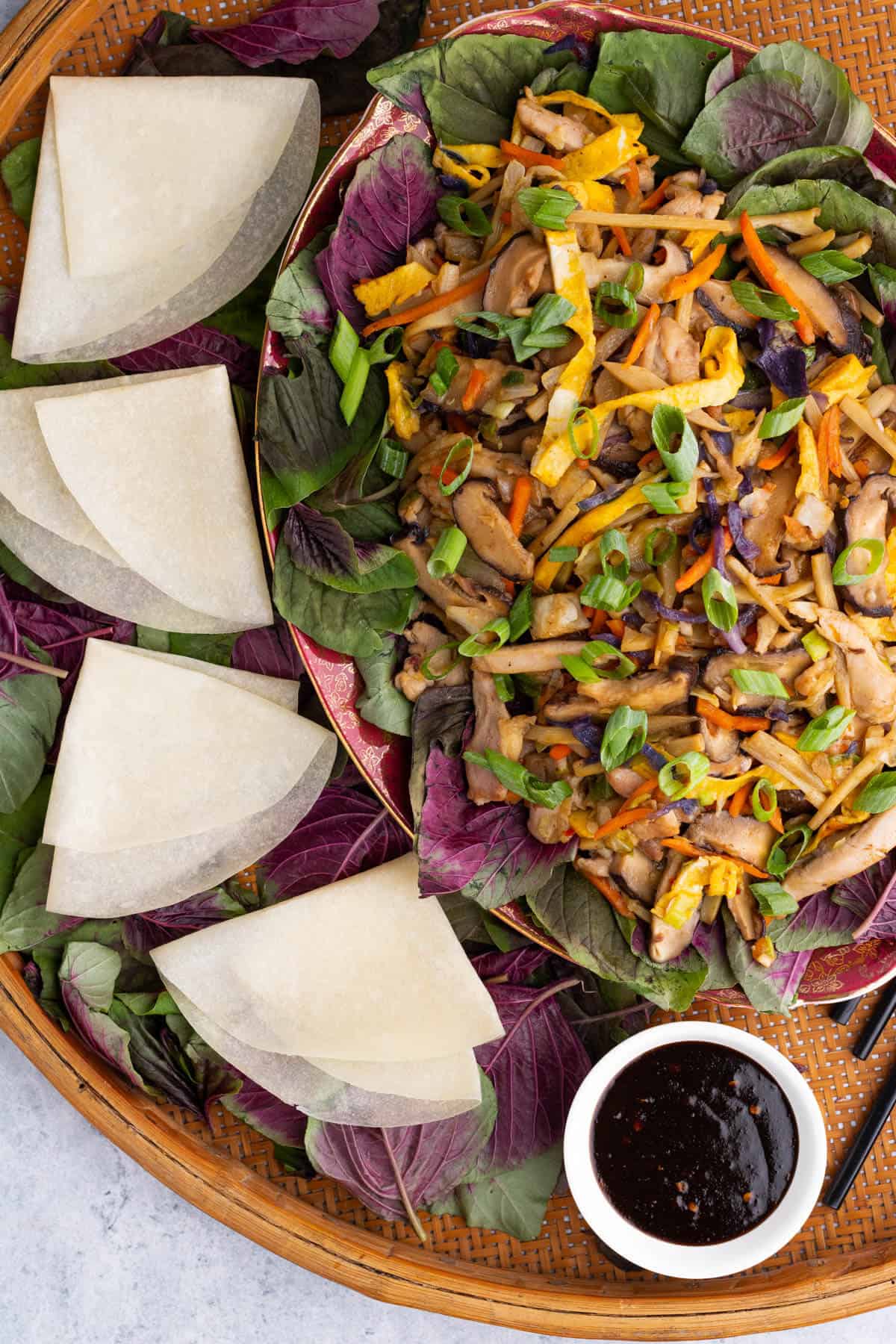 Moo Shu Chicken
There's nothing better than a dinner that doesn't take a lot of effort. On busy days when you don't feel like cooking, it helps to have a few easy recipes up your sleeve. This Moo Shu Chicken recipe ticks all the boxes when it comes to effortless meals.
FAST – dinner is ready and on the table in under 30 minutes.
EASY – besides chopping, all you need to know is the basic stir fry technique.
SIMPLE INGREDIENTS – all can be purchased at your local grocery store (except the pancakes, more on that later)
VERSATILE – use your favourite vegetable combination and substitute rice for the Mandarin pancakes.
ONE PAN – stir-frying dinner means one pan to clean and one happy cook!
DELICIOUS – tender marinated strips of chicken stir-fried with fresh vegetables then coated in a flavourful sauce. Need I say more?
After all those great points, I'm going to go even further and say your family will love this recipe and request it again and again. There's a reason Moo Shu Chicken is a take-out favourite…it's just so much fun to eat!
Subscribe To Our Weekly Newsletter
Helpful Items For This Recipe
This post contains affiliate links. As an Amazon Associate, I earn a small portion from qualifying purchases at no extra charge to you.
Oyster Sauce and Hoisin Sauce Bundle
Moo Shu Chicken – A Takeout Classic
You may be most familiar with the Moo Shu Chicken (or pork) dish served at your local Chinese restaurant. However, this American Chinese classic emigrated from Northern China to America around the late 1960s.
The traditional recipes feature thin sliced stir fried pork tenderloin, cucumbers, eggs, and wood ear mushrooms (black fungus). It is usually served with rice with a gravy (or Lu) of garlic, ginger, green onions, soy sauce, and cooking wine.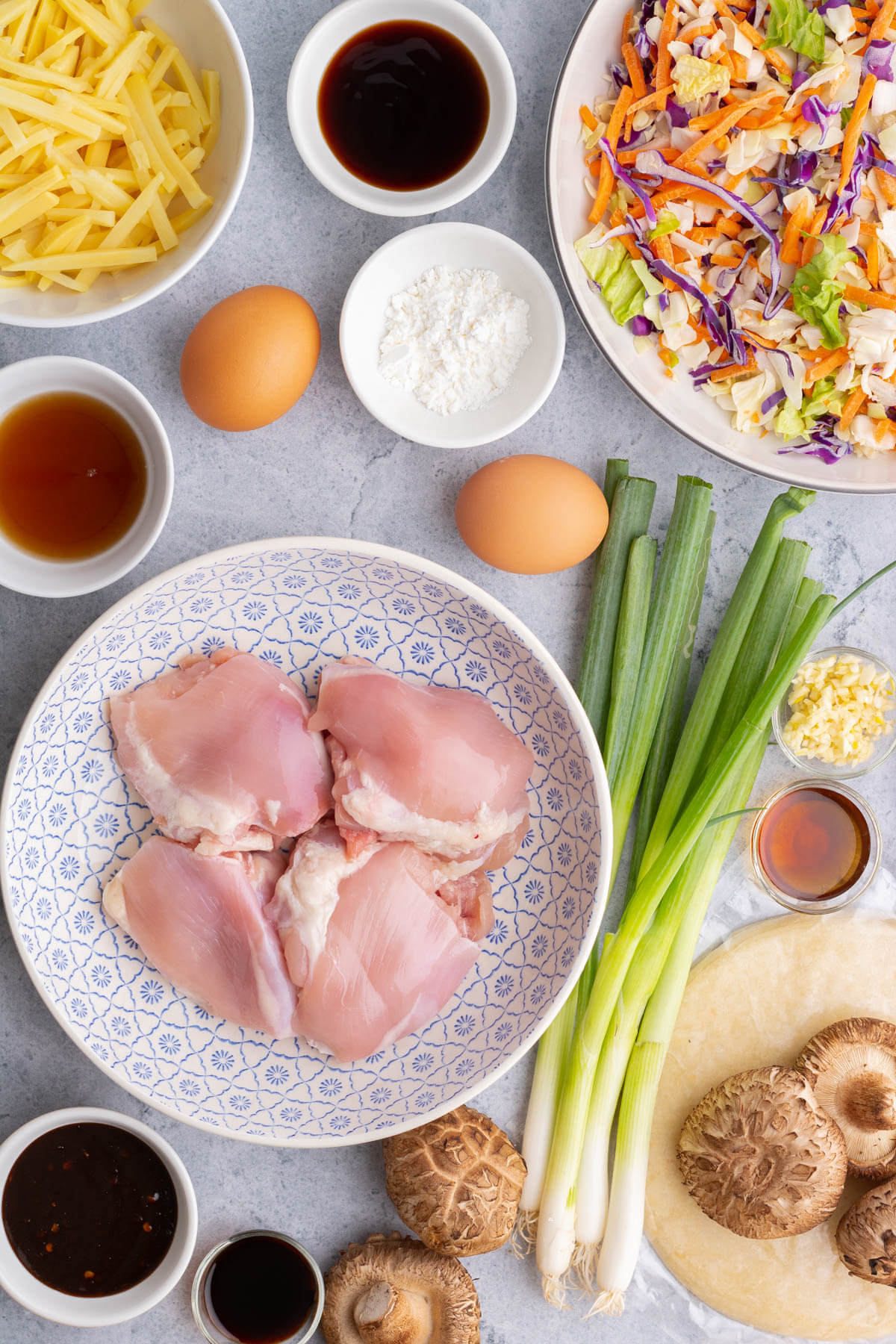 Also known as moo shi pork, mu shu or mu xu pork, this traditional dish became adapted to suit American palates according to availability of ingredients in the new world. Eggs are ever-present as they provide a lovely contrast in colour, while green cabbage becomes the main vegetable along with carrots and bean sprouts. The pork tenderloin is also commonly replaced by sliced chicken breast or thighs.
While traditional versions may be saucier, the Americanized version contains less liquid and some added flavours. The addition of cornstarch as a thickener for the sauce makes it easier for diners to eat this dish taco style. Sweet and savoury sauces such as Hoisin and Oyster add another dimension of flavour to this dish.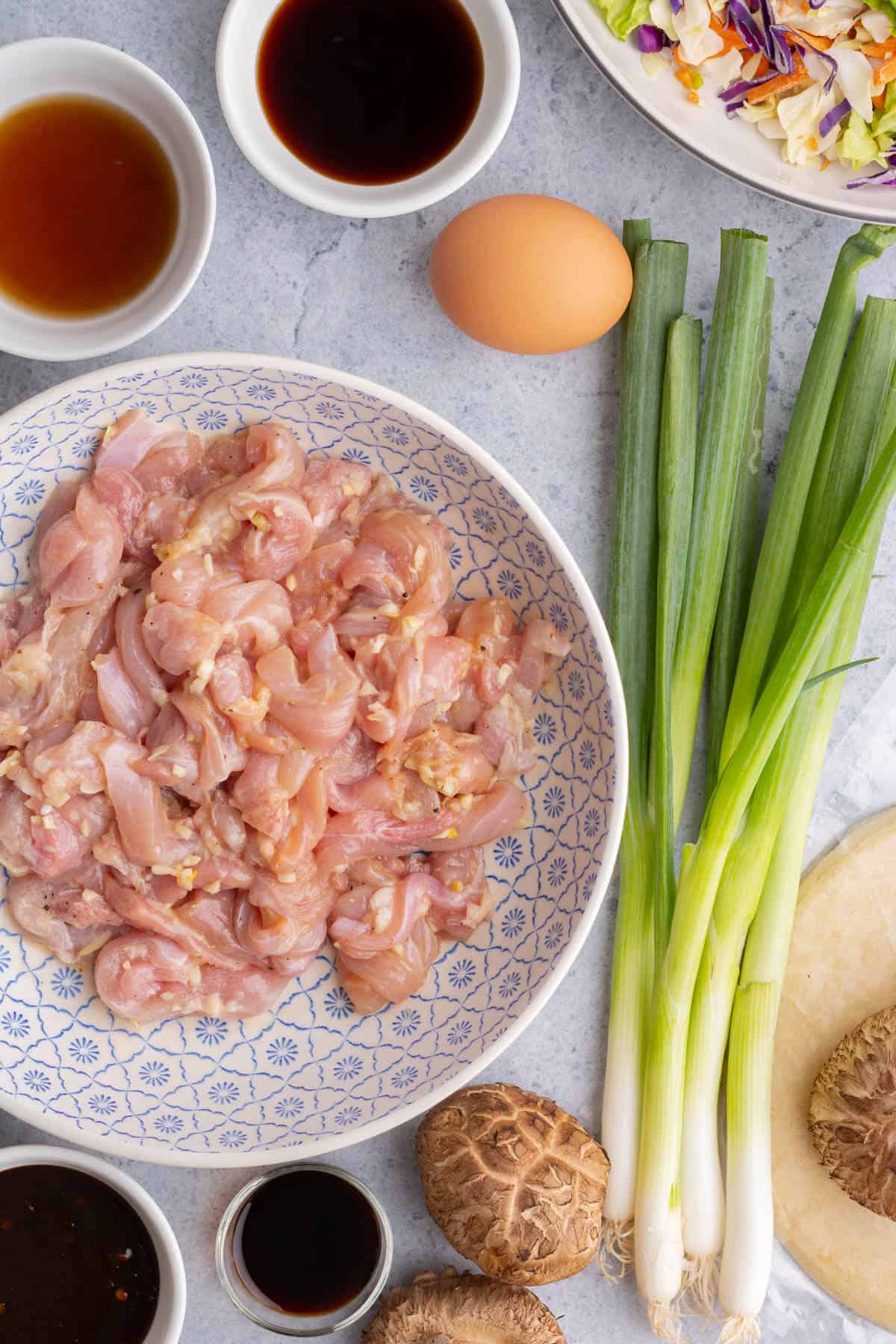 Ingredients for Moo Shu Chicken
Chicken thighs
Eggs
Green onions or Scallions
Shiitake Mushrooms
Bamboo Shoots
Coleslaw Mix
Mandarin Pancake Wrappers
Garlic
Cornstarch
Soy Sauce
Sesame Oil
Canola Oil
Oyster Sauce
Hoisin Sauce
Shaoxing Cooking Wine
Today we are cooking with chicken, specifically chicken thighs. Though many recipes specify chicken breasts, they are easily overcooked and often dry. Thighs tend to have more fat, and more fat equals more flavour!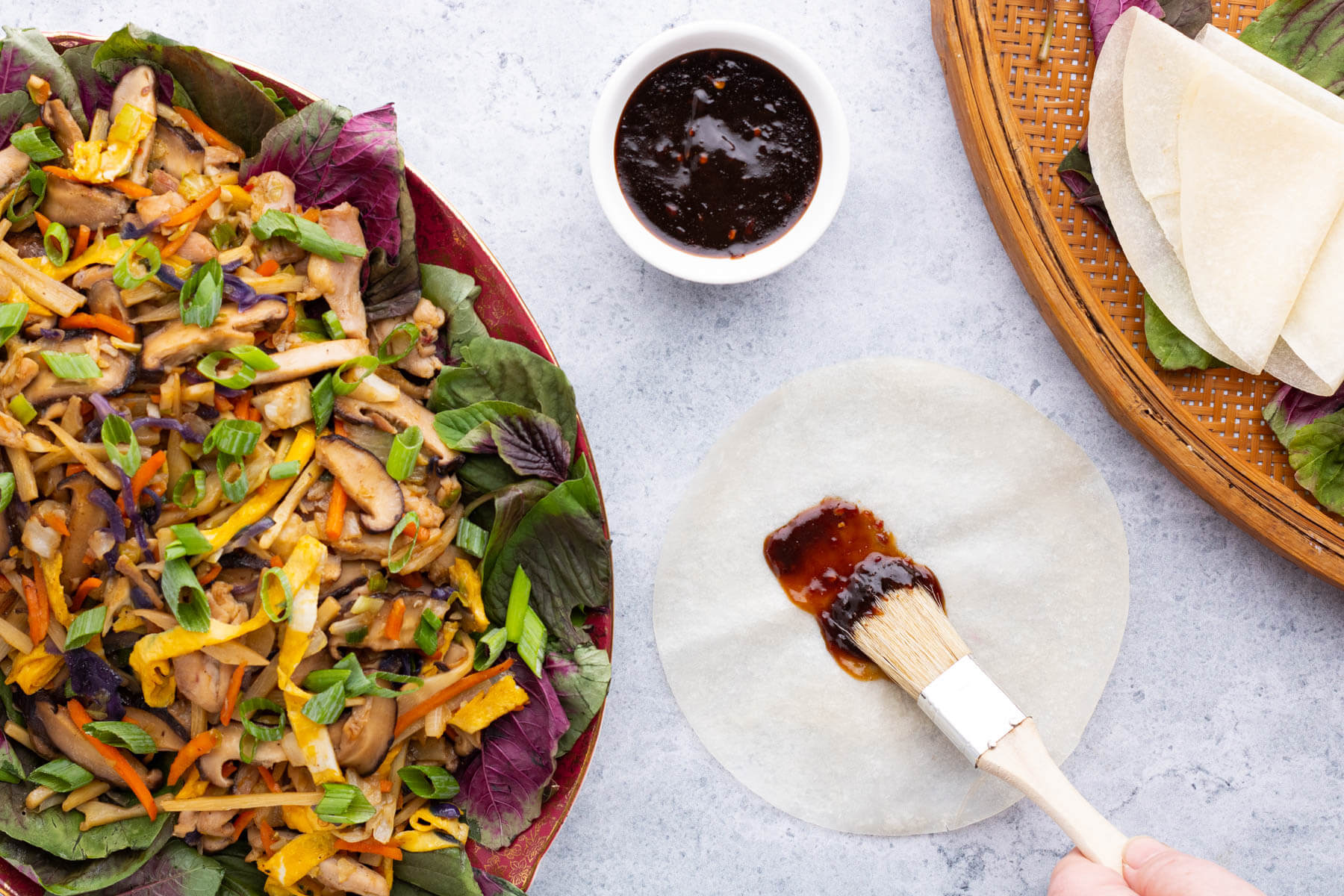 Green onions, also known as scallions, are a popular aromatic in many Asian cuisines. Use the whole scallion in this dish by stir frying the whites and garnishing with the greens.
Bamboo shoots are an easy find in the 'International' aisle of your local supermarket. They provide a little bit of textural crunch to the dish (previously provided by wood ear mushrooms). Feel free to substitute wood ear mushrooms if you have them.
A bag of pre-sliced coleslaw mix saves time and energy! Choose a mix that contains match stick carrots, plus loads of green and red cabbage.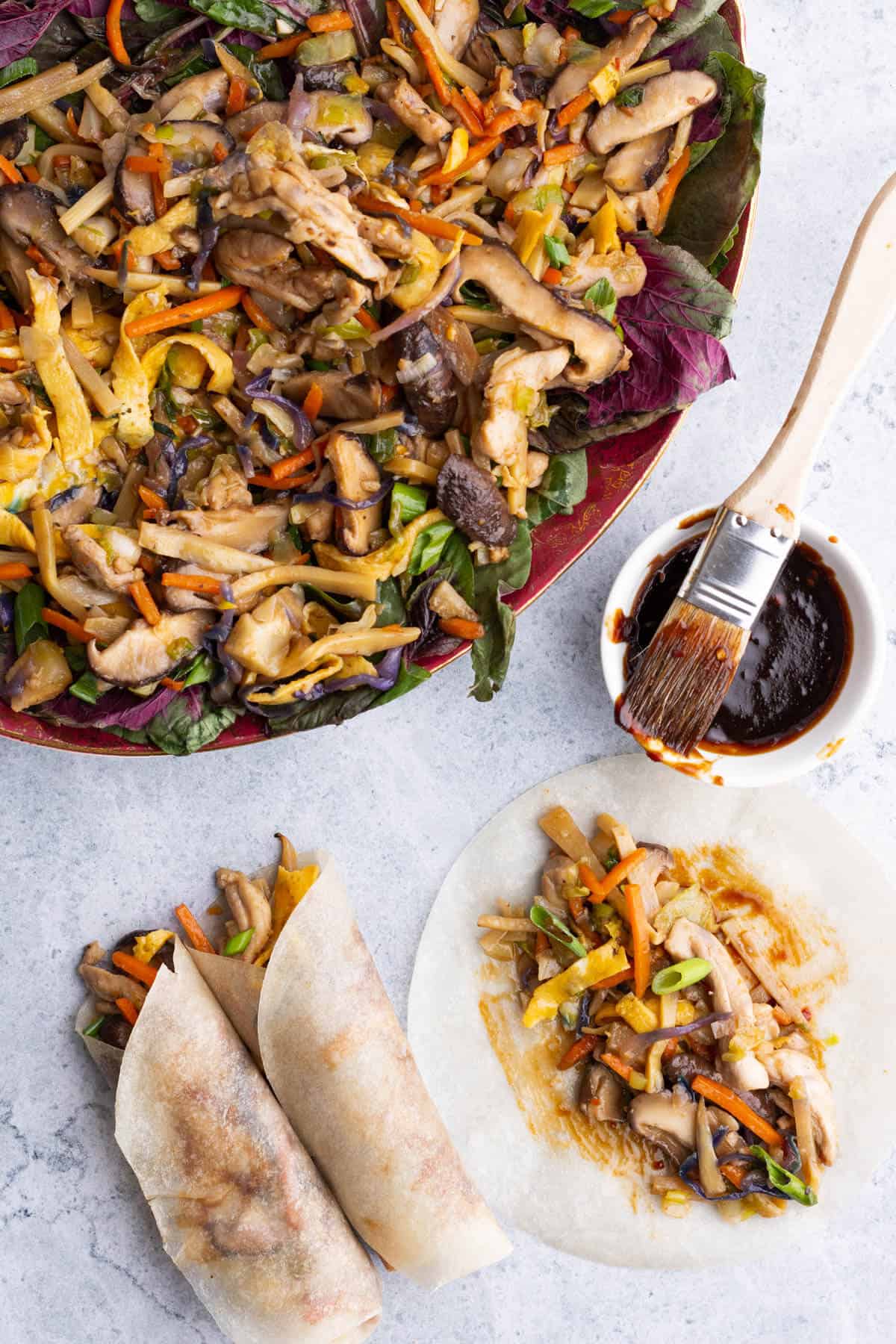 Mandarin pancakes (or Peking Duck Pancakes) are available at any Asian market that sells Peking duck, either next to the fresh noodles or behind the meat counter. If you would like to try making your own, check out this Mandarin Pancake recipe from The Woks of Life. Otherwise, you can serve Moo Shu Chicken on a bed of steamed rice, and it is still fabulous.
A few of the chicken marinade ingredients are repeated in the final sauce portion, be sure to have both portions separated as per the recipe instructions. Feel free to leave out the cornstarch if you are serving Moo Shu Chicken on rice. A bit of cooking sherry can replace Shaoxing Cooking wine if you prefer.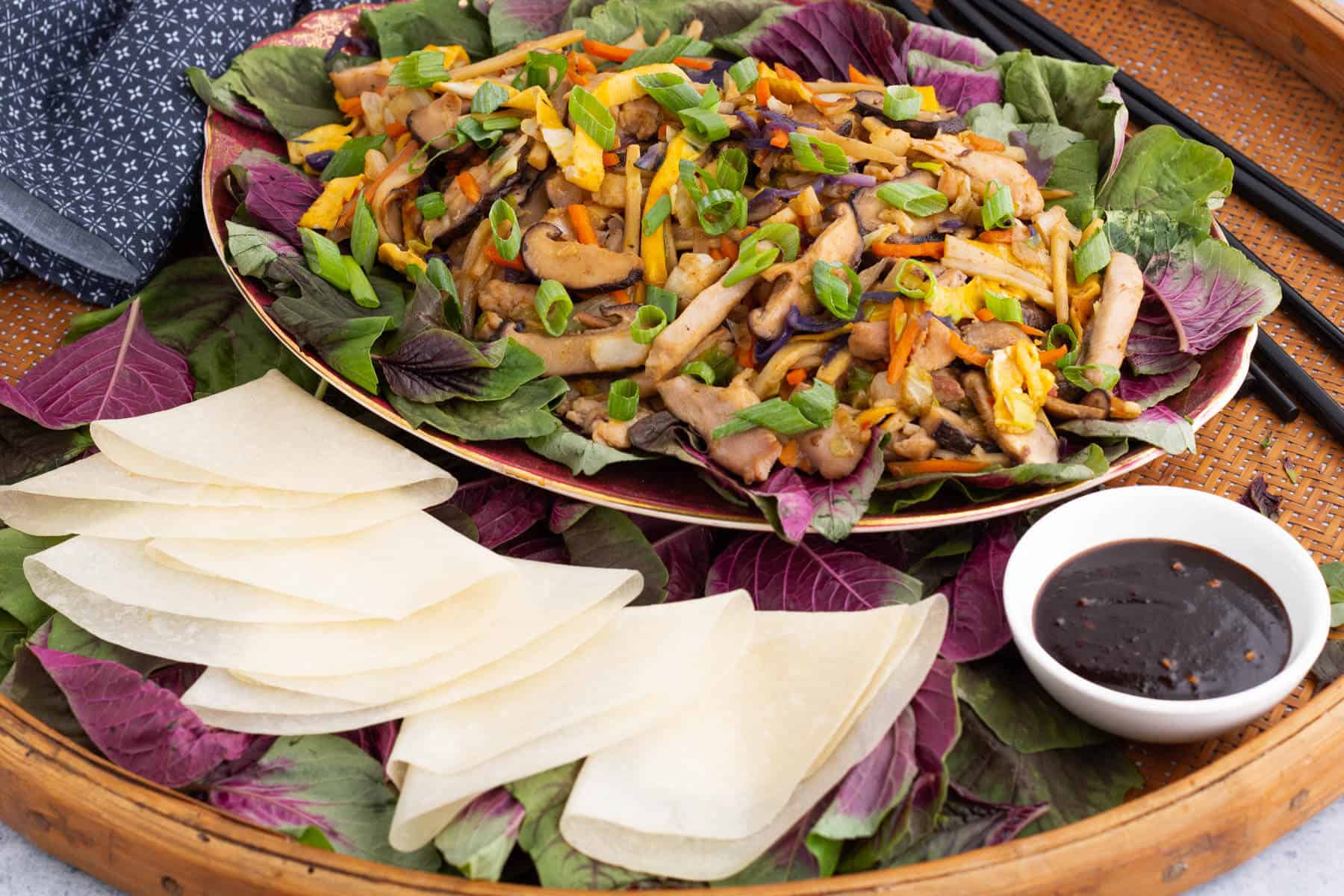 How to Make Moo Shu Chicken
Marinate the Chicken
One of the hallmarks of this dish is how each ingredient is so thinly sliced. Slicing the chicken into thin strips ensures that each piece contains maximum flavour from the marinade and allows for quick frying. Lastly, but most importantly, the small size makes it easier to eat in the pancakes.
So, begin by trimming the excess fat off the chicken thighs and checking for any bone fragments. Lay the thighs flat on a cutting board and use a sharp knife to slice them into thin strips. Place the chicken in a small bowl, add the marinade ingredients, and mix well. Set the chicken aside while you prep the vegetables.
PRO TIP: If you find that the chicken is a bit slippery and difficult to manage, try freezing it for an hour so that it firms up slightly.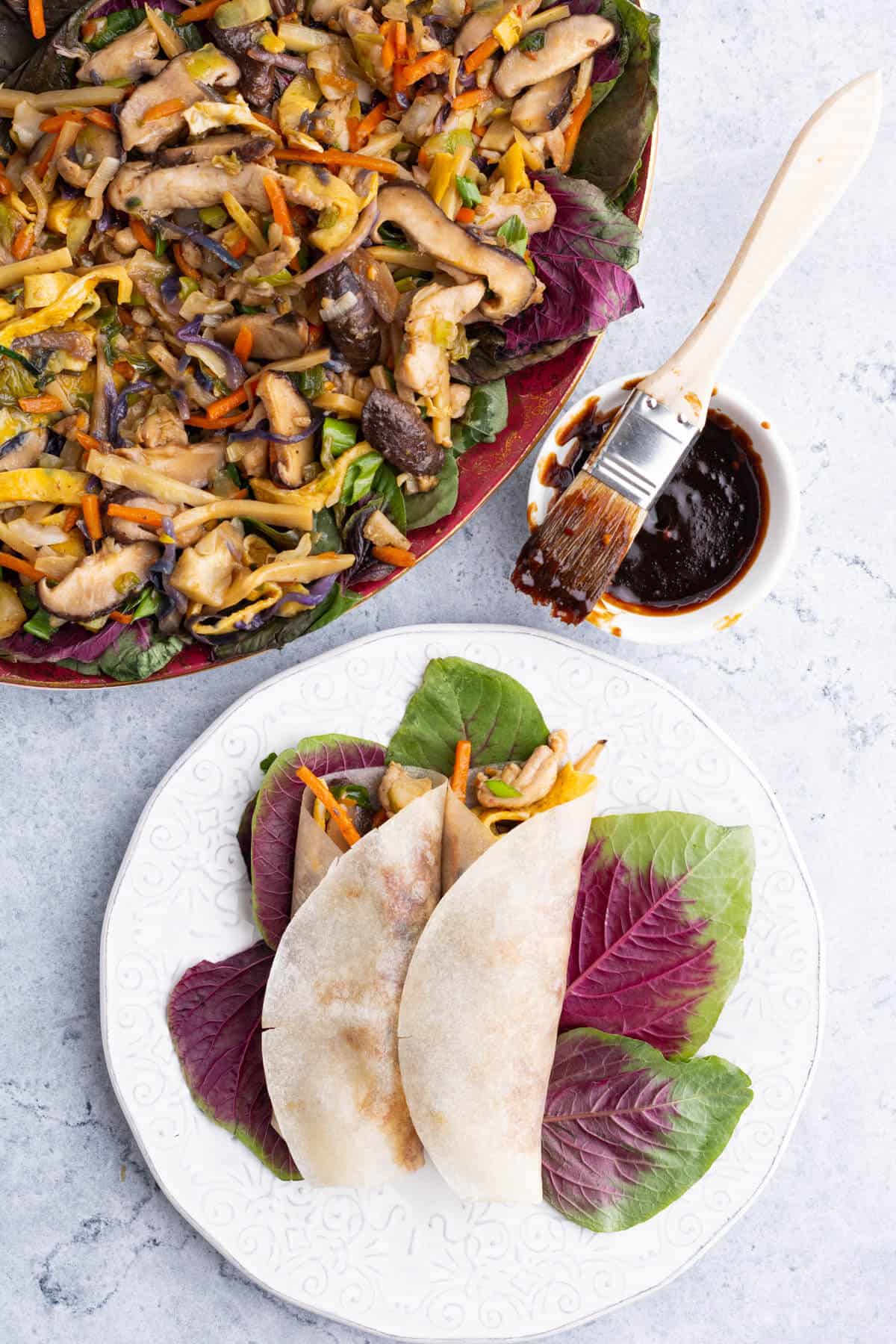 Prep the Other Ingredients
Starting with the Shiitake mushrooms, clean them carefully with a gentle brush, then remove the tough stem. Slice the cap in thin strips, then set aside. Next, open and drain the bamboo shoots, then slice them into matchsticks and set aside. Finally, chop the root ends off the green onions, slice the whites crosswise and the greens on the diagonal. Keep them separate.
Whisk the hot water, oyster sauce, hoisin sauce, sesame oil, and soy sauce together in a small bowl. Set aside.
Let's Cook Moo Shu Chicken
Break two eggs into a small bowl and whisk them until frothy. Heat 1 tablespoon of oil on medium low heat in a large sauté pan or wok, then pour in the scrambled eggs. Swirl the egg around and lift up the cooked part to allow the liquid egg to flow to the hot pan. Once the thin layer of egg has set, season with salt and pepper, then carefully slide it onto a clean cutting board. Roll it up, then slice crosswise to make thin 'egg noodles'.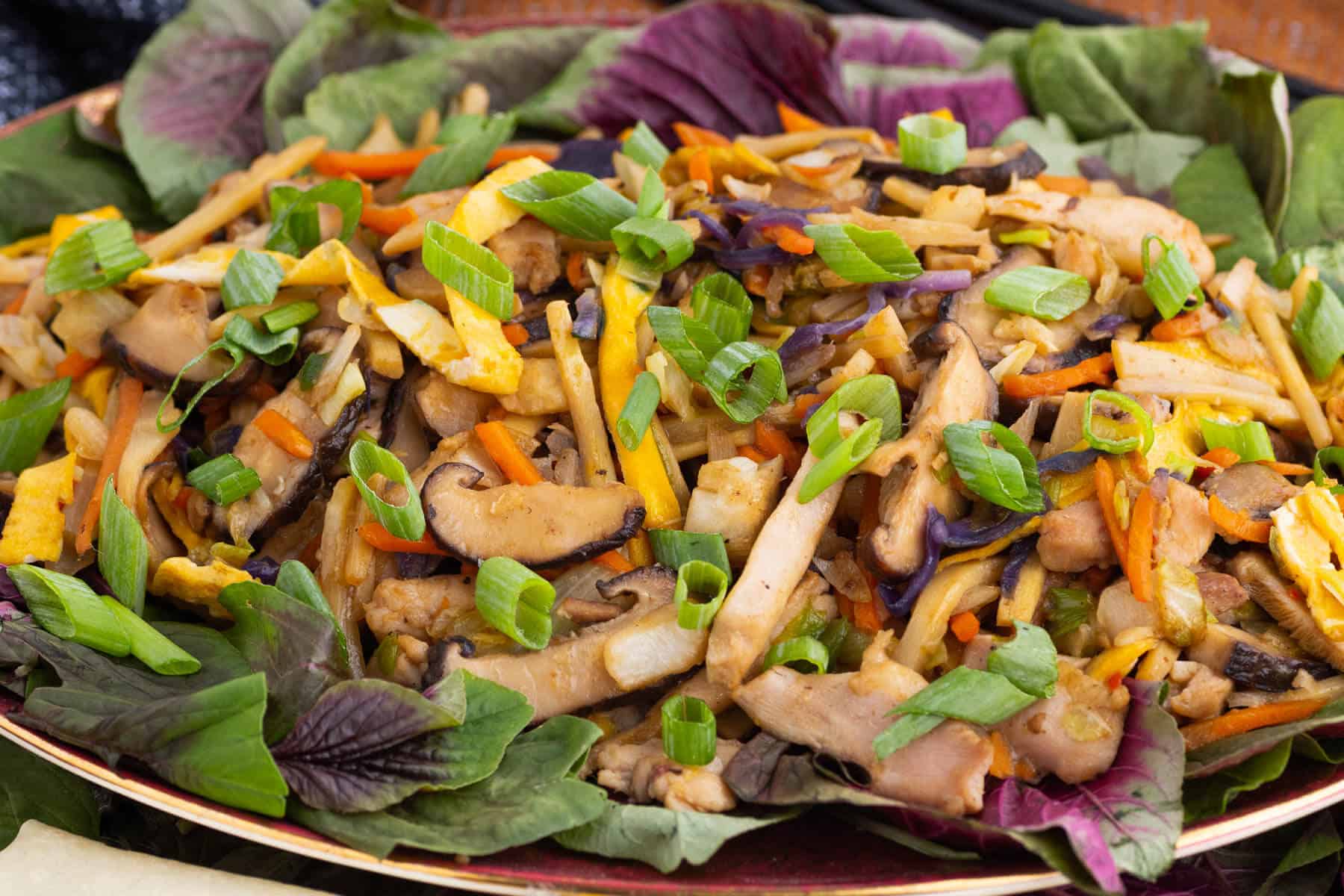 Wipe out the pan, increase to medium high heat and add more oil. Slide the marinated chicken and white parts of the onion into the hot pan. Stir continuously as the chicken fries, separating the pieces as you stir. Once the chicken is mostly cooked, remove and set aside.
Next, wipe out the pan and add more oil. Stir fry the mushrooms until they just start to release moisture. Add the cabbage mixture and bamboo shoots, then stir fry until the cabbage is soft. Add the chicken back to the pan.
Pour the sauce over the chicken and vegetables, then stir fry for a few more minutes. Add the chopped egg and Shaoxing wine, then stir and remove from heat. Garnish with sliced green onion.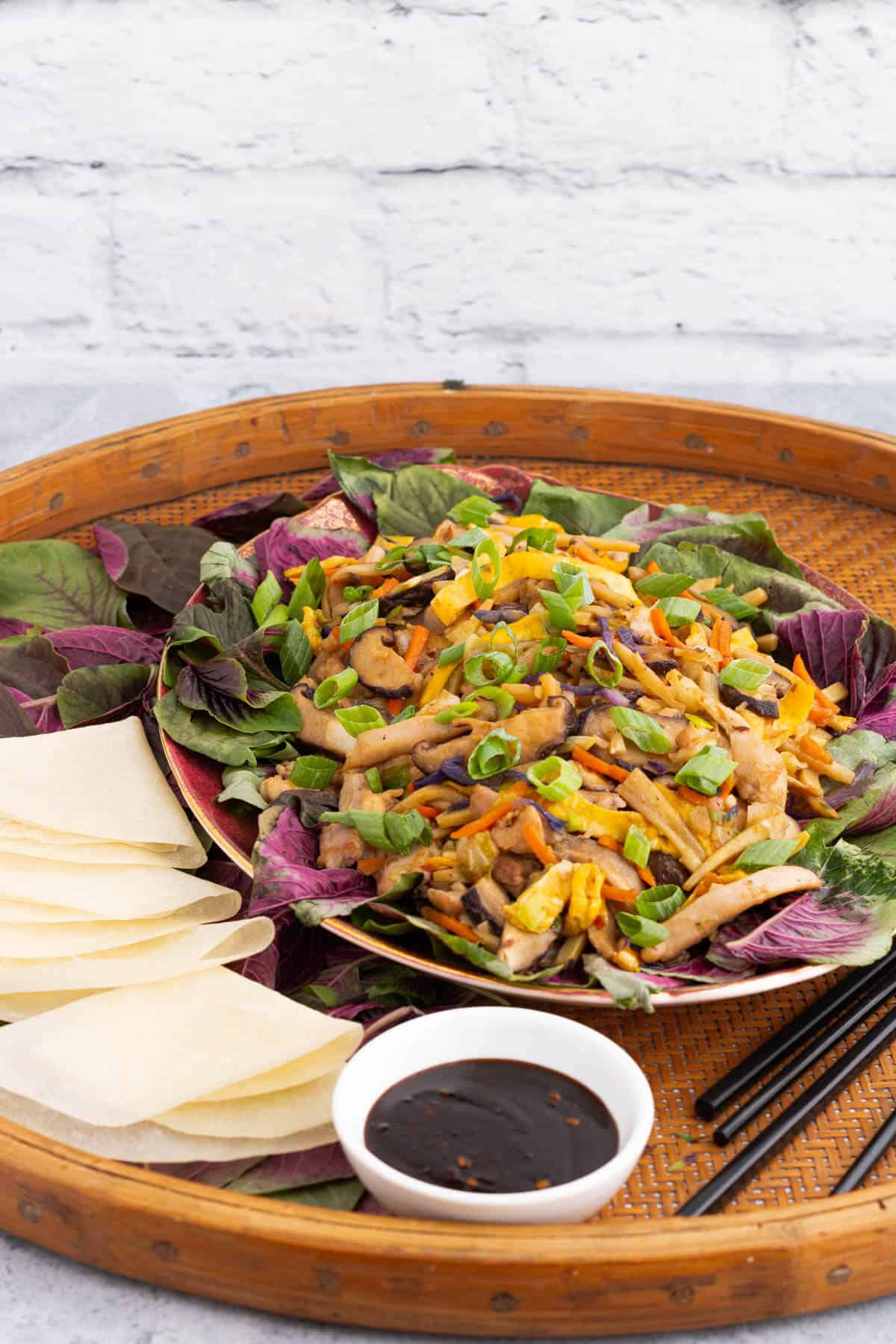 How to Serve Moo Shu Chicken
As mentioned previously, you can serve this Moo Shu Chicken directly on a bed of steamed rice. However, the fun way to eat it is inside Mandarin pancakes. Simply steam the pancakes for 5 minutes in a steamer basket. Alternatively, cover the pancakes with a wet paper towel and microwave for one or two minutes.
To serve, brush each pancake with a thin layer of hoisin sauce (we like spicy hoisin!), then place about 1/3 cup of the Moo Shu Chicken on top of the hoisin. Eat the Moo Shu pancakes like a taco, or fold it up like a tiny burrito, if you like. Betcha can't have just one!
Pin it HERE!!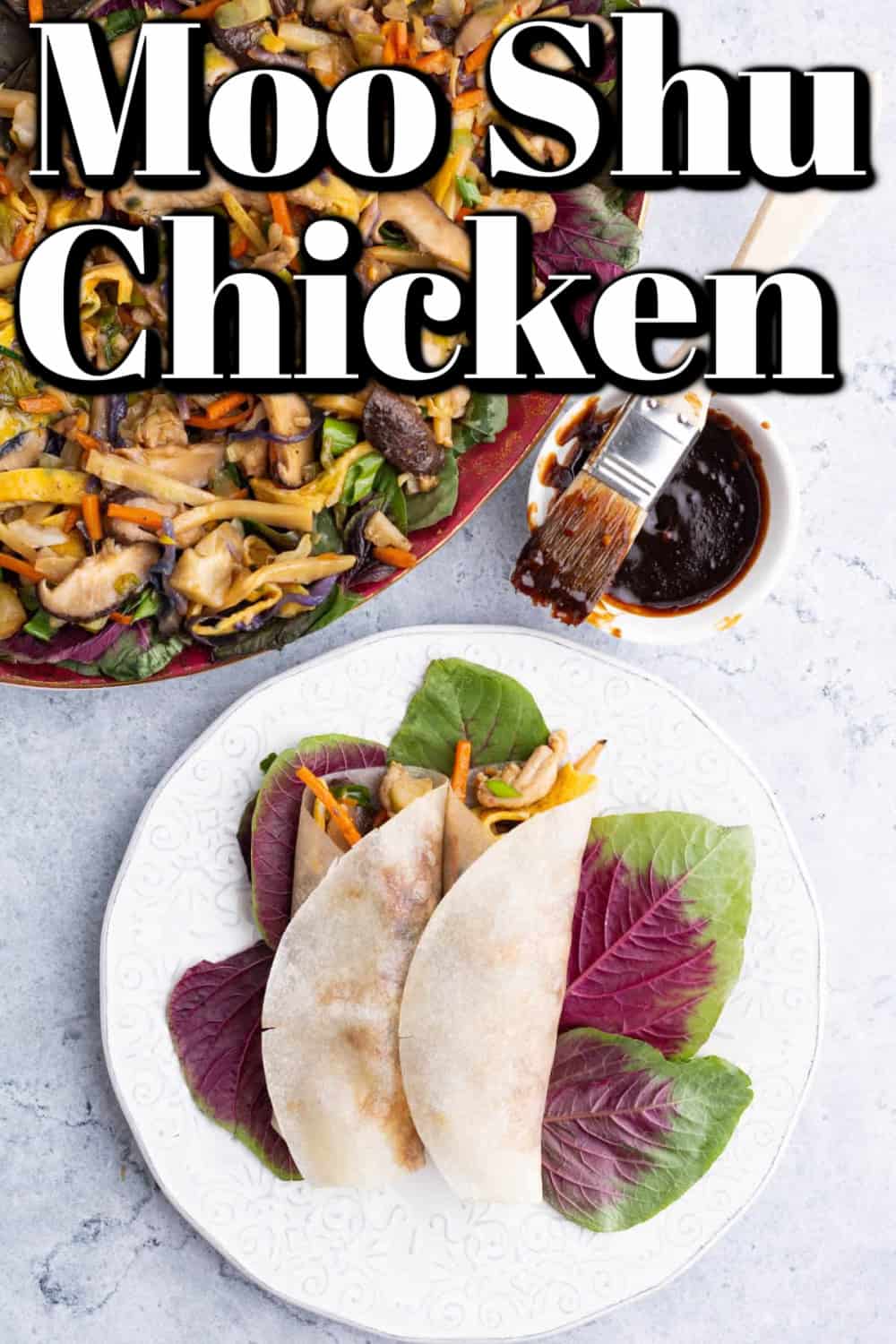 Pin it HERE!!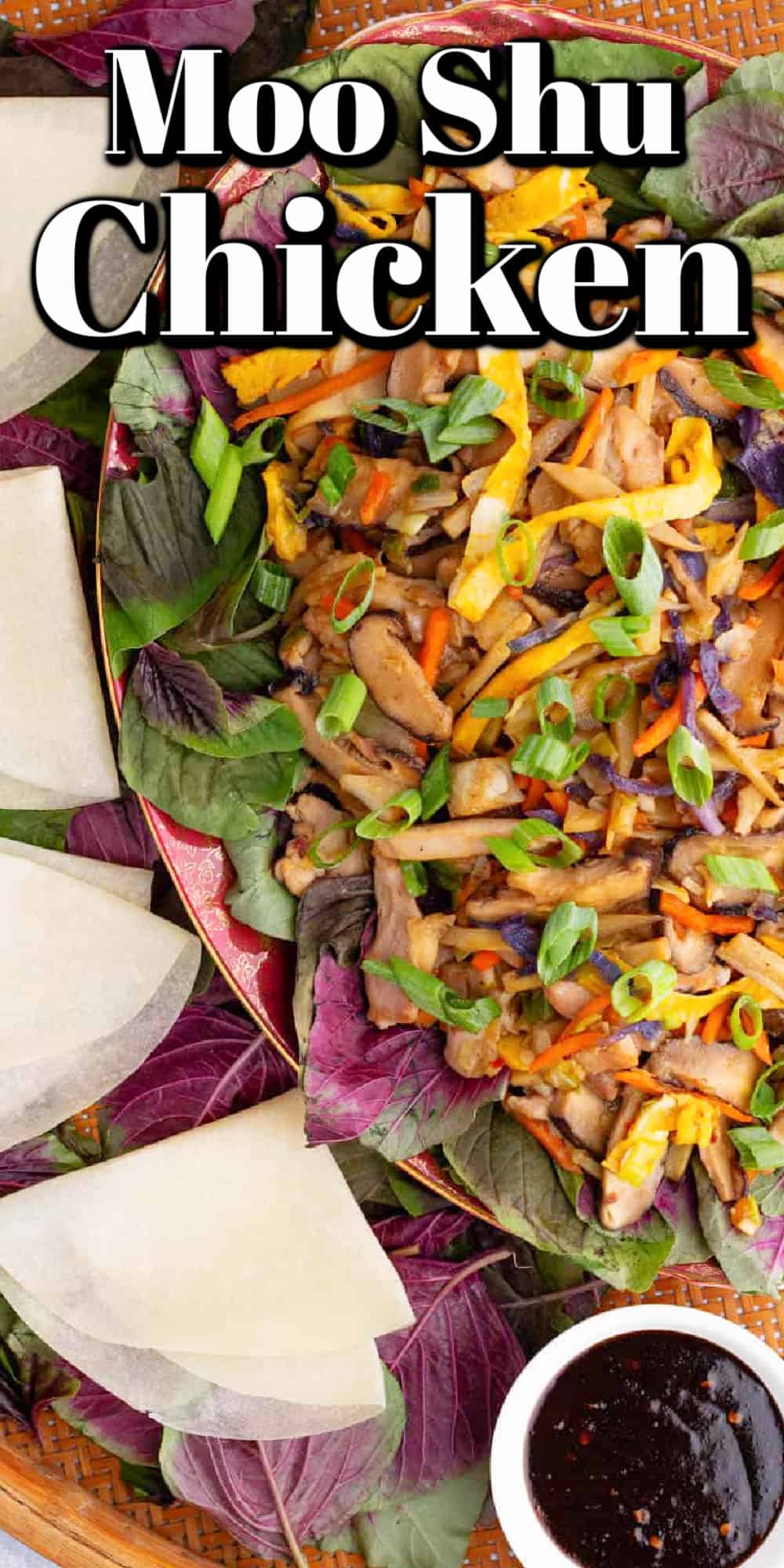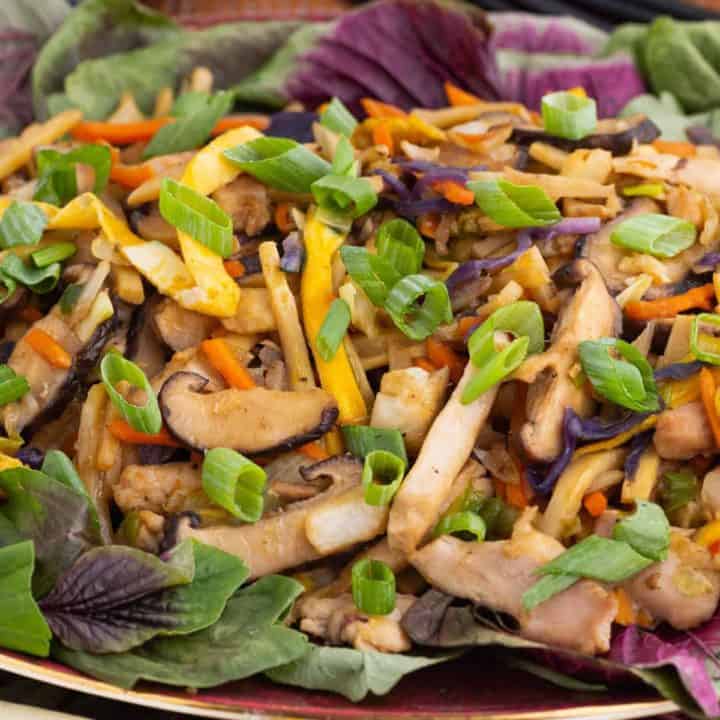 Delicious Moo Shu Chicken
Yield: 4 servings
Prep Time: 20 minutes
Cook Time: 15 minutes
Additional Time: 15 minutes
Total Time: 50 minutes
Delicious Moo Shu Chicken is fast and easy to make; using a bag of coleslaw saves most of the time. They are a scrumptious take-out classic Chinese dish that you can now easily make at home.
Ingredients
4 chicken thighs (or two breasts)
FOR THE CHICKEN MARINADE
2 tbsp minced garlic
2 tsp cornstarch
1 tbsp water
1 tsp sesame oil
1 tsp soy sauce
2 tsp canola oil
OTHER INGREDIENTS
2 eggs
4 tbsp canola or peanut oil
6 oz shiitake mushrooms
1 can bamboo shoots (8 oz)
1 bag mixed chopped coleslaw (9 oz)
4 green onions
16 Mandarin pancakes* (or Peking Duck wrappers)
Hoisin Sauce (spicy or regular)
FOR THE SAUCE
2 tbsp hot water
2 tbsp Oyster Sauce
2 tsp soy sauce
2 tbsp Hoisin Sauce
1 tsp sesame oil
2 tbsp Shaoxing Cooking Wine
Instructions
PREPARE THE CHICKEN
Trim excess fat off of chicken thighs, if needed. Lay the thighs flat and slice in thin strips.
Place chicken in a small bowl and add the marinade ingredients. Mix well and set aside.
PREPARE THE OTHER INGREDIENTS
Clean and de-stem the shiitake mushrooms. Slice the caps in thin strips. Set aside.
Drain the canned bamboo shoots well, then slice them into thinner strips.
Chop the ends off the green onions, slice the white ends crosswise and then slice the greens on the diagonal. Keep them separate.
Mix the sauce ingredients together in a small bowl and set aside.
COOK THE DISH
Crack the eggs into a small bowl and whisk them well.
Heat 1 tbsp oil in a large frying pan or wok. Pour in the egg and swirl to spread it out in one thin layer. Allow to cook on medium-low until just set.
Carefully slide the egg onto a cutting board and roll it up. Slice crosswise to get long egg ribbons.
Wipe out pan/wok and add another tablespoon of oil. Stir fry chicken and chopped white onions over high heat, stirring constantly until chicken is almost cooked. Remove chicken from pan and set aside.
Wipe out pan and add another 2 tablespoons of oil. Add sliced shiitake mushrooms and sauté until they start to release liquid.
Add chopped coleslaw and bamboo shoots to the pan. Stir fry until cabbage begins to soften, then add the chicken back into the pan.
Pour the sauce into the pan and stir fry for a few more minutes. Add the chopped egg and remove from heat. Garnish with sliced green onion.
TO SERVE
Place the pancakes in a steamer basket and steam for 5 minutes.
Brush the steamed pancakes with Hoisin Sauce, then spoon Moo Shu Chicken over the sauce. Roll up the pancakes and enjoy!







Notes
*or serve over steamed rice.
Recommended Products
As an Amazon Associate and member of other affiliate programs, I earn from qualifying purchases.
Nutrition Information:
Yield: 4
Serving Size: 1
Amount Per Serving:
Calories: 962
Total Fat: 58g
Saturated Fat: 13g
Trans Fat: 0g
Unsaturated Fat: 43g
Cholesterol: 356mg
Sodium: 1695mg
Carbohydrates: 64g
Fiber: 3g
Sugar: 9g
Protein: 48g
Recipe calculation was provided by Nutritionix and is an estimation only. If you need nutritional calculations for medical reasons, please use a source that you trust.