Simple Easy Homemade Canned Tomatoes is a fantastic way to preserve the summer's bounty.
Have you tried canning tomatoes before? We have done it many times and I love using my own tomatoes, in soups, stews, sauces and more all year long.
This is why today I am going to show you how to make Simple Easy Homemade Canned Tomatoes and how really easy it is to accomplish this.
This recipe will show you how to make canned tomatoes simply and easily. You will probably be surprised by how simple it is!
I received this recipe from a canning class that I took at The Cookbook Co. Cooks by Chef/Instructor Valerie Andrews and it is excellent.
Also, try some of our other tomato recipes like Homemade Tomato Juice, Tomato Jam, Homemade Canned Tomato Salsa, or Pomodoro Sauce.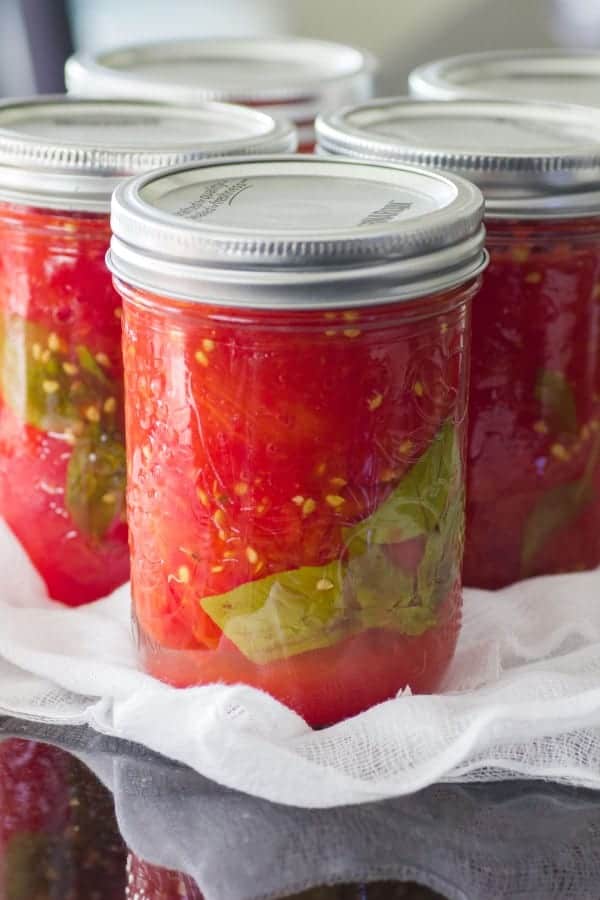 Canning Essentials
Helpful Items for This Recipes
This post contains affiliate links. As an Amazon Associate, I earn a small portion from qualifying purchases at no extra charge for you.
There are a few essential tools that you need to get you started.
Not much though and the rest you will already have at home. Very easy and minimal investment to get yourself started in the canning world.
How To Remove a Tomato Skin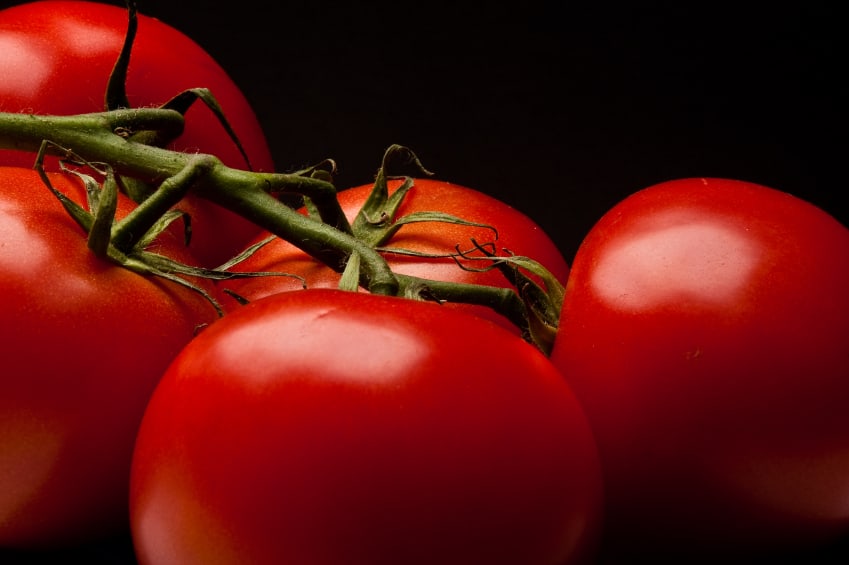 Tomatoes are easy to do and don't require much chopping. They do require peeling though but that is an easy step that literally takes a minute.
I have a full post now on How to Remove a Tomato Skin. This will help guide you through the initial steps for canning or for other recipes.
It was Ken who was in the kitchen making these for the most part. He gets in rhythm and I jump in when he wants help or a break.
The other essential in the canning tomato process is fresh produce. Don't can tomatoes that are mushy, black spotted or in any other way unpleasant looking. You want ripe, gorgeous red juicy tomatoes.
Your herbs should be fresh and green also not wilted or spotted. Using the best produce will give you the best results in the end. This will also give you the best recipes that you add them into.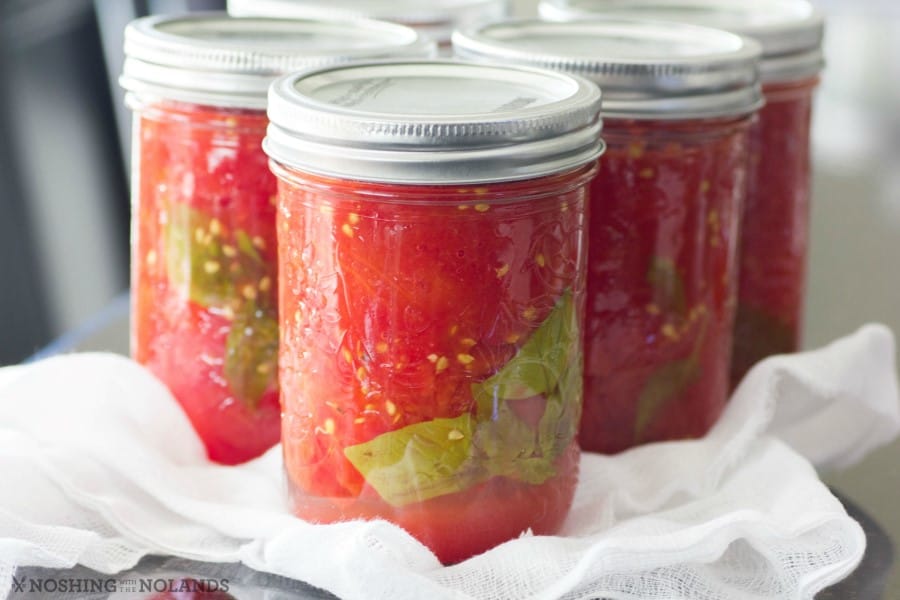 All I put in my tomatoes is lemon juice and fresh basil or oregano. They are pure and wonderful and with no sodium added.
We usually can anywhere between 45 and 90 lbs. This year when I headed to the farmers market I had set in my head, that we would only do 45 lbs. but after I saw the delicious looking tomatoes I decided to do 60 lbs.
We love to can and it shows in our recipes. Here is more for you to enjoy!!
OTHER CANNING RECIPES
Roasted Italian Tomatoes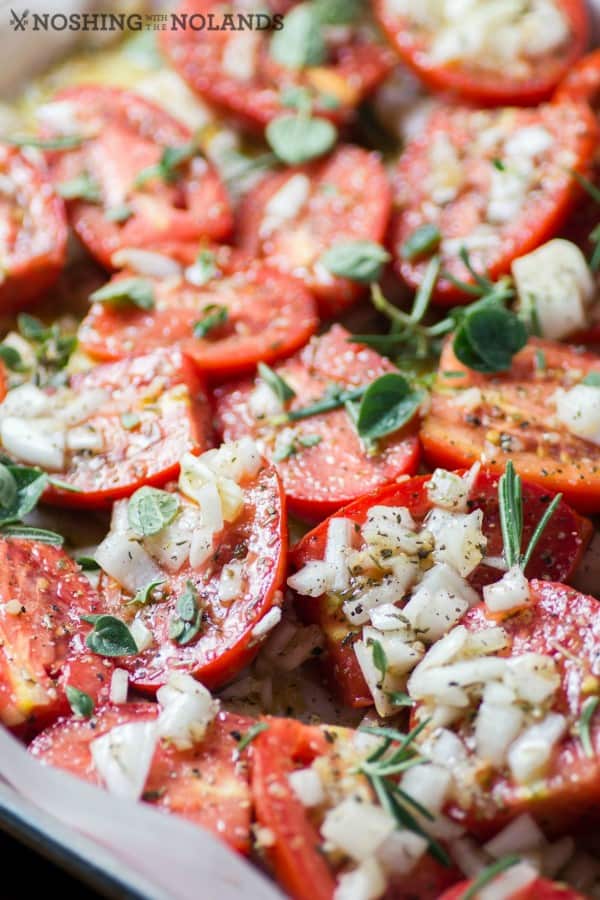 Plus, we added in our own but I also did a few pans of Roasted Italian Tomatoes and used these regular field tomatoes instead of romas and it worked out just as wonderfully.
*We always use sterilized jars but because it is tomatoes they really don't have to be. You can decide if you want to omit this step.
I would at least give them a run through the dishwasher. The high acid in the tomatoes and lemon juice does prevent anything from growing.
PRINTABLE FOR WATER BATH CANNING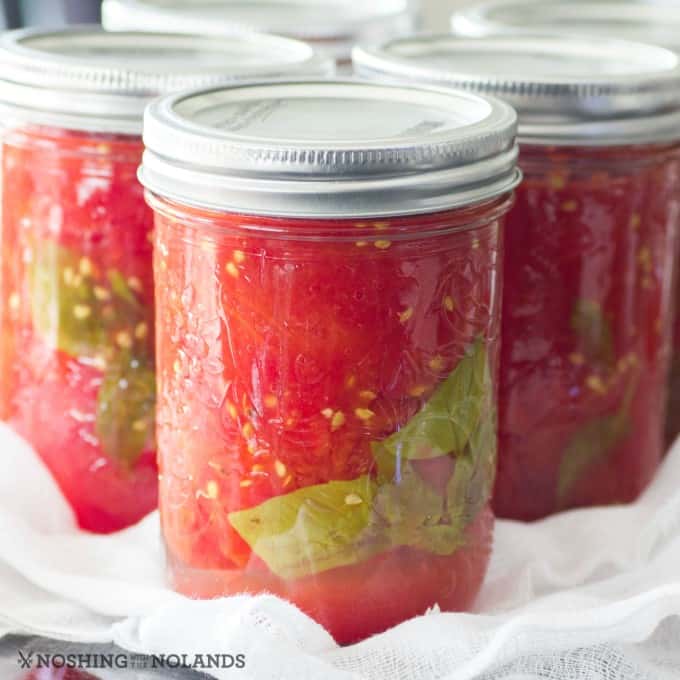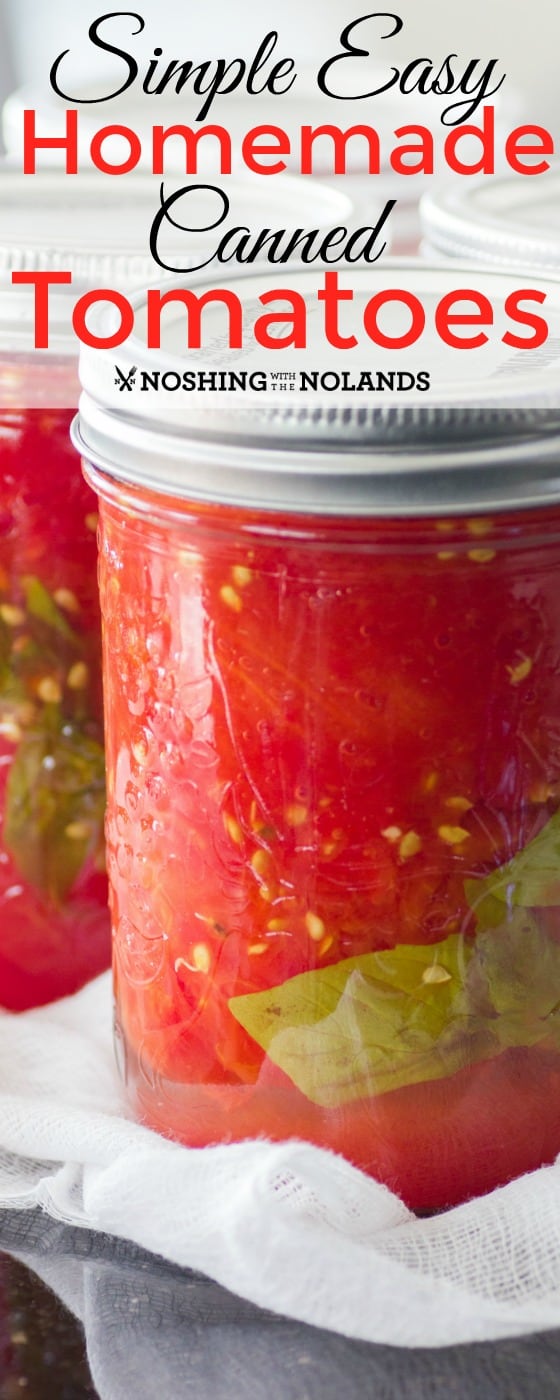 Simple Easy Homemade Canned Tomatoes Recipe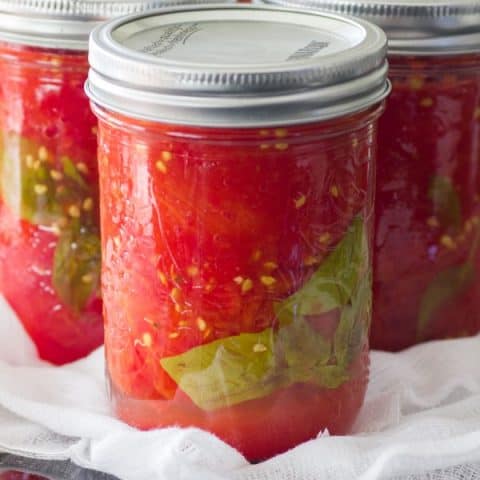 Simple Easy Homemade Canned Tomatoes
Yield: 7 pints
Prep Time: 2 hours
Cook Time: 1 hour
Total Time: 3 hours
Simple Easy Homemade Canned Tomatoes will have you excited about learning how to can or about the fresh produce you can preserve!!
Ingredients
9 lbs. fresh tomatoes
Fresh sprigs of basil or oregano
Lemon juice, I use bottled for ease
Instructions
To peel the tomatoes, bring a large pot of water to a boil. Wash tomatoes and cut a small 'x' in the bottom of each tomato, on the bottom side. Place tomatoes in the boiling water, not enough to over crowd. Cook for about 1 min. or until the skin just starts to peel off. Place the tomatoes in an ice bath to cool. The skins should just slide right off then. Cut tomatoes into quarters, larger ones into eighths.
Place a quarter of the tomatoes in a large pot and heat over medium heat. When they start to boil crush the tomatoes with a potato masher. Then add the rest of the tomatoes, do not crush and boil gently for 5 min.
For each jar add 1 Tbsp. lemon juice and one washed large herb sprig. Fill the jars with the tomatoes to about 1/2" head space. Wipe the rims and place the lids on and rims to finger tight. Process in a boiling water bath covering with at least 1" of water for 40 min. for elevations of 1000-3000 ft., 3,001 to 6,000 ft. for 45 minutes for 6,001 to 8,000 and 50 min. Remove jars to a towel lined counter and make sure they make a "popping" sound so that the lids are sealed.
Cool completely and store. Canned tomatoes should be used within the year.
Recommended Products
As an Amazon Associate and member of other affiliate programs, I earn from qualifying purchases.
Nutrition Information:
Yield: 7 pints
Serving Size: 1 pint
Amount Per Serving:
Calories: 105
Total Fat: 1g
Saturated Fat: 0g
Trans Fat: 0g
Unsaturated Fat: 1g
Cholesterol: 0mg
Sodium: 29mg
Carbohydrates: 23g
Fiber: 7g
Sugar: 15g
Protein: 5g