How to Remove a Tomato Skin
If you grow tomatoes or love going to the farmer's market, at some point you'll find yourself with more tomatoes than your family can eat. This is where How to Remove a Tomato Skin will come in very handy.
I love going to the local farmer's market during the summer and fall and getting fresh produce. Near the end of the day you can get some really great deals too, especially if you buy in bulk.
So I've ended up coming home from the farmer's market with more tomatoes than we planned on, even when I was already planning on making some fabulous Tomato Jam or Roasted Italian Tomatoes.
My family adores the roasted Italian tomatoes but there's a limit to how often they want to eat them (and how often I want to make them, especially when it's hot outside).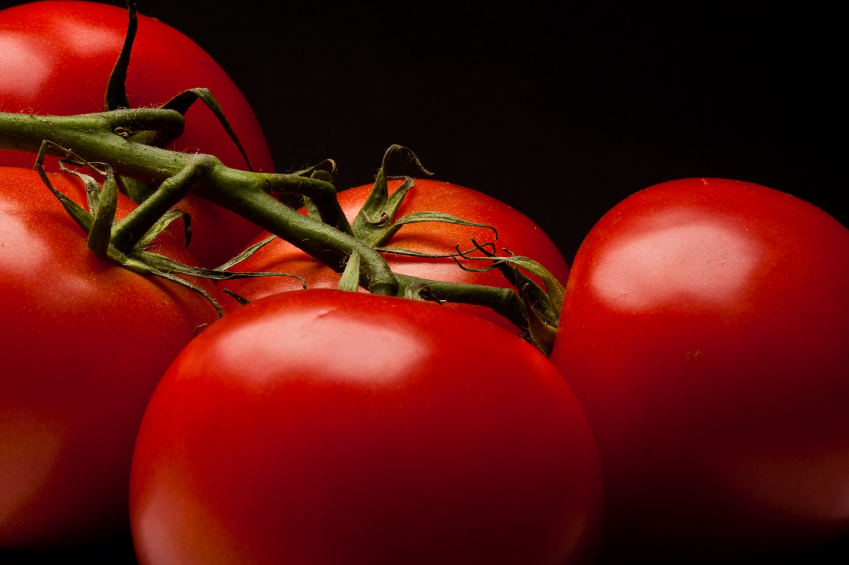 Canning tomatoes and making homemade tomato sauce are two great ways of using up extra tomatoes and you'll have fresh tomatoes to use in the middle of winter when it seems like spring isn't ever going to come. We also love making our Homemade Canned Tomato Salsa with tomatoes from the farmers market.
Canned tomatoes and tomato salsa are so pretty on the pantry shelf too – it makes me happy just seeing them there. When you can your own tomatoes, you're in complete control of what's in the jar. Also, they last a whole year. But first, you need to peel the tomatoes.
Sometimes I go a little overboard at the farmers market and buy 60 lbs of tomatoes. I have honestly bought up to 90 lbs. I'm never worried about peeling them because over the years I've developed a foolproof method that is fast and easy.
Are Tomato Skins Good for You?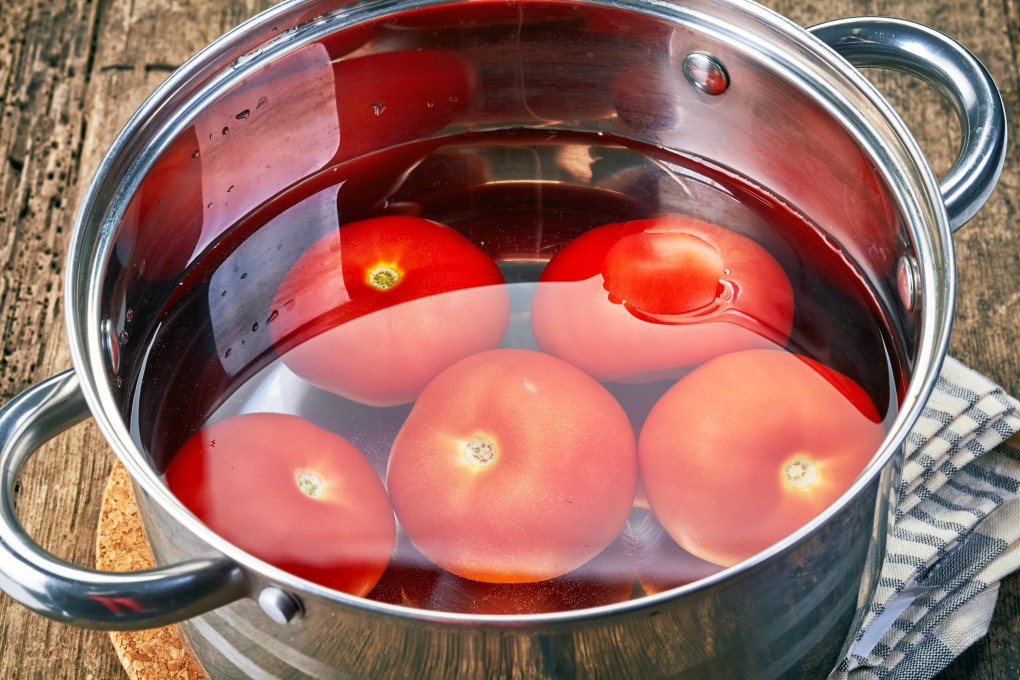 When you're using raw fresh tomatoes – like in a tomato salad or sliced up on a hamburger, you don't want the tomatoes peeled because they'll be mush and fall apart. The same is true for oven roasted tomatoes – you need the skin to help hold the tomato together.
But there's another reason to keep the skins on your tomatoes. Tomato skins are full of something called flavonols. Flavonols are full of plant-based antioxidants and are really good for you. Ninety-eight percent of the flavonols found in tomatoes are in their skin.
The downside to flavonols is that they impart a bitter taste – so you don't want to eat them on their own. All of this is why you probably want to remove the skins before canning or making sauce.
When you're using grape or cherry tomatoes in recipes though, don't remove the skins so you get that boost from the flavonols – their skin.
Do you have to remove tomato skins before canning? No. But your sauce is likely to have some weird lumps and a more bitter flavour if you don't. Plus tomatoes have lots of other great nutrients so missing out on the flavonols in sauces isn't as big of a deal.
The Easiest Way to Remove Skins from Tomatoes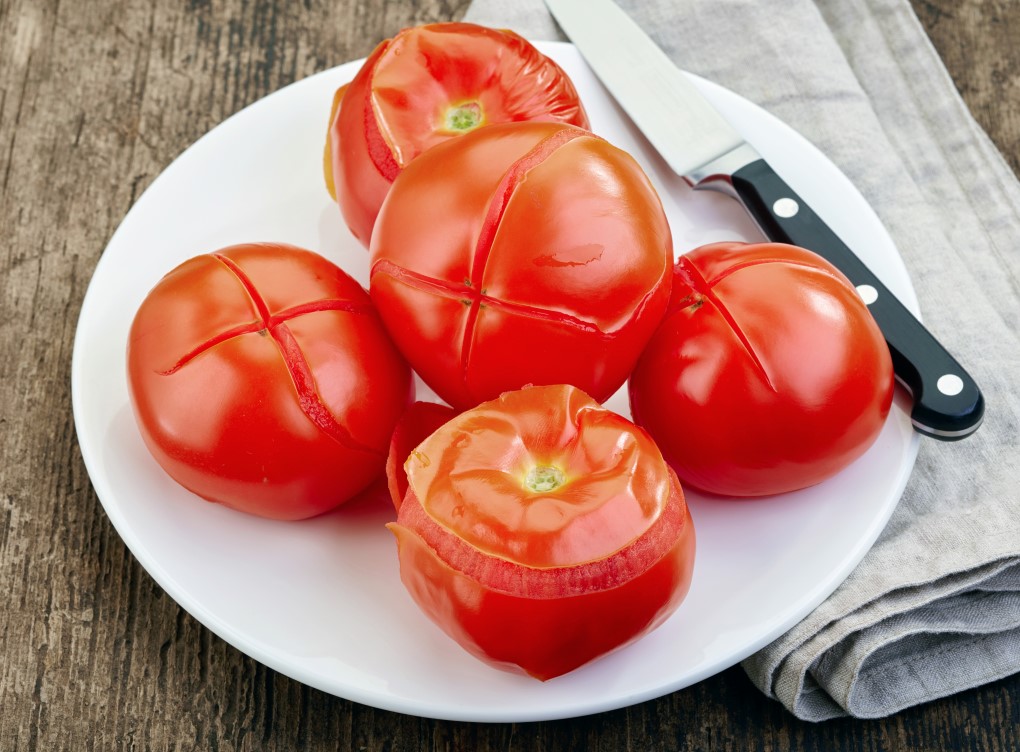 How to remove a tomato skin is easier than you think. You need a large pot of boiling water, and a deep bowl full of ice water. If you're doing a lot of tomatoes, you'll need to refresh the ice water at least once. You will need a cutting board and a sharp paring knife.
You can choose to remove the stems or not. I think they look pretty in canned tomatoes but if you're making sauce you'll want them gone.
Rinse the tomatoes off while the water comes to a boil. Using your paring knife, make an X on the bottom of each tomato – not too deep, but it needs to go through the skin. Put the tomatoes in the boiling water for about a minute, the skin will start to get loose. Using a slotted spoon put the tomatoes directly into the ice water.
Let them chill there for about 5 minutes until they're firm and remove them from the water. The skins will just slide off. Then dice, halve or chop tomatoes as needed for your recipes.
Now that you know how easy it is to remove skin from tomatoes, what are you most looking forward to making?