We love to make special desserts and recipes for all of the holidays!! Recipes like these Easter Cupcakes are fun to make and even more fun to eat as an Easter dessert. The cupcakes themselves are made from a great recipe that I have made before with our Happy Birthday Cupcakes but now have changed them up for Easter and spring.
Amber actually made these cupcakes. She does a great job in icing and decorating. She kept these easy to make for everyone to enjoy. The Easter Bunny would be pleased to see these cupcakes around for the holidays.
Add Easter mini egg toppers for each of the cupcakes is very simple and readily available at any grocery store at this time of year. They turn out to be so cute and the little grass nest makes the perfect place to lay the eggs onto. For more great ideas visit our Easter Desserts Roundup!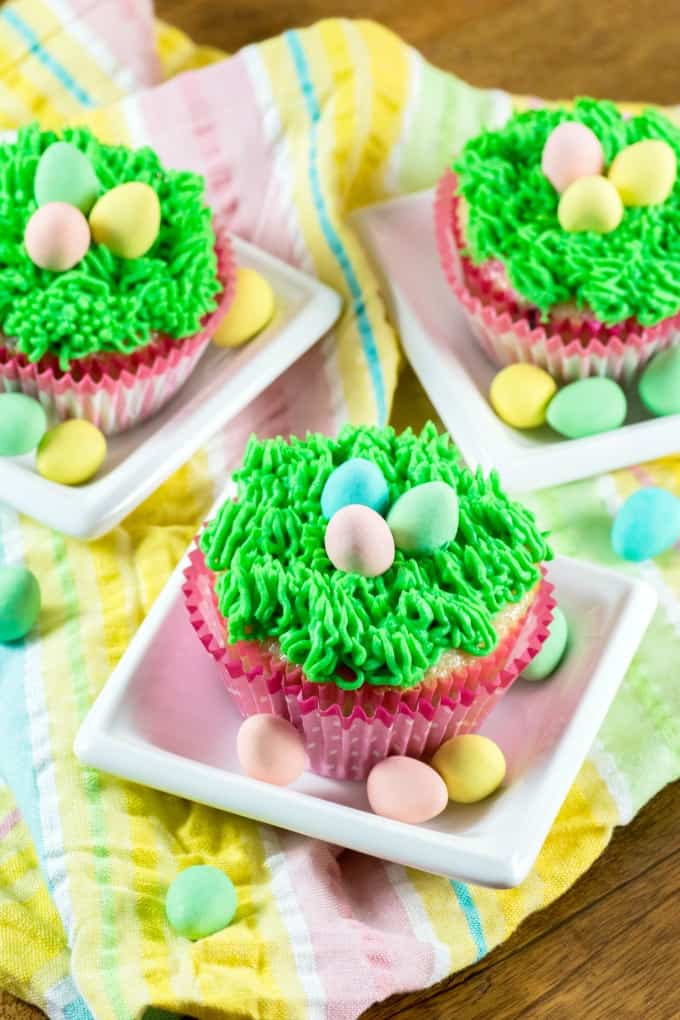 These little cupcakes just scream spring!! So cheerful and fun!! They are simple to make and no fondant in sight as I find that unappealing to eat. It is great to decorate with but not to eat.
How to Make Easter Nest Cupcakes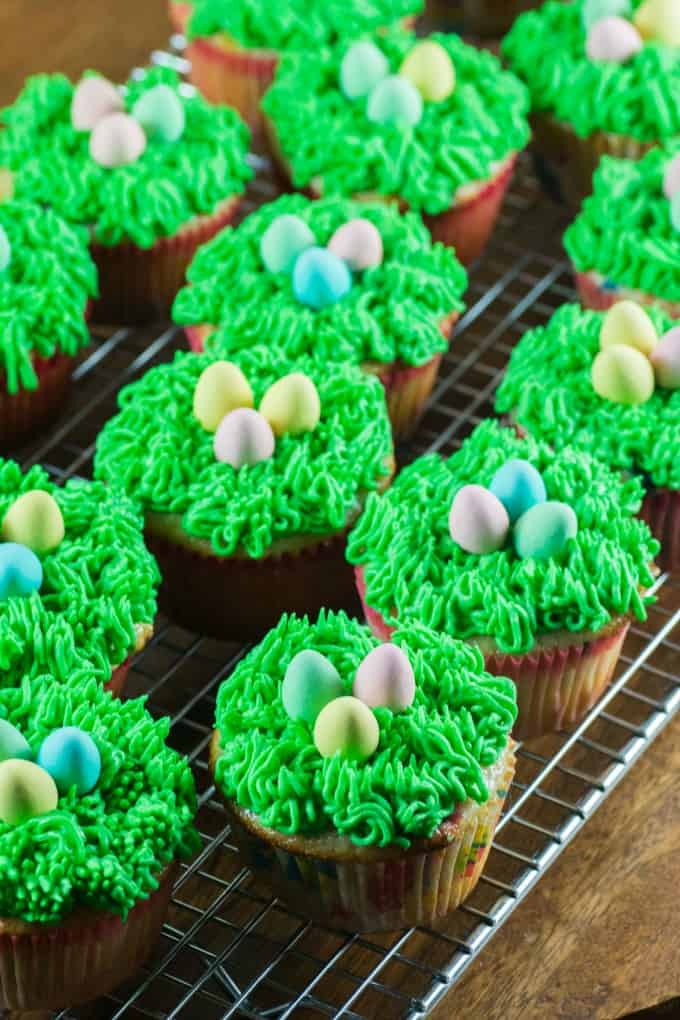 A number 233 tip for icing works great for making the grass. The recipe for the icing makes a lot but you could halve it or make the allotted amount and use it for practicing with the grass technique or other tips also.
Once you get the hang of the grass these cupcakes are quickly decorated. Then three little eggs are adorned on top and you have a perfect Easter treat!!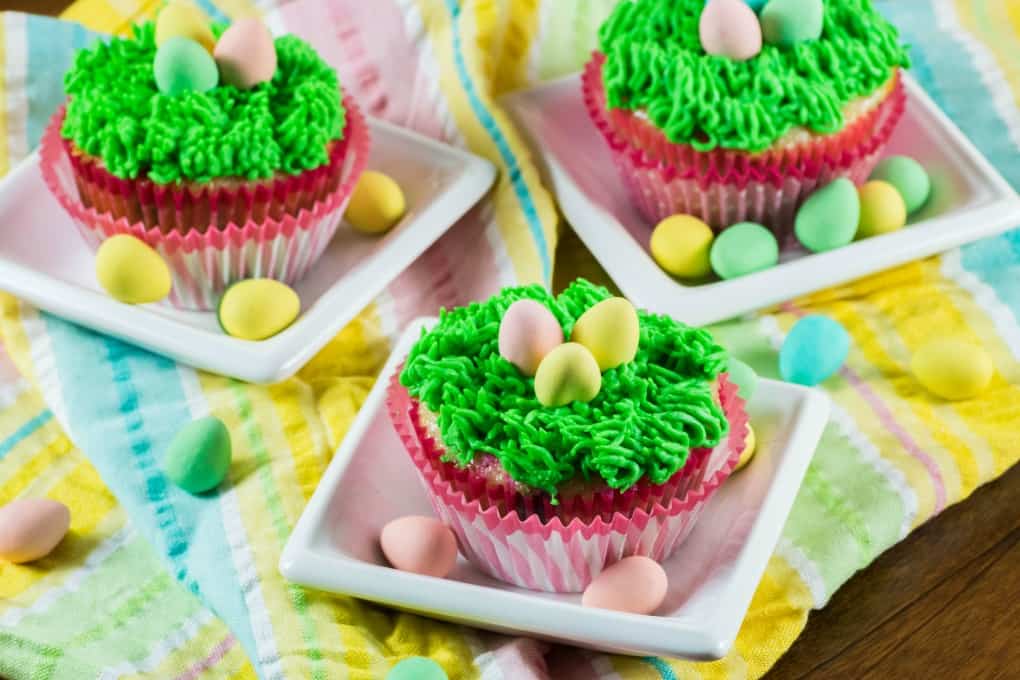 Another technique for making grass is to frost the cupcakes by just spreading the frosting on and then sprinkle on green coconut. You can give that a try if you don't want to pipe the icing on.
You can also make jelly bean cupcakes by swapping out the Easter eggs for jelly beans. There are lot of variations to work from.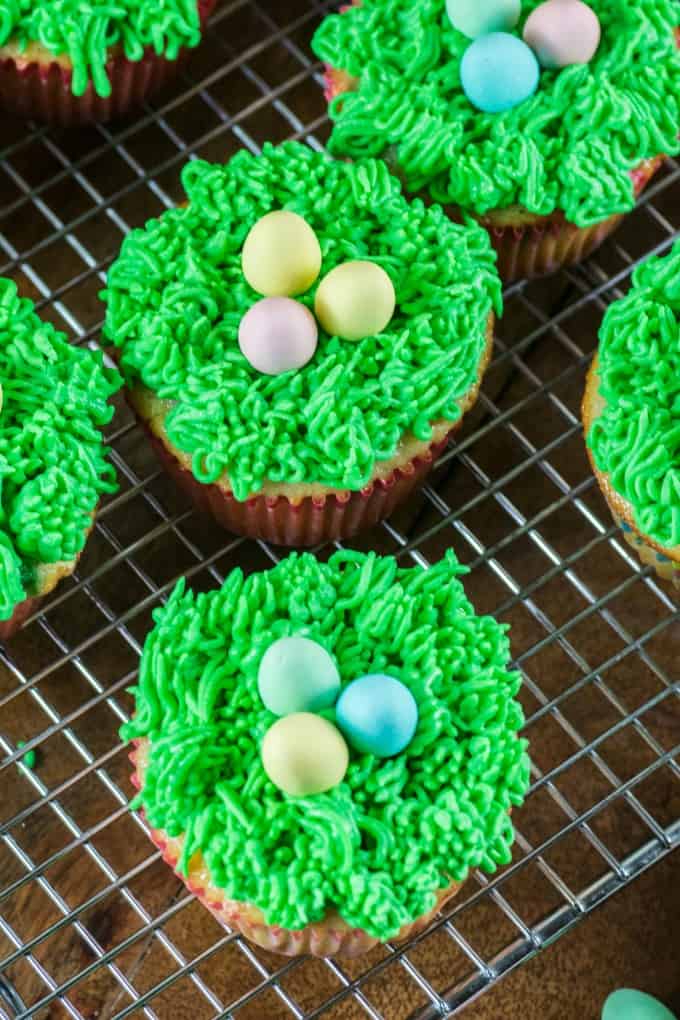 The pretty green color for the icing was achieved by using Wilton leaf green food coloring gel and some liquid green food coloring.
Just keep adding the dye until you reach the desired color. Don't add too much of the liquid food coloring though as it will thin out your icing.
Amber added in both vanilla extract and almond extract to make the buttercream frosting even better!
How To Make Easter Cupcakes From Scratch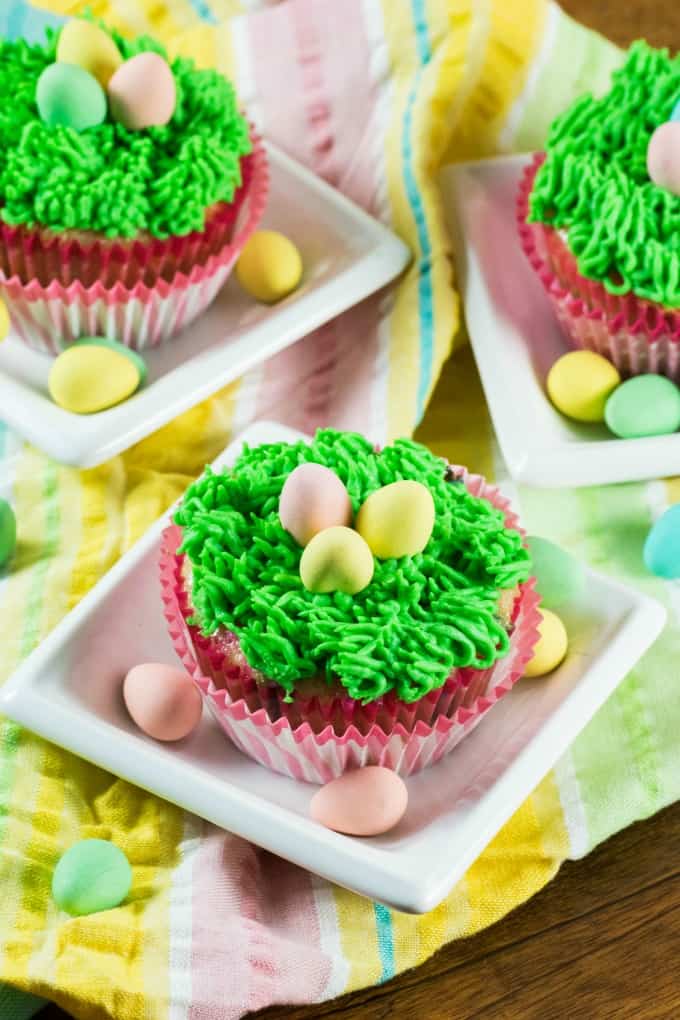 Cupcakes are very easy to make from scratch. Almost as easy as a cake mix but I think they turn out way better. I like my cupcakes moist and tender. To accomplish that I add sour cream to my batter. This keeps them nice and moist for way longer.
You can refrigerate them but let them heat up to room temperature again before serving as they are so much better then.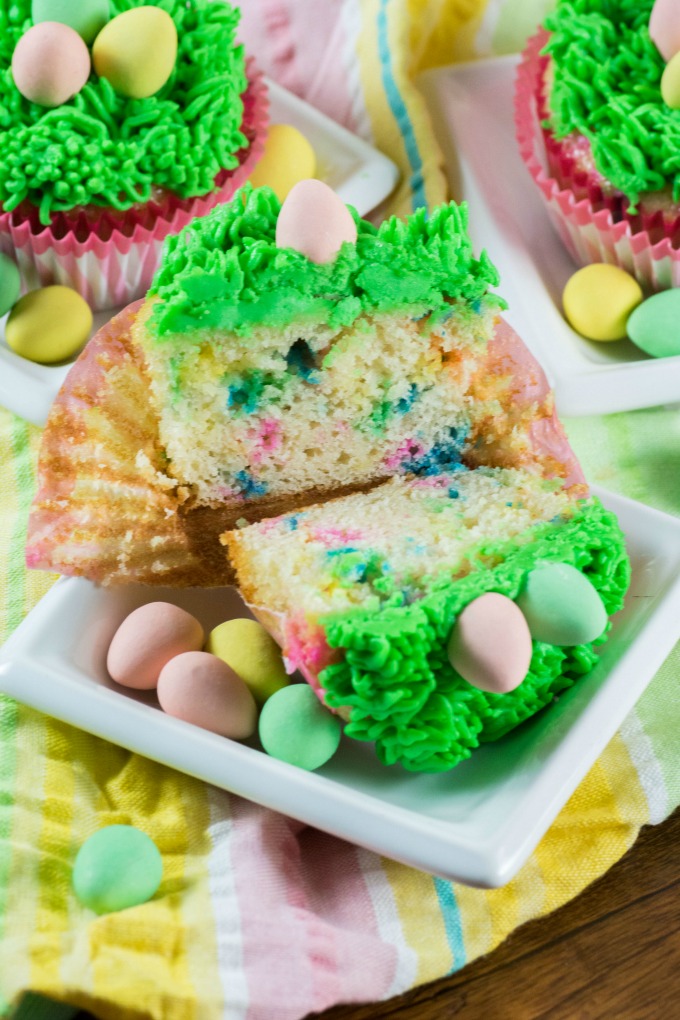 See how lovely and moist they look inside? Also add some sprinkles or jimmies into the batter and you have pretty cupcakes on the inside and outside!!
The kids will love having these for Easter!! They can help decorate them also. Nestle them in with some cute chick Peeps and you have a really great Easter presentation.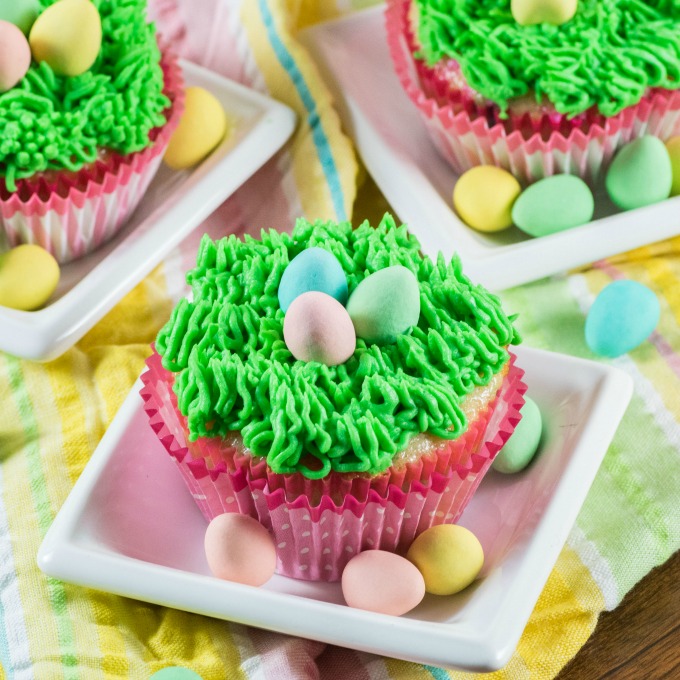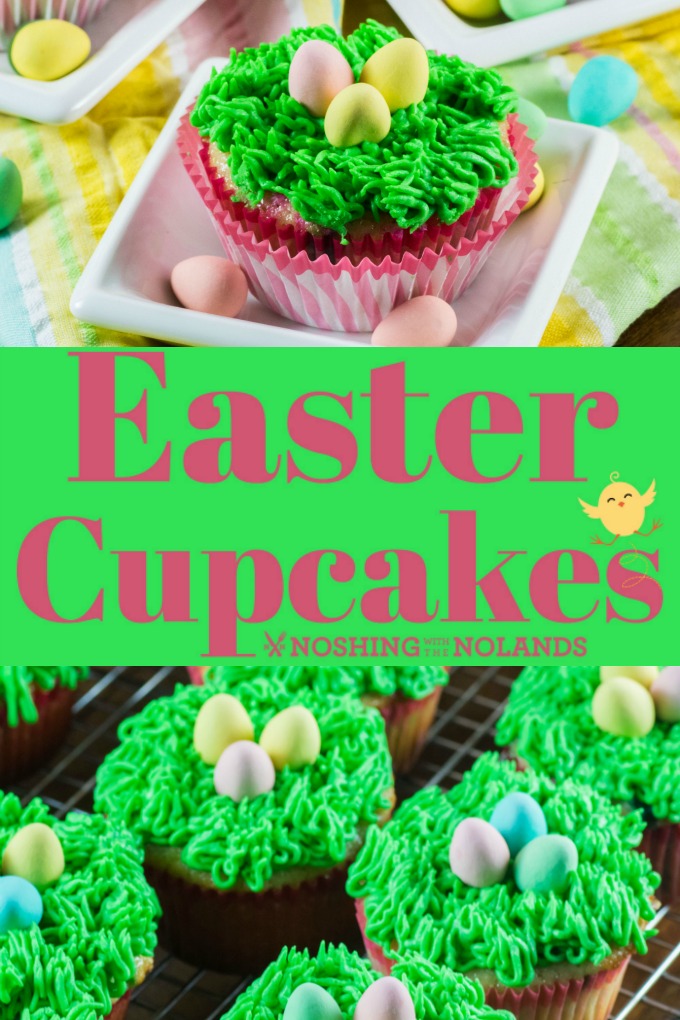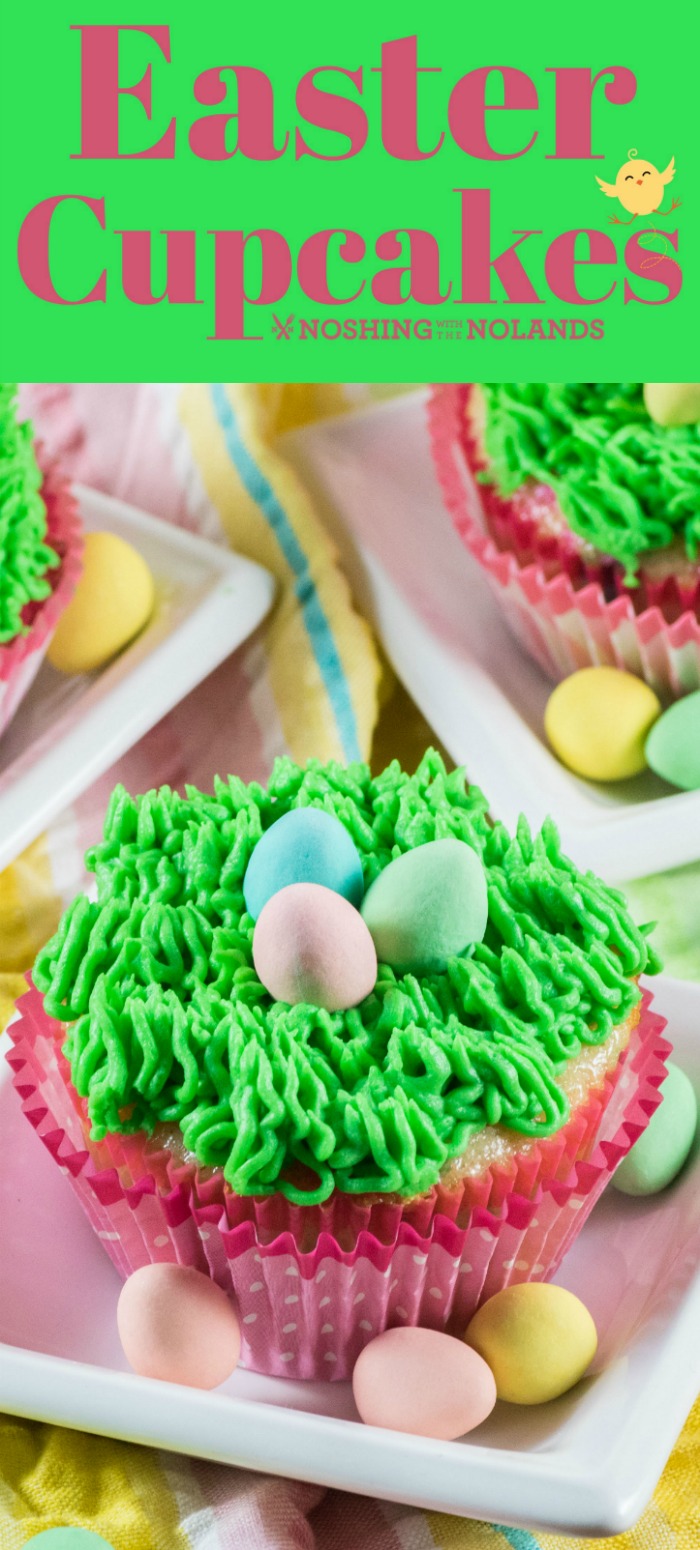 Easter Cupcakes Recipe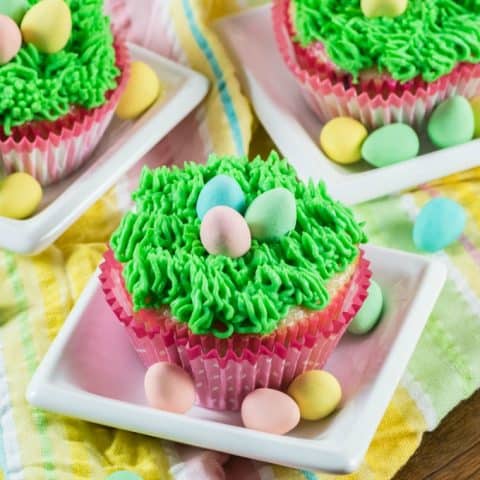 Easter Cupcakes
Yield: 18 cupcakes
Prep Time: 40 minutes
Cook Time: 20 minutes
Total Time: 1 hour
These Easter Cupcakes are fun to make and even more fun to eat!! They are moist inside with having added sour cream into the batter and stay moist while refrigerated too.
Ingredients
3/4 cup butter, softened
1 1/2 cups sugar
3 eggs
1 Tbsp. vanilla
1 cup sour cream
1/2 cup milk
2 1/2 cups flour
2 tsp. baking powder
1/2 tsp. baking soda
1/2 tsp. salt
1/4 cup jimmies (sprinkles)
Buttercream Frosting
1 cup butter, softened
3 1/2 cups icing sugar or confectioner's sugar (powdered sugar)
4 Tbsp. half and half cream
Green food coloring (I used Wilton Leaf Green and some liquid green)
1 tsp. vanilla extract
1 tsp. almond extract
Easter eggs, jelly beans or decorations of your choice
Instructions
Preheat oven to 350F. Line 18 muffin pans with cupcake liners. Cream butter and sugar together until fluffly. Add the eggs one at a time and then beat in vanilla, sour cream and milk. Mix well. In another bowl whisk the flour, baking powder, soda and salt together. Slowly add the flour into the butter mixture and mix until just incorporated. Fold in the sprinkes. Spoon into cupcake liners ⅔ to ¾ full. Bake for 18-20 min. until they bounce back to a light touch and are lightly golden. Let cool on wire racks completely.
For the icing, cream the butter in a large bowl. Carefully incorporate the icing sugar and the cream and continue to beat until light and fluffy. Add more cream if necessary. Color to the desired green color and mix well. Place icing in a piping bag with a 233 tip and decorate as desired. Place cupcakes in a covered container until you are ready to eat. Refrigerate, remove from fridge 30 min. before serving. Enjoy!!
Tip: You can get away with half the icing for this recipe unless you really like to load it on or you want some for practicing. If piping in a swirl you will need the larger amount of icing.
Nutrition Information:
Yield: 18
Serving Size: 1
Amount Per Serving:
Calories: 463
Total Fat: 23g
Saturated Fat: 13g
Trans Fat: 1g
Unsaturated Fat: 7g
Cholesterol: 98mg
Sodium: 323mg
Carbohydrates: 62g
Fiber: 0g
Sugar: 47g
Protein: 4g