One of the first things many chefs learn in culinary school is How to Dice an Onion. Dicing an onion is one of those skills that will come in very handy in the kitchen.
You have to know basics like this, how to toast nuts, make a basic egg, how to remove a tomato skin and I love showing you the basics to help you in the kitchen.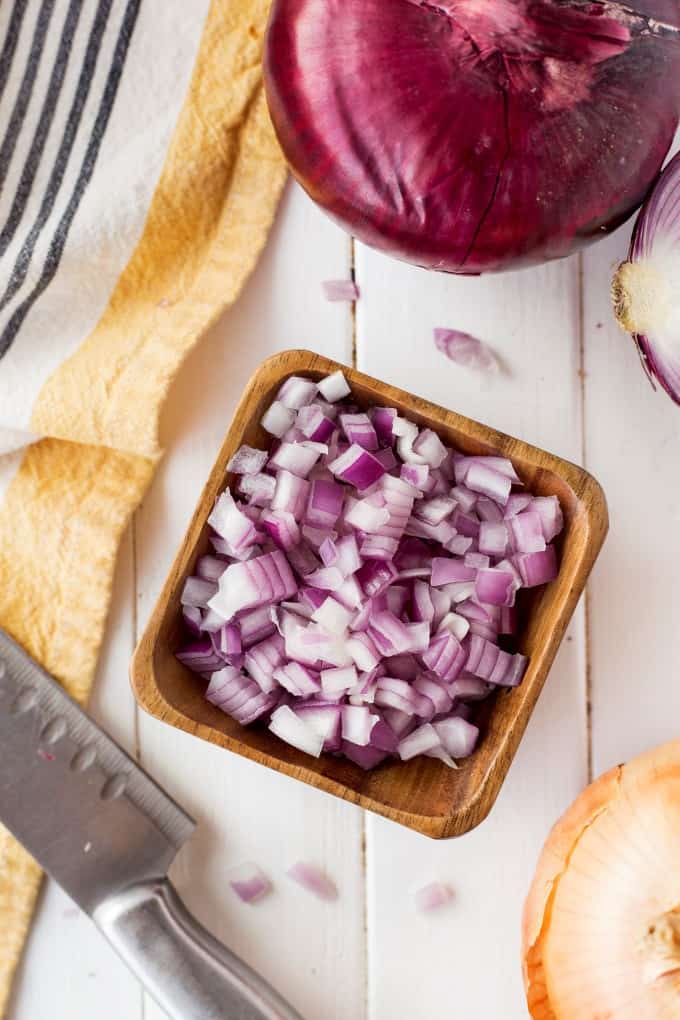 Of course, this is assuming that you already have basic knife skills such as how to properly hold a knife, choosing the right knife (in this case a Chef's knife), and always cut away from your body.
One important thing to know before you start is the difference between chopping, slicing, and dicing onions. Chopping onions is the quickest method – it's simply cutting the onion roughly and not paying too much attention to the size of the end product.
Helpful Items for This Post
This post contains affiliate links. As an Amazon Associate, I earn a small portion from qualifying purchases at no extra charge for you.
7 inch Kitchen Knife Ultra Sharp
When you dice an onion, you're creating equally sized small squares of onion. French cut slicing is what you need to do when you're caramelizing onions as the cell structure holds its shape better and can withstand more cooking at a higher temperature before breaking down.
To French cut, you simply cut from root to stem – creating pieces that are the length of the onion.
A small onion (approximately 2 inches in diameter) will give you about half a cup of diced onion. A medium-sized onion (2-3 inches in diameter) will give you a full cup and a large onion (around 4 inches in diameter) will give you 2 cups of diced onion.
How do You Dice an Onion like a Chef?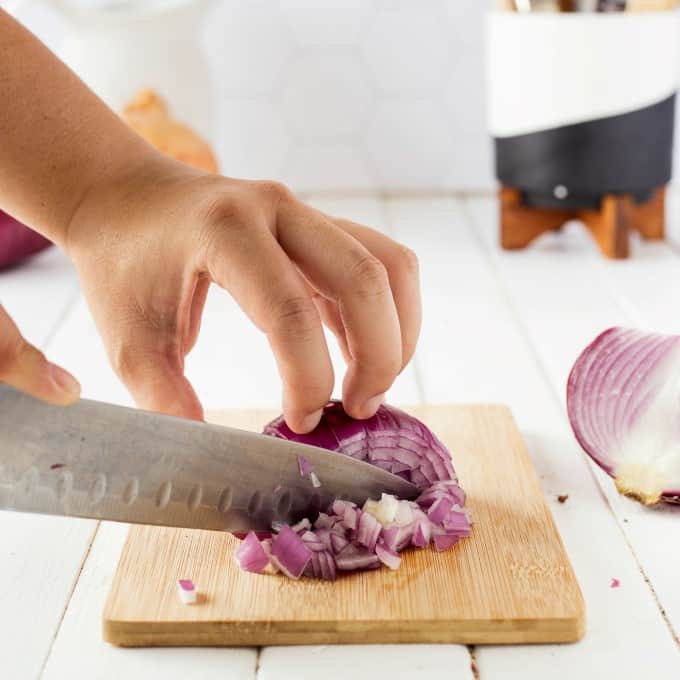 To dice an onion like a chef, you'll need to get all your tools together – In this case, your onions, a cutting board, and a sharp chef's knife.
Half the onion from stem to root – otherwise known as pole to pole.
Peel off the papery outer skin from the onion.
Place the onion cut side down on your cutting board with the root end facing your non-dominant hand (so if you're left-handed it should face your right hand and vice versa).
Using your non-dominant hand to press down lightly on the top of the onion, make horizontal cuts (parallel to the cutting board) to but not through the root end. How many cuts you make will depend on how thick you want the diced pieces to be – generally 3-4 cuts for a medium-sized onion.
Rotate the onion 90 degrees and cut from pole to pole at quarter-inch intervals, being careful to leave the root end of the onion intact.
Rotate the cutting board (because trying to rotate the onion at this point is tricky) 90 degrees and slice down vertically across the cuts that you just made. You can use your knuckles as a guide for the knife as you hold the onion.
When you get to the root end of the onion, cut it out, the onion should fall away in small cubed pieces.
Repeat with the other half of the onion.
How to Dice an Onion in a Food Processor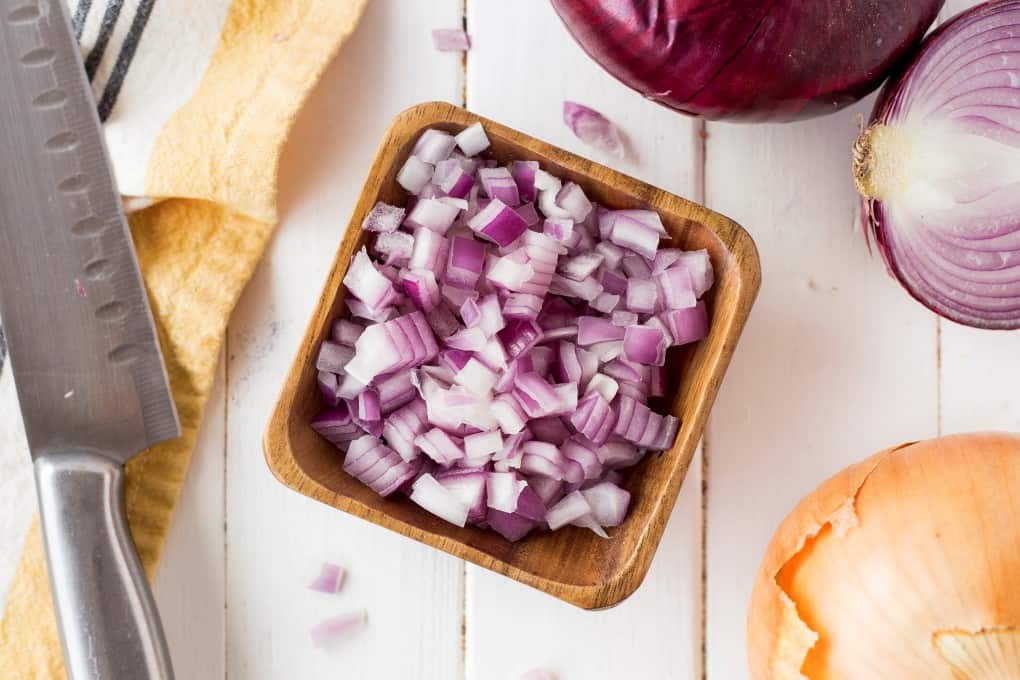 If you need to dice more than a single onion, and want to make it more efficient, a food processor is the easiest way to do it. Here's how you can dice onions in a food processor.
Peel the papery outer skin off the onion.
Cut the stem and root end off.
Quarter small and medium-sized onions. For large onions, cut into eighths to ensure they fit into the food processor.
Use the chopping / mixing blade, also known as the S blade. Using the slicing / shredding blade will turn the onions mushy.
Press the pulse button between 4 and 7 times, depending on how finely diced you want the onions.
The advantage of the food processor is that it's fast and there are no tears. It doesn't guarantee every piece is even though, which for home cooks is generally fine. This is also great if you need a large number of onions done quickly.
Dicing an onion is a great cooking skill to have as diced onions feature in a lot of recipes.
Do you have any tips or tricks for dicing onions?
Pin it HERE!!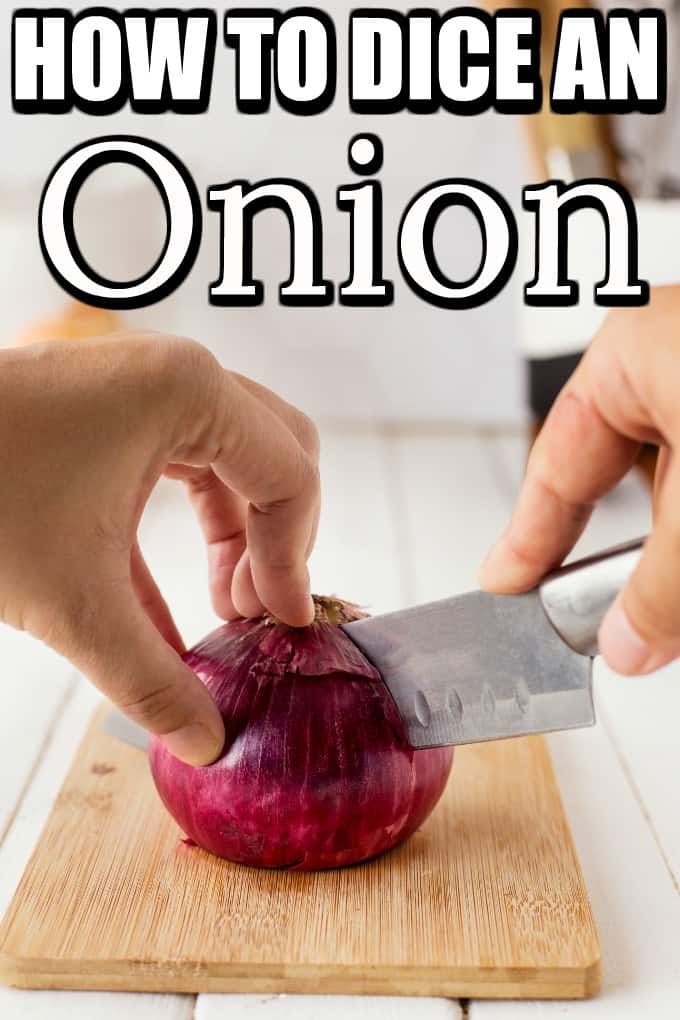 Pin it HERE!!