Here is another post in our how-to series. Pine nuts are one of the most expensive nuts on the market today. Partly because they're rare and hard to find and partly because they're so labor-intensive to harvest. So you want to really know How to Toast Pine Nuts properly, so you aren't wasting them and getting the best out of each nut!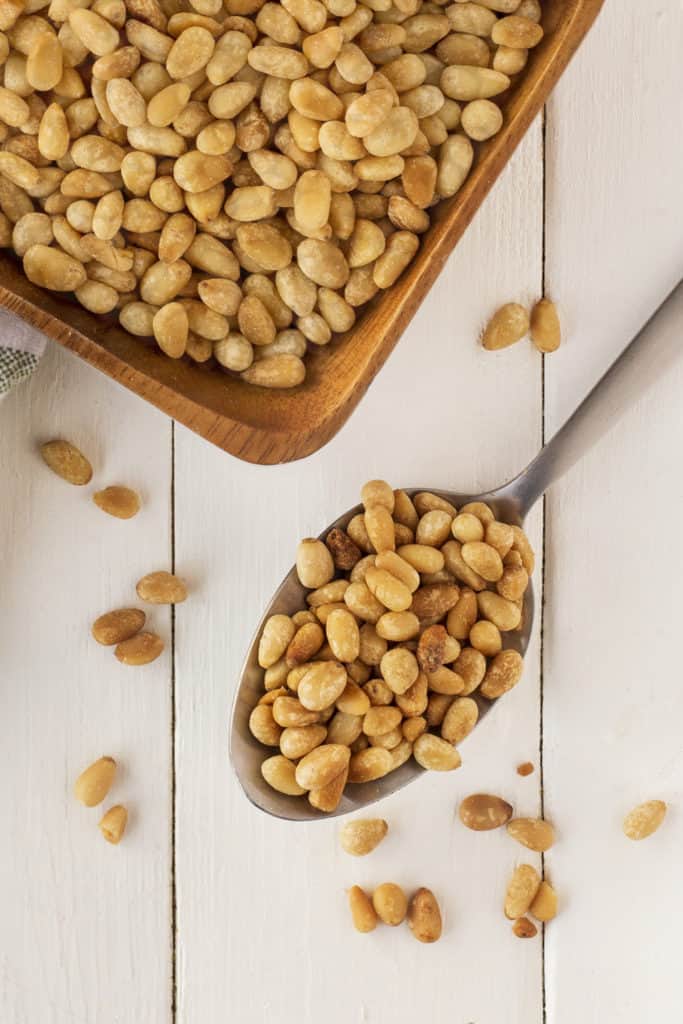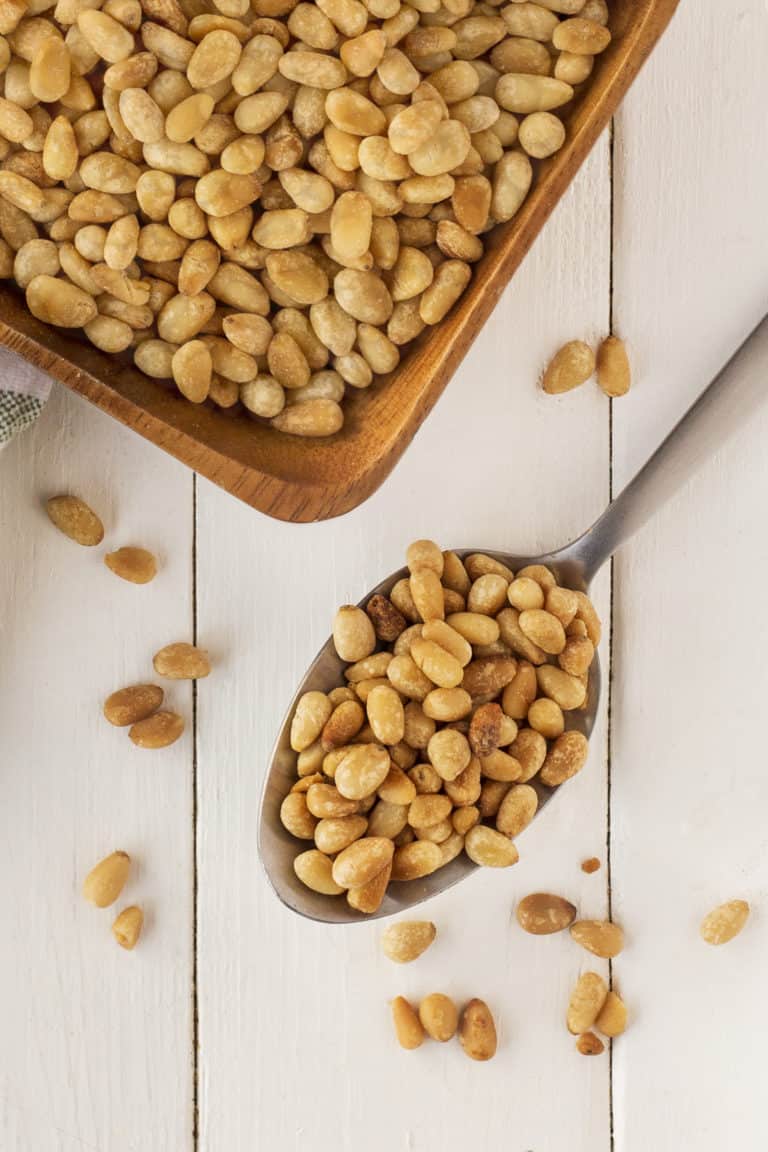 Pine nuts are not true nuts (and thus, many people with nut allergies can eat them) but rather seeds. There are roughly 20 varieties of pine trees that produce pine nuts big enough to eat.
Some people do complain about a condition called pine mouth, which leaves an intense metallic taste anywhere from 12-48 hours after consumption. The sucking-on-a-penny taste worsens and can last up to 3 weeks—a very nasty side effect for those that are afflicted.
It takes between fifteen and twenty-five years for pines to start producing pine nuts and three times that (up to 75 years!) to reach maximum production. In North America, pine nut harvest is primarily from wild trees, and the seeds are harvested by hand, which is part of the hefty price tag.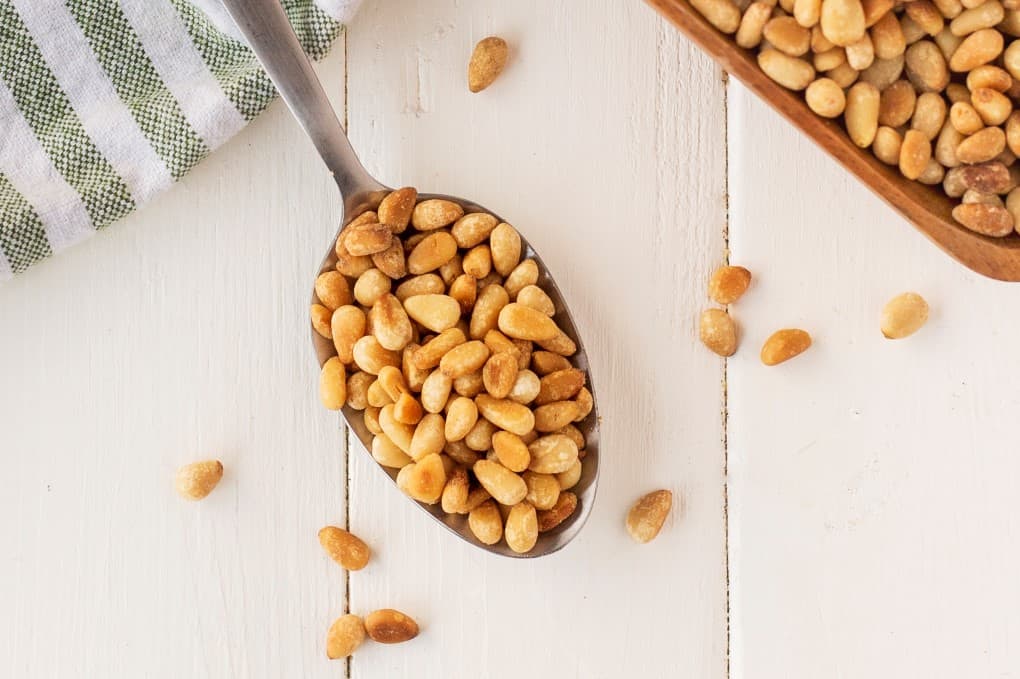 Helpful Items For This Post
This post contains affiliate links. As an Amazon Associate, I earn a small portion from qualifying purchases at no extra charge for you.
Harvesting Pine Nuts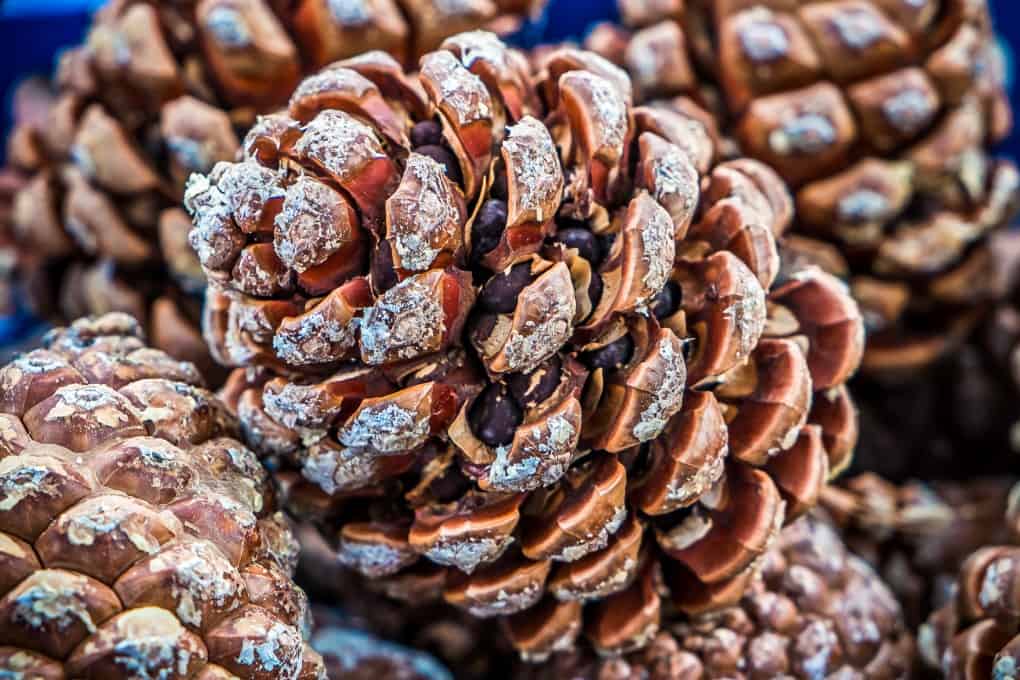 Pine nuts take between 18 months and 3 years to mature. They start growing in the early spring/late winter of one year and aren't ready to be harvested until the end of the following summer.
They are dormant for some of that time, but it still takes at least a year and a half to produce pine nuts! Pine nuts are ready to harvest about 10 days before the pine cone opens, which makes getting at them hard.
The most common way to harvest pine nuts is to collect the cones and put them in a burlap bag. The bag is placed in the sun for about 3 weeks to dry out the cones. Then the cones are smashed, releasing the seeds.
After that, the shell of the seed is removed by hand, revealing the pine nut. Interesting information, isn't it if you didn't know anything about pine nuts.
How to Toast Pine Nuts in the Oven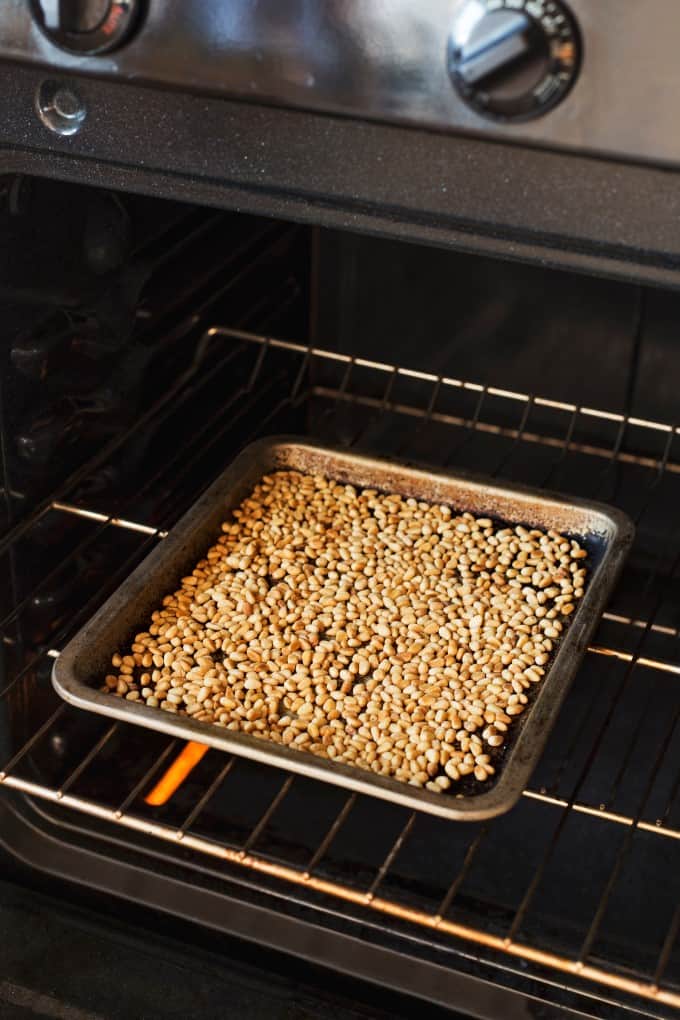 You can eat raw pine nuts, but toasted nuts are so much better and really bring out the flavor.
To do the oven method, preheat your oven to 350 degrees F.
Line a rimmed baking sheet with parchment paper. It's important to use a rimmed baking sheet as pine nuts are a bit slippery and likely to end up on the bottom of your oven if the baking sheet doesn't have an edge.
Parchment paper is preferable to silicone baking sheets as you can see the color change more easily and thus catch them before they burn. You can also put them directly on a baking sheet too as we did.
Spread the pine nuts on the baking sheet in a single layer. You don't need to add oil as the pine nuts have their own natural oils, but if you want to, olive oil is a good choice.
Bake the pine nuts for between 5 and 7 minutes, turning at 3 minutes or stirring occasionally.
DO NOT LEAVE THE KITCHEN. Pine nuts burn quickly.
How to Toast Pine Nuts on the Stove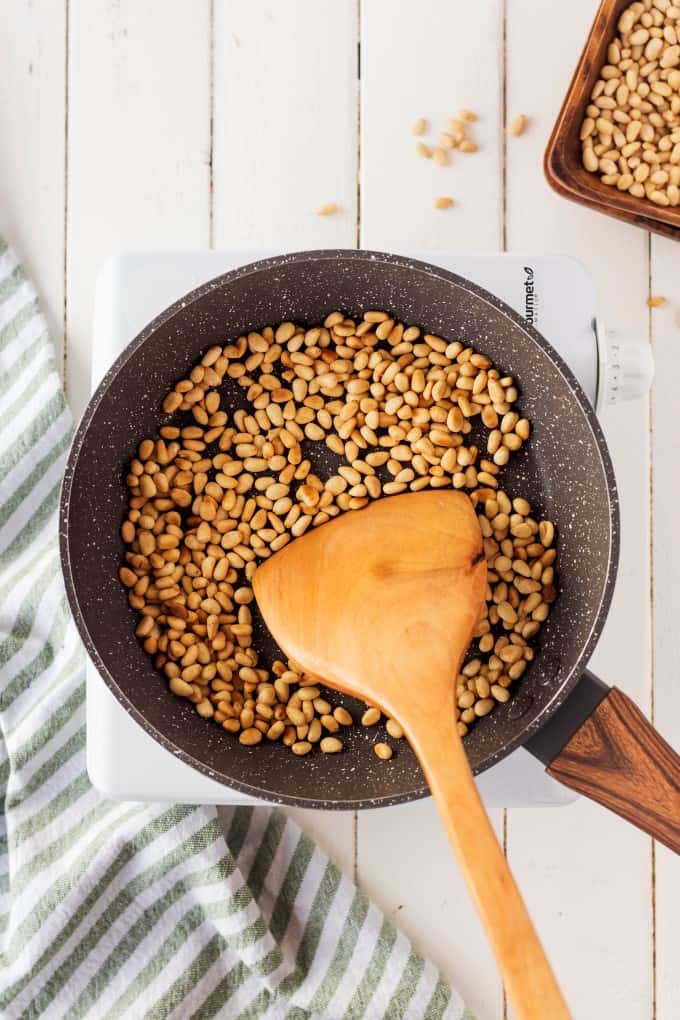 To toast pine nuts in the skillet with the stovetop method, simply add pine nuts to a warm, dry skillet in a single layer and toast over medium heat, and stir frequently until they are golden brown.
It takes between 2 and 5 minutes depending on how many you have and the material the skillet is made from.
Watch them carefully and remove them from the pan immediately when they're just getting fragrant and golden brown.
How to Toast Pine Nuts in the Microwave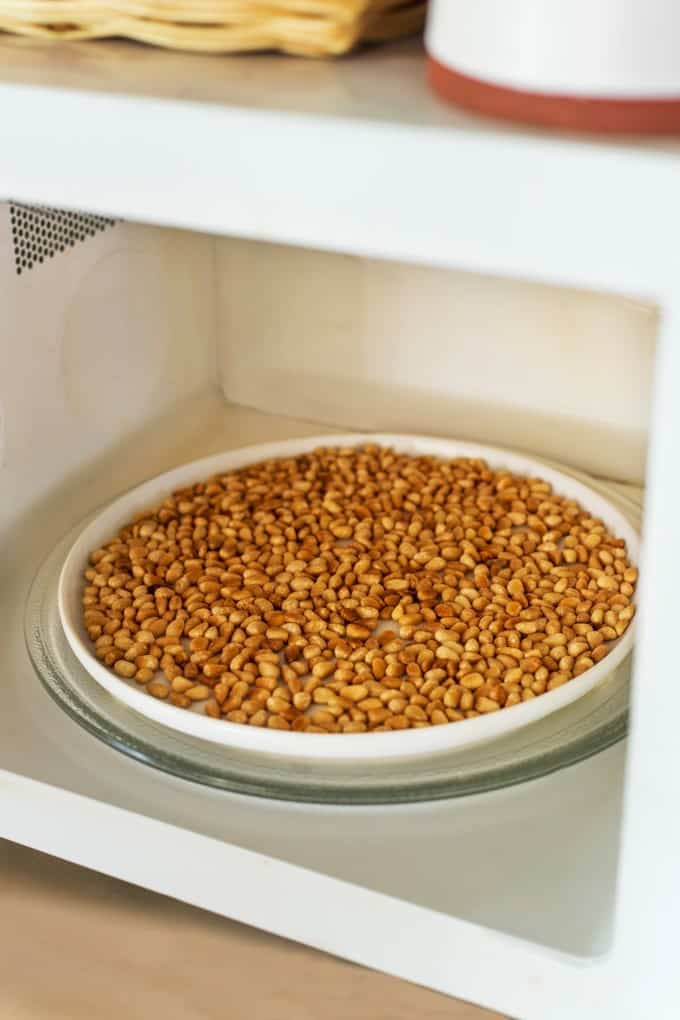 This is the quickest method but can also produce uneven results. Rinse pine nuts under cold water in a mesh sieve – they should be damp but not soaking wet.
Transfer to a brown paper bag and fold the top over twice. Microwave on high power for 60-90 seconds, remove and allow to cool for a minute.
You can also put them on a microwave-safe dish and microwave for 1 minute and then 15-second intervals until golden brown and fragrant. Watch them closely so not to burn.
Have you ever toasted pine nuts? Are you going to try now?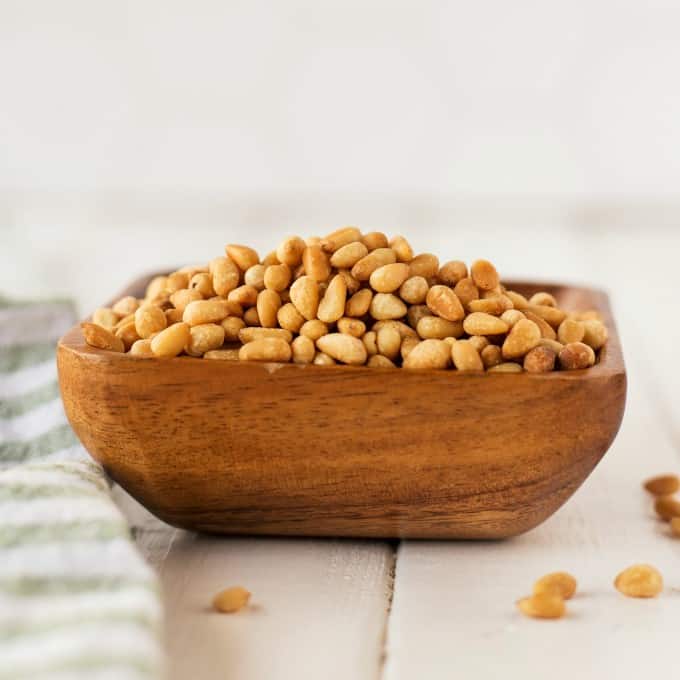 Pin it HERE!!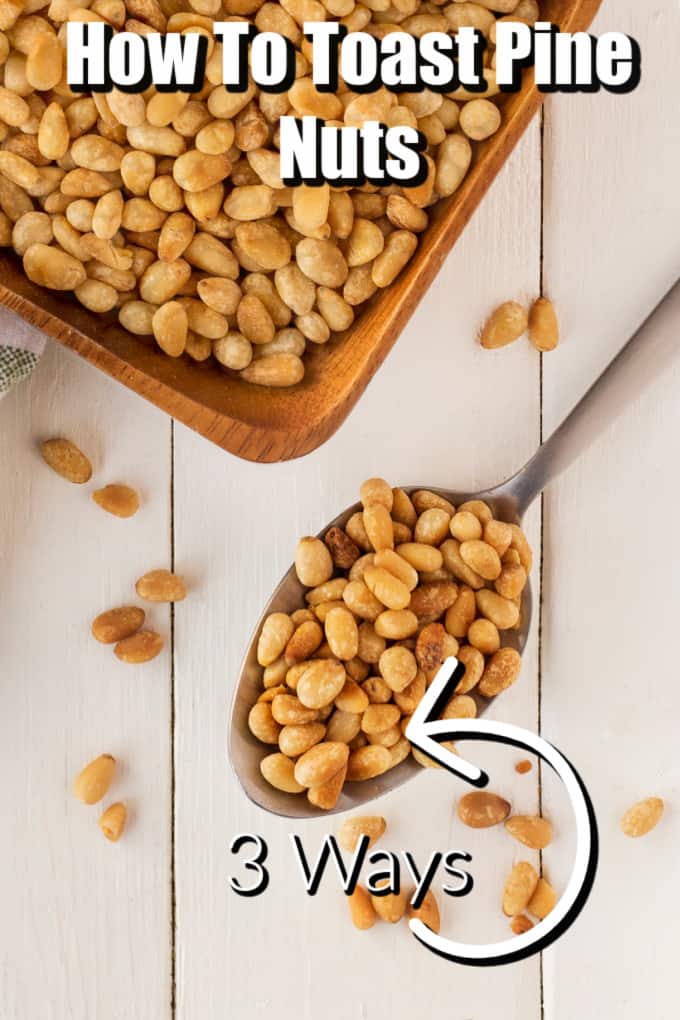 Pin it HERE!!