I love roasting veggies, they always turn out fabulously! It is amazing how they transform into almost entirely new vegetables when they are roasted. That is why I loved these delicious Roasted Italian Tomatoes.
Not only are they scrumptious hot out of the oven as a side dish, but they can be whirled up to make a magnificent sauce that everyone will adore.
Making them is really simple too – when you are at the farmers market, simply grab some extra Roma tomatoes to create this signature dish and sauce. We love doing Homemade Tomato Juice or Roasted Grape Tomatoes also! Or what about Spinach Artichoke Stuffed Tomatoes, mmmmm!!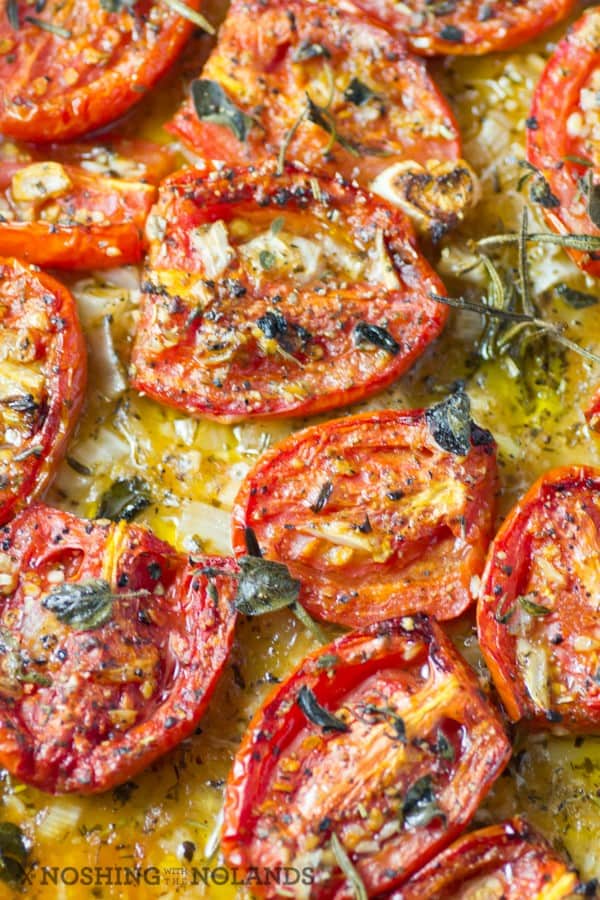 You will be in awe of the fantastic flavor and how simple they are to make. Your family will be thanking you for this scrumptious dish!
Tomatoes are full of vitamins and nutrients, so eating more of them is a great way to add more vegetables to your diet.
Helpful Items for This Recipe
This post contains affiliate links.
Extra Large Sheet Baking Pan with Cooling Rack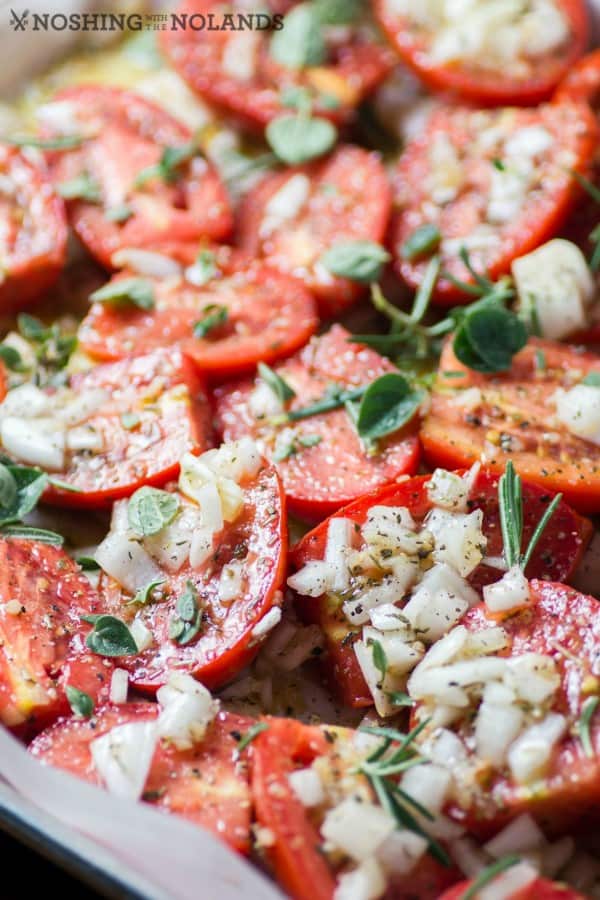 Here are the lovely tomatoes before going in to be roasted. I find that simple ingredients such as fresh herbs, onions, olive oil, and seasonings are all you need to bring out the flavor nicely.
I place the tomatoes on the pan, drizzle with olive oil, season with salt and pepper and Italian seasoning, add in some fresh herbs, and let them roast.
It really is amazing how simple this recipe is and how delicious it turns out.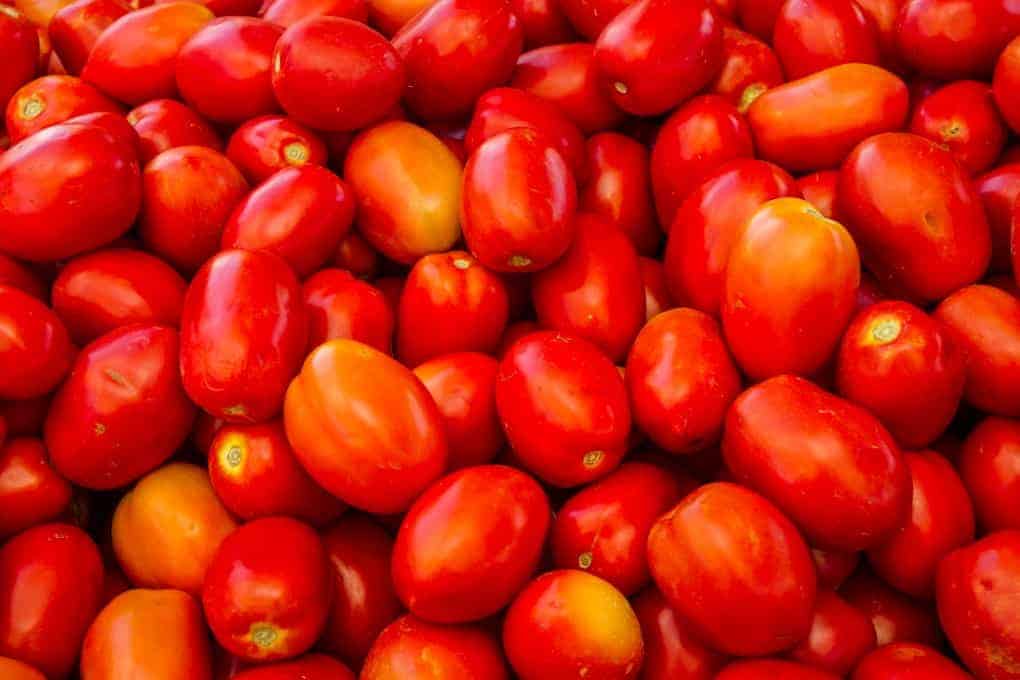 Summer tomatoes picked at their finest are always something to be enthusiastic about. They are just bursting with flavor just on their own.
When they're slow-roasted on a baking sheet with spices like Italian seasoning, rosemary, and even simple salt and pepper, they're sensational.
How Long Does it Take to Roast Tomatoes in the Oven?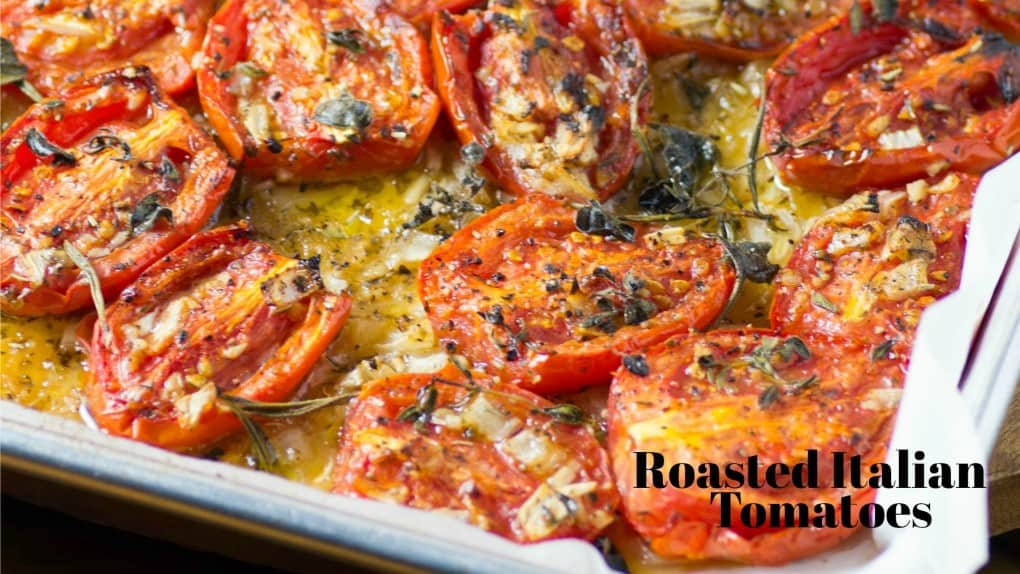 Tomatoes are the perfect vegetable to roast low and slow. I like to cook them for about 80 minutes in total – 60 minutes at 300F and then the final 20 minutes at 425F to get that charred look on the outside which also adds to the flavor and sweetness.
Look at how wonderful their transformation is!!! They taste like the best tomato sauce you have ever had even before blending them.
You could sprinkle them with a bit of parmesan if you like, but I like them just like this, hot off the pan! They're also amazing in salads – if you let them cool off first.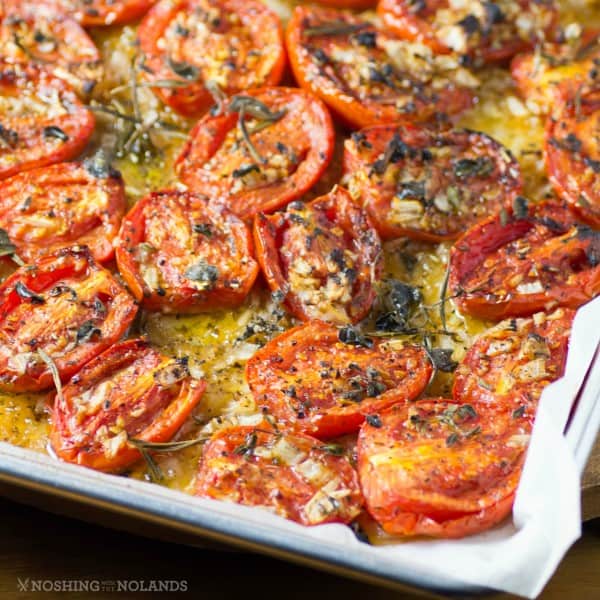 Adding oven roasted in place of regular tomatoes gives an added layer of complexity to homemade tomato soup.
It makes any tomato sauce into a signature item that friends and family alike will remember and ask for (and if they ask, you don't need to tell them how easy they are to make).
Simple Easy Homemade Canned Tomatoes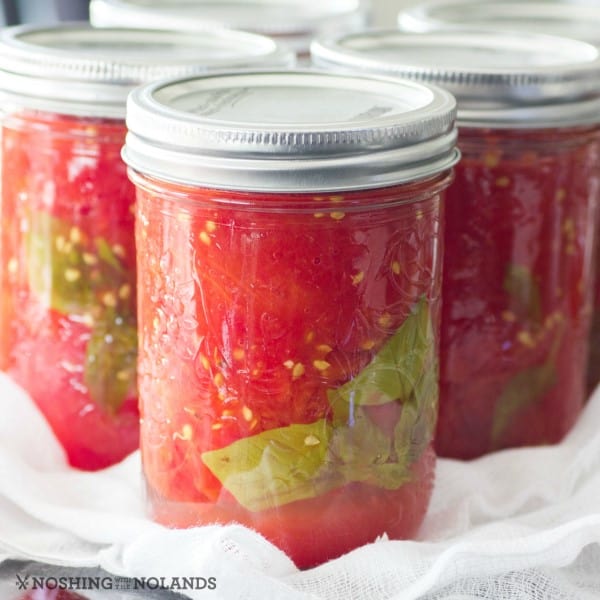 Love tomatoes? We sure do and we love canning them also with this Simple Easy Homemade Canned Tomato recipe. Check it out! You will really enjoy having gorgeous tomatoes all year round.
Having homemade tomatoes on hand in the middle of winter when the farmer's markets are closed for the season and the produce aisle begins to look a little dreary will help it seem like summer (or at least spring) is just around the corner.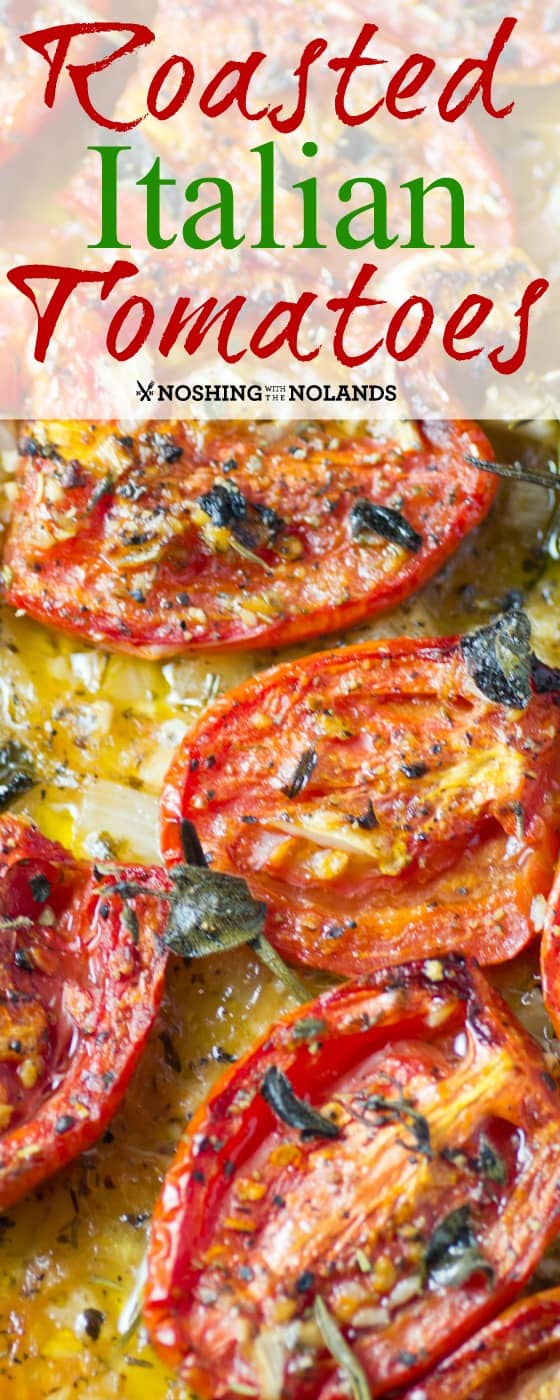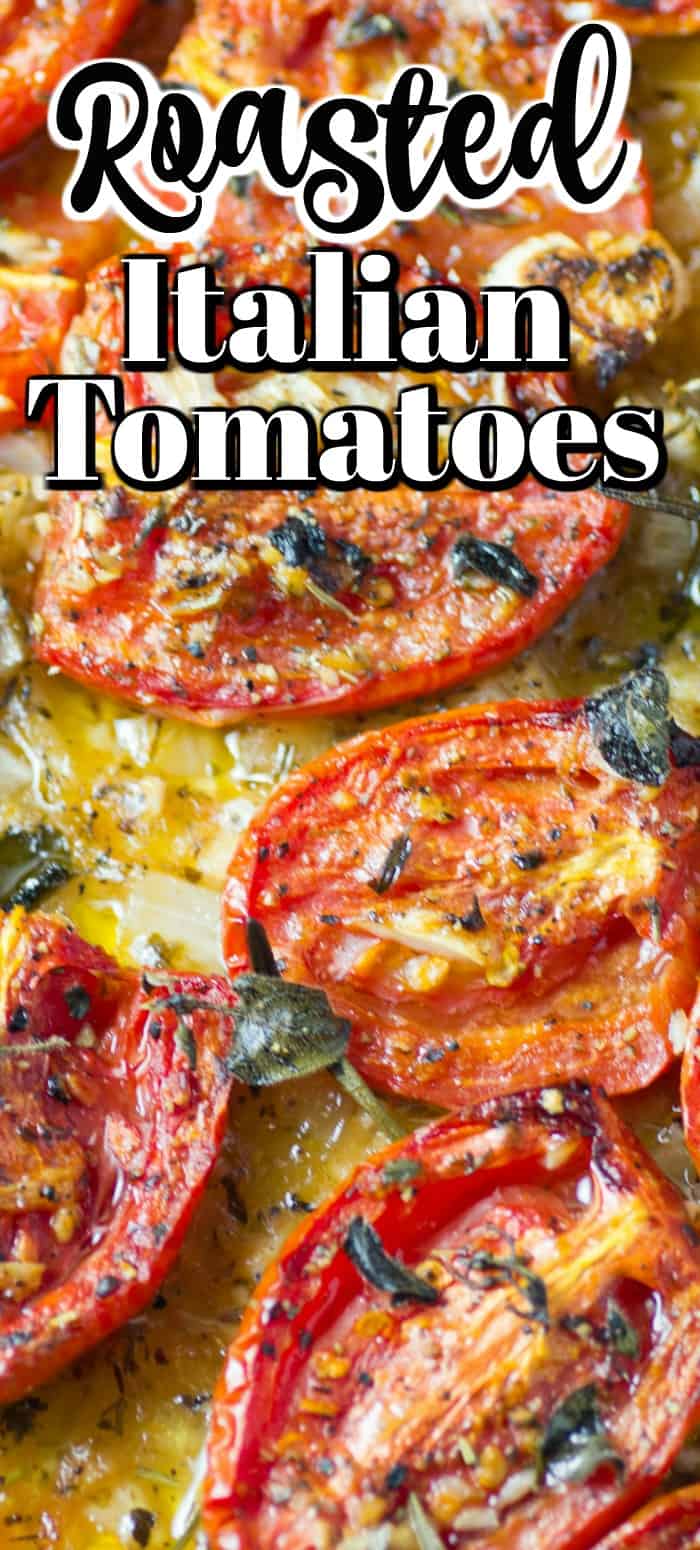 Roasted Italian Tomatoes Recipe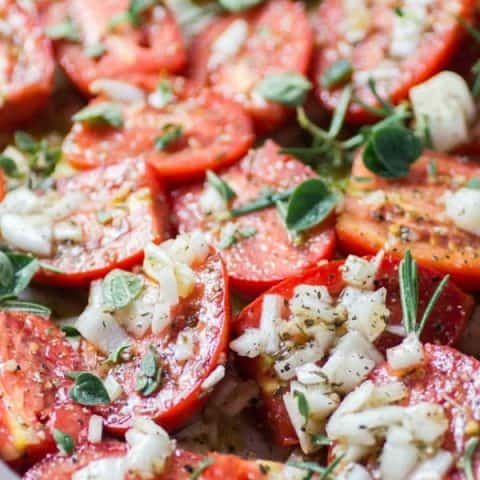 Roasted Italian Tomatoes
Yield: 4-5 servings
Prep Time: 10 minutes
Cook Time: 1 hour 20 minutes
Total Time: 1 hour 30 minutes
Simple Roasted Italian Tomatoes are bursting with flavor and can easily be blended into an amazing sauce.
Ingredients
20 large roma tomatoes
1/3 cup olive oil
6 cloves of garlic, minced
1 white sweet large onion, diced
1 Tbsp. Italian seasoning
1 Tbsp. sugar
Fresh sprigs of rosemary, thyme and oregano
Kosher salt and pepper
Parchment paper
Instructions
Line a large rimmed cookie sheet with parchment paper and set aside. Preheat oven to 300F. Halve roma tomatoes and place in a large bowl. Add the olive oil, garlic, onion, Italian seasoning, and sugar and toss gently.
Spread the tomatoes, cut side up, onto the prepared pan, spoon the onions up on top of the tomatoes. Generously salt and pepper and then top with the herbs but removing the stems and tearing up the leaves.
Roast in the oven for 1 hour. Turn the temperature up to 425F and roast for another 15-20 min. until slightly charred. Eat them hot off the tray or let cool and blend for an amazing sauce.
Recommended Products
As an Amazon Associate and member of other affiliate programs, I earn from qualifying purchases.
Nutrition Information:
Yield: 5
Serving Size: 1
Amount Per Serving:
Calories: 204
Total Fat: 15g
Saturated Fat: 2g
Trans Fat: 0g
Unsaturated Fat: 12g
Cholesterol: 0mg
Sodium: 80mg
Carbohydrates: 18g
Fiber: 5g
Sugar: 10g
Protein: 3g