Spinach, Artichoke Stuffed Tomatoes
These Spinach Artichoke Stuffed Tomatoes make a colorful side for so many dishes. Serving these with any protein, like chicken, fish, steak or lamb makes them an excellent accompaniment. They also make a great vegetarian main too! We have changed them up slightly from a cookbook that we have loved to use over the years, called Cajun-Creole Cooking by Terry Thompson. We have made this recipe countless of times and they are fantastic!!
I love having a pretty side like this for entertaining!! The stuffed tomatoes can be completely made ahead of time and then baked when ready to serve. Nothing could be easier than that!! The key to successful entertaining is having things ready ahead so the host and hostess can be part of the party and not stressed trying to complete dishes.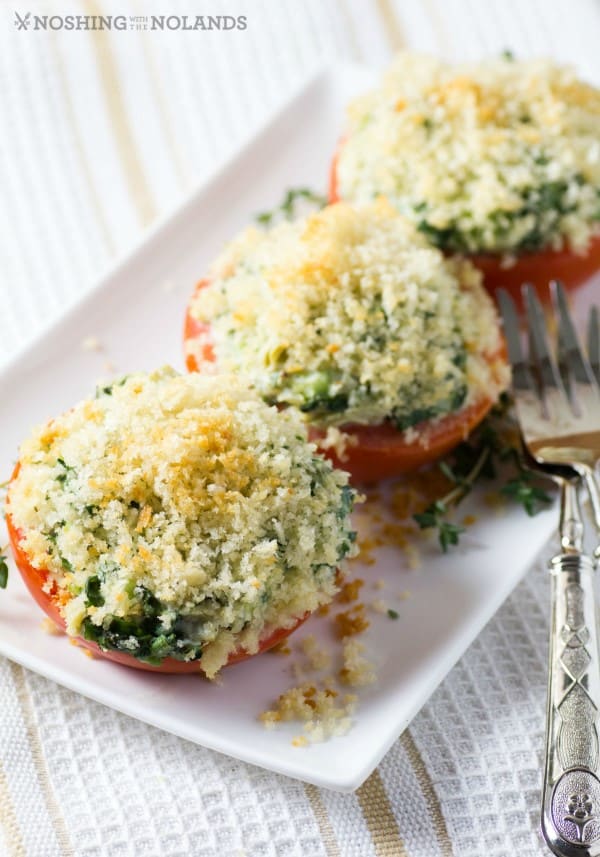 The inside of these tomatoes are creamy and decadent from the cream cheese, parmesan, thyme, spinach, artichokes and more while the topping it crispy and crunchy from gorgeous buttery panko crumbs. These tomatoes are a sure fire hit at any dinner. They would even make a great potluck dish, if it is for a sit down meal. Any hostess would love presenting these for a side dish!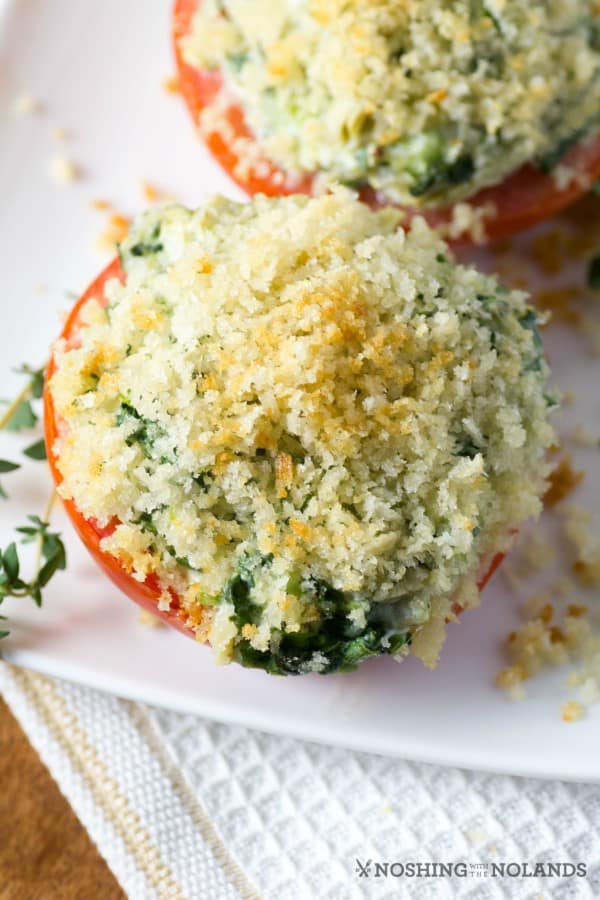 Not all Cajun-Creole cooking involves loads of spices as these wondeful tomatoes can attest to. They also add loads of color to your meal and using gorgeous heirloom tomatoes from you grocery store or your farmers market would be perfection!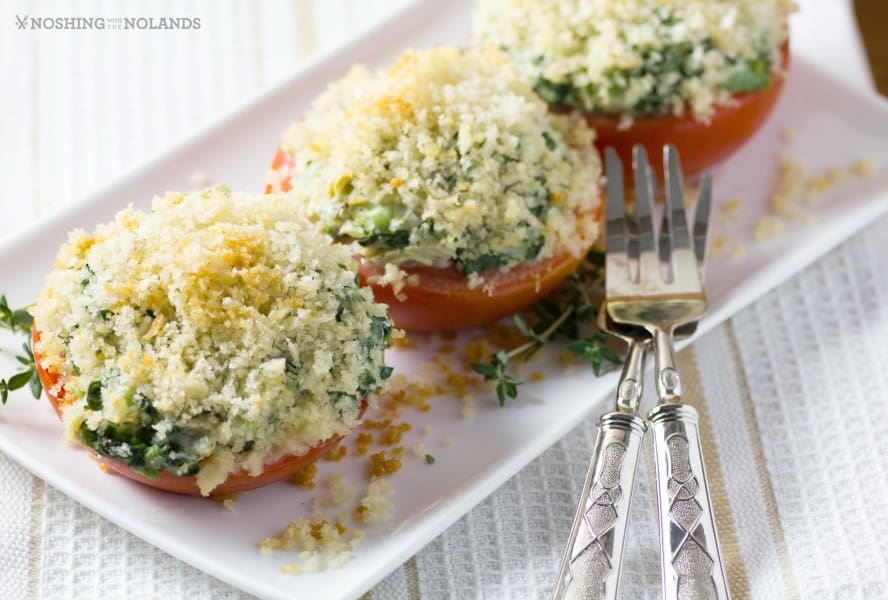 Yield: 6
Spinach, Artichoke Stuffed Tomatoes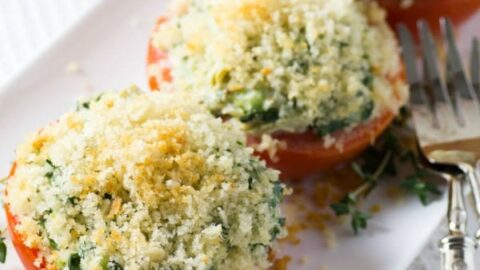 Spinach, Artichoke Stuffed Tomatoes are a Cajun-Creole classic that can be made entirely ahead of time and then baked when ready to serve.
Ingredients
3 large firm tomatoes
Salt and pepper to taste
6 oz. chopped artichoke hearts, drained and chopped
10 oz. package frozen chopped spinach, thawed and squeezed of moisture
4 green onions, chopped
3 oz. light cream cheese at room temperature
1 Tbsp. butter
2 Tbsp. sour cream
2 tsp. fresh minced thyme
1/2 cup Parmesan cheese, grated
Topping
2 Tbsp. butter, melted
1/2 cup panko bread crumbs, gluten free
Instructions
Halve the tomatoes crosswise and carefully scoop out and discard the pulp and seeds, careful not to puncture through the tomato. Sprinkle the inside with salt and pepper, set aside.
Preheat oven to 350F.
In a medium bowl combine the artichoke hearts, spinach, and green onions. In the bowl of a food processor add the cream cheese, butter, sour cream, thyme, salt to taste (1/2 tsp.), and Parmesan cheese. Whirl until smooth. Fold this cream cheese mixture into the spinach mixture until just combined.
The stuffed tomatoes can be completely made ahead of time and then baked when ready to serve.
Mix together the panko crumbs and butter in a small bowl. Set aside.
Spray a 9x13" pan with cooking spray. Stuff tomatoes with the cream cheese spinach mixture and top with the panko crumbs. If making ahead you can leave the panko crumbs off until ready to bake. Bake for 10 min. or 5 min. longer if they are cold from the fridge. Do not overcook.