This Vegetarian Stuffed Zucchini recipe is a delicious side dish bursting with flavors. It has the perfect stuffing with a Mediterranean flair: some mushrooms, tomatoes, bell peppers, and bread crumbs topped with oregano and feta. Bake it with a drizzle of olive oil, and you get the yummiest crispy dish!
Clearly, this is a great recipe, easy and adaptable, as you can switch things up by choosing another main vegetable or adapting your stuffing. Zucchinis are an amazingly versatile vegetable. You can make the best-fried zucchinis as finger food, some grilled zucchini pops for your next BBQ, maybe a zucchini casserole like this zucchini roll ups or zucchini au gratin with rice, or a yummy breakfast item such as zucchini carrot breakfast muffins.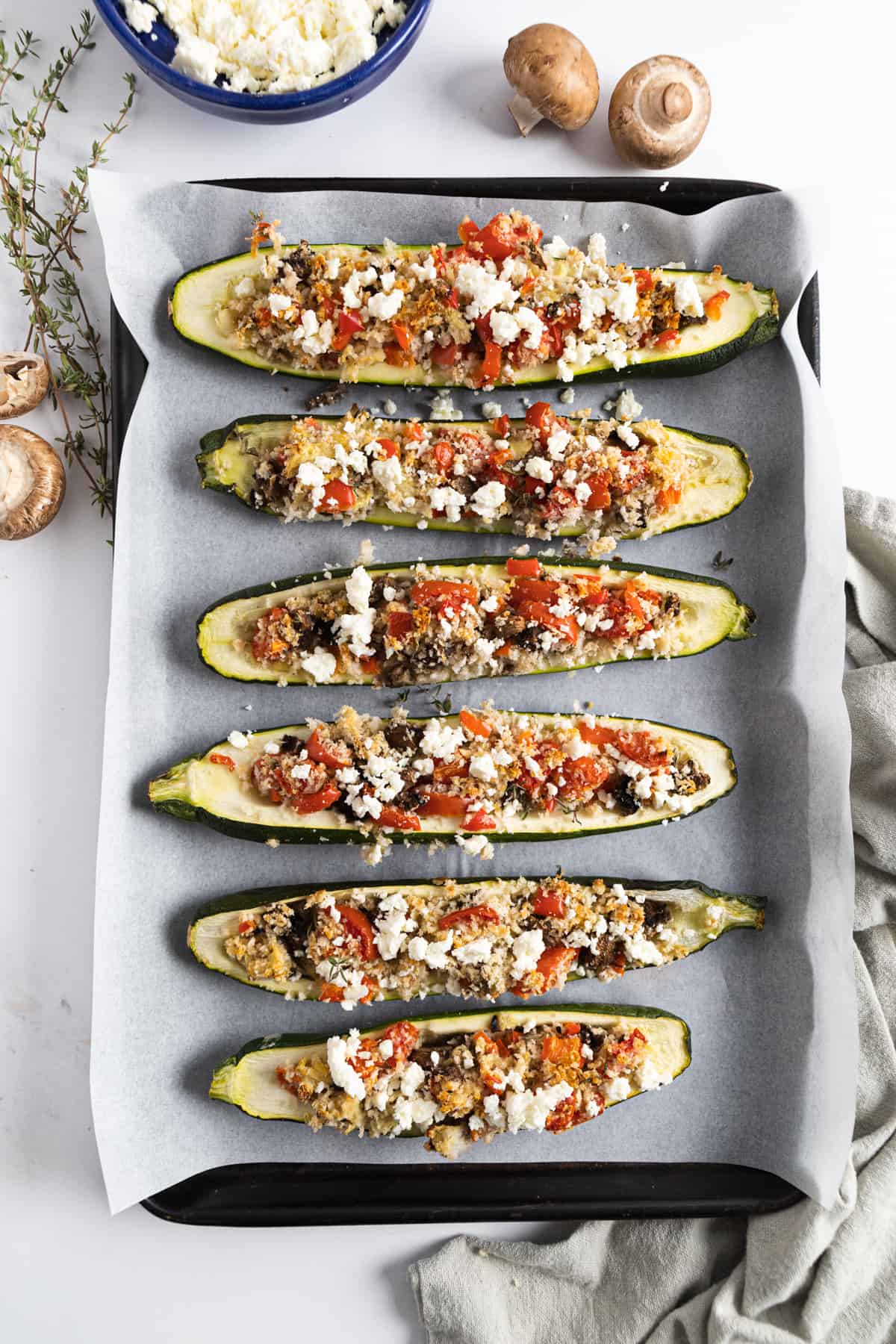 Surely, you will not regret giving a chance to this meatless recipe as it is quick to assemble and ready to eat in less than 30 minutes!
How To Make Stuffed Vegetarian Zucchini Boats
Indeed, making this simple and healthy recipe will be a show-stopper at the table. While in season, use up your summer squash and fill it up with fresh ingredients! The steps to prepare the stuffed zucchini boats are effortless. Don't just leave zucchini, though, for the summer months! You can get zucchini all year round and serve it up for the holidays.
Unless you are growing zucchinis in your garden, when choosing them at the store, grab the medium to large ones as it will be better to carve and fill.
Let's prepare it:
– Always wash your produce thoroughly and preheat the oven!
– Cut zucchinis in half length-wise, and using a teaspoon, carve the flesh keeping about a quarter of an inch thick of the zucchini. Save half of it for the filling.
– Chop your tomatoes, pepper, mushroom, and garlic.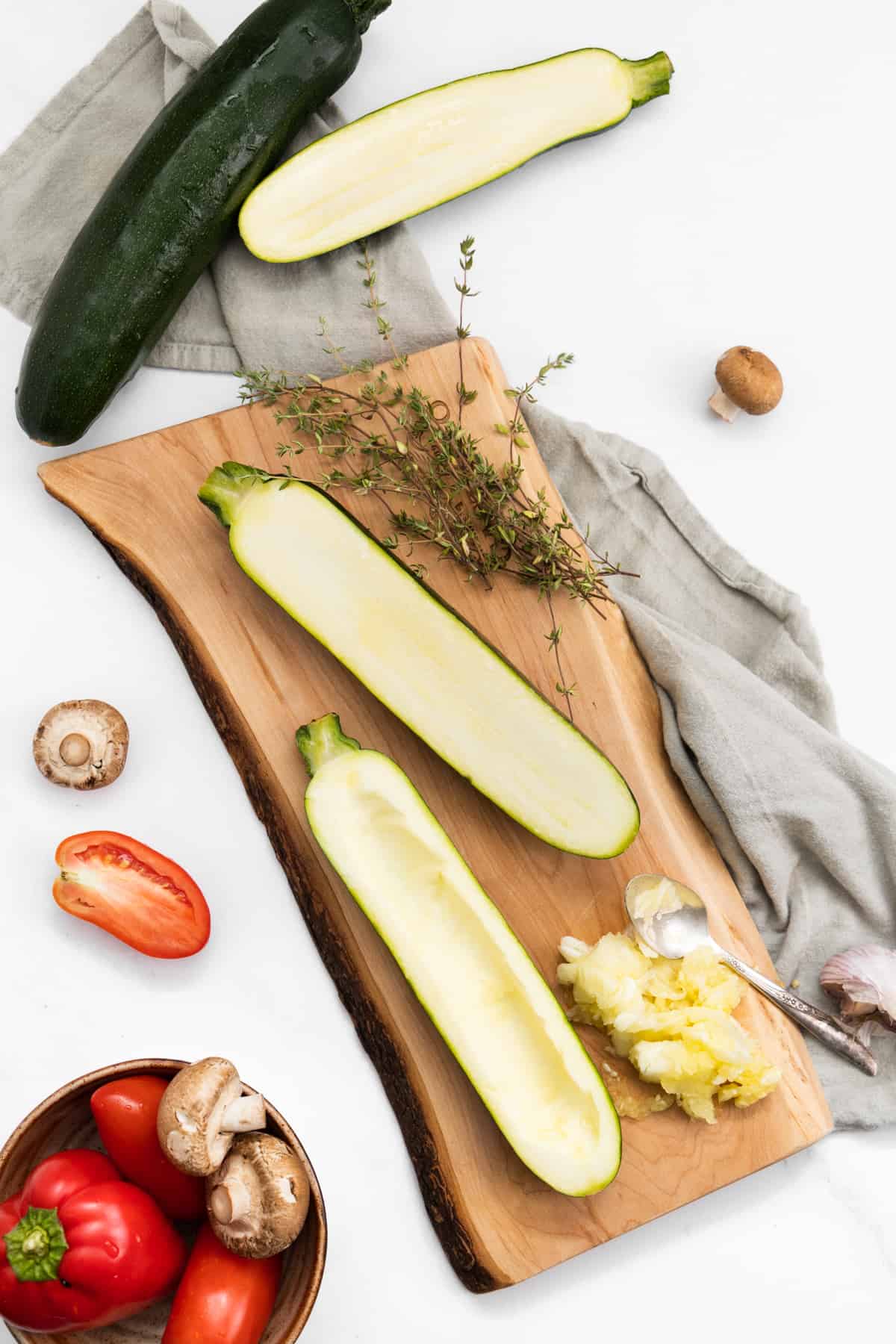 – In a bowl, mix the reserved zucchini flesh, vegetables, bread crumbs, and season with salt and pepper.
Tip: Do not wash your mushrooms with water! Grab some paper towel, wet it and gently clean them one by one.
– Generously fill the zucchini halves with the stuffing. Place them on a baking dish lined with parchment paper and cook them in the oven.
– Once done, top them off with feta and fresh oregano: the best part!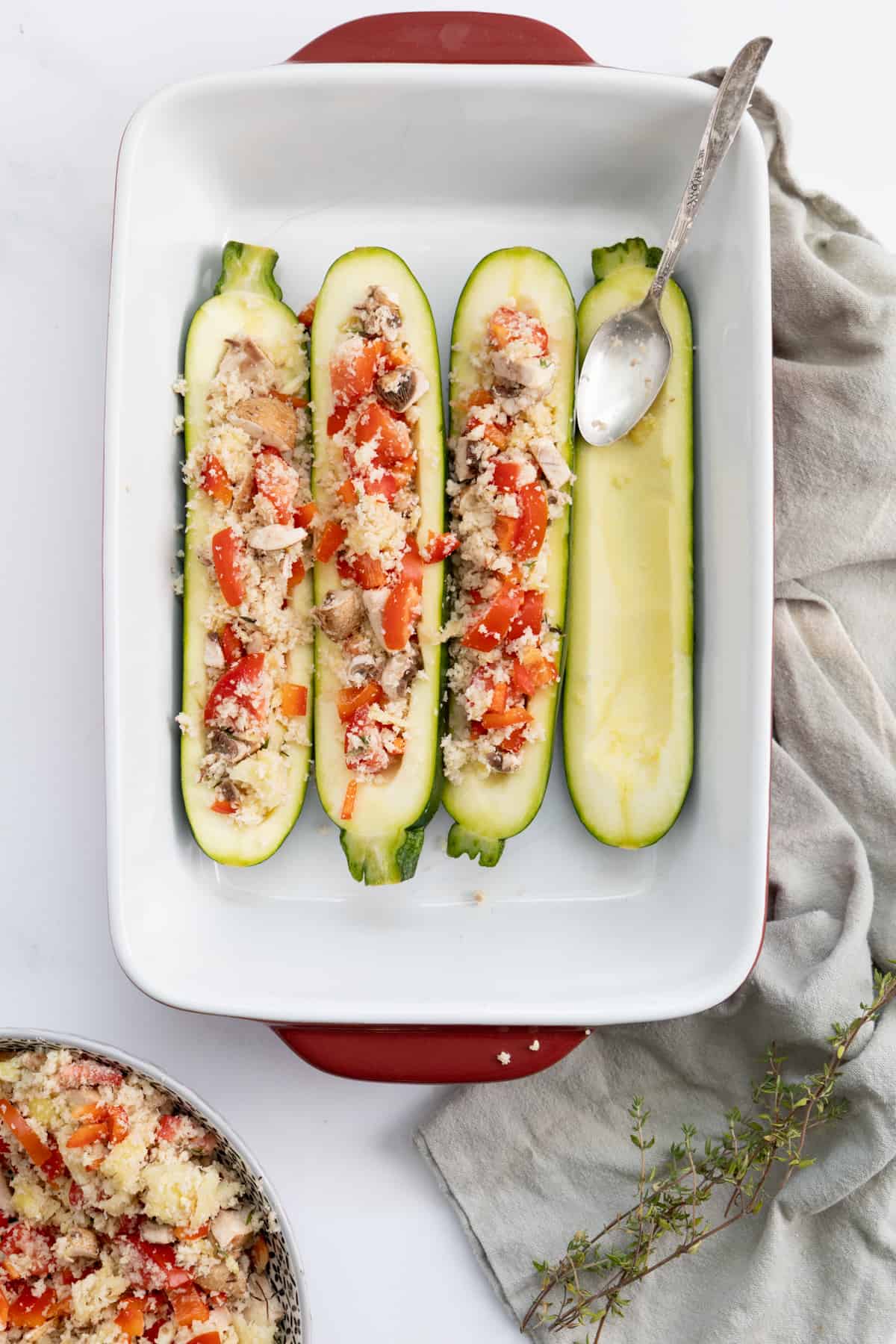 WHAT GOES INTO VEGETARIAN STUFFED ZUCCHINI
Most of all, the beauty of this stuffed zucchini recipe is that you adapt it endlessly, and it will still be absolutely delicious. Although it is already low-carb, you can also make it keto by choosing some gluten-free bread crumbs. Furthermore, if you wish to keep this dish plant-based, you just need to skip the cheese on top, and it would become vegan stuffed zucchinis.
THE VEGETABLES: For this recipe, we are using tomatoes, bell peppers, garlic, and mushrooms, but the sky is the limit. Here are some more ideas:
– Chopped greens such as spinach or kale
– Corn
– Peas
– Eggplants
– Dried tomatoes
Tip: Avoid vegetables that would take a long time to cook such as carrots, sweet potatos or potatoes.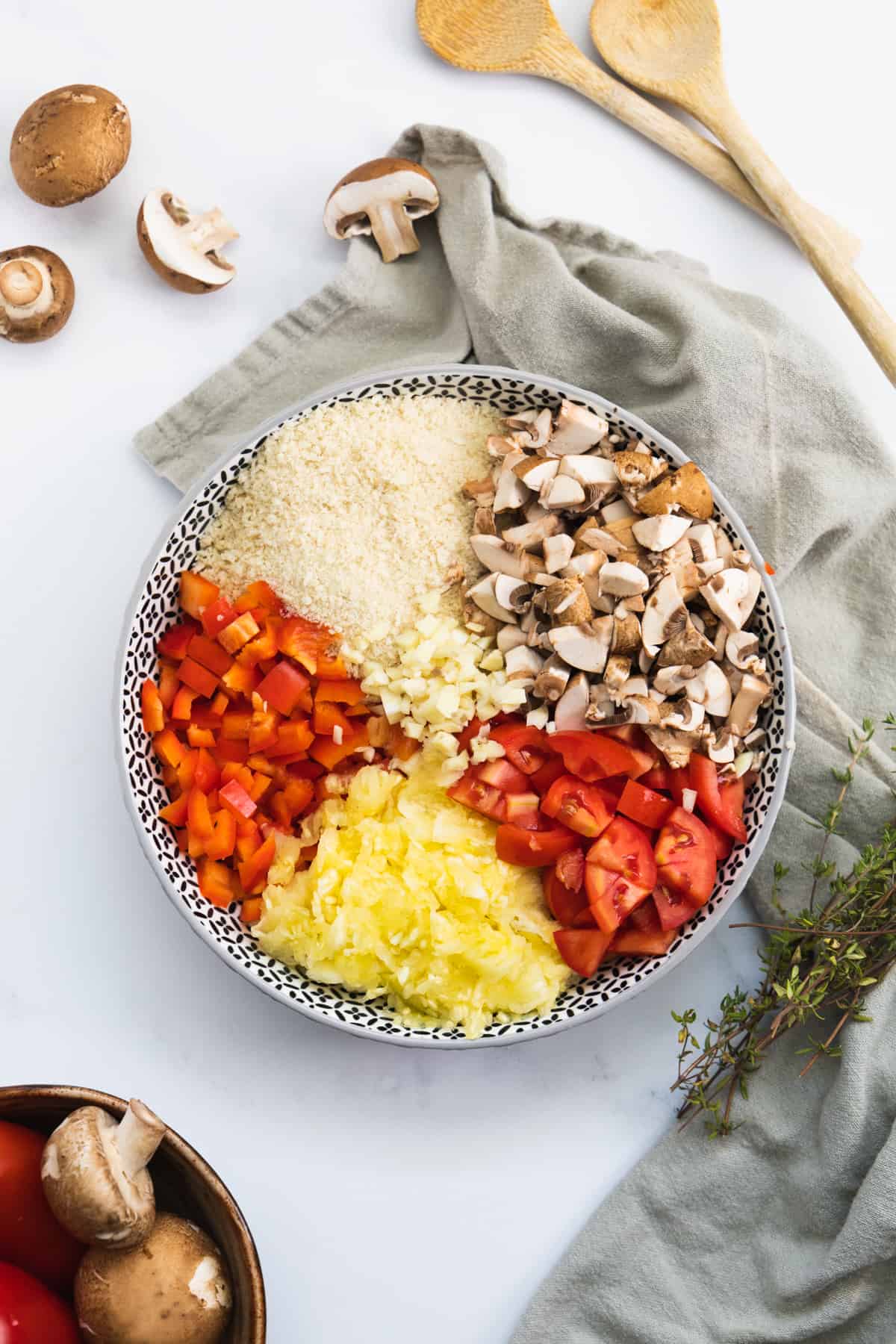 THE CRUMBS: Needed to absorb the moisture but also will add a crunch to the dish. You can use regular bread crumbs, but I would suggest giving a try to the panko crumbs for the extra crispiness!
THE CHEESE: That little extra that will give a theme to your vegetarian stuffed zucchini. For example, this one is giving a Mediterranean flair and, more specifically, Greek with feta and oregano. Alternatively, you can add shaved parmesan cheese and basil for an Italian zucchini boat.
Lastly, any type of cheese in your fridge would work, such as Emmental, swiss, provolone, or cheddar cheese. You can also mix the cheeses!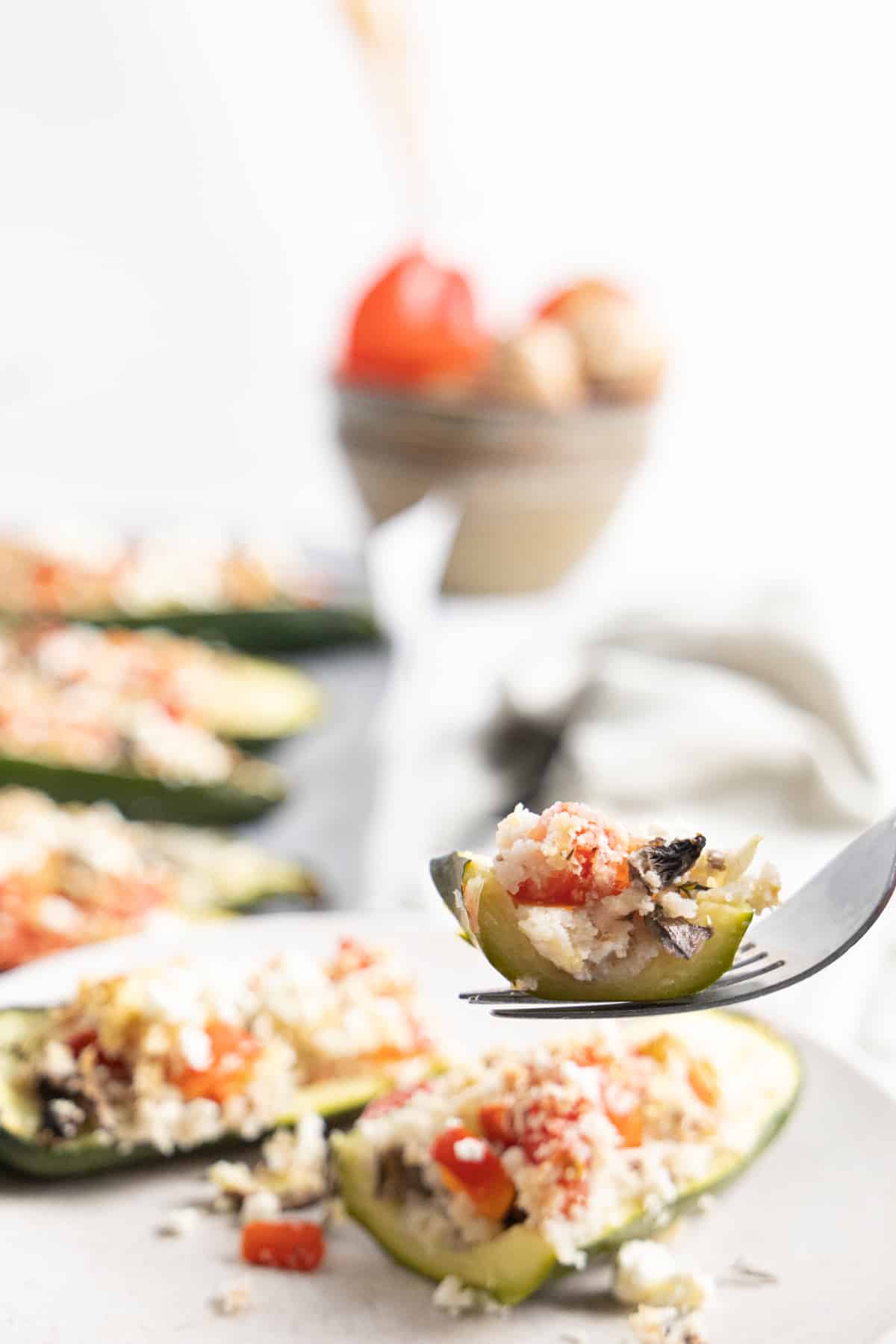 Extra Suggestions For The Vegetarian Stuffing
While this recipe is a side dish, you can also transform it into a wholesome meal by adding some quinoa, rice, or any other grains of your choice. Precooked or canned chickpeas, white beans, or lentils would make it even more nutritious.
WHAT CAN I SERVE VEGETARIAN ZUCCHINI BOATS WITH?
Since they present so well, they are a great side dish option for a festive event. Don't hold these just for weeknight meals; bring them out for the holidays too. They add color and variety to your holiday table too.
– Thanksgiving and its famous turkey
– A delicious glazed ham for Christmas
– How about on the side of this crispy chicken for your next family dinner?
– Also, don't forget this would be amazing with seafood such as this Maple Bourbon Pecan Salmon.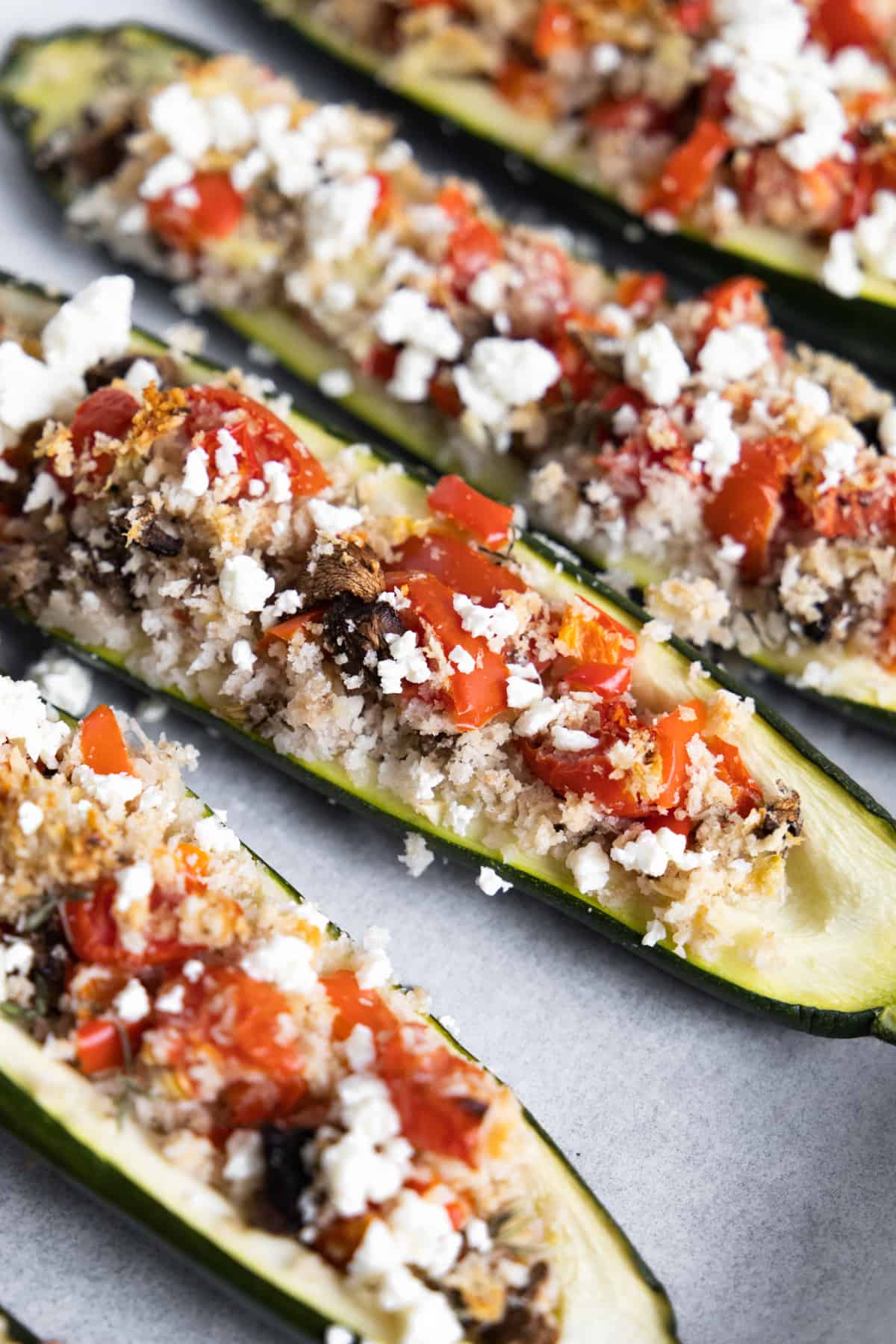 FAQ For The Vegetarian Stuffed Zucchini
Could I make this recipe ahead of time? If you need a head start, I would suggest chopping all the vegetables and carving your zucchinis. You could mix all the stuffing ingredients ahead of time except the crumbs as they could become soggy. Store in an air-tight container in the fridge for up to 24 hours.
What can I do with the zucchini flesh leftover? You can add it to a soup! Don't throw it away!
How long and how can I store the cooked side dish? You can keep it refrigerated for 48 to 72 hours in a container. I would not recommend freezing it as the zucchinis have high water content.
How do I re-heat the zucchini boats? The best way would be to add a drizzle of olive oil and pop it in the oven at 400F for 10 minutes. However, you can also use the microwave.
More Zucchini Recipes
There are so many more zucchini recipes you need to try while the season is still peaking!
Zucchini Cheese Soup: Stretch the summer flavor with this delectable easy soup! This is one of our favorite recipes, and we love to make it at least once during zucchini season.
Zucchini Tagliatelle will make you forget about pasta. Enjoy this as a great side dish.
A quick and yummy lunch with this grilled pepper, mushroom, and zucchinis panini.
Snack on these irresistible zucchini chips or this zucchini chocolate bundt cake.
Zucchini is great to work with and such a versatile vegetable that you can even enjoy it in sweet desserts too.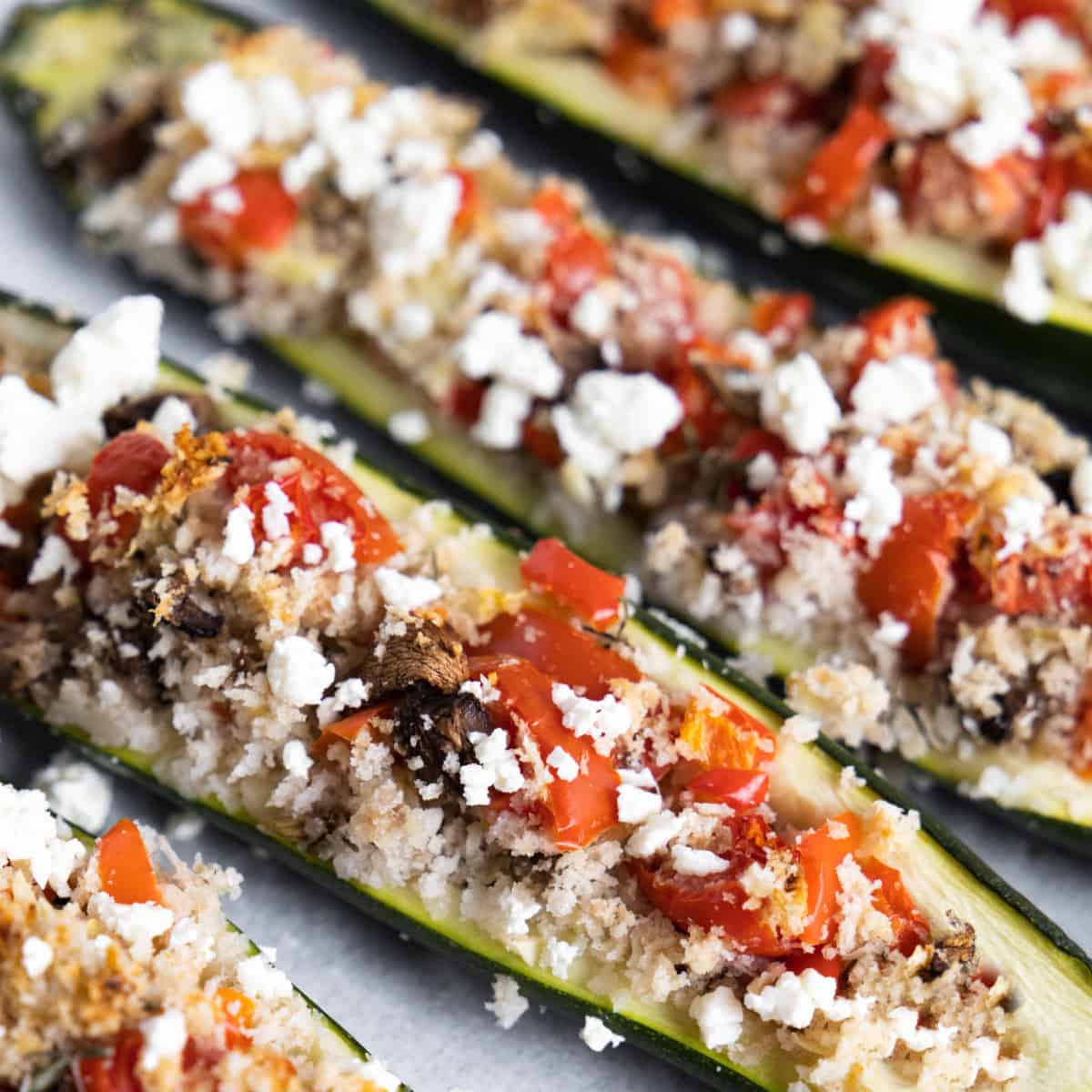 Pin it HERE!!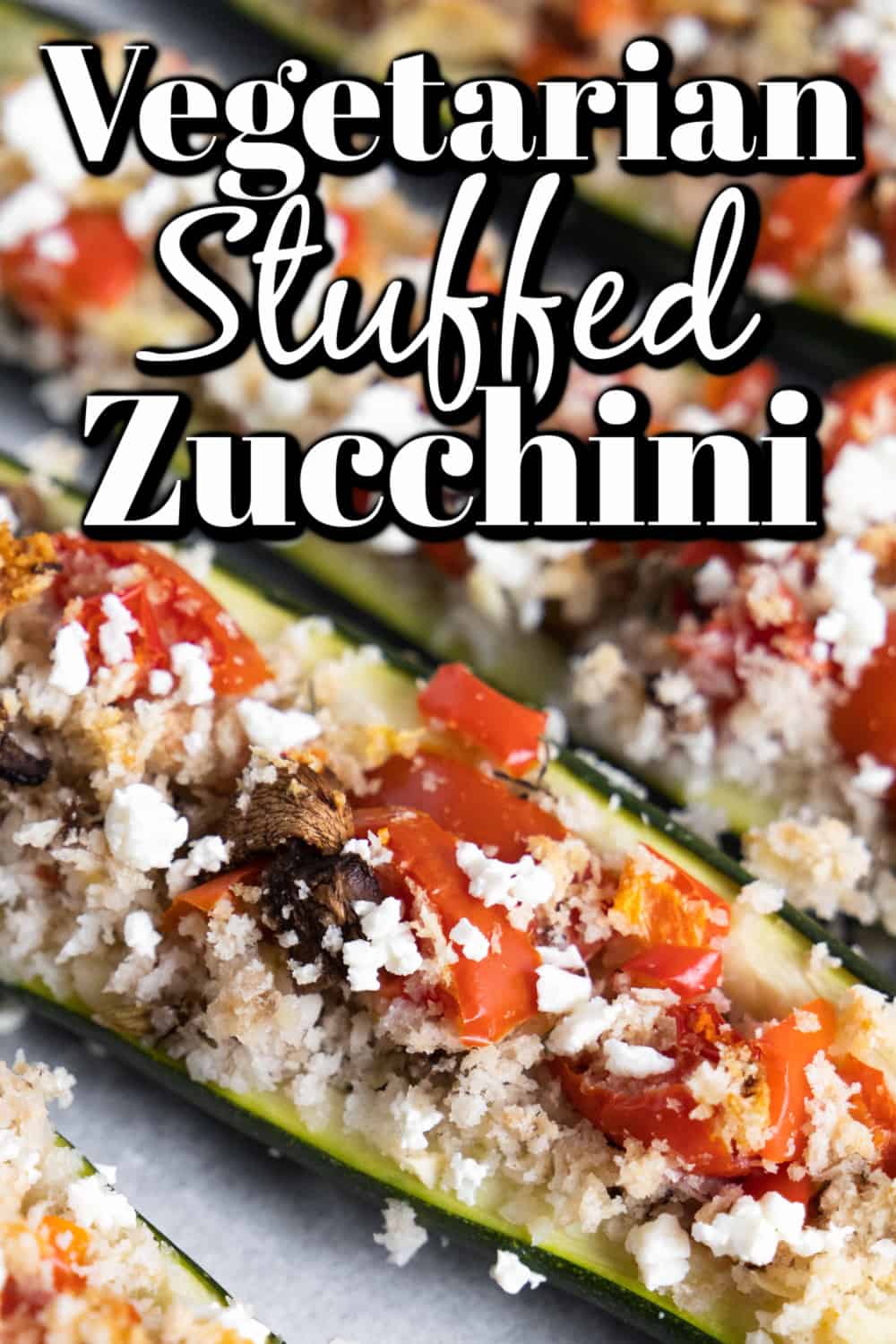 Pin it HERE!!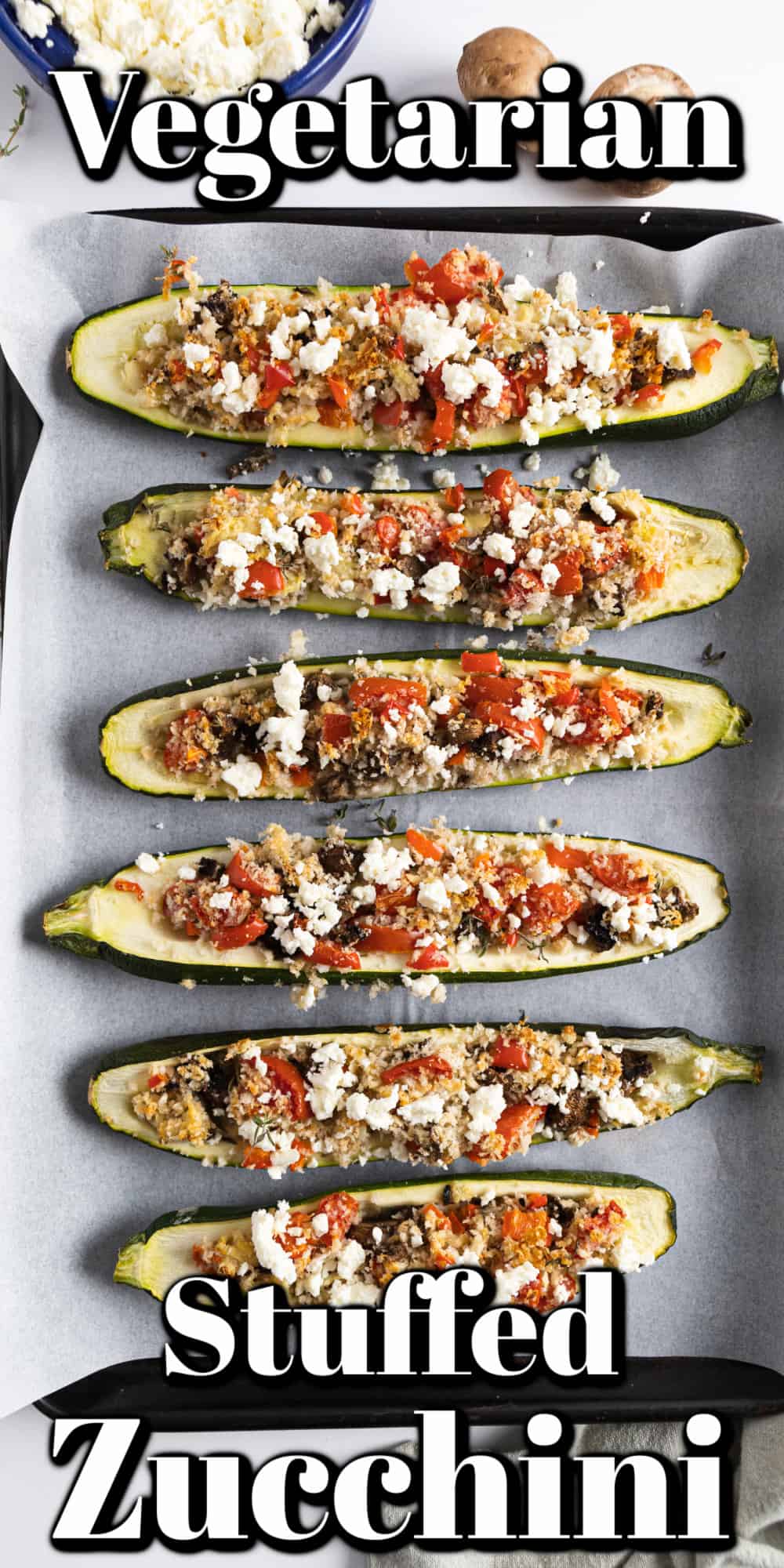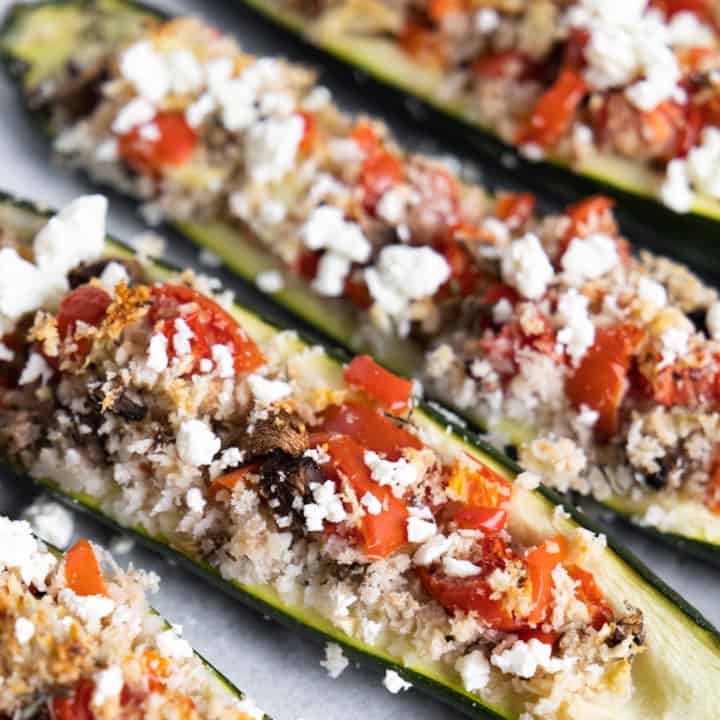 Delicious Vegetarian Stuffed Zucchini
Yield: 8 portions
Prep Time: 15 minutes
Cook Time: 25 minutes
Total Time: 40 minutes
These Delicious Vegetarian Stuffed Zucchini make an excellent side dish for many meals. They are quick and easy to make and would look great for festive dining too.
Ingredients
4 zucchinis
1 bell pepper
2 tomatoes
1/2 cup of whole mushrooms
3 garlic cloves
3/4 cup of panko crumbs, gluten-free if needed
2 tablespoon of olive oil
4 tablespoons of crumbled feta
1 teaspoon of oregano
Salt and pepper to taste
Instructions
Pre-heat the oven to 400F. Prepare a baking dish lined with some parchment paper or a silicone mat.
Wash the vegetables with water except for the mushrooms; use a damped paper towel to clean them.
Using a board and a knife, chop tomatoes, pepper, mushrooms, and the garlic cloves into small pieces.
Cut the zucchinis in half in the length and, using a teaspoon, carve the flesh of the zucchini, keeping about a quarter of an inch thick of the zucchini. Save half of it for the stuffing.
In a bowl, mix the reserved zucchini flesh, vegetables, bread crumbs, and season with salt and pepper.
Fill up generously the zucchini halves with the stuffing. Place them on the baking dish.
Drizzle with olive oil.
Season with oregano, salt, and pepper.
Bake for 25 minutes
Sprinkle with feta before serving; enjoy!
Recommended Products
As an Amazon Associate and member of other affiliate programs, I earn from qualifying purchases.
Nutrition Information:
Yield: 8
Serving Size: 1
Amount Per Serving:
Calories: 113
Total Fat: 5g
Saturated Fat: 1g
Trans Fat: 0g
Unsaturated Fat: 4g
Cholesterol: 4mg
Sodium: 160mg
Carbohydrates: 14g
Fiber: 2g
Sugar: 4g
Protein: 4g
Recipe calculation was provided by Nutritionix and is an estimation only. If you need nutritional calculations for medical reasons, please use a source that you trust.