Cheesecloth Herb Butter Turkey Recipe
Disclosure: I was compensated for this post. All opinions and experiences are my own.
Here at Noshing With The Nolands, we are celebrating Canadian Turkey Month, which is October!! And for that celebration, we have brought to the table this amazing Cheesecloth Herb Butter Turkey Recipe.
This is a turkey recipe that I have made countless times before for Thanksgiving dinner and Christmas dinner and it gives you a foolproof turkey every time. I believe I got it initially from Martha Stewart but it has evolved over the years.
The turkey is moist and delicious on the inside and heavenly aromatic, flavorful and crispy on the outside. Perfect to serve with all your side dishes and cranberry sauce.
It makes a showstopper of a presentation and you will get rave reviews. The turkey recipe does require basting every 30 minutes but that gets the best golden brown skin ever and trust me the best tasting gravy ever too.
Celebrate Canadian Turkey Month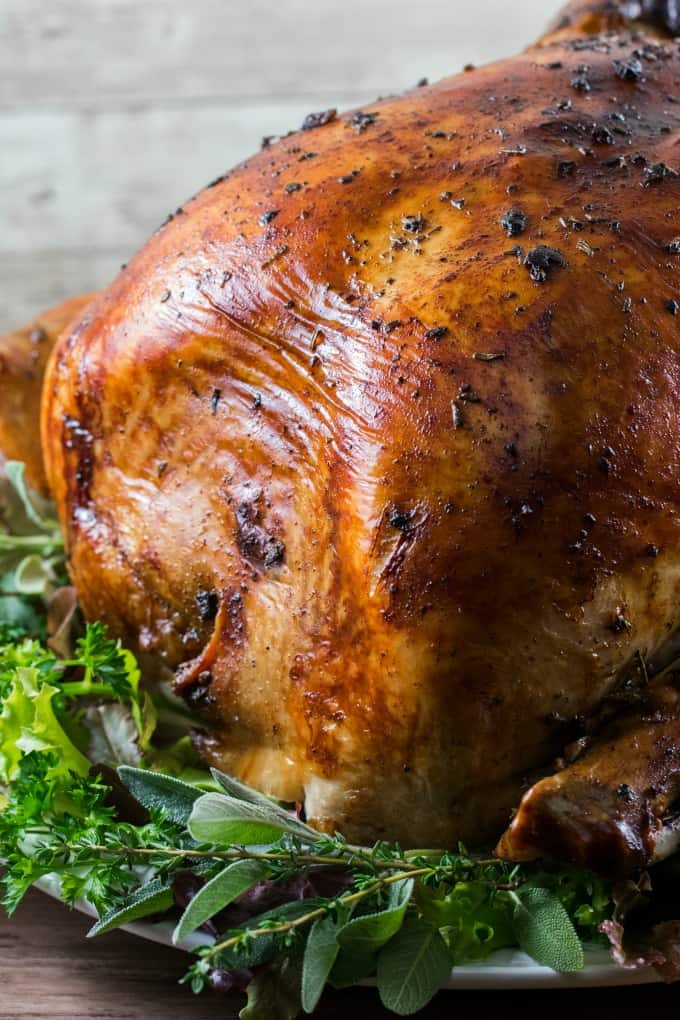 This glorious turkey was 23 lbs. A big bird but then I was very, very happy to also get lots of leftovers. Turkey leftovers are the best!!
I am not just talking about the next day when you can have the same dinner all over again but to recreate easy meals on the fly with pre-cooked turkey at the ready!!
Pack your friends and family take-home packages for them to enjoy also. That is always welcomed when they aren't cooking for that holiday.
To make this work don't just count on the usual of 1/2 to 1 lb. of turkey per person but up that to 1 1/2 to 2 lbs. and then you will have lots of leftovers. Below see how to make the most out of your turkey leftovers!!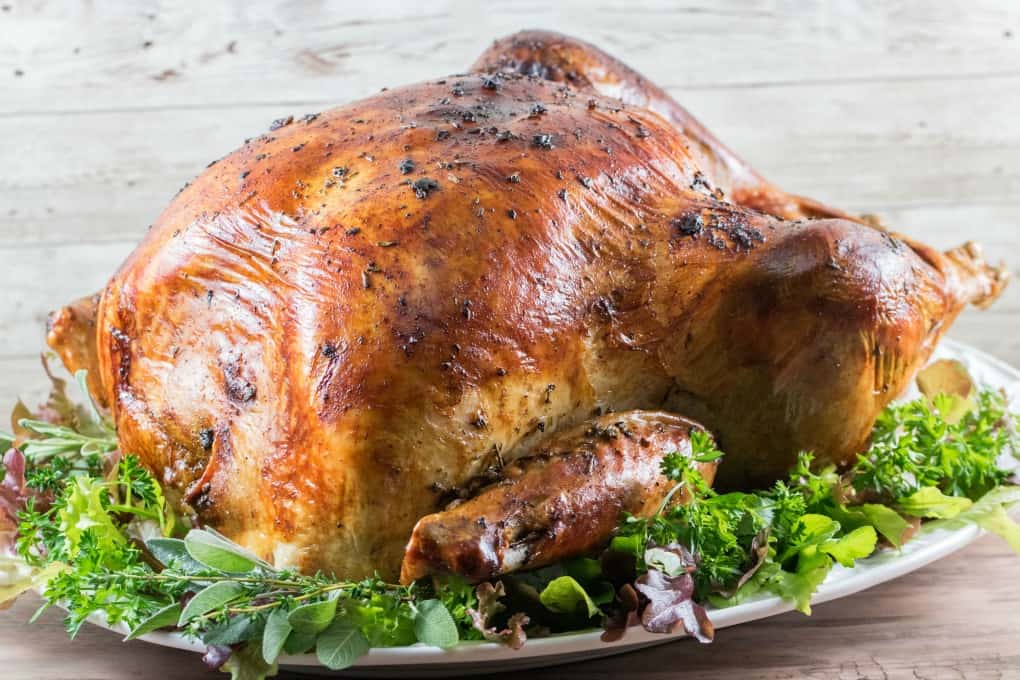 Look at this glorious turkey; it doesn't get much better looking than that for a Thanksgiving turkey recipe!! Let me walk you through the simple steps to get a turkey that is this beautiful on your table too!!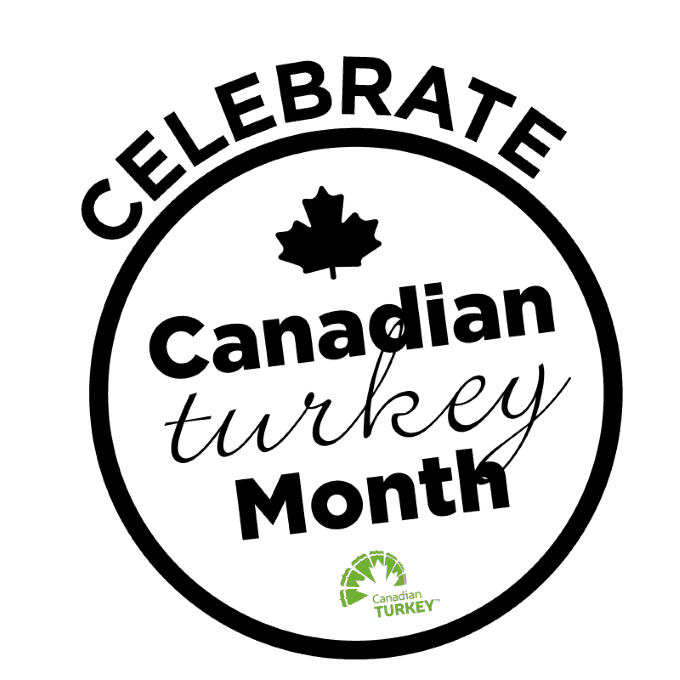 What do You Put in a Turkey Cavity?
You can put different items into a turkey cavity. If you aren't stuffing a turkey you will want to add flavor into the cavity to give your turkey that extra yumminess.
Even in a standard roasting pan the 23 lb. turkey still fit!! Start by removing the giblets and neck. Release the legs from the skin. Rinse out the inside and outside of the turkey and pat dry inside and out.
Cover the turkey with some saran wrap and let it sit until it gets to room temperature, this can take up to 2 hours depending on how large the turkey is.
Season with salt and pepper on the inside and then add a bouquet garni of herbs that are tied together with some cotton kitchen twine. I like to use sage, thyme, and rosemary.
Add in chopped celery and carrot. No need to peel the carrot just washed is fine. Then add in some large chunks of onion but don't overstuff the cavity.
How do You Cook an Unstuffed Turkey?
Tuck the legs back into the skin or loosely tie with cotton kitchen twine to hold together. Tuck the wings under the turkey so that they won't burn.
Make a herbed butter with the same herbs of thyme, sage, and rosemary that you made the bouquet garni with plus garlic, Kosher salt, and pepper. Massage this over the turkey.
The smell of this herb butter while the turkey is roasting will fill your home with an incredible aroma like no other. It will be very inviting when your company arrives.
Cheesecloth Turkey Recipe
Now get the cheesecloth ready by melting 1 1/2 lbs of unsalted butter and adding it to one bottle of white wine. Use one of your favorites; it will only be better with a good or at least decent wine. I used a Pinot Grigio to add just a little sweetness.
Immerse the whole cheesecloth into the butter and wine mixture. Lightly squeeze it out, making sure it is still very damp. Place it over the turkey breast, letting it go halfway down the sides.
Careful to make sure the soaked cheesecloth is entirely inside the roaster as you don't want the butter dripping into your oven.
The cooking time is as follows. Now put the turkey into a very hot oven of 450F. for 30 minutes. When you remove the turkey again you will see that the cheesecloth is very browned. Don't worry, this is normal.
Baste the turkey with the remaining butter/wine mixture about 1/2 cup. I found using a baster works way better than a basting brush. Keep in a warm place so the butter stays melted between basting.
Lower the temperature to 350F and place the turkey back in. Take the turkey out every 30 min. and baste with the butter/wine mixture.
Keep on Basting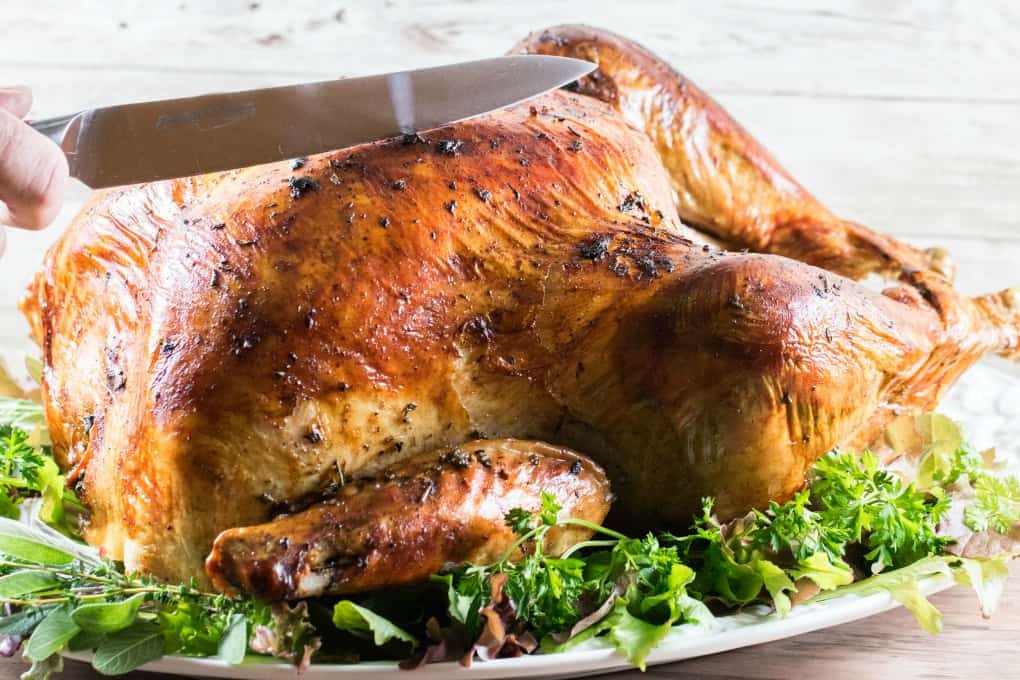 Also, rotate the turkey at two different intervals in the cooking process to get an even roast. Once the turkey is cooked 3/4 of the way through your allotted time or one hour before it is done then very carefully remove the cheesecloth. We basted it coming out of the oven before we did this.
You still need to continue to baste with the pan drippings or the reserved butter/wine mixture.
Once the turkey is done to 180F when tested in the thigh, your turkey is done. Let the turkey now rest for 20-30 minutes which is the perfect time for you to make gravy and any final touches to your meal.
10 Ways to Make the Most of Your Turkey Leftovers
To plan for leftovers, order a turkey that is several pounds bigger than what you need. That way you can be sure to cook once and eat twice, with leftover turkey to spare for additional meals once everyone has had their fill.
Plan for leftovers by allocating 1½ – 2 pounds of turkey per person. This will give you ½ to 1 pound of extra turkey for each person at your table.
Make sure you pack your leftovers within 2 hours after cooking to maintain the quality and safety of the food.
Save and freeze the turkey carcass and bones, too. Use these to make a delicious turkey stock that can easily be frozen for use in soups, sauces, gravies, and mashed potatoes.
Freeze any leftover gravy in muffin tins or ice cube trays. Once frozen, store in a zip-top bag or airtight container and use as needed.
Keep the Great Ideas Coming!!
Leftover turkey freezes well, so make sure you fill your freezer! Wrap your turkey leftovers in plastic to avoid freezer burn and you'll have ready portions on hand. Visit canadianturkey.ca for recipe inspiration and make salads, soups, pasta or casseroles in a snap!
Store your leftovers properly for the best results. Shred your turkey or cut it up into slices or cubes and freeze in convenient 1lb meal base portions that are ready to use right from the freezer. Store in an airtight container in the freezer for a quick start to weekday meals.
Divide your leftovers into dark and white turkey portions before freezing so it will be easy to choose what works best in your recipes.
Make a list of your favorite leftover turkey recipes. Add to that list so when the holiday season comes around every year you will have a head start with a selection of go-to recipes on hand.
Stock up on air-tight, leak-proof containers or plastic bags for your leftovers or prepared meals so you're ready to size up your meals any time.
How Long Should a Turkey Cook?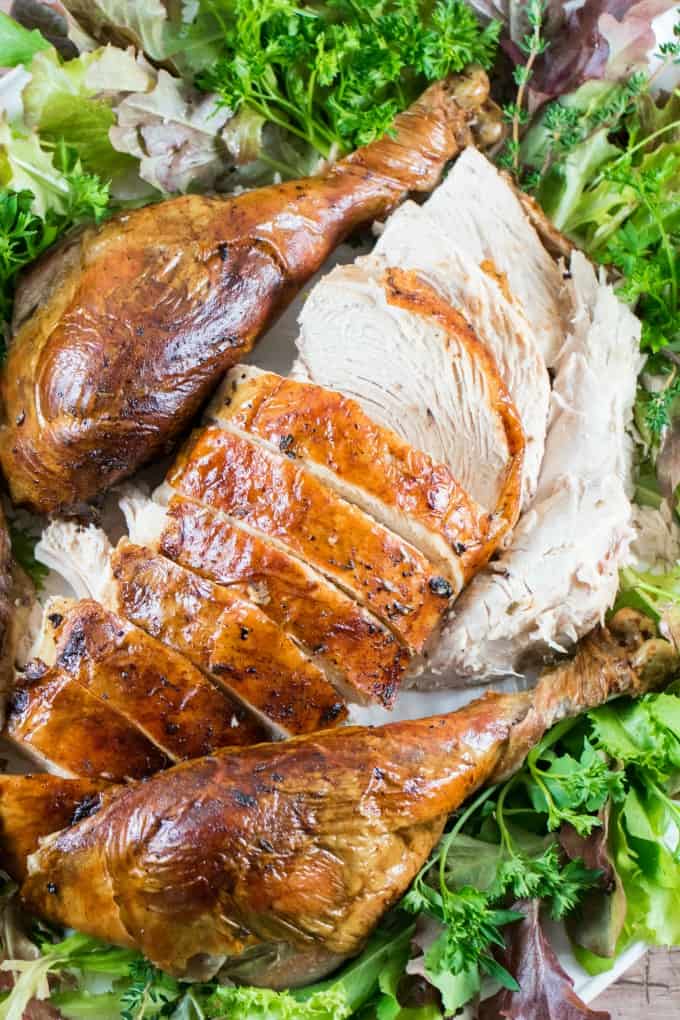 To make sure your turkey is cooked it needs to reach an internal temperature of 180F using a meat thermometer in the thickest part of the thigh. Once that is reached take your turkey out and let it rest for 20 – 30 min.
I cook my turkeys for about 15 minutes to 18 minutes a pound. Using a quick read thermometer is the only way to go. If your turkey comes with a pop-up thermometer immediately throw that away. You will end up with a dry turkey if you rely on that.
These are times for an unstuffed turkey. The higher the minutes per pound is for a small turkey and the lower the minutes per pound is for a larger bird.
For a stuffed turkey I increase the minutes to 20-22 per lb. Never cook a turkey using time only you must check the temperature also.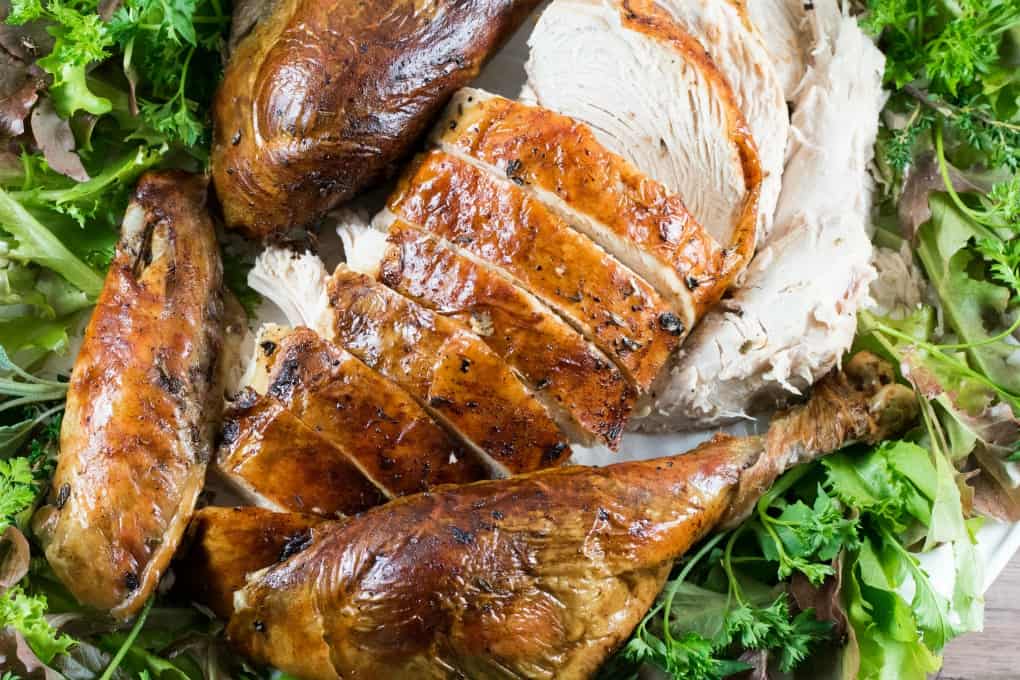 There you have it, the most beautiful turkey you will ever cook!! And you can say I did it all myself. Your company, family, and friends will rave over your masterpiece and it will live on in their memories as they eagerly await the next feast you will create with Canadian Turkey.
Want the best turkey gravy recipe? I have that for you too!!
Your breast meat and dark meat will both be cooked beautifully. For additional information, tips, recipes, Turkey Basic videos and HOW TOs visit Canadian Turkey for all your cooking inspirations.
Enjoy and Happy Holidays from The Nolands!!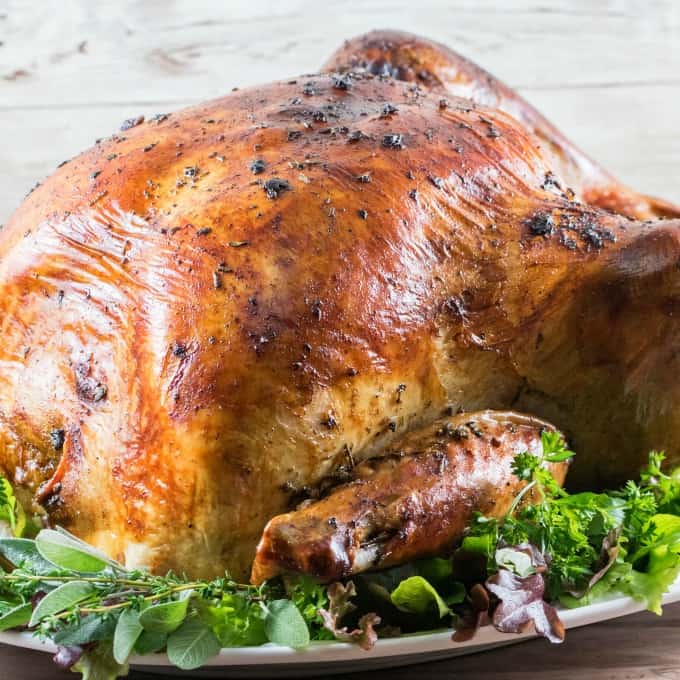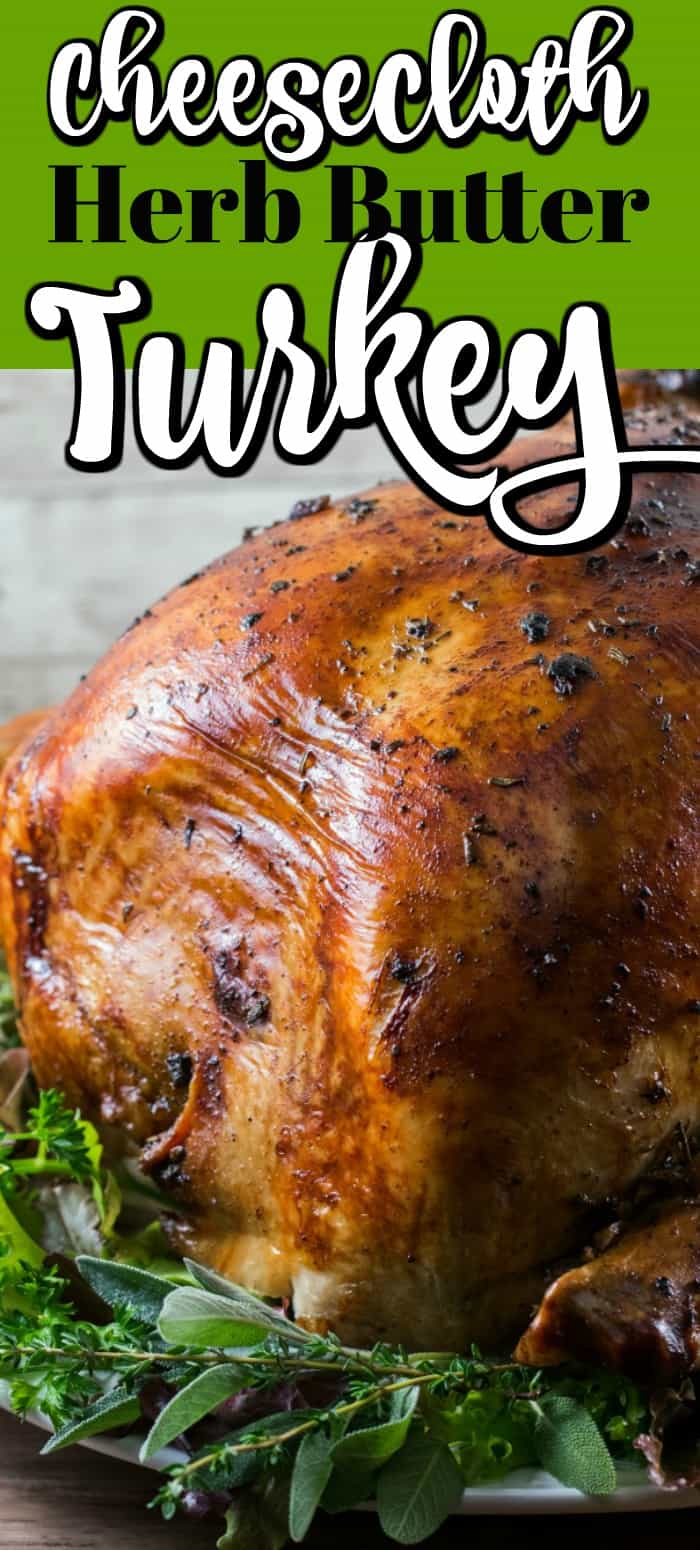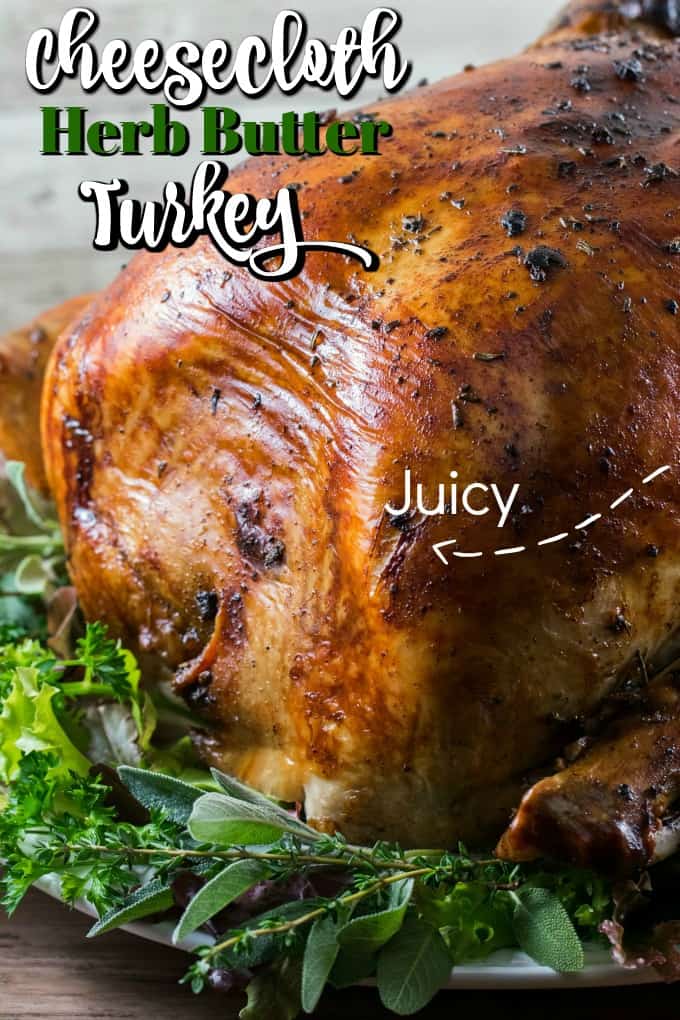 Cheesecloth Herb Butter Turkey Recipe