Do you get a bit antsy when you start to think about roasting a whole turkey? The mess, the weight, the stuffing, the carcass, the leftovers. Sometimes it seems to be overwhelming. Don't get me wrong I still do love to do a whole bird but if you try a Stuffed Roasted Turkey Breast you just might be amazed at how much easier it is. I have done these for years when there are only the three of us for an occasion. They are simple and delicious.
I don't normally brine the turkey breasts but decided to do that extra step and they turned out so wonderfully seasoned and juicy. It is an easy step, you just need some forward-thinking and planning. The end result is so worth it!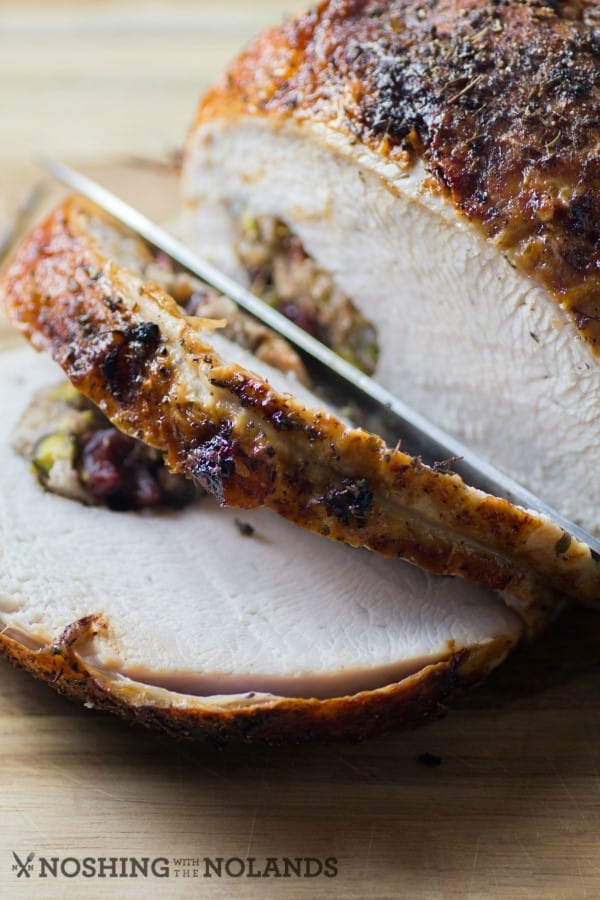 No need to add salt to the outside as it is seasoned all the way through. The skin gets a lovely massage with olive oil and poultry seasoning. Sometimes I use herbs de Provence, also.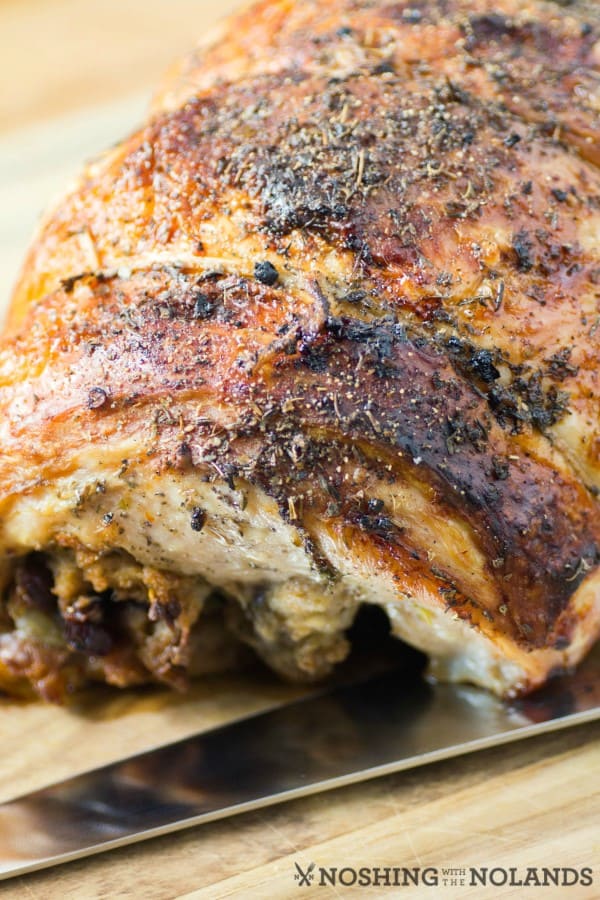 Doing a Stuffed Roasted Turkey Breast like this is more like a roast. No bones to deal with, very little mess and fuss but the results will have you breathless with anticipation!!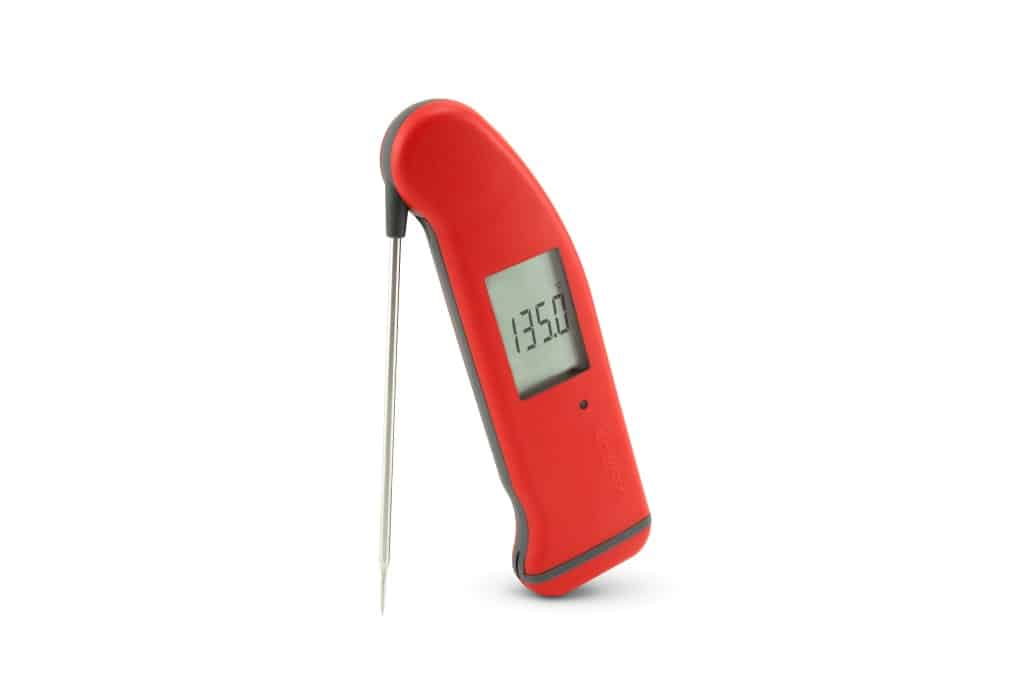 How do you check to see if it is done perfectly? I use my easy read Thermapen, it gives you a very accurate instant temperature. You don't want to overcook your turkey but to a perfect 165F.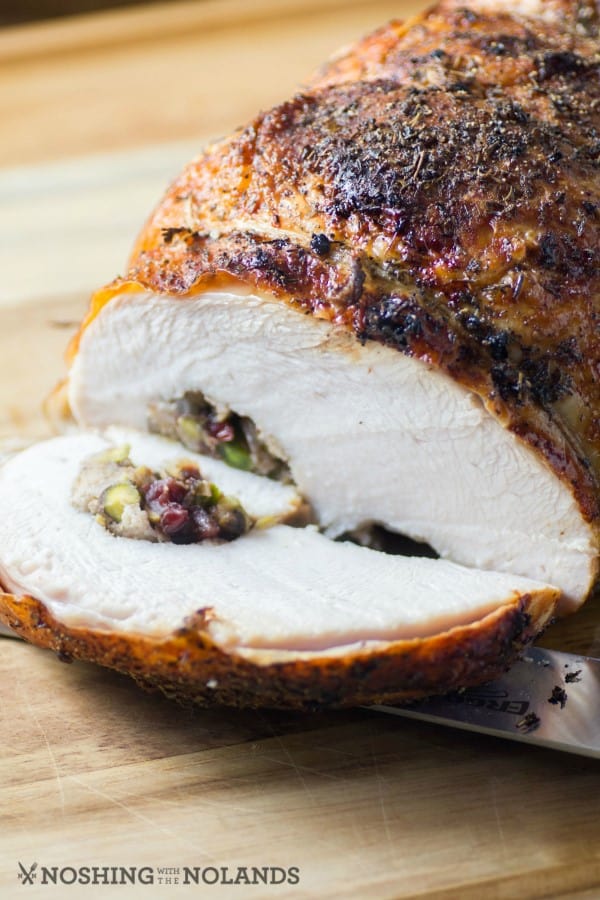 The stuffing it so easy too. This one I developed years ago with what I had hanging around in the pantry. I always seem to have leftover dried cranberries and a nut of some kind waiting for me to do something with. In this case I used gorgeous pistachios to make it festive with the cranberries.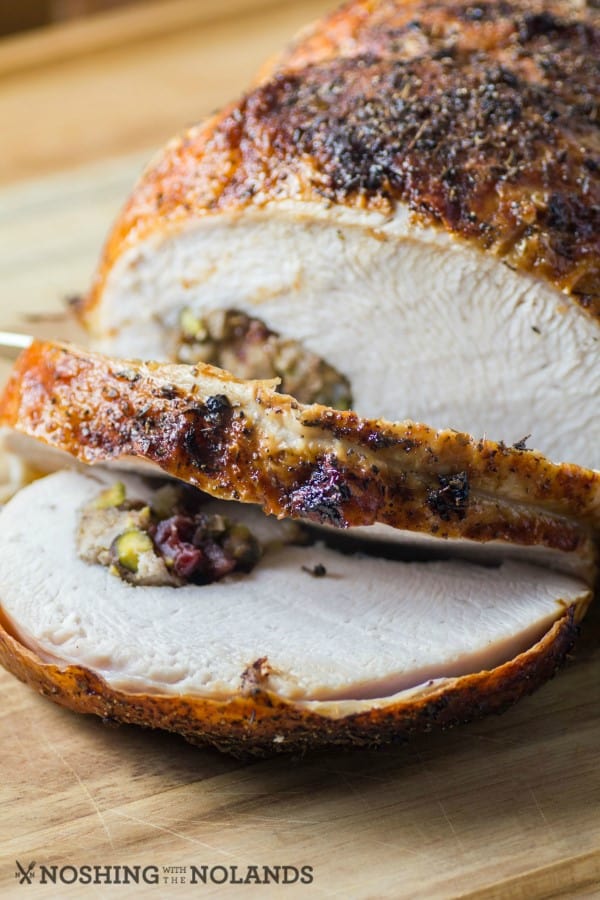 This turkey breast can be the center of attention just like any whole roasted bird but with so much less stress. Your family and friends will be very impressed with something just slightly different for you to serve them this holiday season.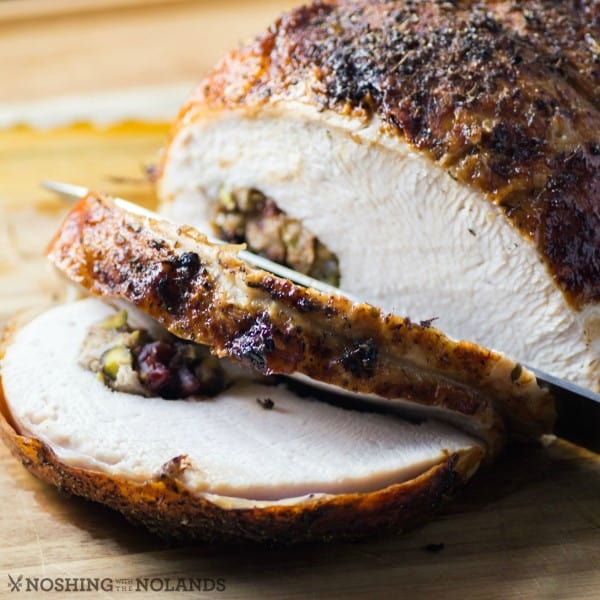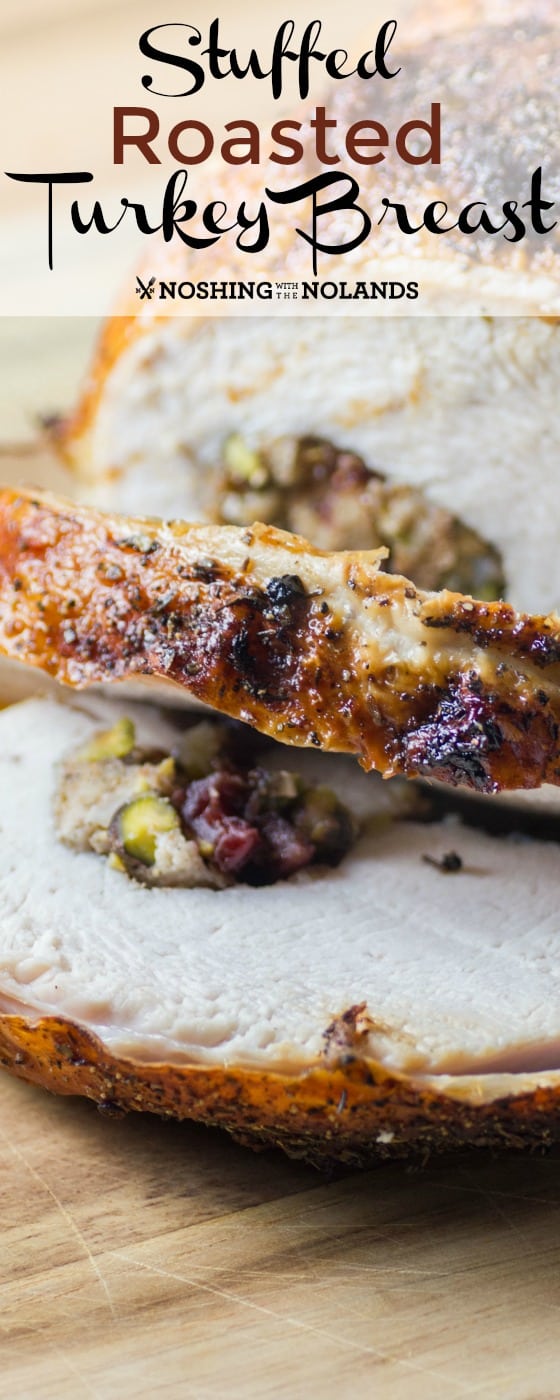 Stuffed Roasted Turkey Breast Recipe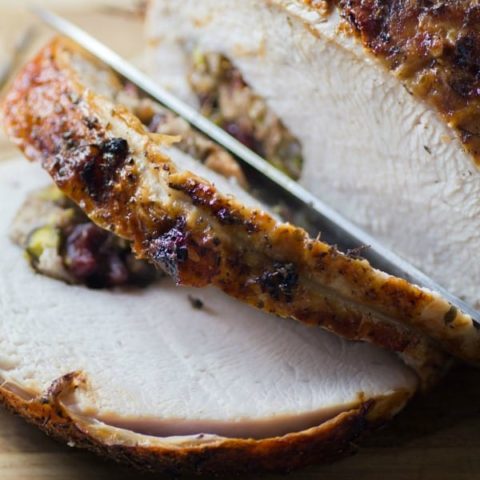 Stuffed Roasted Turkey Breast
Yield: 6 servings
Prep Time: 25 minutes
Cook Time: 1 hour 30 minutes
Total Time: 1 hour 55 minutes
Stuffed Roasted Turkey Breast take so much less time and effort than roasting a whole bird and yet will still be the star of show!
Ingredients
Brine (enough for 1 or 2 breasts)
3 quarts water
3/4 cup maple syrup
3/4 cup Kosher salt
1 fresh bunch of thyme
3 bay leaves
2 garlic cloves, crushed
2 Tbsp. black peppercorns
Turkey
1 large turkey breast, 3-4 lbs.
1/2 onion, chopped
1 Tbsp. butter
2 slices stale bread or the ends off the loaf
1/4 cup dried cranberries
1/4 cup pistachios
1 tsp. poultry seasoning plus more for the outside
salt and pepper to taste
1/4 cup white wine or chicken broth
Olive oil
Twine
Instructions
For the brine place all ingredients except turkey in a large stock pot. Bring to boil and cook until salt dissolves. Remove from heat and allow to cool completely.
Once cool, put the turkey in the brine and refrigerate overnight.
When ready to roast. Remove the turkey from the brine and pat dry. Cook the onion in the Tbsp. of butter until translucent and then let cool.
Break the bread into small pieces and place into a bowl with the cranberries, pistachios, poultry seasoning, salt, pepper and white wine or chicken broth. Add the cooked onion and mix well.
Preheat the oven to 400F. Lay the turkey skin side down. In the smaller one third of the turkey breast lay in the stuffing and roll the larger side over. Slide twine under the breast and tie off in 3-4 places. Place the breast in a small roasting pan. Rub the outside with olive oil and massage with poultry seasoning to evenly coat.
Roast for 1 hour and 30 min. or until thermometer reads 165F. Remove from oven and let rest for 10 min. Slice and serve with your favorite gravy.