Frankenstein Cheese Ball Head
Halloween is fast approaching and we have always celebrated this holiday with enthusiasm. We enjoy the fun hauntings of a great party or get together and I have made this Frankenstein Cheese Ball Head before. Initially getting the idea from a little Taste of Home Halloween book I picked up at the grocery store.
A few years back we held big parties for Halloween where about 100 people came. Great dressup events with prizes and entertainment for the kids. We went all out and as a result it took us about a year in planning. Amber has fond memories now of Halloween therefore something she can treasure for her lifetime.
This year we will be attending a Halloween party and it will be just as fun! If you have a get together you will love making this amazing Frankenstein Cheese Ball Head. I have changed it up slightly and made it even better with some ingredients that I have in my traditional cheese ball recipe.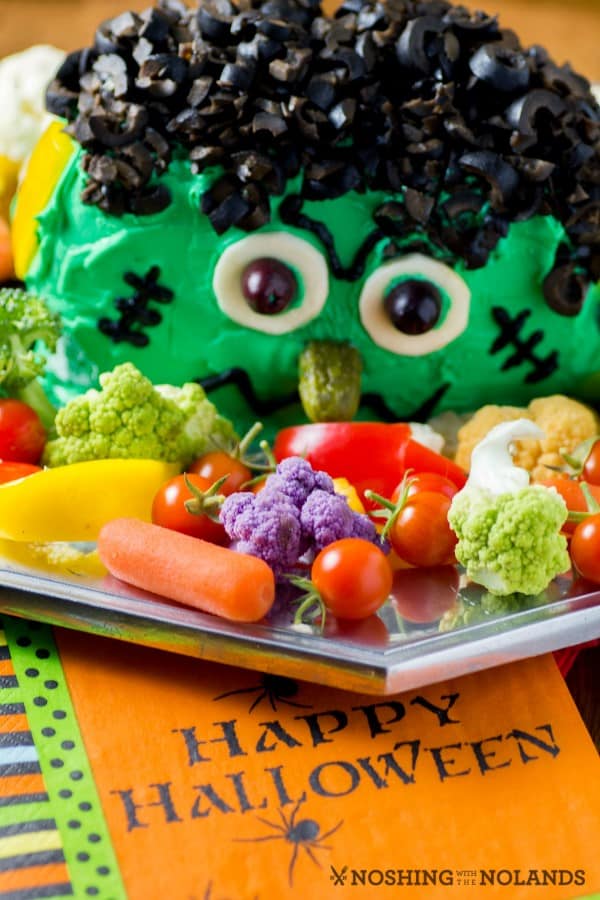 Fun Halloween Party Idea
Here Frankie is peaking over the veggies to give you a fright! He is pretty cute and not very menacing at all. Number one though, he is delicious and with a pile of fresh veggies maybe even a bit nutritious too! He was even more special as I added in green onions and bell peppers from our garden plus some homemade sweet hot mustard, along with many other ingredients.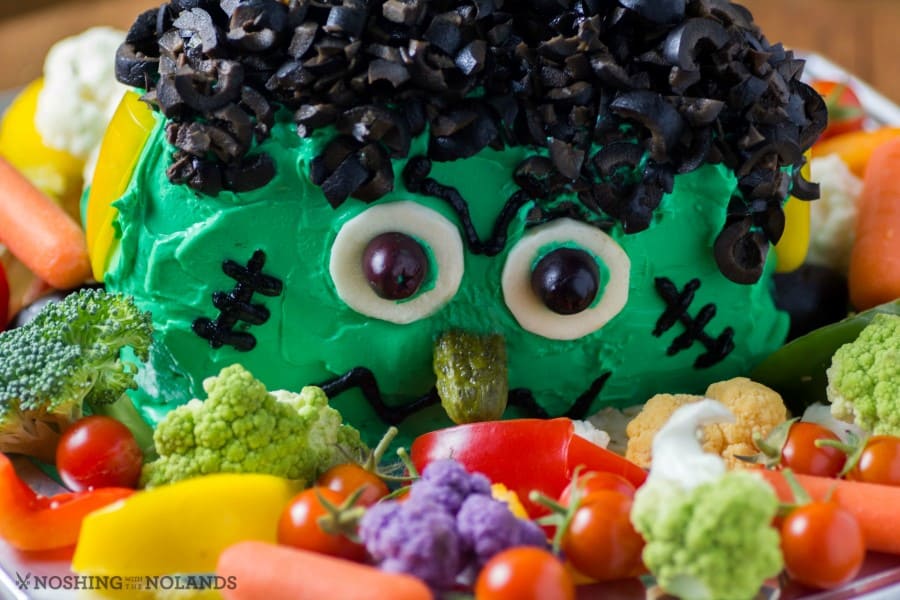 The little tomatoes were also from our garden. This was the last of our crop, seems like we probably had about a thousand off one plant. It was very prolific needless to say! I also loved that I found a fun package of veggies with purple, green and orange cauliflower to add in even more colour to this wonderful appetizer platter.
Most of all, kids young and old will love this cheese ball head. The kids can help you as it is fun to make and doesn't really require anything unique. Just some food colouring paste to make him that ghoulish green and some black for some features.
The Recipe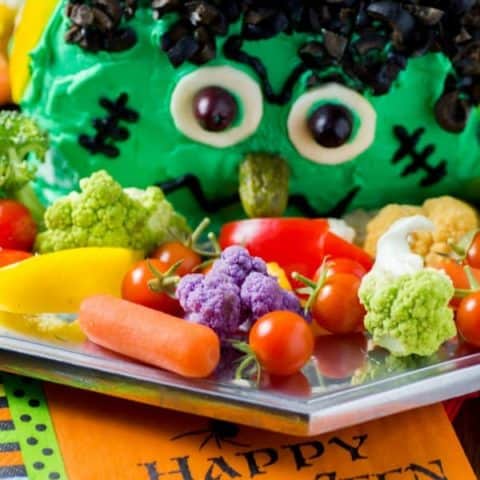 Frankenstein Cheese Ball Head
Prep Time: 40 minutes
Total Time: 40 minutes
This Frankenstein Cheese Ball Head will be the hit of any Halloween party. A creamy dip awaits you on the inside that everyone will love!
Ingredients
2-8 oz. light cream cheese, softened
1/4 cup mayonnaise
1 tsp. hot sauce
1 Tbsp. worcestershire
1 tsp. mustard (any kind that is your favorite)
3 green onions, finely chopped
1/4 cup red pepper, finely chopped
1 1/2 cups cheddar cheese, grated
For decorating
12 oz. (340 gm.) tub spreadable light cream cheese
green and black paste food colouring
Small pickle, cut in half if needed
2 yellow pepper slices
2 large black olives (for neck bolts)
1 small black olive, cut in half (for eyes)
1 can (4.5 oz.) sliced black olives, chopped
2 slices parsnip (for eyes)
Assorted veggies and crackers for serving
Instructions
With a standup mixer or hand held, beat cream cheese until smooth. Add in the mayonnaise, hot sauce, worcestershire sauce, mustard, green onions, red peppers and cheddar cheese and mix well. Lay out a sheet of plastic wrap and create a block of the cheese to measure 5x4x3" rectangle. Wrap well and place in the refrigerator for at least 3 hours. This can be left overnight also.
To decorate have all the ingredients handy. Mix almost the entire tub of cream cheese with the green paste food colouring, to the desired colour. Reserving some for the black and then mix a small amount with the black food colouring. Set aside.
Place the cheese rectangle on a serving platter. Spread the green cream cheese over the entire rectangle. Add the chopped olive, creating about 3-4 wisps of hair coming down with the olives. Place the yellow pepper slices for the ears and the large olives for neck bolts. Place parsnips on for eyes. Add a little dab of the cream cheese to the olive halves and place them on top of the parsnips.
In a small piping bag or small plastic bag add in the black cream cheese and create eye brows, scars and a mouth. Place the pickle in for a nose.
Refrigerate until ready to serve. Add veggies and crackers to the platter for serving.