Creamy Little Potato Pumpkin Soup
Are you into comfort food now that summer is over? There is nothing like a gorgeous bowl of soup. I was on a hunt for a sugar pumpkin or two and found some at the farmers market on the weekend as I knew they would be a gorgeous match with lovely creamy little potatoes. I wanted to make this wonderful autumnal recipe, Creamy Little Potato Pumpkin Soup! It is just in time for Thanksgiving so you don't have to look any further for the first course in your family meal.
Little Potato Company's Creamer potatoes are so versatile and easy to use. They come prewashed so for this recipe I just sliced them in half and into the soup they went! Nothing could be easier as they don't even need to be peeled!! Creamer potatoes are also a fantastic source of potassium, Vitamin C, antioxidants, dietary fibre, and other vitamins and minerals, including iron.
Using little potatoes in a soup not only gives it a velvety wonderful look and taste but it also thickens it without any gluten! I use potatoes a lot in this fashion, they also make the soup creamy without having to use much cream or any. In this recipe I only used 1/2 cup and it was delightfully rich and creamy!!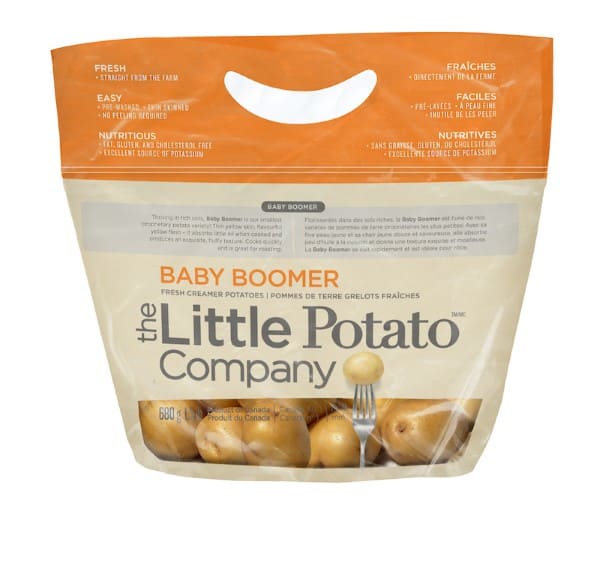 For this recipe I used baby boomers to maintain that lovely pumpkin colour in the soup. Being the smallest of the little potato family, therefore they are easy to use. These Creamer potatoes are yellow skinned and have a pale yellow flesh. They are mild with a buttery finish marrying perfectly with the sugar pumpkin in this recipe.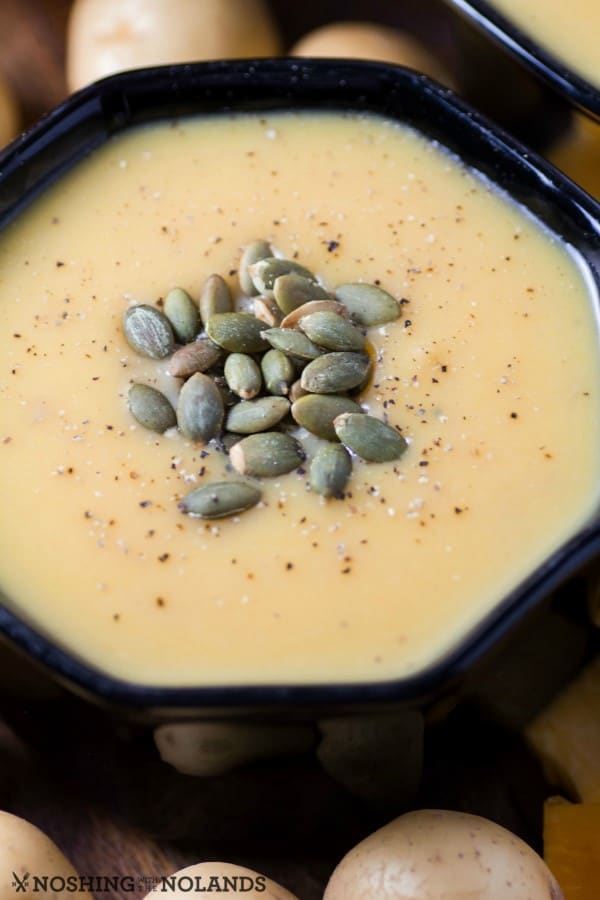 I added a fresh grating of pepper on the top and some lovely pepitas or pumpkin seeds to finish off the soup. It has a healthy pinch of red pepper flakes too which gives the soup a warming kick. Look for a sugar pumpkin at the farmers market or your local grocery store, they are lovely to cook with instead of the large pumpkins that you usually use for carving.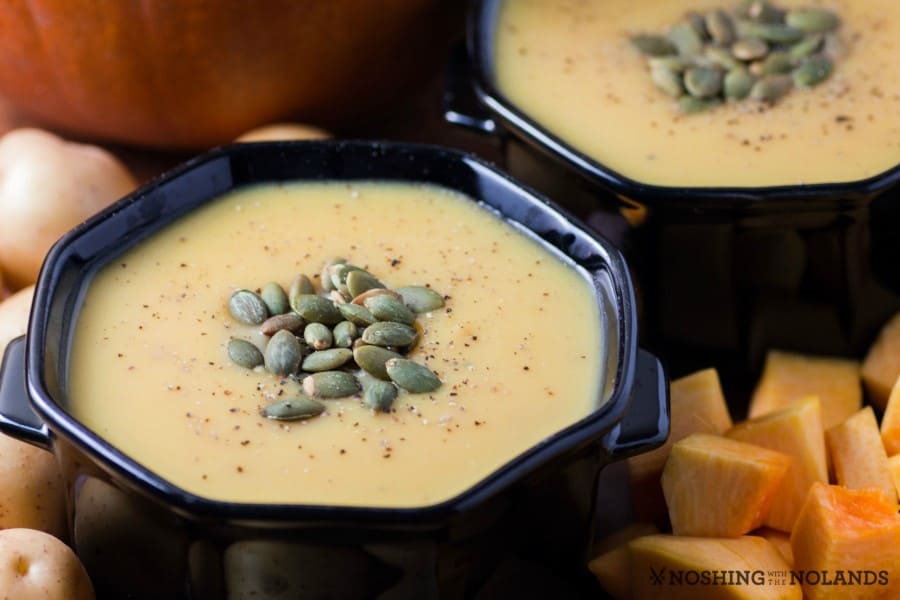 The Recipe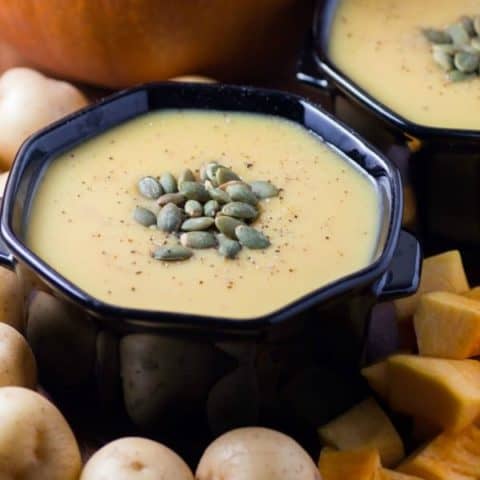 Creamy Little Potato Pumpkin Soup
Yield: 6-8 servings
Prep Time: 15 minutes
Cook Time: 25 minutes
Total Time: 40 minutes
A Creamy Little Potato Pumpkin Soup that uses versatile creamer potatoes and sugar pumpkin and will be perfect on your Thanksgiving table!!
Ingredients
2 Tbsp. butter
1 medium onion, diced
4 garlic cloves, minced
2 lbs. sugar pumpkin, peeled and diced
1 lb. baby boomer little potatoes, halved
5 cups chicken or vegetable stock
Salt and pepper to taste
Pinch red pepper flakes
Pinch of nutmeg
1 1/2 tsp. ginger powder
1/2 cup half and half or light cream
Pepitas or pumpkin seeds to garnish
Instructions
In a soup pot or large pot melt the butter or medium heat and saute the garlic and the onions until translucent. Add the pumpkin, potatoes and stock.
Bring up to a simmer, add the red pepper flakes, nutmeg, salt, pepper and ginger powder and stir well. Let simmer for 15-20 min. or until the potatoes and pumpkin are very soft. Puree with a hand blender or blender until smooth. There may be still some skins that don't blend and that adds a nice texture. Add the cream and return to heat. Serve hot and garnish with pepitas and fresh ground black pepper.