Whipped Feta Blistered Tomatoes Greek Salad Spread
I was at Ten Foot Henry in Calgary not that long ago and so enjoyed their whipped feta and warmed tomato appetizer that I had to make some of my own. Actually my girlfriend Jill also gave me the challenge to do a recipe with whipped feta. I accepted the challenge whole heartedly and came up with this Whipped Feta Blistered Tomatoes Greek Salad Spread.
The whole idea of whipped feta is amazing and will have you running to your food processor to make some right away!! It is simple, feta cheese, cream cheese and just the right amount of cream to get it to the perfect spreadable consistency. You can make this for our Greek Chicken Bowls too!!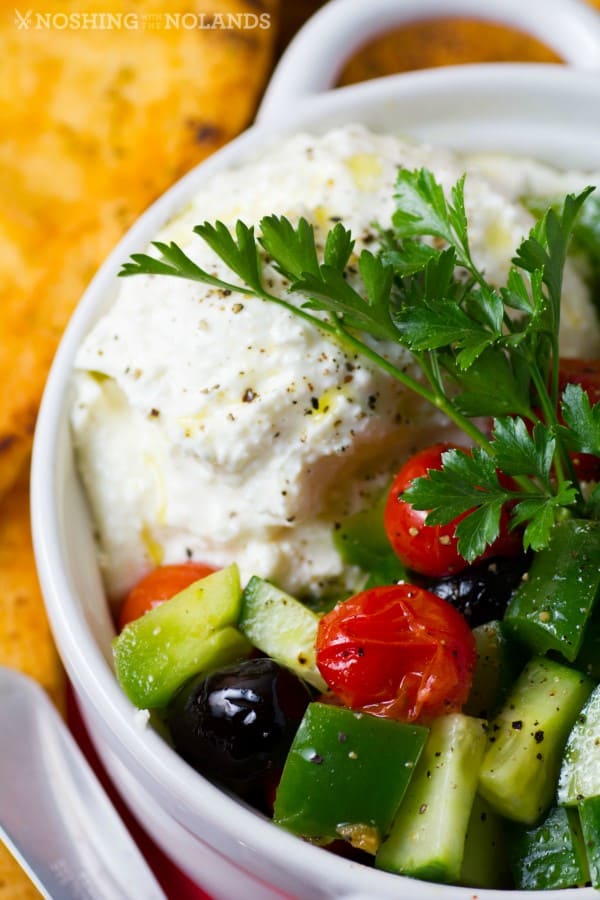 Tomatoes are fresh off our own vines and are so gorgeous cooked quickly in olive oil and garlic and then cooled and tossed with a simple greek salad. They and the rest of the fresh ingredients go perfectly with the whipped feta.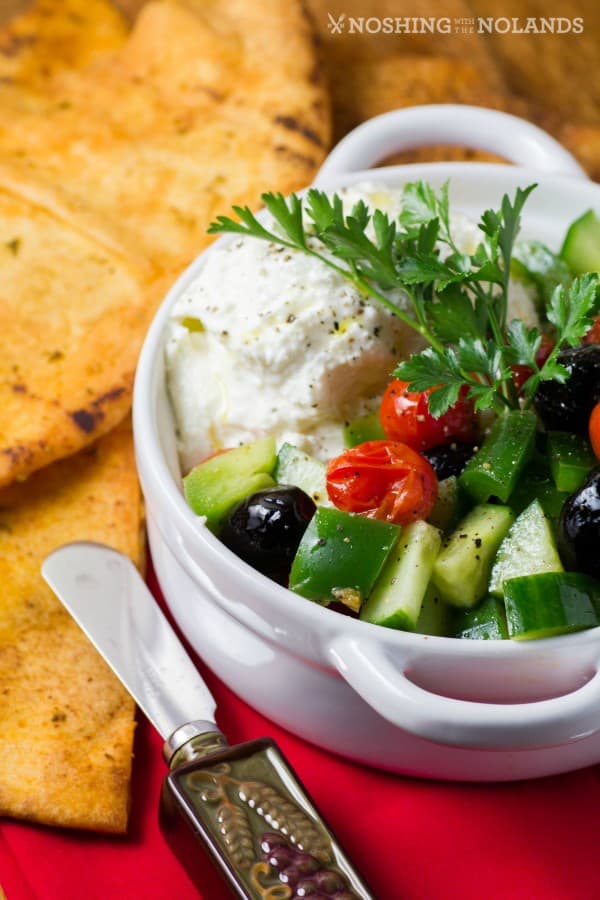 I served this up with crisp pita chips and my family went crazy for it. This is a nice appetizer of even a side dish. We had it with quickly roasted chicken thighs and it was a simple dinner that tasted like a slice from the Mediterranean.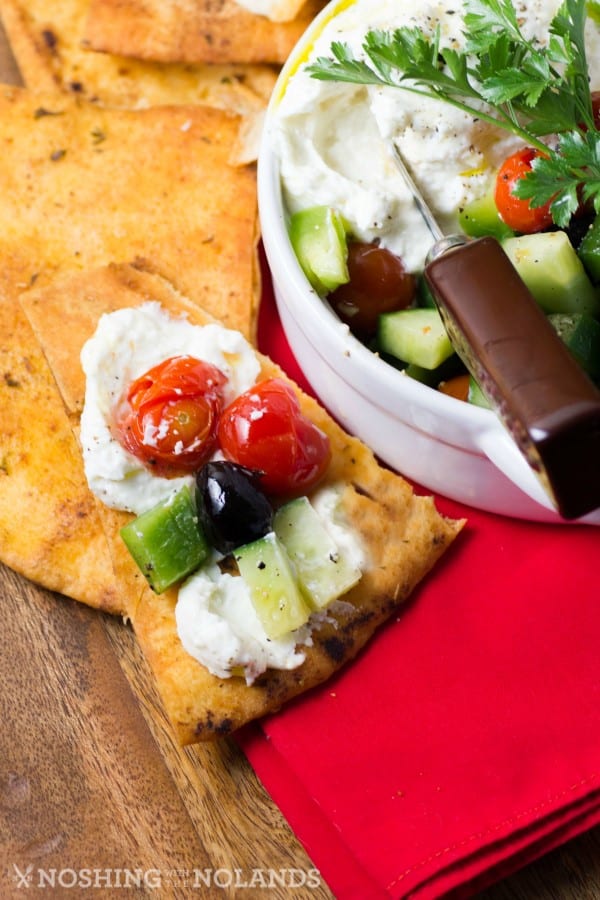 The delightful brined crumble of feta sings through when it is whipped and makes it so easy to spread. Gorgeous tomatoes burst with their juicy interiors coming out after being blistered. You get the crunch from the cucumber and green pepper and the saltiness from great quality dry-cured black olives. Make sure your ingredients are fresh and wonderful and then your end result will also be.
The Recipe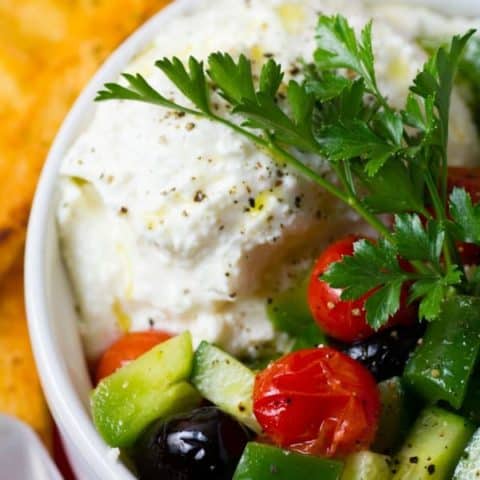 Whipped Feta Blistered Tomatoes Greek Salad Spread
Yield: 4-8 servings
Prep Time: 15 minutes
Cook Time: 2 minutes
Total Time: 17 minutes
The whipped feta will be one of your new favorite cheeses for family and friend gatherings. Pairing it up with simple greek salad makes if fresh and inviting.
Ingredients
Blistered Tomatoes
1 cup small cherry tomatoes
1 clove garlic
1 Tbsp. olive oil, plus more to drizzle
Greek Salad
1/2 cup green pepper, diced
1/2 cup cucumber, diced
Pitted dry cured black olives
1 tsp. vinegar
salt and pepper
Whipped Feta
8 oz. feta, crumbled
4 oz. light cream cheese, cubed
2-3 oz. light cream
Fresh or crisped pita bread
Parsley to garnish
Instructions
Note: The recipe makes double the whipped feta that is needed for the salad. I made another fresh batch of salad to enjoy it with the next day. You can just easily double the salad ingredients if you would like to serve this all at once.
Place the olive oil and garlic in a skillet and heat up to medium high. Add the tomatoes and let sit without stirring for 1-2 min. Once slightly blistered remove from heat to cool and shake pan.
Place the feta and cream cheese in a food processor and whip until as smooth as you can get it. Add cream until you reach the spreadable consistency that you like. Set aside.
Toss the salad ingredients in a bowl and once tomatoes are cooled add them with the oil and garlic. Serve whipped feta and salad together with a fresh drizzle of olive oil and salt and pepper. Garnish with parsley if desired.