Healthier Lightened-Up Green Bean Casserole
I made a wicked green bean casserole for years but I just can't bring myself to make it anymore. Just way too high in fat and calories, especially when you have all the other fixins' for the holidays!! So I decided to re-do my casserole and have made a Healthier Lightened-Up Green Bean Casserole that in my opinion is just as good or even better than the original one I made before.
The original recipe had loads of butter, cheddar cheese, and cream. The frozen string beans were kind of lost in all of that high fat sauce. So I wanted to make a new version with crisp fresh green beans, no canned soup (although my original didn't have that but many do) and a lighter sauce. The green beans were quickly cooked to maintain their freshness and wonderful flavor. The end result, a magnificent casserole that not only will you be proud to serve but will be enjoyed by all.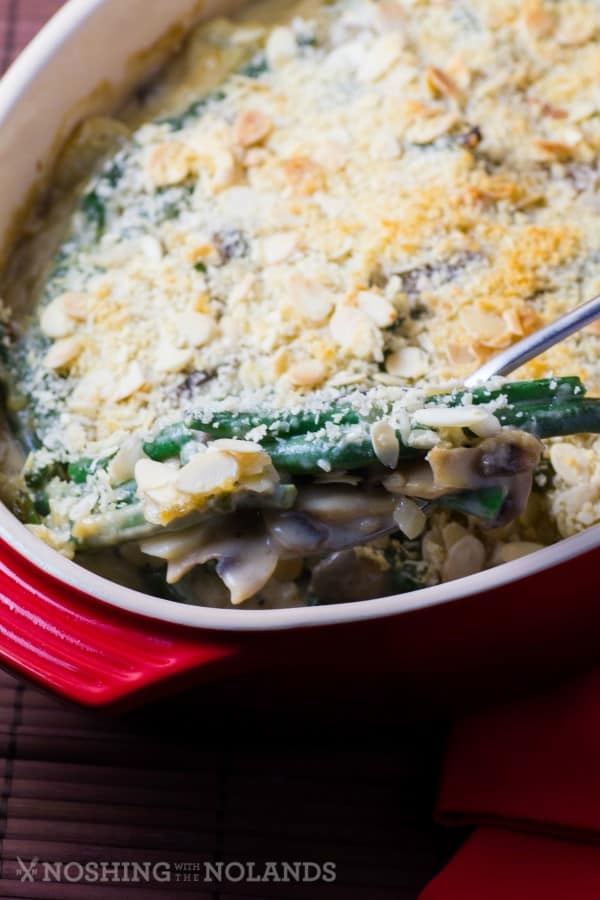 There are lots of mushrooms in this recipes with lots of green beans and a few other surprises. I love when a casserole has a crunch as well as a sauce. I added in water chestnuts and do so to a lot of dishes for the holidays. They are pretty benign for flavor but give dishes a lovely crunch. They come sliced in a little can and are so easy to use. I add them to my stuffing also, which again gives a lovely texture.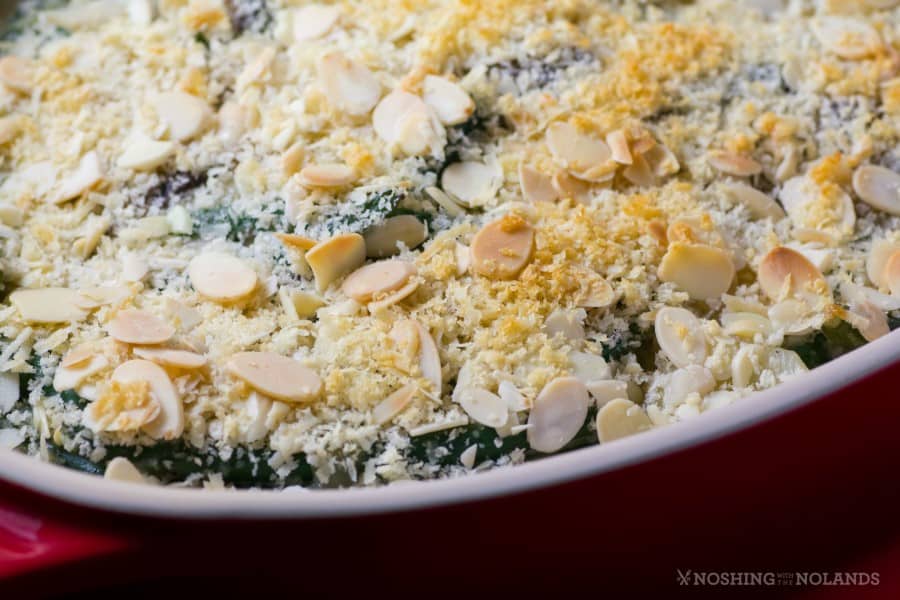 The topping I changed up also but you won't be missing the crispy deep fried onions because this topping is fantastic with panko crumbs, parmesan and almonds. I also add in a little heat, not much but it gives a little warmth in the sauce from added Tabasco.
The Recipe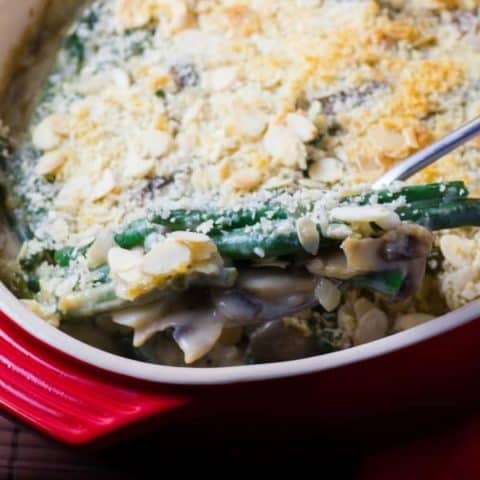 Healthier Lightened-Up Green Bean Casserole
Yield: 8-10 servings
Prep Time: 20 minutes
Cook Time: 1 hour
Total Time: 1 hour 20 minutes
A healthier and lightened up version of a traditional Green Bean Casserole will make you happy to serve this to family and friends for the holidays and beyond.
Ingredients
Mushrooms
1 lb. mushrooms, sliced
1 medium onion, diced
2 tsp. minced garlic
1 Tbsp. canola oil
Cheese Sauce
2 Tbsp. butter
1/4 cup flour
3 cups skim milk
1/2 cup Parmesan cheese
1/2 tsp. Tabasco hot sauce
2 tsp. low sodium soy sauce
Salt and pepper to taste
Green Beans
2 lbs. fresh green beans, washed and ends clipped
5 oz. can sliced water chestnuts
Topping
1/2 cup sliced almonds
1/2 cup panko crumbs
1/4 cup Parmesan cheese
Instructions
In a large saute pan add the oil on medium heat and saute the onions and garlic for about 2 min. stirring occasionally. Add the mushrooms and continue to cook until tender and moisture has been released from them.
Meanwhile boil green beans in salted water for 3-4 min. until still tender crisp. Drain and immediately immerse in ice water. Set aside in a large bowl.
Preheat oven to 375F. and spray a casserole dish with cooking spray and set aside.
To make the cheese sauce, melt the 2 Tbsp. of butter in a small pot and add the flour, cook for 1-2 min. stirring. Slowly whisk in the skim milk until smooth. Bring up to a simmer and once thickened add the 1/2 cup Parmesan cheese, stirring. Then stir in the Tabasco, soy sauce, and salt and pepper to taste. Pour over the green beans and add the mushrooms mixture and water chestnuts. Gently stir to mix.
Pour into the prepared casserole. You can make this ahead of time to this point and refrigerate covered.
When ready to bake, mix the panko crumbs, almonds and 1/4 cup Parmesan together and sprinkle on top of the casserole. Bake for 30-35min. or until bubbly and the top is slightly browned.
Try this casserole for the holidays you will be loving it and so will your company!! Check out other healthy recipes on
Fave Healthy Recipes
!