Disclosure: I was compensated for this post by Canadian Turkey. All opinions and experiences are my own.
Today I am sharing with you one of my best holiday meals ever, Herbed Butter Roast Turkey Breast made with 100% Canadian Turkey. Sometimes you may want to cook the whole turkey but in lots of instances you don't need to either.
We love making a roasted turkey breast recipe for our small family or doing a couple of them for a crowd. Not only are they fast and easy but the cleanup is also quick as a turkey breast like this is boneless.
This turkey dinner is sure to wow your family and guests this holiday season. Preparing a turkey like this makes the perfect centerpiece for your festivities.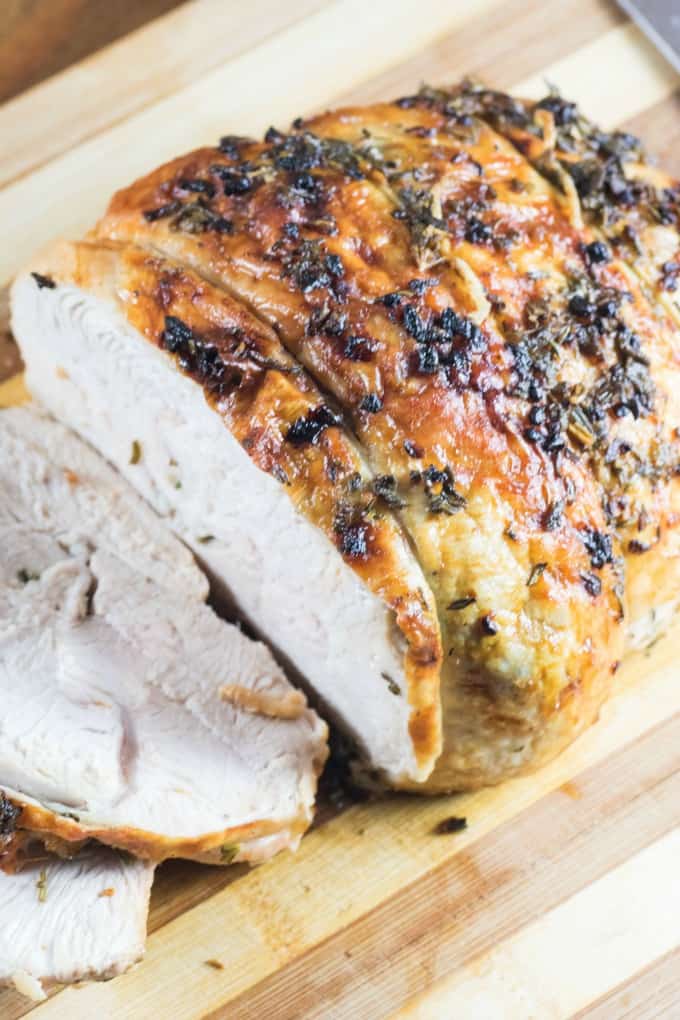 Have you never attempted a turkey before? This very easy recipe with step by step instructions will help you create a show-stopping dish and very memorable meal. Call your butcher to have the exact turkey breast ready for you for pickup. This also makes for a stress-free prep.
Planning ahead will get you the best results and have you cooking like a pro. Making a list and yes, checking it twice will make your dinner go smoothly.
Roast Turkey Breast Recipe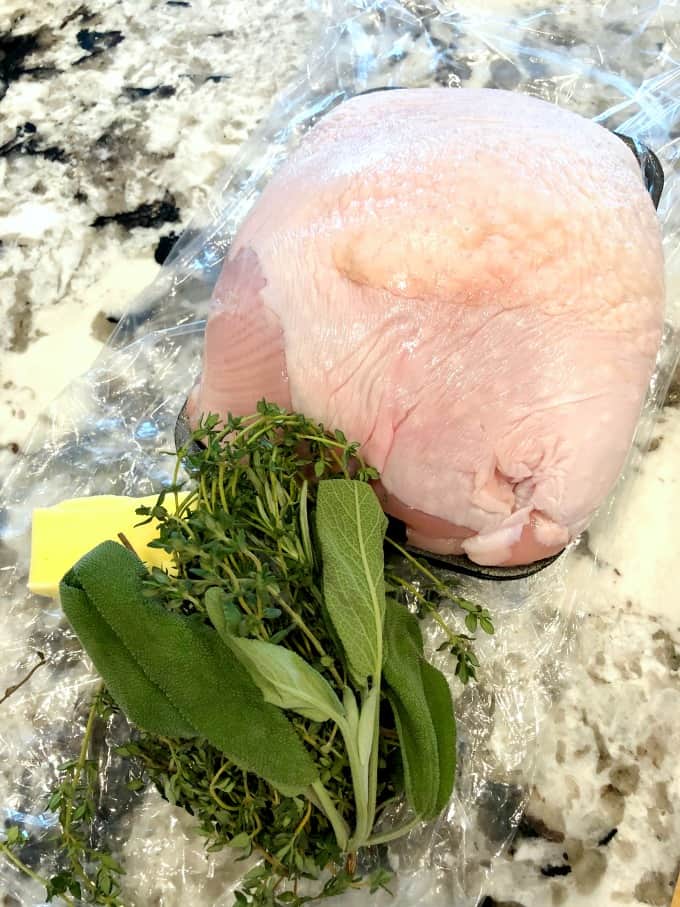 Very simple ingredients are all you need for this recipe. Herb packs are in abundance this time of year and are made specifically for poultry. Let the turkey sit at room temperature for about 20 min. before starting.
They have rosemary, thyme and sage all packed together so you don't have to buy three individual herbs which saves you money. The only other ingredients you need is Kosher salt, freshly ground pepper, garlic, butter and of course the turkey.
We have done a turkey breast many, many times and sometimes even do a Stuffed Roasted Turkey Breast. Otherwise you can serve stuffing on the side which works well also.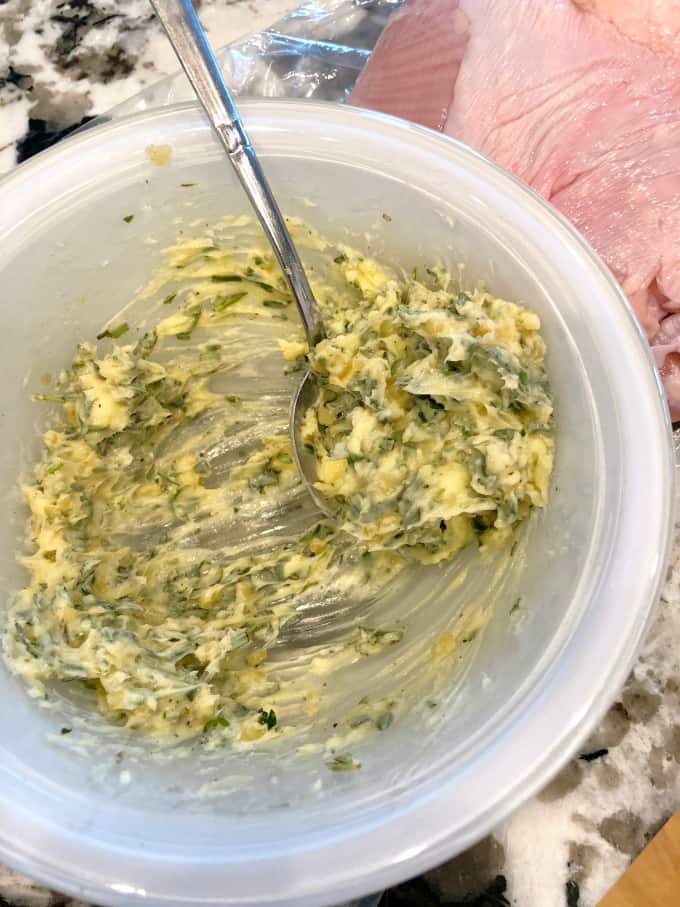 Using softened butter mix together your chopped herbs, with the minced garlic and salt and pepper. Set aside for a moment while you prep the turkey.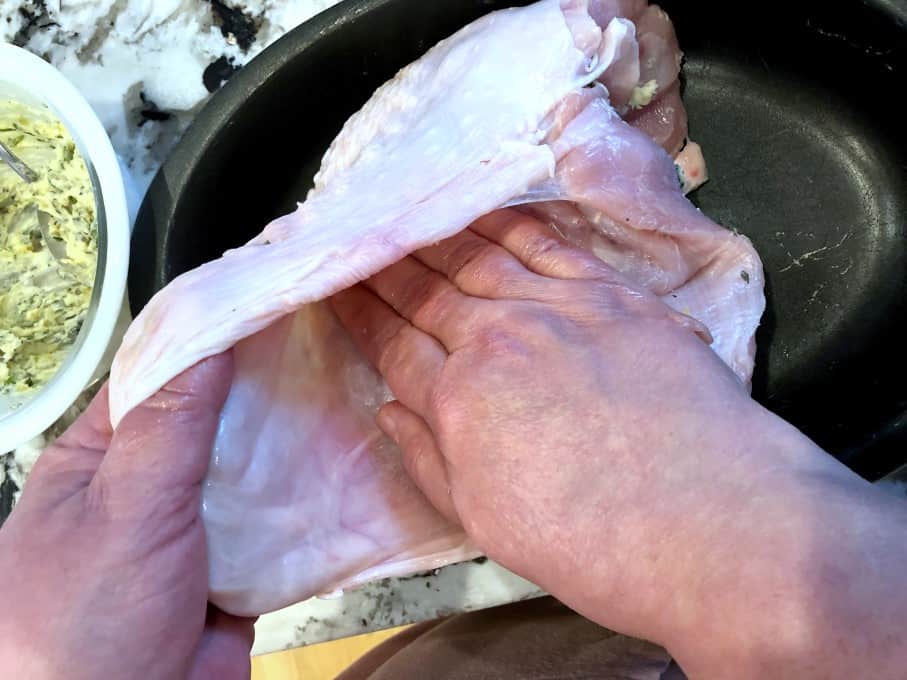 Pat dry the turkey breast with paper towels. Loosen the skin from the turkey meat. This will allow you to put the herbed butter directly onto the turkey meat which will make is more flavorful and the skin will also be crispier.
Just slide your hand between the two and carefully pull the skin away inch by inch until you have formed a pocket.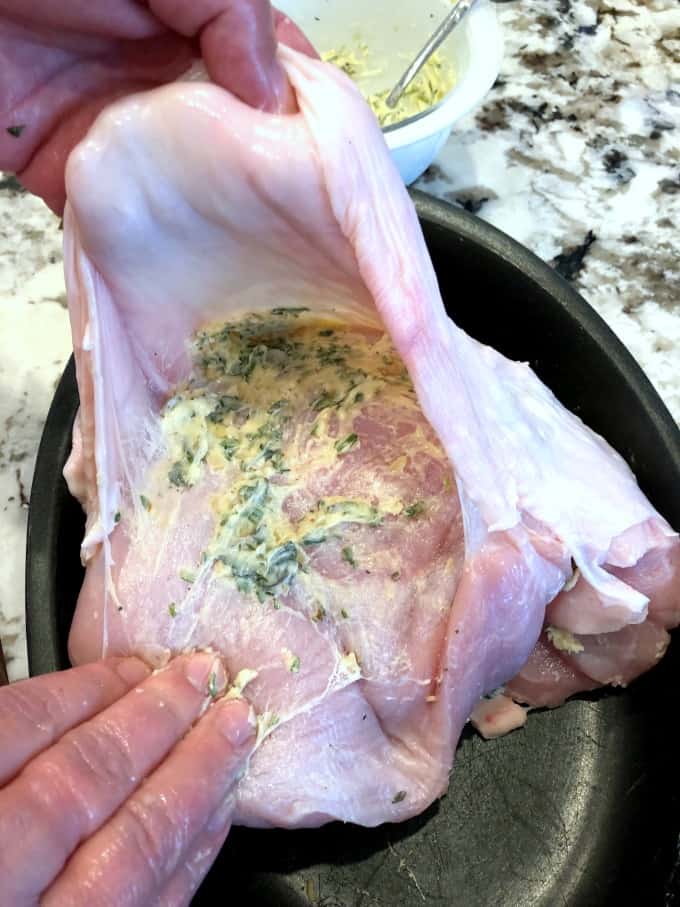 Rub some of the herbed butter onto the turkey breast. This is going to lock that flavor right in! Finish by rubbing the butter on the underside and the skin.
With this method I don't think you need to brine at all.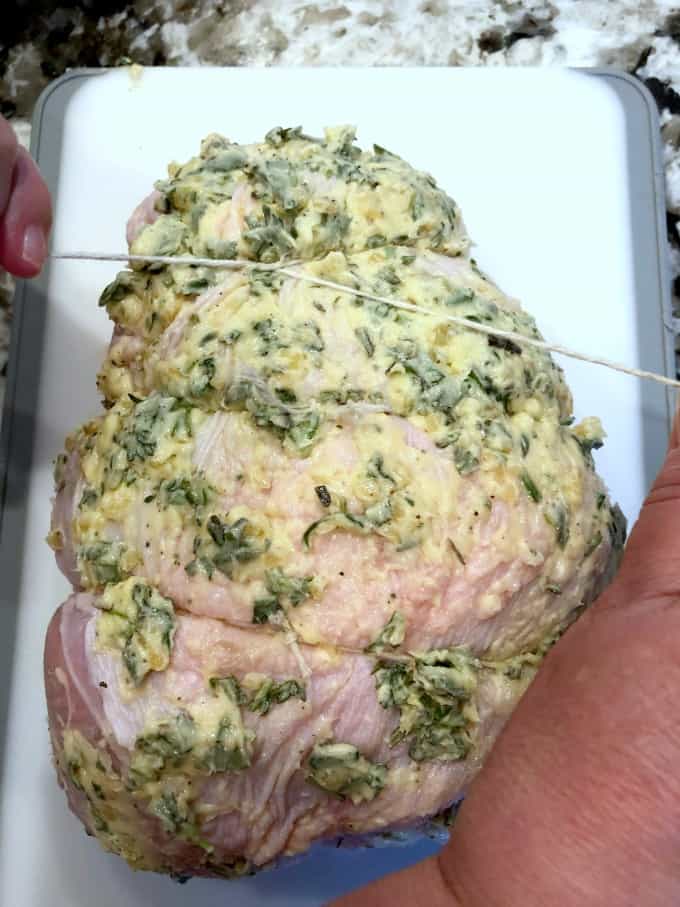 Next truss the turkey. For a large breast like this I tied it in three places with kitchen twine.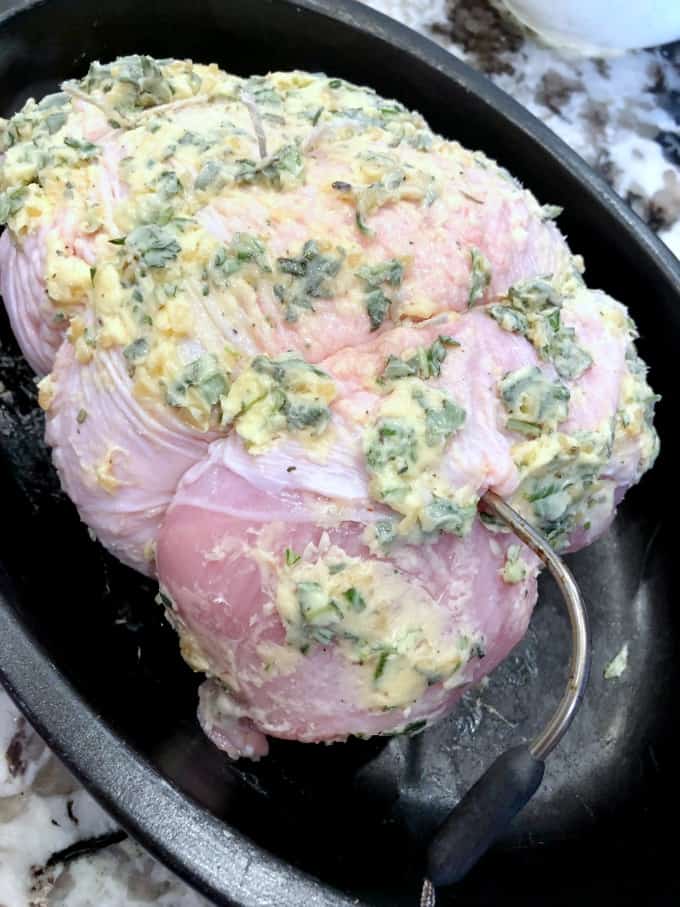 Lastly, place the turkey breast in a roasting pan of appropriate size and insert a thermometer. You will have an approximate time to cook but you must check the temperature with a thermometer.
Turkey must reach 165 F to be properly cooked for breast meat. You will also want the turkey to rest when it comes out of the oven. Tent it with foil and let it rest for 10 min. before serving.
Oven Roasted Turkey Breast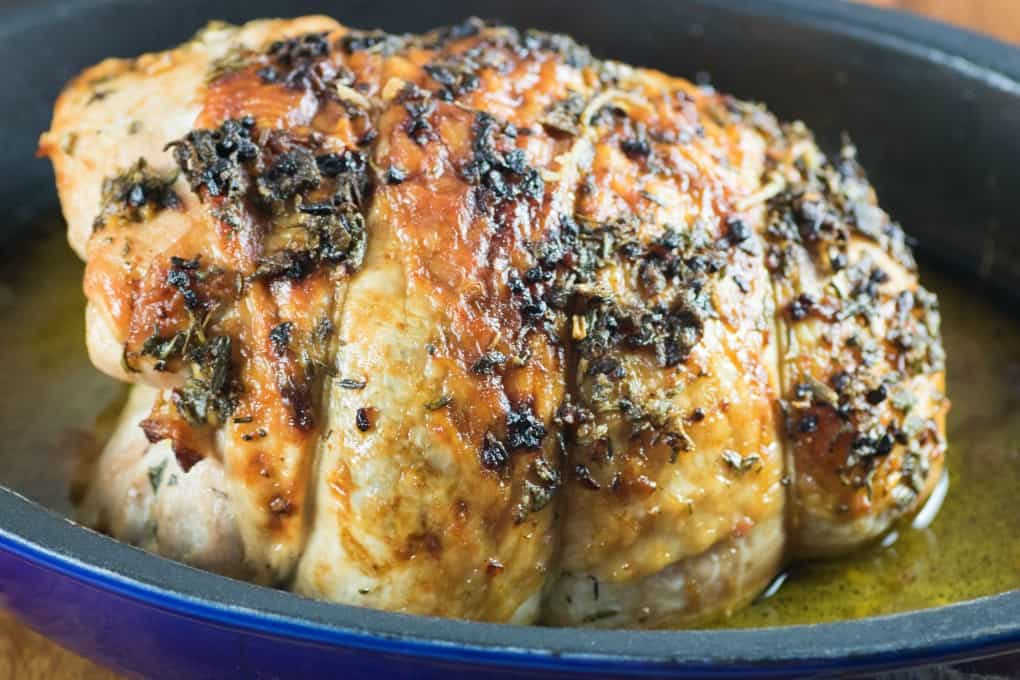 The turkey can be basted with the scrumptious butter sauce but be careful not to remove all those wonderful herbs in the process.
I just left it as the butter bastes it while it cooks. In the last few minutes I gave it one baste.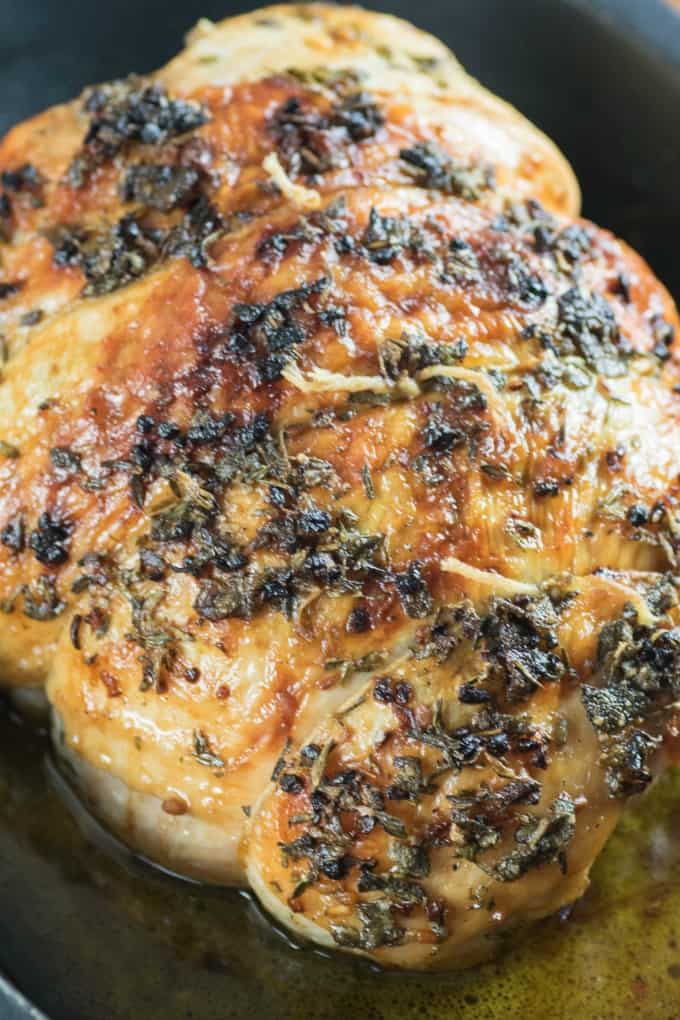 Look at how perfectly roasted that is. Wonderfully browned and still very juicy inside as it is basted with that delicious butter.
How Long to Roast a Turkey Breast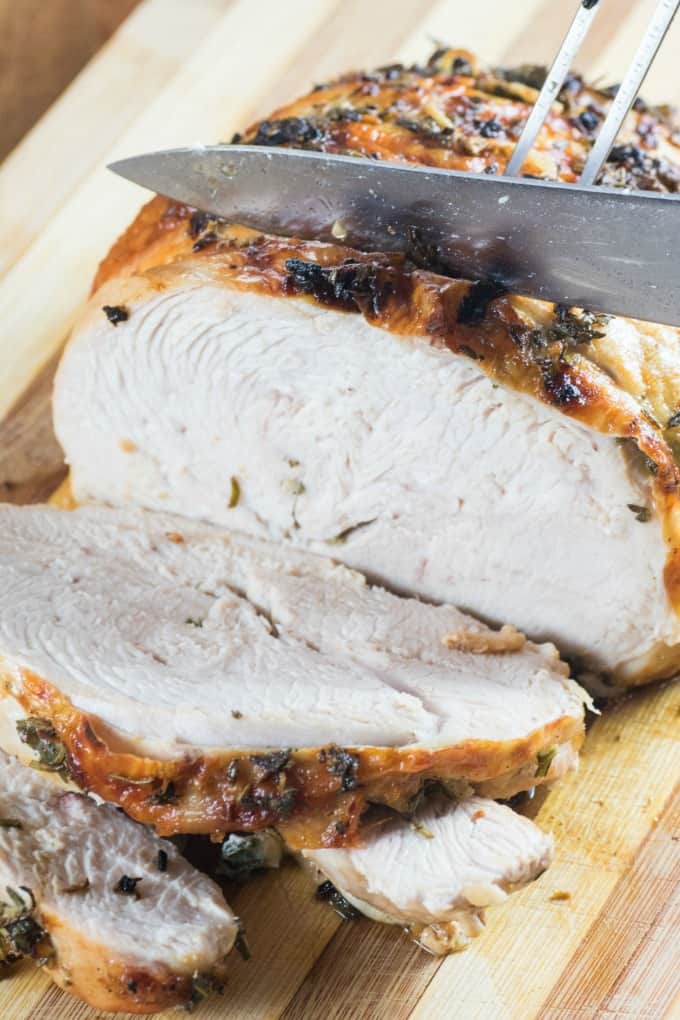 For a three pound turkey breast it will take about 1 1/2 to 2 hours to roast. I started at a high temperature of 425F and when the turkey went in I dropped the temperature to 350F. A hotter oven gives you a nice browned exterior and yet a juicy interior.
I can't emphasize this enough though that you can't cook turkey to a desired time but it has to reach 165F as the desired temperature. The best investment you will make is a good quality thermometer.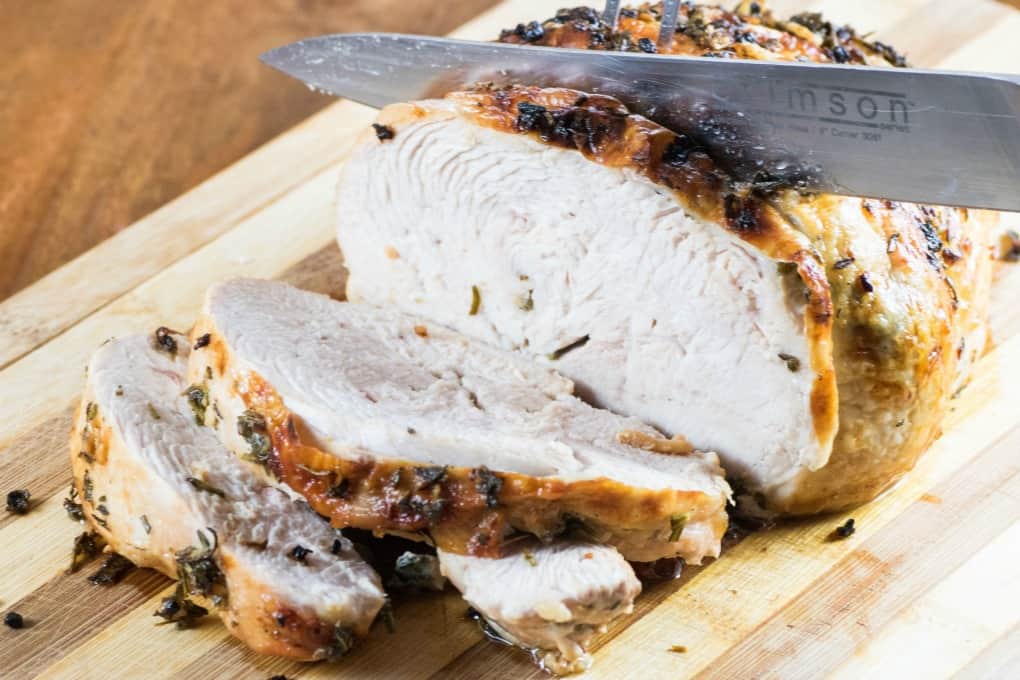 A roast turkey breast like this is perfect for a buffet style dinner as it is a formal sit down. This is also very portable if you need to bring turkey to someone's home. They take up less room in an oven or can be made ahead of time and served cold, at room temperature or reheated.
This is a perfect potluck dish or you make this centerpiece and have everyone bring the sides. This is entertaining made easy!!
40 Terrific Holiday Turkey Recipes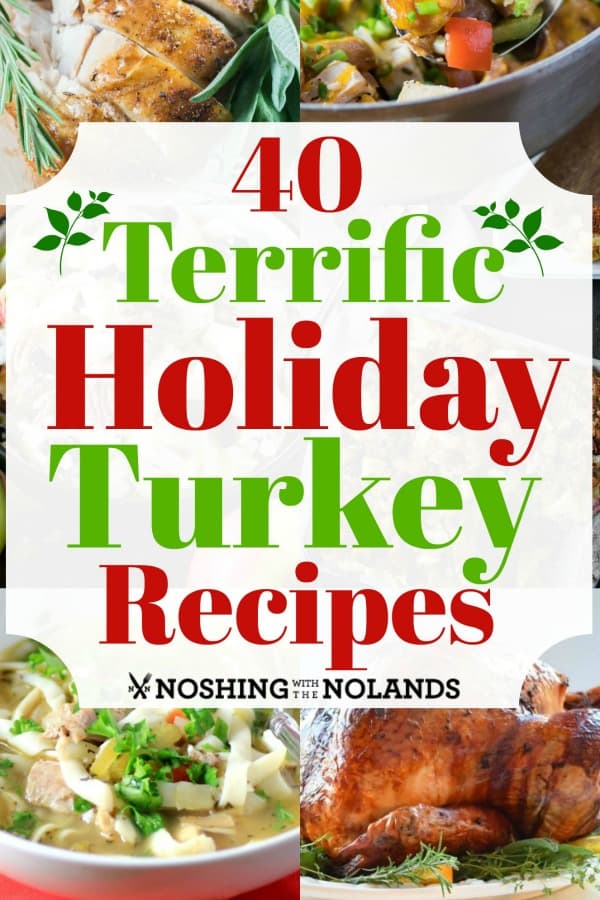 Besides wonderful recipes and tips from Canadian Turkey we also have another amazing post called 40 Terrific Holiday Turkey Recipes.
There are ideas for the whole turkey in this roundup plus there are recipes for different cuts of turkey to soups, stock and leftovers. We are talking turkey here!
Follow along with Canadian Turkey on Facebook, Twitter, Pinterest, Instagram and YouTube.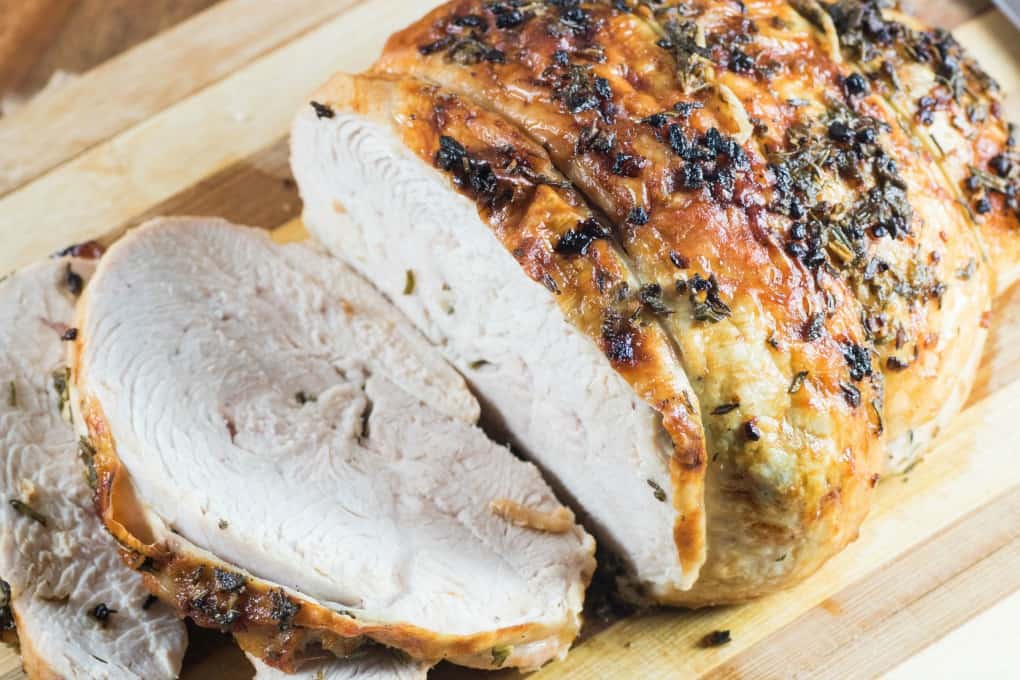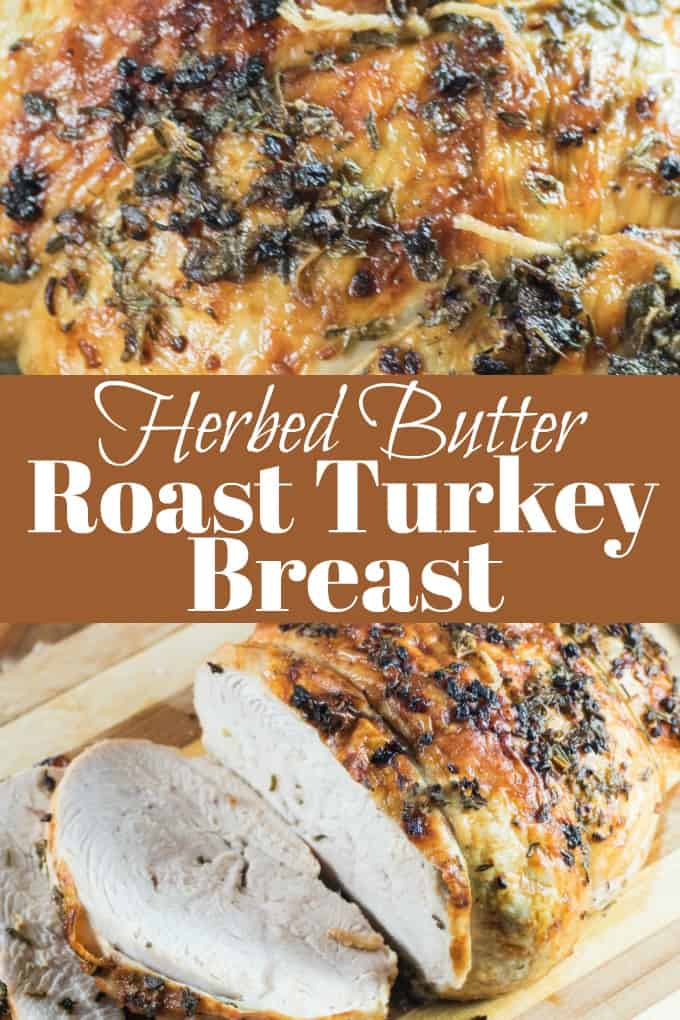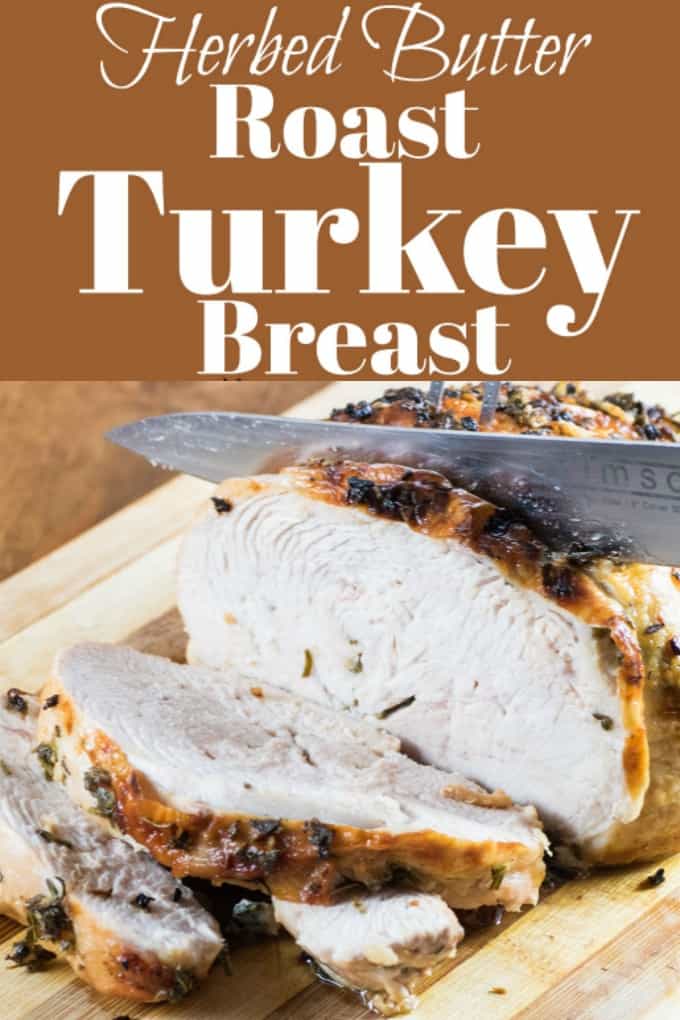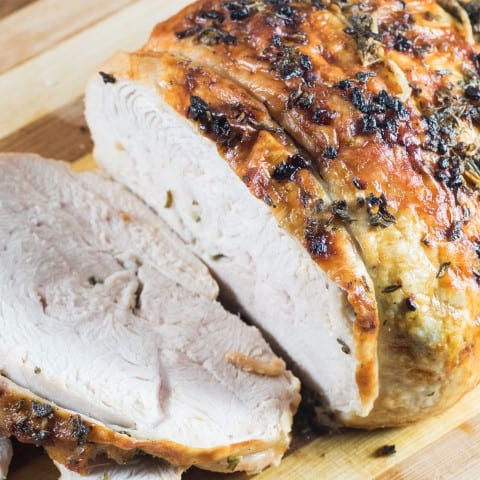 Herbed Butter Roast Turkey Breast
Yield: 4-6 servings
Prep Time: 20 minutes
Cook Time: 2 hours
Total Time: 2 hours 20 minutes
This Herbed Butter Roast Turkey Breast is simple to make even for the novice cook and makes a great portable main or perfect for the buffet table.
Ingredients
3 lb. Canadian turkey breast
1 poultry mix pack of fresh herbs, sage, thyme and rosemary
3 cloves garlic, minced
1 tsp. Kosher salt
Freshly ground pepper
6 Tbsp. butter, softened
Kitchen twine
Instructions
Preheat oven to 425F.
Dry turkey breast with paper towels.
In a small bowl, mix together the butter, 1 Tbsp. of each herb chopped, garlic, salt and pepper.
Carefully loosen the skin away from the turkey breast to create a large pocket.
Spread the butter onto the breast and then on the bottom of the breast and on top of the skin.
Tie three times with kitchen twine to secure.
Place in a roaster or appropriate baking pan.
Place in the oven and reduce temperature to 350F. Cook for 1 1/2 to 2 hours until thermometer reaches 165F. Remove from oven.
Tent with foil and let rest for 10 min. Slice and serve.
Nutrition Information:
Yield: 6
Serving Size: 8 oz
Amount Per Serving:
Calories: 439
Total Fat: 16g
Saturated Fat: 9g
Trans Fat: 1g
Unsaturated Fat: 6g
Cholesterol: 212mg
Sodium: 704mg
Carbohydrates: 1g
Fiber: 0g
Sugar: 0g
Protein: 69g