Pumpkin No Knead Bread
This super pillowy Pumpkin No Knead Bread is so simple to make: Just mix, wait, shape and bake. Add pumpkin and a few seeds and you'll be a star baker in no time!
Yellow leaves, chilly mornings, and cozy sweaters. Fall is arriving at Noshing with the Nolands and today we're talking about freshly baked bread; pumpkin style! Pumpkin has always been synonymous with fall and we have so many great pumpkin recipes on the blog.
Right now, it's time to cozy up with a bowl of Spaghetti Meatball Soup and dip away with a buttery slice of still-warm Pumpkin No Knead Bread.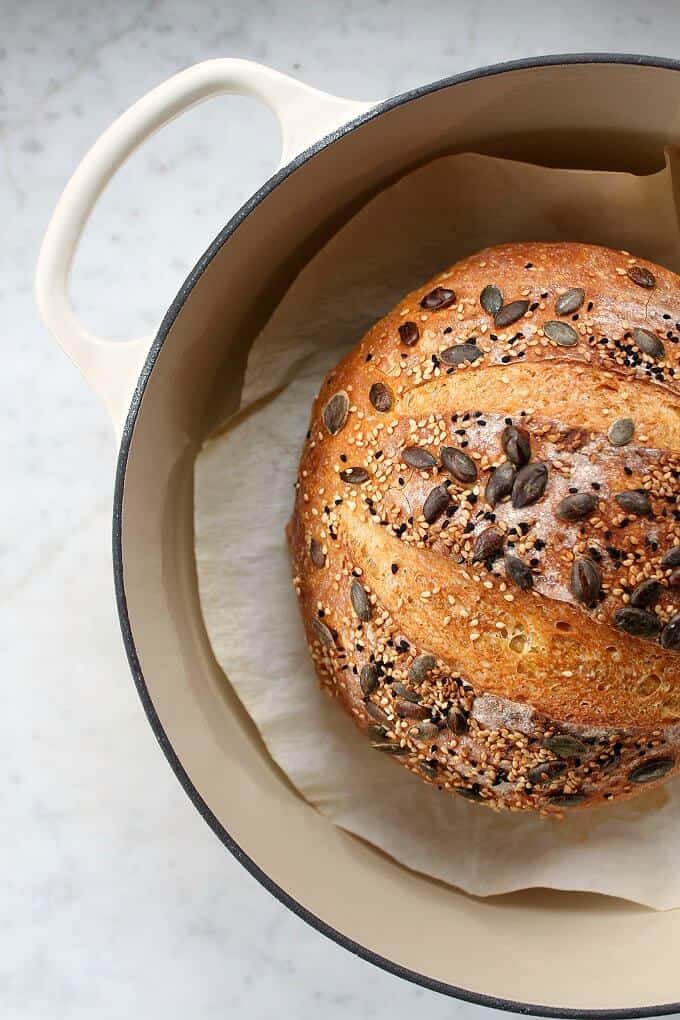 Helpful Items for This Recipe
This post contains affiliate links.
Bread Bakers Lame Slashing Tool
7 Piece Banneton Proofing Bread Basket 9 inch Round + 10x6x4 inch Oval Sourdough Baking Set | Lame + Dough Bowl Scraper+ Bread Bag
Lodge 7 Quart Pre-Seasoned Cast Iron Dutch Oven
Hi everyone! My name is Bernice and I love gluten. My blog Dish 'n' the Kitchen, contains treasured family recipes, many of my creations, and records my successes (and failures) as a baker.
The very first time I saw the New York Times famous No Knead Bread recipe, I knew I had to try it. From then on, I was hooked on bread baking, including my most recent sourdough baking experiments.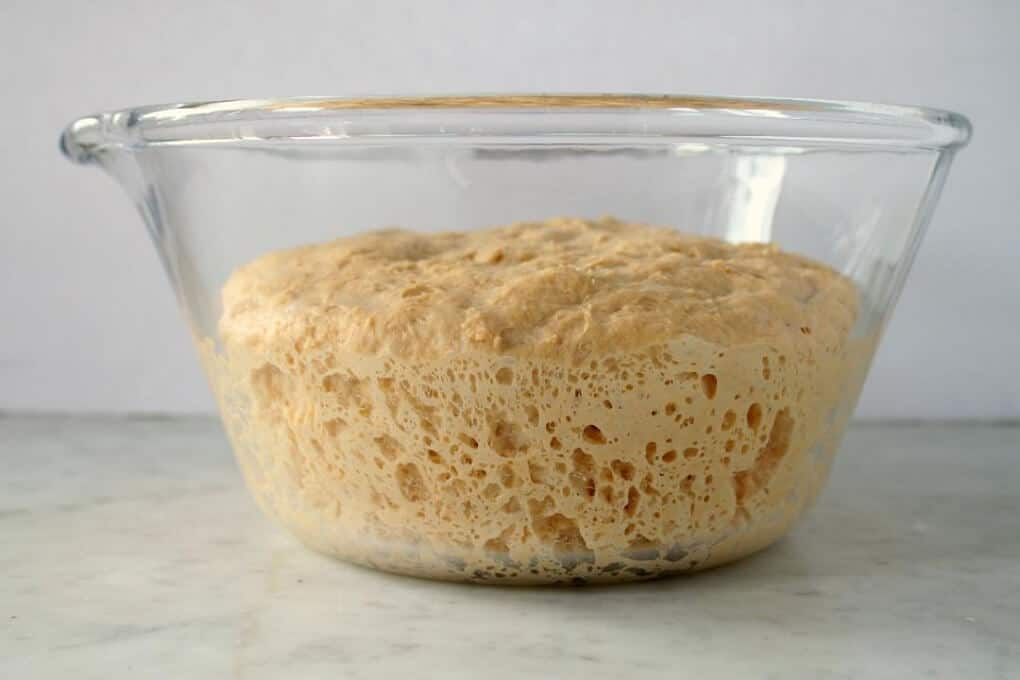 What is No Knead Bread?
The three most important characteristics of No Knead Bread are:
very little commercial yeast when compared to regular yeast breads.
a long rise or long fermentation period.
a very wet sticky dough (high hydration) when compared with regular yeast breads.
In No Knead Bread, long gluten strands (which give the bread an airy texture) result from the long rise and higher hydration while traditional bread making methods rely on a lot of kneading to develop the gluten.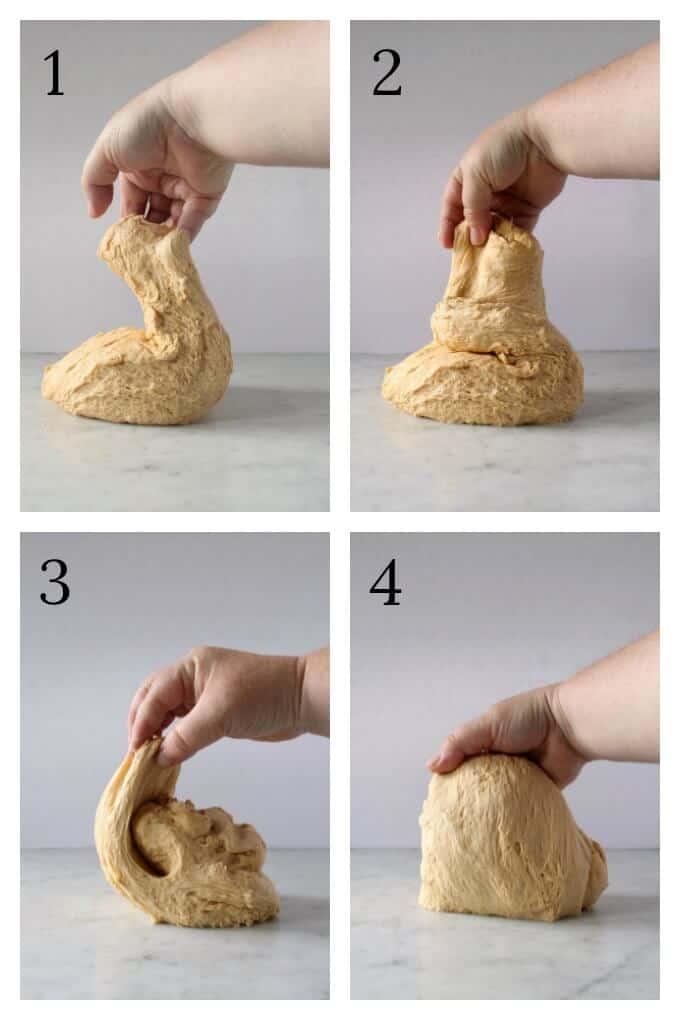 Despite the name, No Knead Bread is not an entirely hands-off bread baking method. Some hand mixing is required at the beginning to ensure all ingredients are properly mixed.
In addition, some stretching and folding (see photos above) helps to shape the bread before the final rise.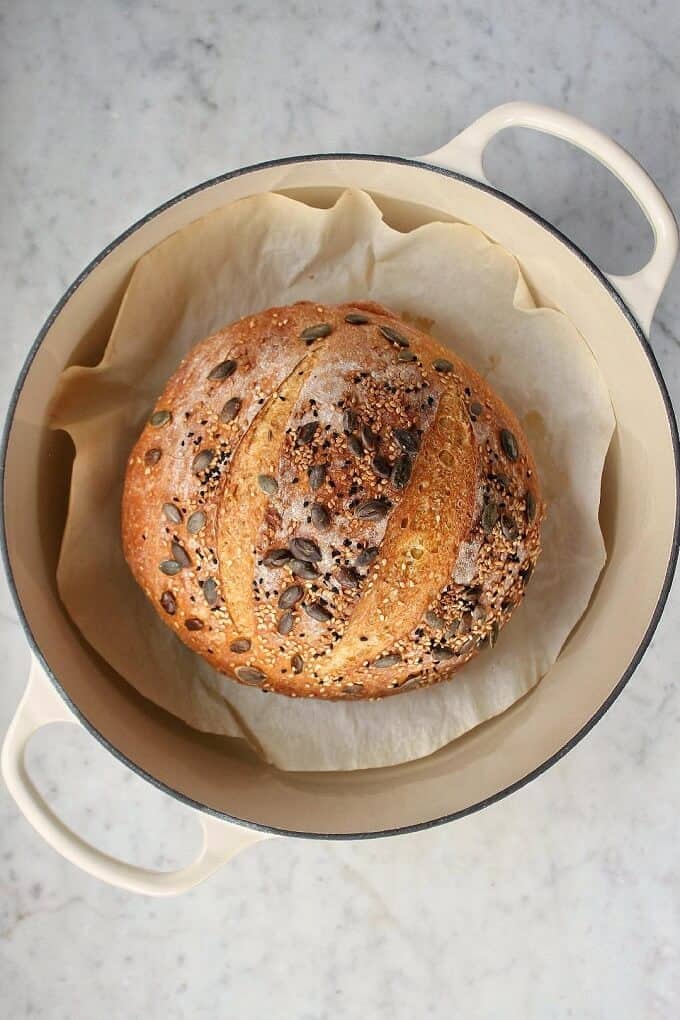 How Much Time Does It Take to Make No Knead Bread?
Even though it looks like this recipe takes forever, most of that time is entirely hands-off. The bread is practically making itself!
The great thing is that you can adjust the timing of this recipe to suit your own schedule. For example: mix up the ingredients in a large bowl before you leave for work in the morning, then come home and finish it later that evening.
I like to mix mine up at midnight, then do my final shaping at noon and bake around 3 pm. The timing really does depend on the temperature and humidity in your home.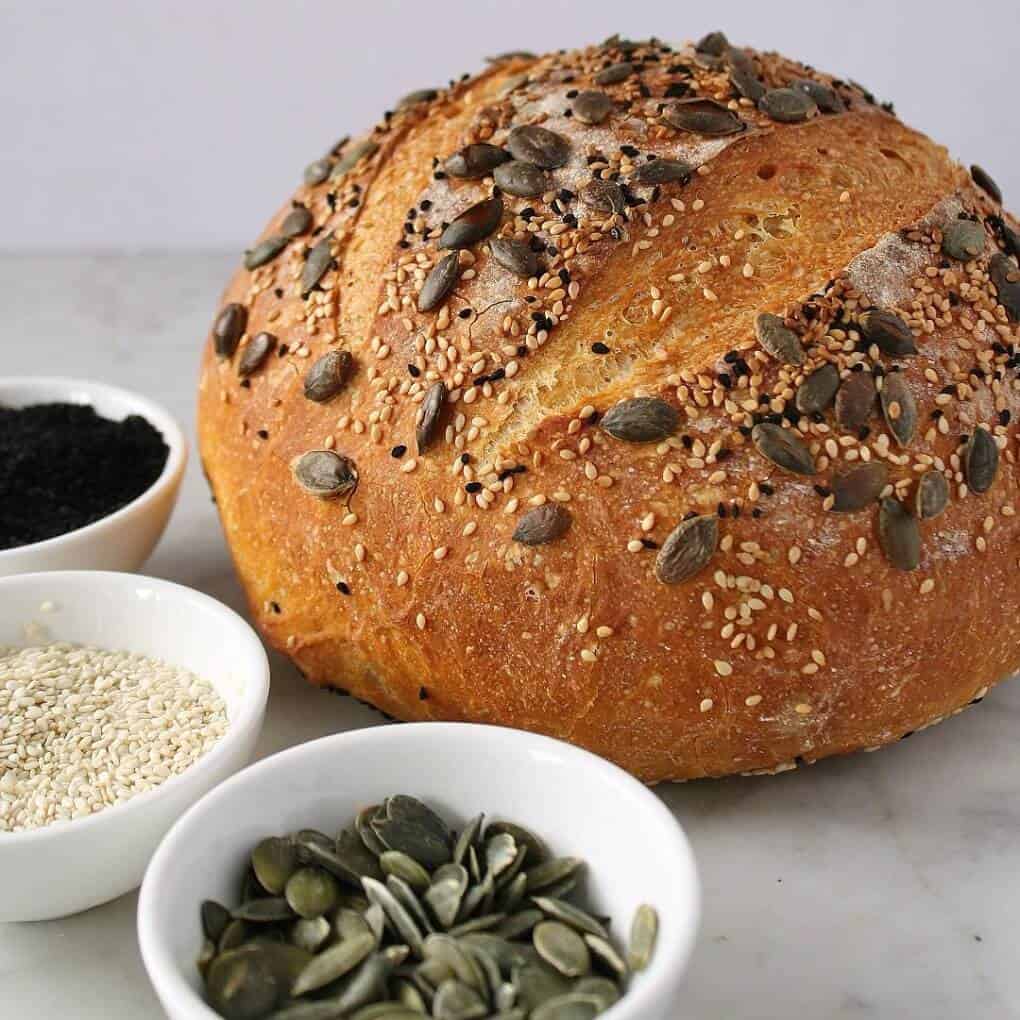 How to Make This No Knead Bread Your Own
This easy recipe produces an artisan-quality loaf or boule with a golden brown crusty exterior and beautifully textured interior. It's simply topped with pumpkin seeds, white and black sesame seeds.
Everyone has different tastes so feel free to experiment with other toppings such as nuts or cheese. Other ways to add your own flavor to this bread include adding herbs and spices, cheese, or olives during the mixing step.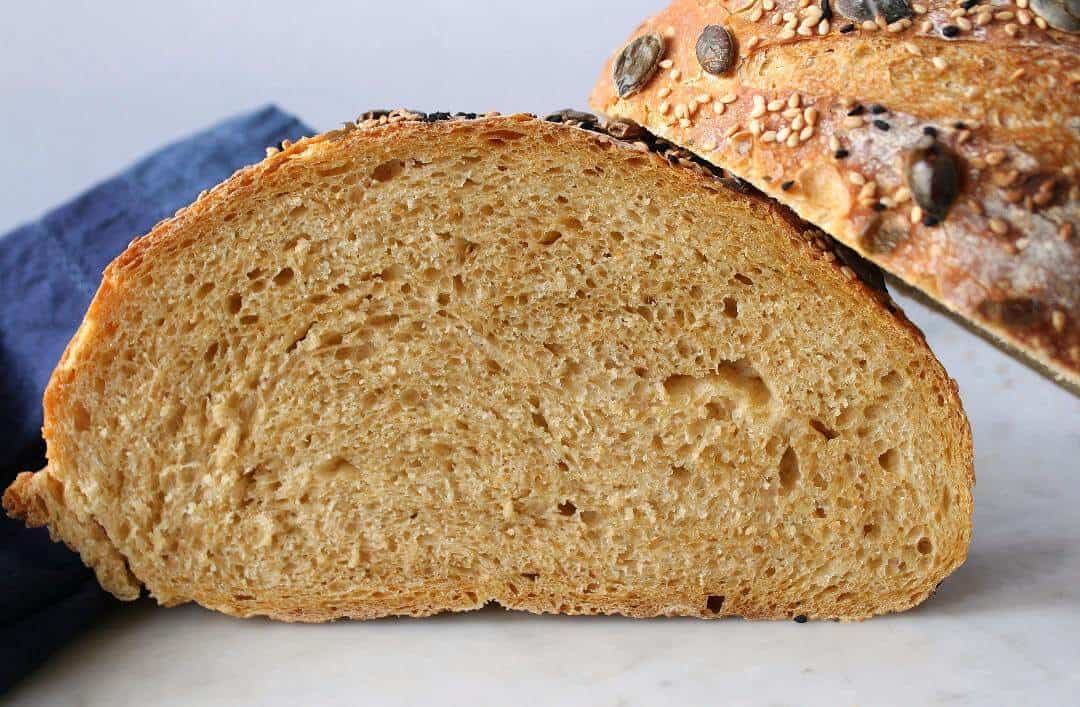 How to Store No Knead Bread
Congratulations! You have now made your very own gorgeous boule of Pumpkin No Knead Bread. If you don't immediately inhale all of the bread and want to store it, here's how: To maintain that beautiful crisp crust, store it in a closed paper bag or linen bread bag.
Otherwise, store the loaf in an airtight plastic bag. Remember there are no preservatives in this bread so it's best to consume it within a few days of baking.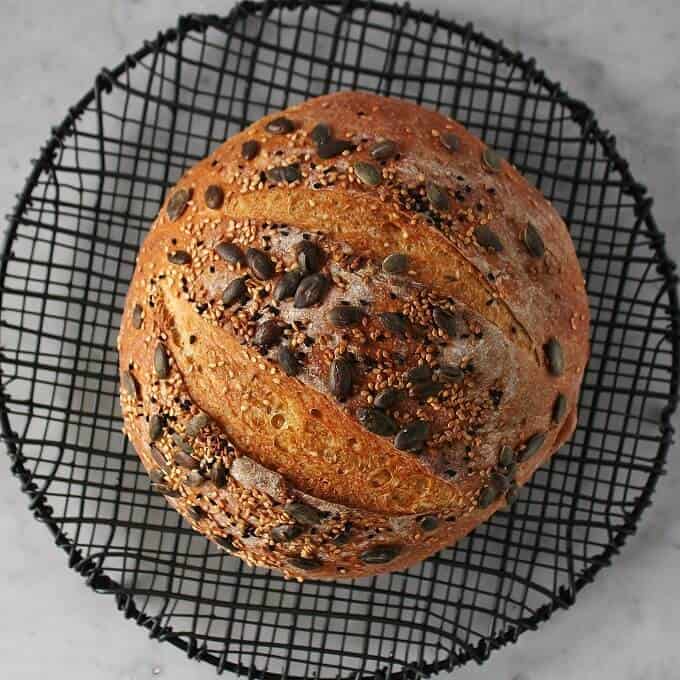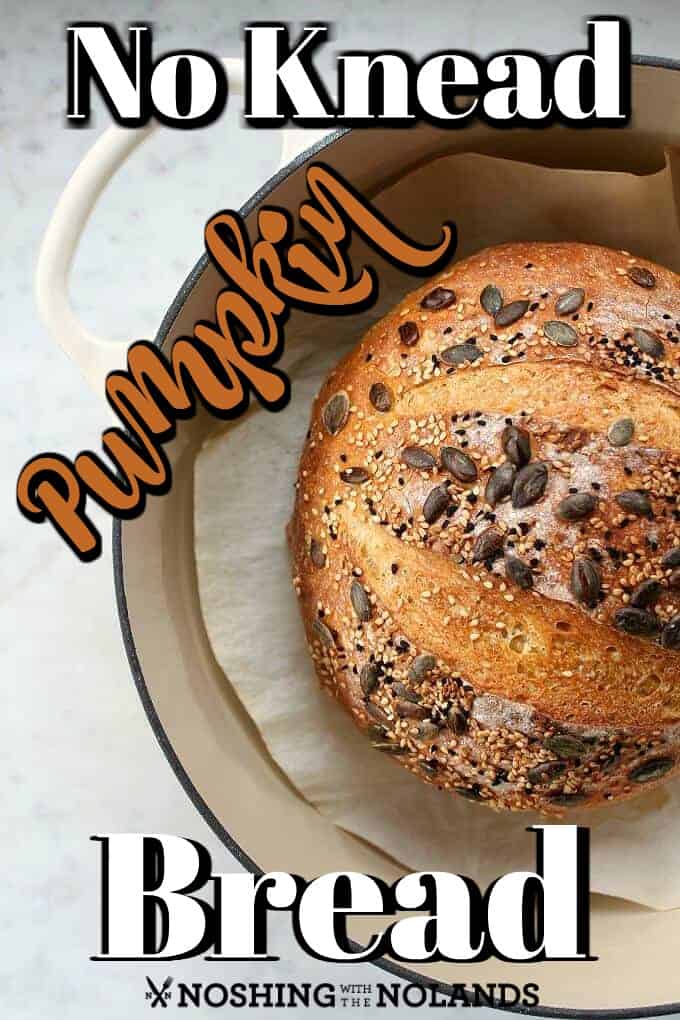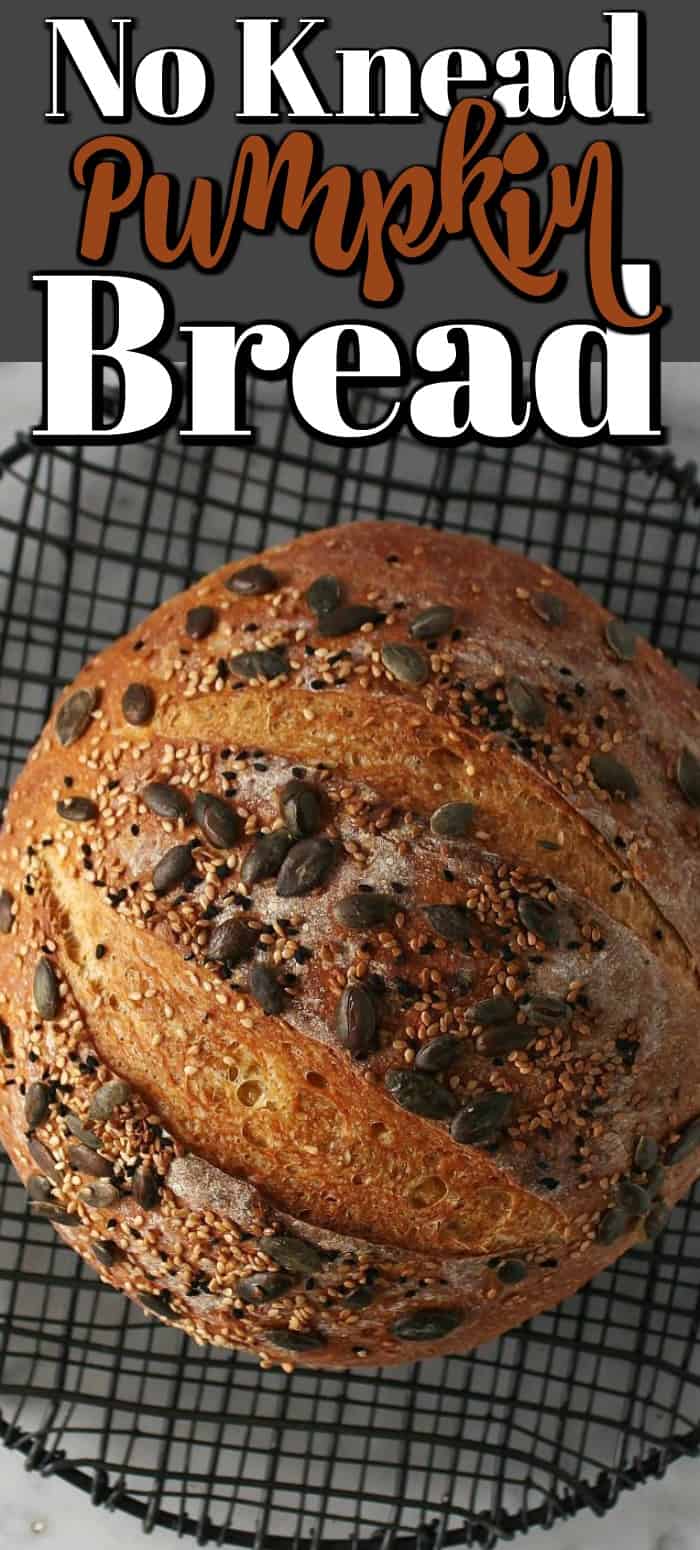 Recipe adapted from this recipe by Chef John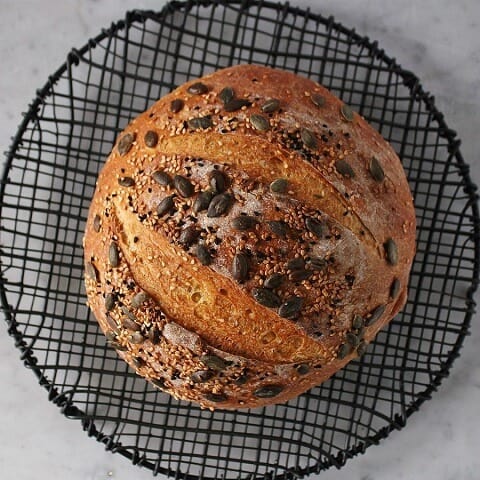 Pumpkin No Knead Bread
Yield: 1 loaf
Prep Time: 10 minutes
Cook Time: 50 minutes
Additional Time: 15 hours
Total Time: 16 hours
This super pillowy No Knead Bread is so simple to make: Just mix, wait, shape and bake. Add pumpkin and a few seeds and you'll be a star baker in no time!
Ingredients
2/3 cup pumpkin pureé
1/4 tsp active yeast
1 cup warm water
1 tbsp honey
1 1/2 tsp salt
3 cups flour
assorted seeds (for this loaf, plain shelled pumpkin seeds, white and black sesame seeds but use what you like)
Instructions
PUMPKIN NO KNEAD BREAD
1. Place pumpkin purée, water, salt, yeast, and honey in a large mixing bowl. Mix together well.
2. Add I cup of flour and thoroughly combine, repeat with 2 remaining cups of flour.
3. Reach into the bowl and mix well with your hands. Knead dough until it is smooth and elastic.
4. Tidy dough into a ball and cover the bowl with plastic wrap. Let rise 12 hours (up to 18 hours) until the dough has more than doubled and bubbles can be seen on the dough surface.
5. Carefully remove dough from the bowl and place onto a clean work surface.
6. Grab the side of the dough farthest away from you, stretch up (about 3 times the height of the dough) then fold over the dough. Repeat on the right side of the dough, the side closest to you, and finally the left side.
7. Flip over the dough ball so that the smooth side is on top. Cup your hands around the ball and slide it slightly forward on the countertop. Rotate, and repeat until the dough is a neat ball.
8. Carefully place the dough ball (smooth top facing downward) in a well-floured *banneton. Alternatively, line a medium bowl with a well-floured tea towel and place the dough ball in there.
9. Cover and let rise until doubled, approximately 1-2 hours.
BAKING YOUR BREAD
10. Place Dutch oven in your oven and pre-heat it to 425 F.
11. Cut a piece of parchment paper the size of the bottom of your Dutch oven. Place it over the basket (or bowl).
12. To remove bread from basket/bowl, place a cutting board over the parchment paper, grab the basket/bowl with your thumbs and flip the whole thing over using a quick motion.
13. Moisten hands with water and lightly rub over the surface of the boule. Scatter the seeds over the bread surface. You may need to press them in slightly.
14. Score the bread with a sharp knife or bread **lame.
15. Remove hot Dutch oven from your oven and carefully lower the boule into the pot (by holding onto the parchment paper).
16. Cover and bake for 20 minutes. Remove the lid and bake for another 20-25 minutes. Baking time may vary from oven to oven.
17. Remove bread from Dutch oven and place on rack to cool.
Notes
TIPS
Please note: 1) The temperature and humidity in your home will affect dough rising times.
2) Oven temperatures may vary. Mine runs hot so I bake at 425 F. If you have an average or cooler oven, try starting at 450 F then reducing to 425 F after you remove the lid.
*A banneton is a type of basket used to provide structure for shaped loaves of bread during proofing. Banneton baskets are also known as brotform or proofing baskets. It is normally used for doughs that are too soft or wet to maintain their shape while rising. Source: Wikipedia
**A lame (/lɑːm, læm/) is a double-sided blade that is used to slash the tops of bread loaves in artisan baking. A lame is used to score (also called slashing or docking) bread just before the bread is placed in the oven. ... This significantly improves the appearance of baked breads. Source: Wikipedia
Nutrition Information:
Yield: 8
Serving Size: 1
Amount Per Serving:
Calories: 186
Total Fat: 1g
Saturated Fat: 0g
Trans Fat: 0g
Unsaturated Fat: 0g
Cholesterol: 0mg
Sodium: 439mg
Carbohydrates: 40g
Fiber: 2g
Sugar: 3g
Protein: 5g
Recipe calculation was provided by Nutritionix and is an estimation only. If you need nutritional calculations for medical reasons, please use a source that you trust.