Spaghetti Meatball Soup
Disclosure: I was compensated for this post. All opinions and experiences are my own.
A hearty soup on a cold night can't be beat!! Do you think you don't have time to create a soup quickly? This soup can be made in 30 min. including the time to cook the meatballs and it is gluten free too! So easy and so delicious made with House Foods Shirataki Tofu Noodles too!! This Spaghetti Meatball Soup will be a meal that your family will want again and again. I served it to our daughter and her teenage friends and they loved it. Even having seconds!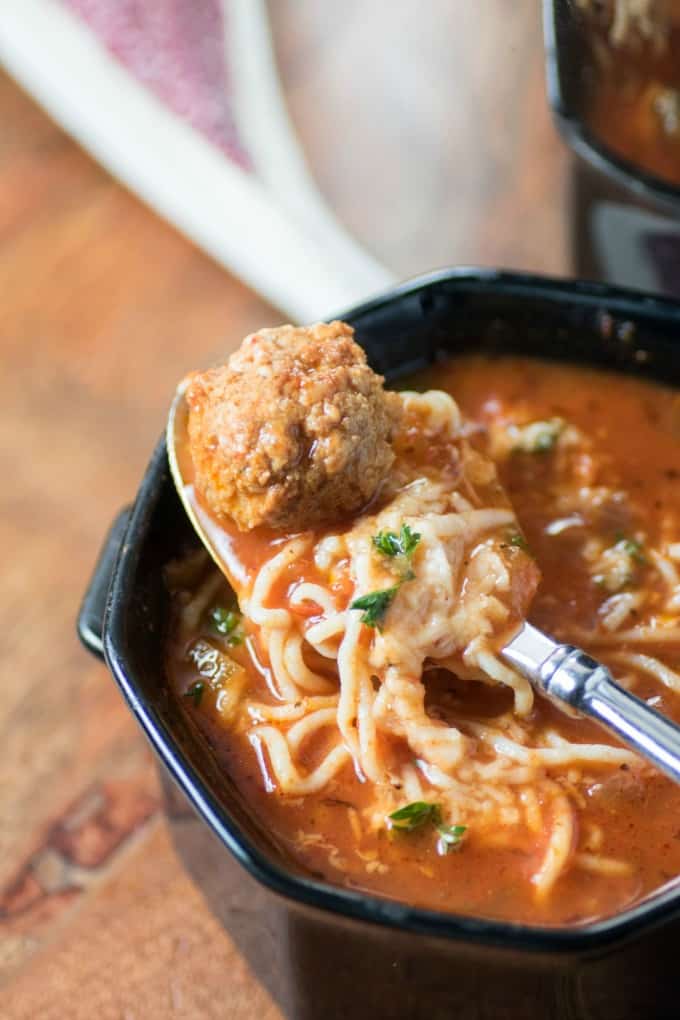 The soup can be made gluten free as Shirataki Noodles are completely gluten free. I also found out you can easily access frozen gluten free meatballs at the grocery store. Buying them for a weeknight meal is quick and easy. They only take 15-20 min. to cook up in the oven. While they are cooking the soup can be made and then put together to simmer for 10 min. and dinner is served.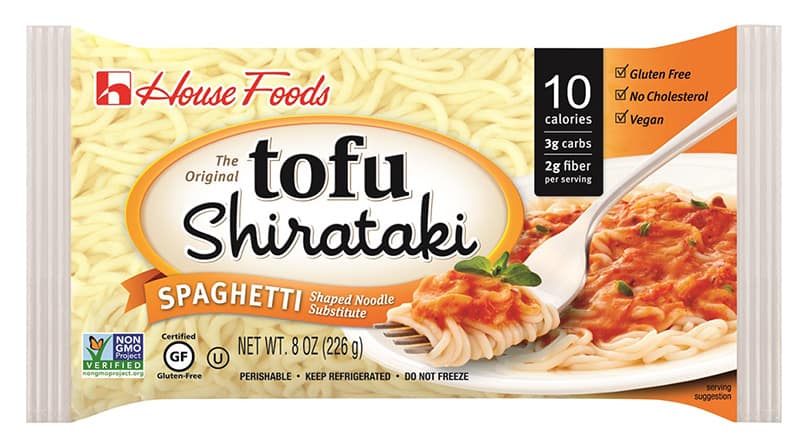 Look at how low the calories are in these Shirataki noodles, 10 calories that is nothing!! Plus no choesterol, non GMO and vegan! We have made so many incredible recipes with these noodles and love them!!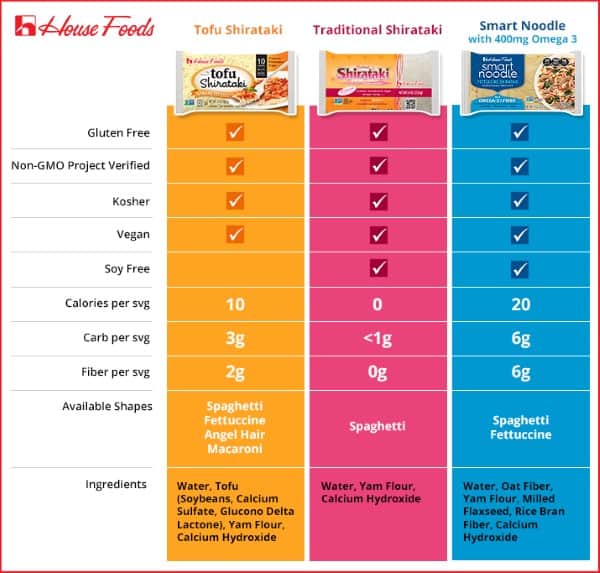 Here is a listing of three of their popular products!! Pretty impressive facts!!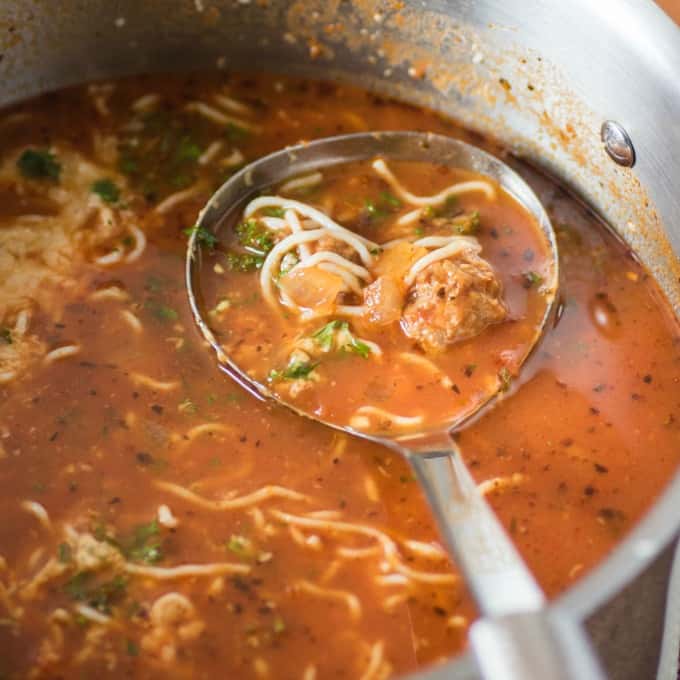 Serve yourself up a big scrumptious bowl of this delicious soup!! It is a healthy choice for dinner and before all the big meals of the holidays come! Never mind it will be a great soup to go back to after all the overindulging too!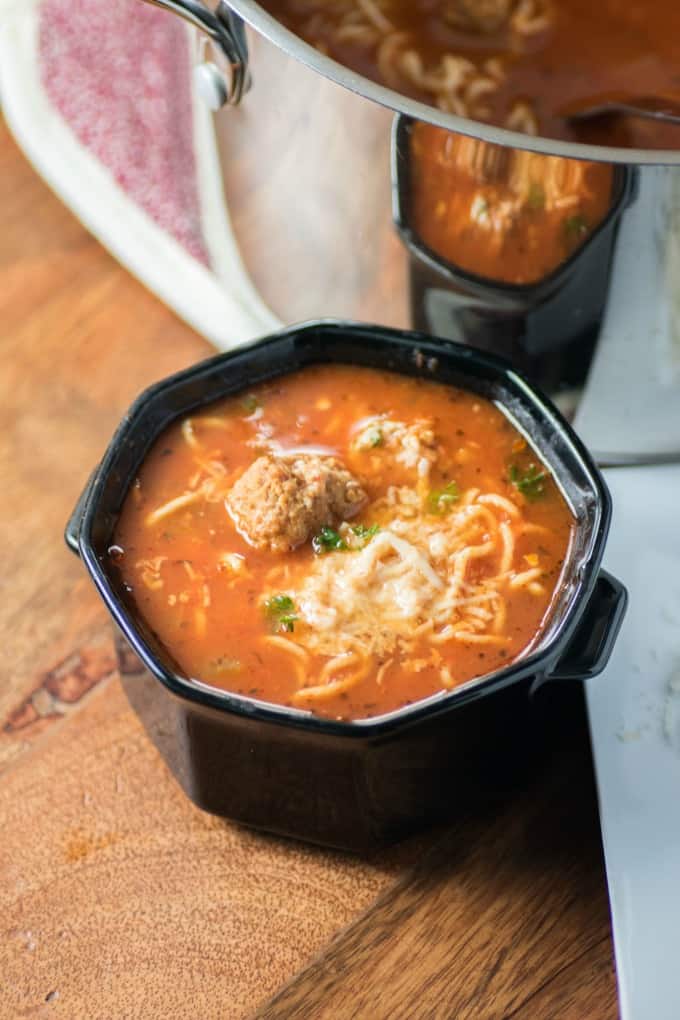 We have lots of other recipes using Shirataki Noodles like Tofu Shirataki Noodle Buddha Bowl, Healthy Vietnamese Pho Soup, Creamy Butternut Squash Pasta and Easy Light Turkey Noodle Soup that appears below!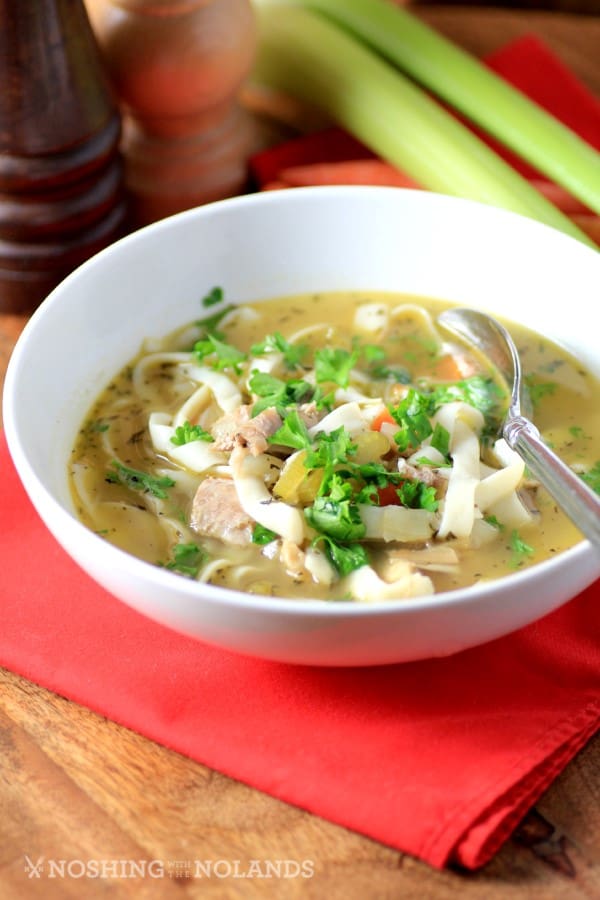 The Recipe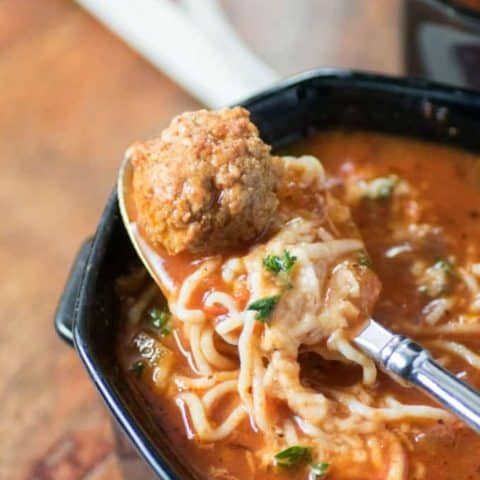 Spaghetti Meatball Soup
Yield: 6 servings
Prep Time: 10 minutes
Cook Time: 30 minutes
Total Time: 40 minutes
A gluten Free Spaghetti Meatball Soup made with the goodness of Shirataki Tofu noodles. Your family will want to have this again and again.
Ingredients
1 pkg. House Foods Shirataki Tofu noodles
1 lb. frozen gluten free or regular beef meatballs
1 Tbsp. olive oil
1 onion, chopped
2 tsp. garlic, minced
Salt and pepper
1 tsp. Italian seasoning
900 ml. (30 oz.) low sodium chicken broth
654 ml. (22 oz.) marinara sauce
Fresh parsley and Parmesan cheese to garnish
Instructions
Boil the Shirataki noodles according to the package directions, they only take 2-3 min. Drain well and set aside. Cut them up if desired to make them easier to eat in the soup.
Prepare meatballs according to package directions. Cover the tray with foil for easy cleanup.
Meanwhile, saute the onion and garlic in a large pan with salt, pepper and Italian seasonings until onion is translucent. Add in the chicken stock and marinara sauce. Once the meatballs are done add them to the pot and simmer for 10 min.
Add in the shirataki noodles and serve with parsley and Parmesan cheese.