Healthy Vietnamese Pho Soup
A simple Healthy Vietnamese Pho Soup cannot only take you through a cold winter but right into spring with it's fresh ingredients. It is a simple quick fix that my whole family loves especially when made with easy House Foods Shirataki Noodles. It can be made with chicken and fish sauce or those can be omitted and it is vegetarian or vegan, just check your individual products to make sure. This can be gluten free also if you make sure the hoisin sauce is also gluten free or omit it.
The Shirataki noodles that are used in this recipe are vegan and gluten free and are so easy to use. Just a quick rinse and a fast 2 min. boil and they will be waiting for you while you make the rest of the soup. They are perfect in an Asian soup like this and one that we love making as it whips up in 20 min. max.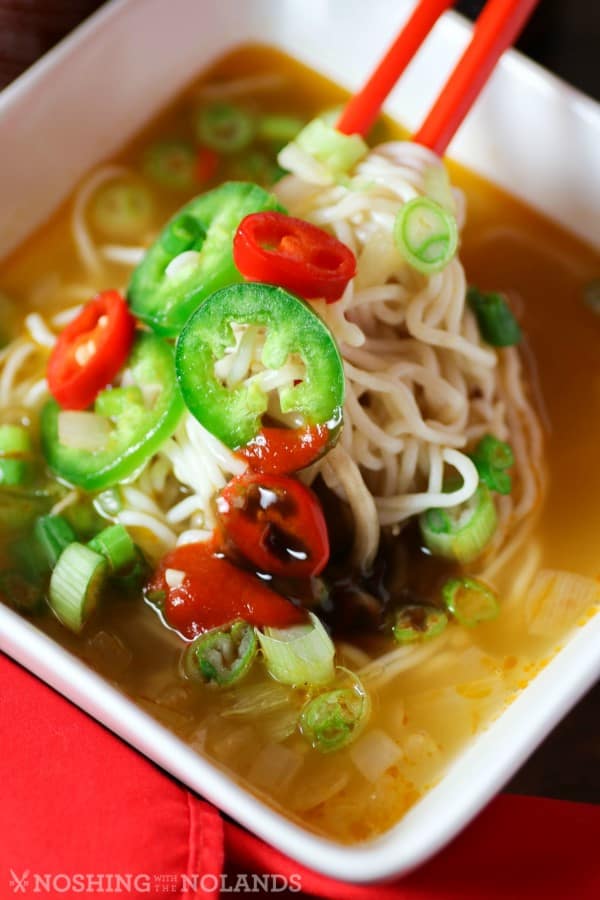 This soup is very versatile, not only can it be made with chicken or remain vegan, it can be dressed up to how you like it. Bring on the spicy heat of fresh jalapenos and little red peppers. Amp it up even more with Sriracha or omit those and you still have a very flavorful soup! Each member of your family can have it how they like it right down to the toddlers.
Shirataki Noodles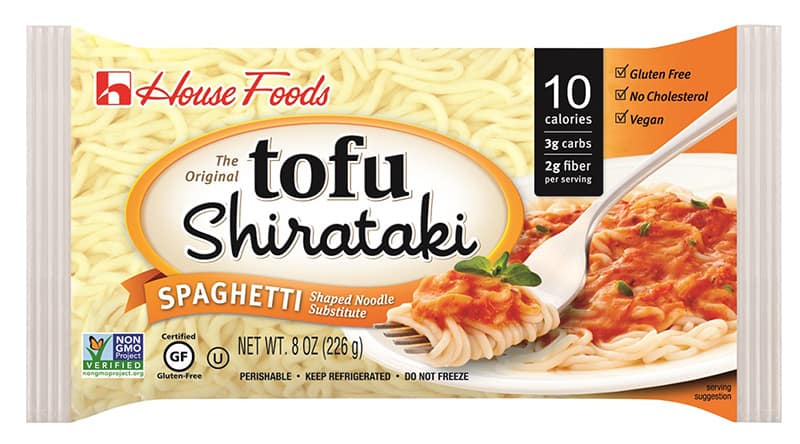 For this recipe I used House Foods Shirataki Spaghetti, they are only 10 calories per serving which is nothing compared to pasta! You can use these noodles in any recipe that requires pasta, I find they are gorgeous in an Asian soup like we have today. Wouldn't use anything else!! They are also low in carbs, non GMO and give you 2 gms. of fiber too!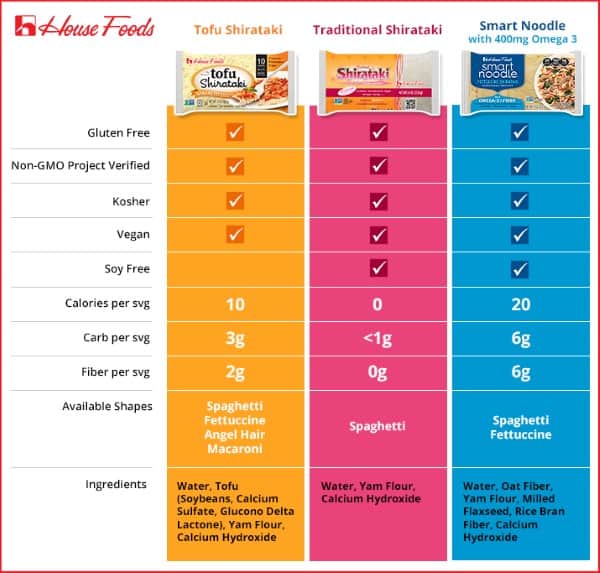 Here is a little graph explaining all about House Foods Products. They are so healthy you are going to want to add them into your weekly meals. Kids love noodles and you can be happy to know that they are having a nutritious alternative to pasta.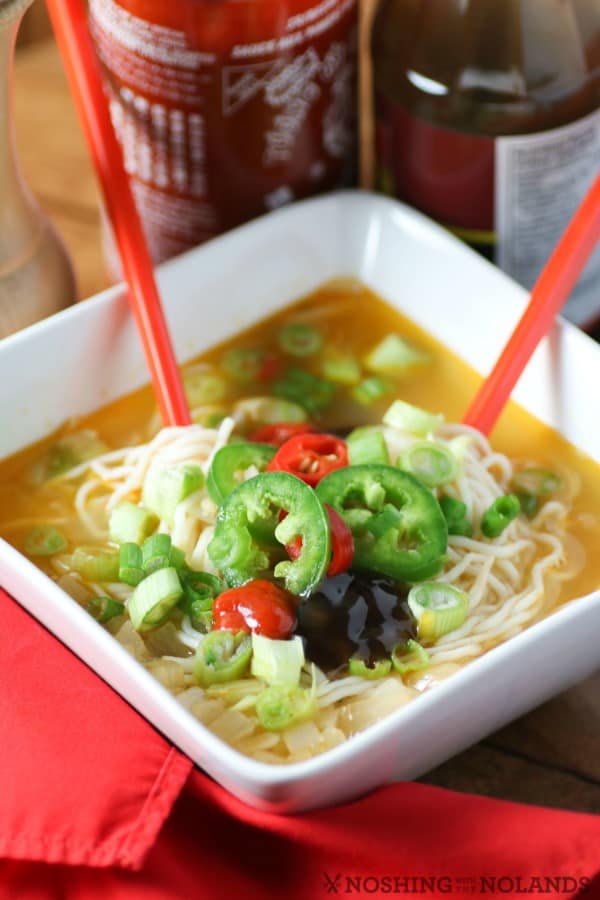 All of the ingredients for this recipe are easily accessible. Shirataki noodles can be found in your local grocery store in Canada and the US.
The Recipe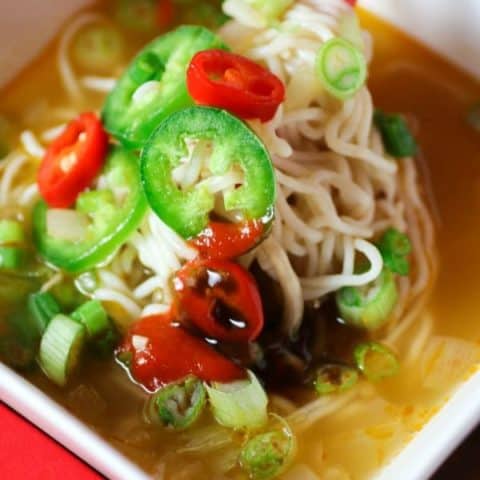 Healthy Vietnamese Pho Soup
Yield: 6 servings
Prep Time: 15 minutes
Cook Time: 20 minutes
Total Time: 35 minutes
Healthy Vietnamese Pho Soup is simple and easy to make and can be customized to your liking being, vegan, gluten free, spicy etc.
Ingredients
1 medium onion, chopped
1 Tbsp. each ginger and garlic
2 tsp. canola oil
Kosher salt and pepper
2 x 900 ml (60 oz.) chicken or vegetable stock
Sliced chicken, optional
2 Tbsp. fish sauce, optional
1 Tbsp. sesame oil
1 cup fresh bean sprouts
4 scallions, chopped
2 jalapeno peppers, red and green, seeds and veins removed, optional
Hoisin sauce, gluten free if needed
Sriracha sauce
Instructions
Rinse and cook Shirataki noodles according to package and set aside.
In a large pot add the canola oil and saute the onion, ginger and garlic for 3 min. Season with salt and pepper.
Add the chicken or vegetable stock and let simmer for 15 min. Add in the fish sauce and sesame oil along with the noodles and chicken if using and heat through.
To each bowl add a small handful of bean sprouts. Ladle the soup over and top with the green onions, jalapenos, Hoisin and Sriracha sauce. Serve immediately.