I am sure you have heard by now the great healthy dish called a Buddha Bowl, they are trending for 2017. They are fantastic and can be made to order to what veggies, proteins, noodles or grains that you enjoy! For us when I thought of a Buddha Bowl, a Tofu Shirataki Noodle Buddha Bowl came to mind.
We love tofu shirataki noodles for so many reasons. They are very low in calories, super easy to make (rinse and a two minute boil), and go fantastically in any noodle dish plus they are gluten free too!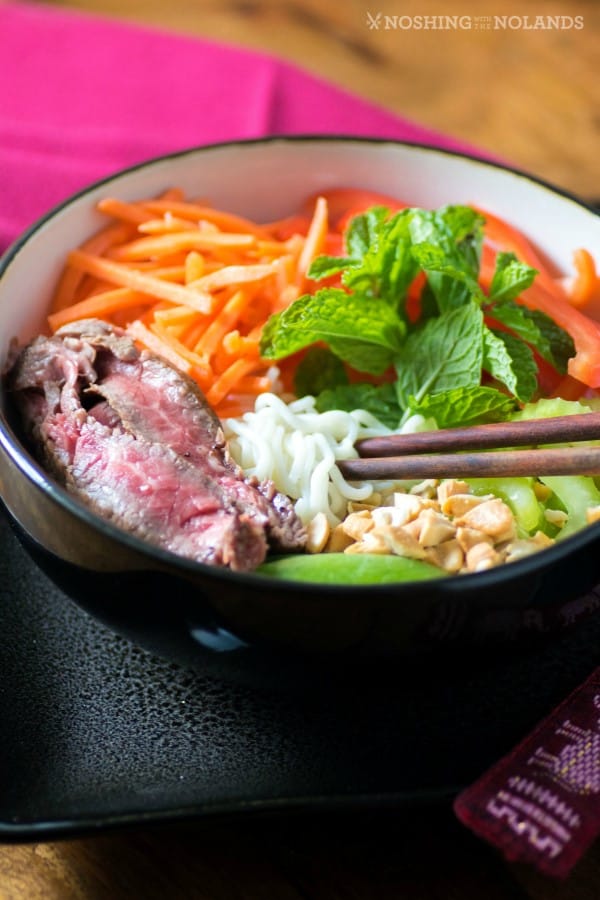 With our Buddha Bowl that we have for you today I have loaded it up with carrots, red peppers, celery, snap peas, cashews, mint and a few slices of perfectly cooked steak. Then poured on top is a wonderful Miso Salad Dressing.
I could eat this everyday of my life. Full of flavor and healthy, crunchy veggies all topped off on the perfect noodle bottom. The shirataki noodles take on the salad dressing like they have been meant to be together forever!!
I know you want to dive right into the bowl, I sure do again. This dinner takes no time to pull together too. Using carrots that are already prepped for you is a huge time saver. You only need to slice the pepper and celery and give the nuts a chop.
When the steak has been cooked and rested, it just needs a quick slice and your bowl is complete. Take the dressing to the table for everyone to add their own. The dressing is also a quick prep.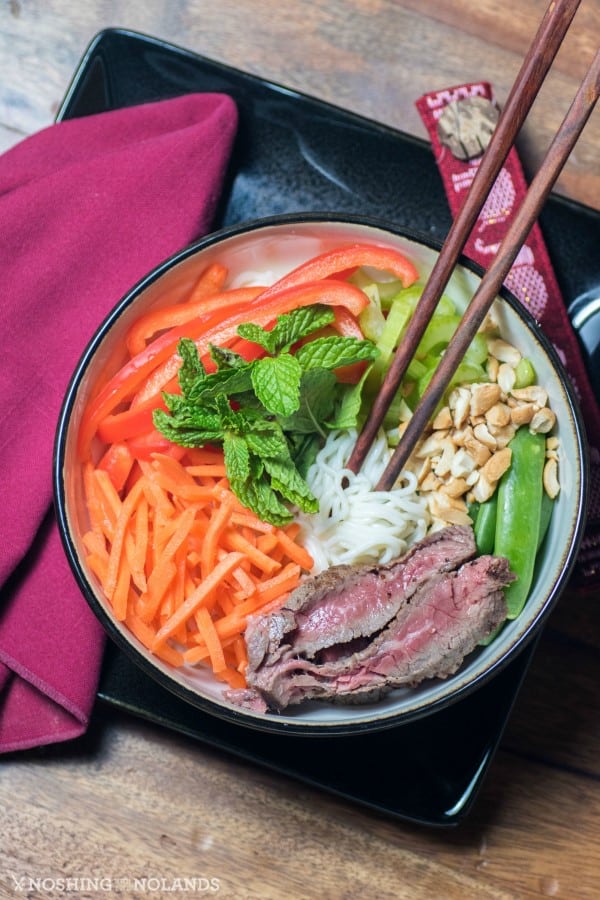 Using shirataki noodles significantly reduces the calories, per serving they are only 15 calories. That is way less than any grains. So for me I can slide in a few gorgeous slices of steak. I love having steak this way, a few slices goes a long way with me. I actually prefer this than having a whole steak. I savor it way more.
Shirataki Noodles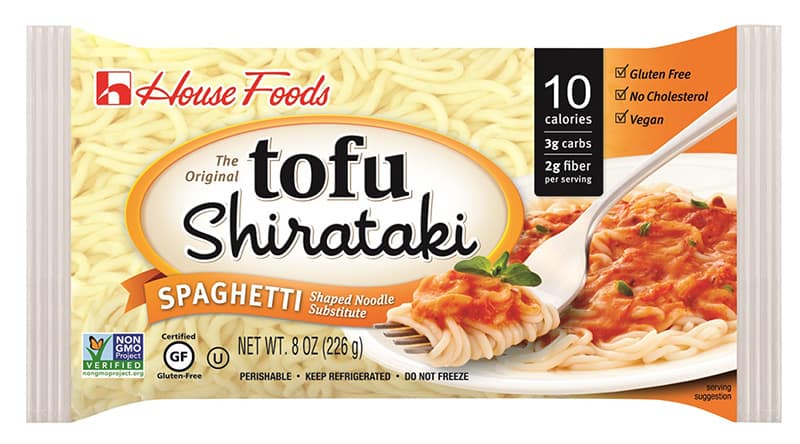 You can easily make any Buddha Bowl vegetarian or vegan too as the noodles are vegan. Tofu shirataki noodles have no cholesterol also and are non GMO verified.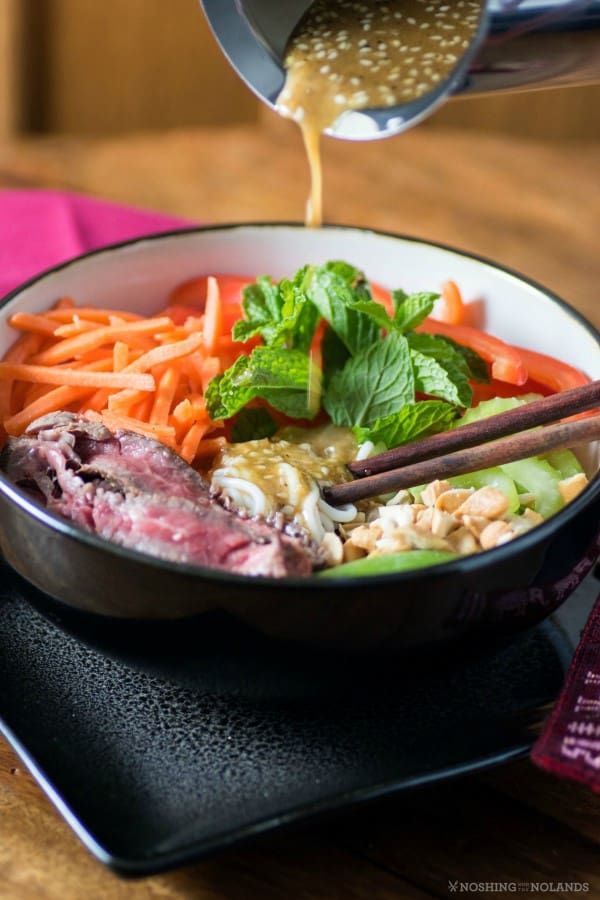 The dressing is just fabulous too. Have you tried miso paste before? It adds the perfect umami flavor to the dressing along with sesame oil, soy sauce, lime, honey, ginger and more! Have you ever tried mint instead of cilantro in a dish? You will be pleasantly surprised how fabulous it is. Keep the leaves whole and let each person tear their own into the bowl then it is not presented bruised and is freshly torn giving off wonderful aromas.
I can't wait to have this Shirataki Noodle Buddha Bowl again!!
The Recipe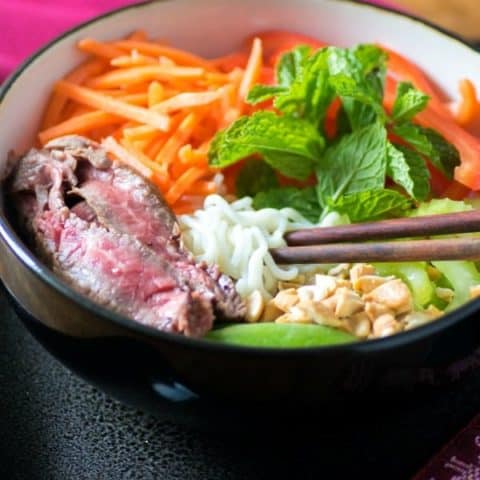 Tofu Shirataki Noodle Buddha Bowl
Yield: 3-4 servings
Prep Time: 15 minutes
Cook Time: 6 minutes
Total Time: 21 minutes
Tofu Shirataki Noodle Buddha Bowl will take you to another level of umami delights with this fast and easy to pull together dinner that is healthy and delicious!
Ingredients
2 House Foods pkgs. Tofu Shirataki Spaghetti Noodles
1 large strip loin steak, salted and peppered
1 Tbsp. butter
Vegetables of your choice, we used matchstick carrots, sliced red peppers, sliced celery, and snap peas
Chopped cashews
Fresh mint
Miso Dressing
1 Tbsp. soy sauce (gluten free if needed)
1 1/2 Tbsp. white miso paste
1 Tbsp. honey (omit if making vegan)
2 Tbsp. rice wine vinegar
1 Tbsp. ginger root, grated or jarred
1 tsp. garlic, finely minced
1 tsp. sesame seeds
1 1/2 tsp. lime juice
1 Tbsp. sesame oil
Salt and pepper to taste
Instructions
Drain and rinse shirataki noodles and boil for 2-3 min. and drain, set aside to cool.
Heat the butter in a cast iron pan over medium high heat and cook steak depending on thickness until medium rare. Ours was about 3 min. per side for a 3/4" steak. Let rest for 5 min.
For the dressing: whisk the miso paste into the soy sauce and then add the other ingredients and whisk well. Set aside.
Place a serving of noodles in the bottom of a bowl. Top with veggies and sliced steak. Add a bunch or two of mint leaves.
Serve with the dressing and have everyone tear the mint into the buddha bowl.