I have been wanting to make muffins forever!! Time just seems to fly by so quickly but when I saw these gorgeous Zucchini Carrot Breakfast Muffins in the HOMEGROWN cookbook by Mairlyn Smith, I knew these were a must make!!
Want another great recipe to use up some of that homegrown zucchini? Try our Zucchini Au Gratin with Rice, a delicious side dish!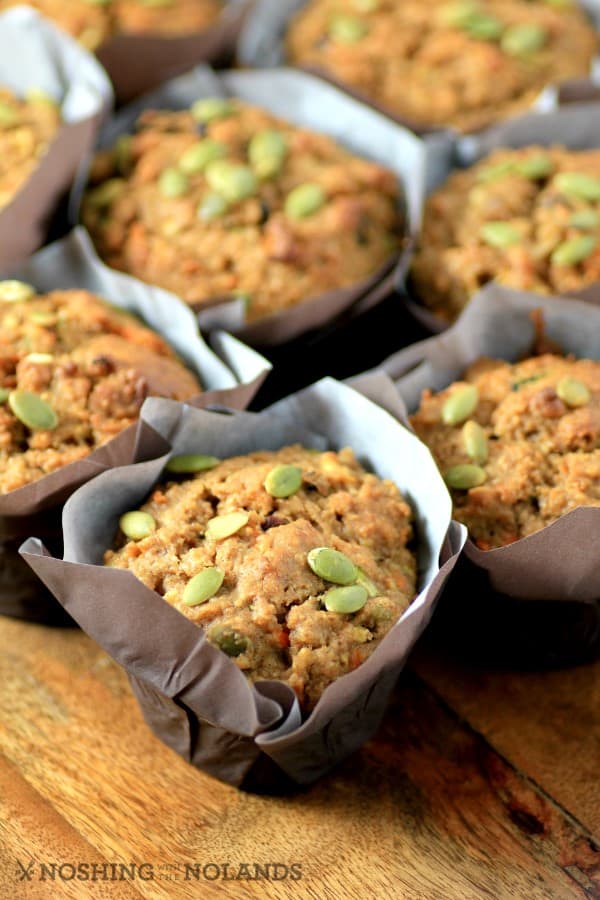 These were really amazing and stocked full of healthy ingredients. I so looked forward to having one every morning.
They stayed fresh and moist for days!! I knew I was feeding myself and my family a very wholesome breakfast!
There are lots that goes into these muffins but don't let that scare you off, each one of them add so much to these muffins.
Homegrown by Mairlyn Smith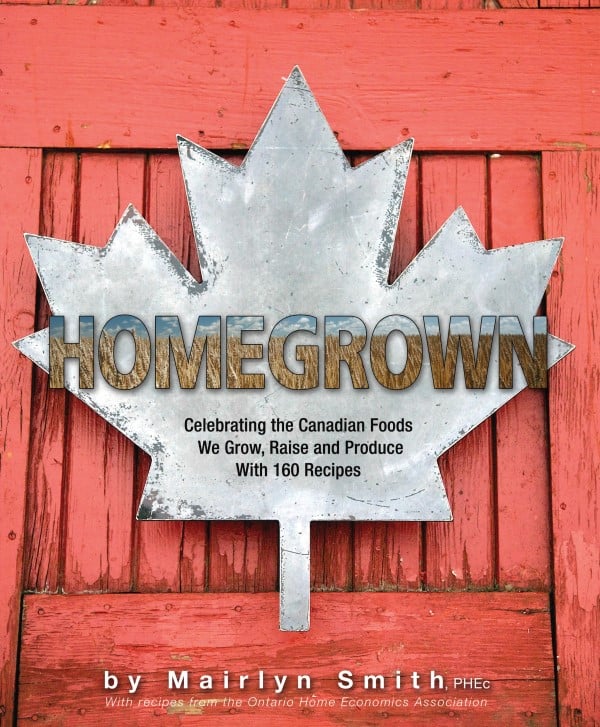 I looked at this cookbook like a magazine, right from front page to the end. Flipping from one delicious recipe to the next, taking me on a gorgeous culinary journey.
Homegrown celebrates Canada and it's bounty from the Pacific coastline to the shores of PEI. Mairlyn Smith, a professional Home Economist stirs some Canada into each and every recipe in this cookbook.
Whether it is a hearty stew made with Saskatchewan lentils, a BC blueberry pie, Nova Scotia scallops or a simple pancake from Alberta's barley flour.
She has loaded this cookbook with over 175 recipes, it is a hearty read with recipes collected from members and students of the Ontario Home Economics Association.
Homegrown showcases the Canadian farmer and is a bounty of information on what makes Canadian products unique.
The label of "Made in Canada" holds a mark of excellence on what we grow, produce or manufacture here. Homegrown shows us the best of Canada.
There is also humorous stories from Mairlyn and the OHEA members along with nutritional information and a carb counter for each recipe.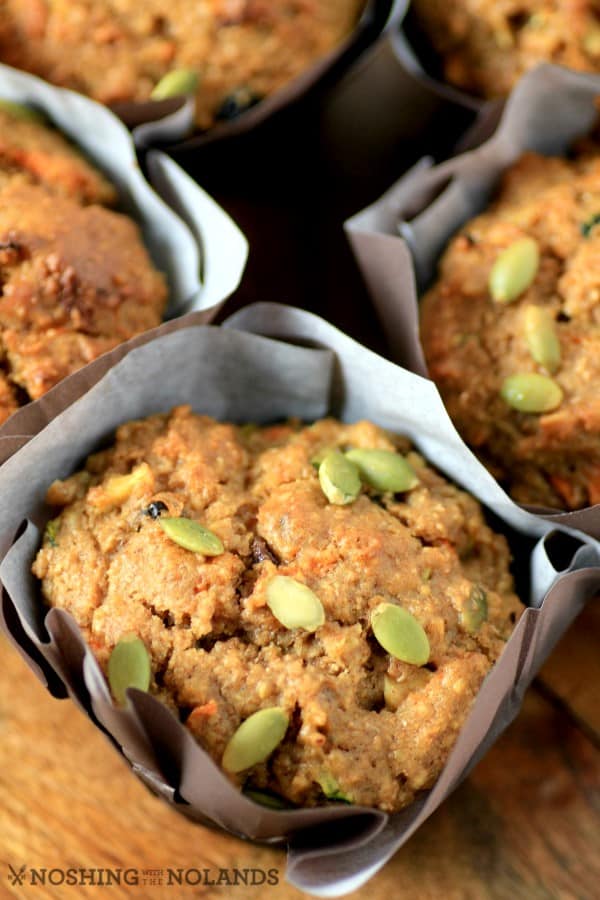 I can't say enough about the deliciousness of these hearty muffins. They kept me going all morning long! Next time, I will make a double batch and have them at the ready in the freezer!
Mairlyn Smith, the author is a regular nutritionist on Cityline and also makes frequent appearances on many morning shows across Canada.
Mairlyn's policy is that if it doesn't taste good, it doesn't matter how healthy it is. She strives to make food that is not only good for you but also good for your taste buds.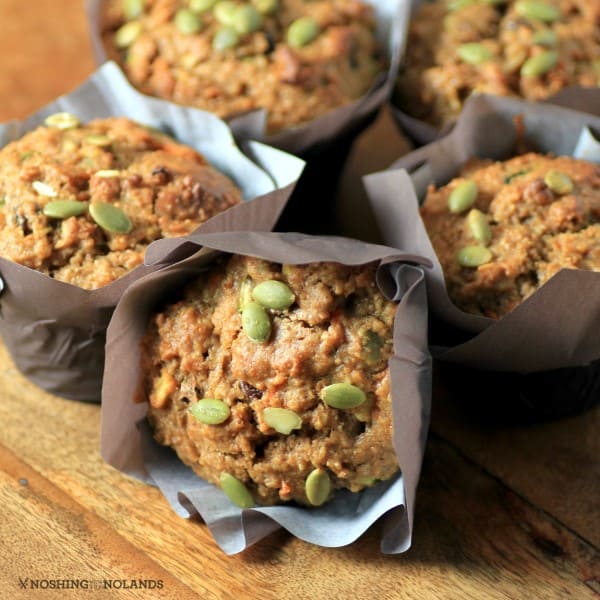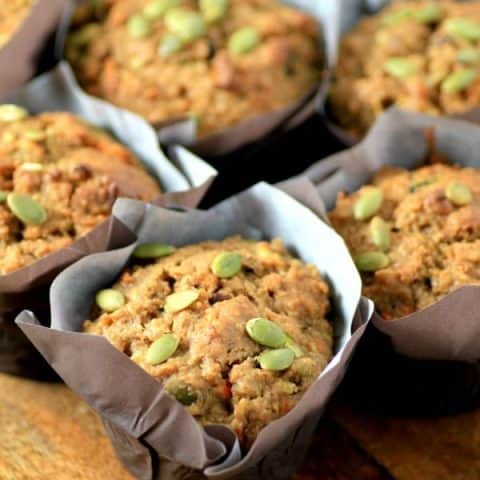 Zucchini Carrot Breakfast Muffins
Yield: 12
Prep Time: 30 minutes
Cook Time: 30 minutes
Total Time: 1 hour
"I know what you're going to say '14 ingredients for a muffin! That's way too many ingredients and too much effort.' Please try this recipe once and I know you'll be delighted with the results. You can always double up the recipe and freeze half the batch, or just measure and mix the dry ingredients and keep in a resealable bag or container in the fridge (labelled of course) to mix with the wet ingredients when the inclination strikes." —Joan
Ingredients
Dry Ingredients
2 cups (500 mL) whole wheat flour
3/4 cup (175 mL) packed dark brown sugar
1/2 cup (125 mL) large flake oats
1/4 cup (60 mL) ground flaxseed or ground flaxseed meal
1/4 cup (60 mL) unsalted raw pumpkin seeds
1/4 cup (60 mL) currents (optional)
2 Tbsp (30 mL) natural wheat germ
2 tsp (10 mL) baking powder
2 tsp (10 mL) cinnamon
Wet Ingredients
1 cup (250 mL) skim milk
1/2 cup (125 mL) canola oil
2 omega-3 eggs
1 cup (250 mL) finely grated zucchini (see note)
1 cup (250 mL) finely grated carrot (see note)
1/2 cup (125 mL) finely chopped apple, peel on
Instructions
METHOD
Preheat oven to 375°F (180°C). Line a muffin tin with 12 large paper muffin liners.
In a large bowl, whisk together all of the dry ingredients.
In a medium bowl, whisk together all of the wet ingredients.
Pour wet ingredients into the dry ingredients and stir just to combine.
Using a large ice cream scoop, scoop the mixture equally into the muffin liners.
Bake for 25 to 30 minutes or until a cake tester inserted into centre of a muffin comes out clean.
Allow pan to cool slightly on a cooling rack for 5 minutes. Remove muffins from the pan and continue cooling before storing.
Can be stored in a covered container for 2 to 3 days or frozen for up to 3 months.
Ingredient Note:
Grated Vegetables—When grating the zucchini and carrot, you need to choose the finest grate on your hand-held grater or food processor.
Makes 12 muffins One serving = 1 muffin
Per serving: 297 Calories, 14 g Total Fat, 1.5 g Saturated Fat, 0.2 g Trans Fat, 83 mg Sodium, 36.4 g Carbohydrate, 4 g Fibre, 16.3 g Sugars, 13.5 g Added Sugars, 7.4 g Protein
Carbohydrate Choices: 2
Flaxseed 101
• Flaxseed comes whole, ground or as a meal.
• For economy, buy flaxseeds whole and then grind them up in a coffee bean mill.
• Don't become overzealous and grind them into flour. Just keep pulsing until it looks like coarse sand.
• Once flaxseed has been ground, store in a covered container in the fridge. It will stay fresh for up to three months.
• You can buy flaxseed already ground, located in the refrigerated section of your grocery store. That's the big tip-off—you need to store it your fridge as well.
• Flaxseed meal and ground flaxseed are not standardized. Depending on the company you purchase your ground flaxseed from there can be varying amounts of fat in their ground flaxseed. The fat is a heart healthy fat and you don't want too little, so for heart health choose ground flaxseed or, better yet, grind your own.
• Whole flaxseeds are difficult to digest and act as a laxative. Grind them up and your body will absorb the omega-3 fatty acids and the plant lignins.
Health Bite
Ground flaxseed can help lower your cholesterol, which can help reduce your chances of developing heart disease. We recommend 1 to 2 Tbsp (15 to 30 mL) ground flaxseed per day.
Sound the celebratory bells: flaxseed received a Health Claim from Health Canada in 2014 because of its ability to lower cholesterol.
Flaxseed
Flaxseed is grown in Alberta, Manitoba, New Brunswick, Nova Scotia, Prince Edward Island and Saskatchewan which is the leader, producing 82% of all flaxseed grown in Canada.
Nutrition Information:
Yield: 12
Serving Size: 1
Amount Per Serving:
Calories: 378
Total Fat: 19g
Saturated Fat: 2g
Trans Fat: 0g
Unsaturated Fat: 16g
Cholesterol: 47mg
Sodium: 125mg
Carbohydrates: 46g
Fiber: 9g
Sugar: 18g
Protein: 10g