Grilled Pepper, Mushroom and Zucchini Panini
Maybe you are getting tired of grilled veggies with other dishes but put them in a sandwich and it brings a whole new light onto them. We really try to do vegetarian once a week at least.
These paninis are an excellent example of how to incorporate an easy vegetarian meal into your late-summer dinner. A lot of veggies are at their height right now so go and visit your local farmer's market and grab some of the bounties that are out there.
Eating local has never been easier than at this time of year for all the wonderful variety you can get. Pack all that into a lovely Grilled Pepper, Mushroom and Zucchini Panini sandwich and you have dinner on the table in no time. Enjoy!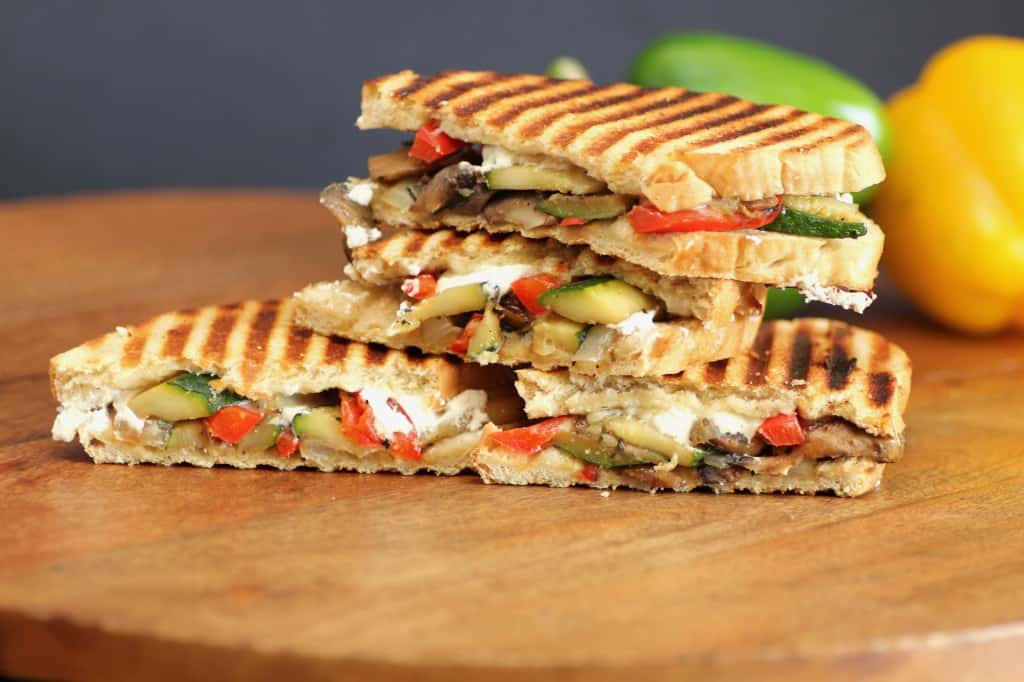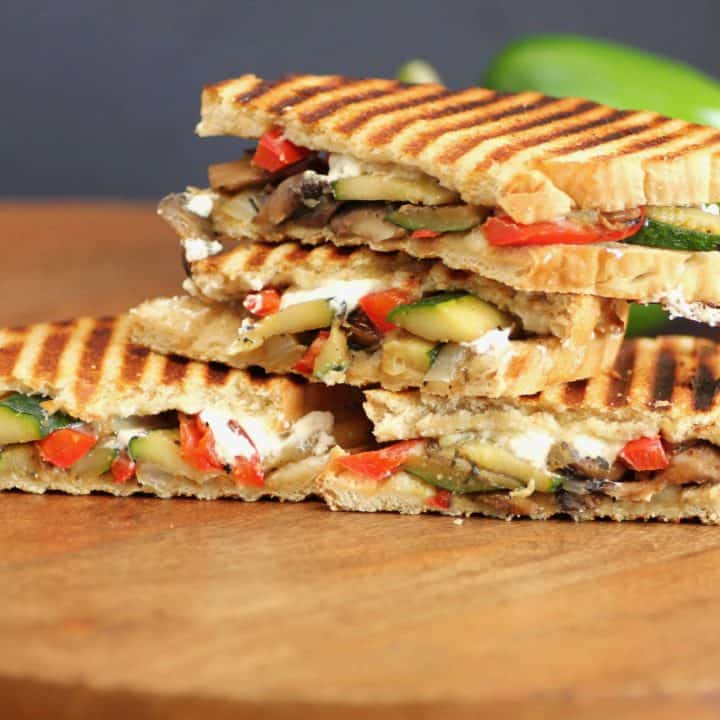 Grilled Veggie Panini
Yield: 3 Sandwiches
Prep Time: 15 minutes
Cook Time: 45 minutes
Total Time: 1 hour
A delicious fresh feast of vegetables in a sandwich.
Ingredients
1/2 red pepper, sliced
1/2 yellow pepper, sliced
1 zucchini, medium, sliced
1/2 sweet Walla Walla onion, sliced
5 large mushrooms, sliced
1 tsp. garlic powder
1 tsp. dried basil
1 tsp. dried thyme
1 tsp. tarragon
2 Tbsp. olive oil
1/2 cup shredded mozzarella cheese
1 1/2 oz. goat cheese
6 large slices panini bread
Butter
Instructions
Place the mushrooms, red and yellow pepper, zucchini, onion in a large bowl. Sprinkle on the basil, thyme and tarragon. Toss with the olive oil. Transfer the veggies into a BBQ wok. Heat BBQ to medium and stir fry for 25-35 min. until veggies are tender.
Preheat panini maker. Lightly butter the outsides of the bread and mound on the veggies dividing them among the three sandwiches. Sprinkle each sandwich with some of the goat cheese and then the mozzarella. Top with the other slice of bread with the butter side out.
Place as many sandwiches that will fit into the panini maker and close the lid. Grill until the cheese is melted and the outside is nicely grill marked. Again this is where healthy meets great tasting!!
Nutrition Information:
Yield: 3
Serving Size: 1
Amount Per Serving:
Calories: 414
Total Fat: 21g
Saturated Fat: 8g
Trans Fat: 0g
Unsaturated Fat: 12g
Cholesterol: 26mg
Sodium: 507mg
Carbohydrates: 44g
Fiber: 4g
Sugar: 9g
Protein: 14g
Recipe calculation was provided by Nutritionix and is estimation only. If you need nutritional calculations for medical reasons, please use a source that you trust