Maple Bourbon Pecan Salmon
Have you heard of sous vide cooking before? It is a French term and in direct translation it means "under vacuum". It is a method of cooking where food is vacuum sealed and then cooked in a water bath. We have been experimenting with this indepth. The recipe that won out for us was this Maple Bourbon Pecan Salmon, truly incredible.
We have tried steak to mouth watering success, veggies to perfection, juicy chicken but best of all I found the salmon to be just amazing. Well, the steak is a sure fire competitor too!! The texture of the fish is perfection and all you need after the water bath is salt and pepper if desired and a quick sear in butter or oil. In the case of this recipe we added a maple bourbon pecan sauce just before serving.
Disclosure: I was compensated for this post by getting free product. All opinions and experiences are my own.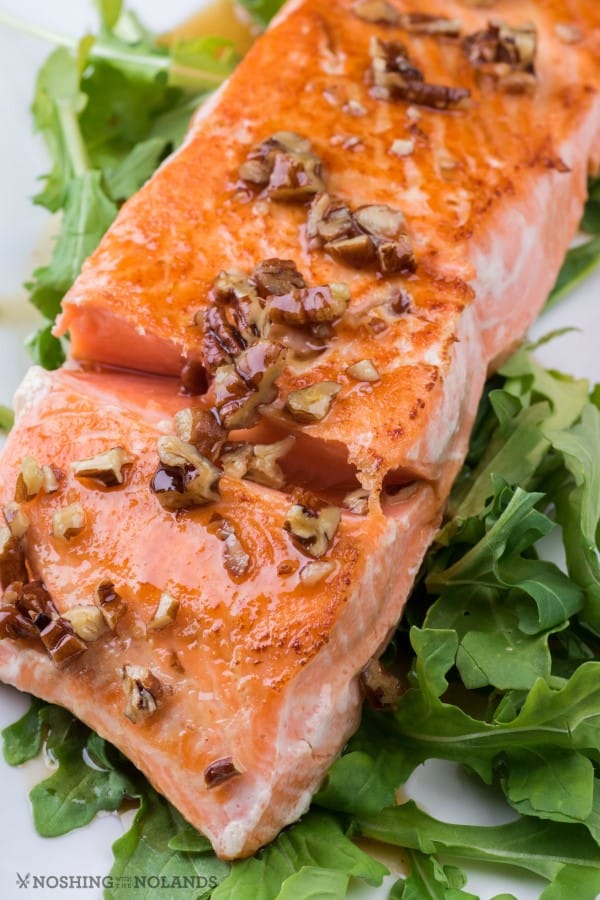 The salmon just melts in your mouth. The sauce is sweet with a hint of bourbon and citrus and the crunch from the pecans. Using a sous vide is so simple and gives you foolproof cooking. You can really impress your family and friends with this cooking method as it takes a lot of the guess work out of getting a perfect entree.
Hamilton Beach Sous Vide/Slow Cooker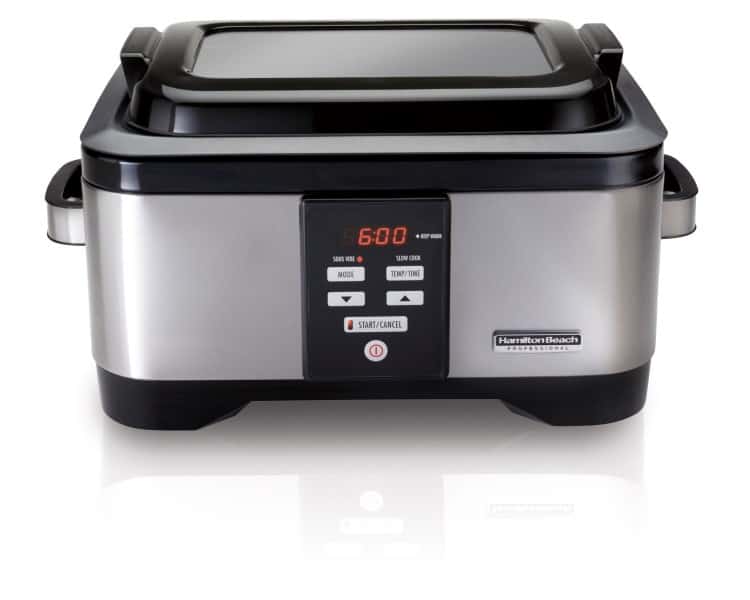 I love the Hamilton Beach new sous vide/slow cooker. If you are interested in a sous vide then your total investment doesn't have to be just that machine. I have used the slow cooker also and found it extemely easy to use and I love the big wide rectangle shape for stirring and for larger cuts of meat.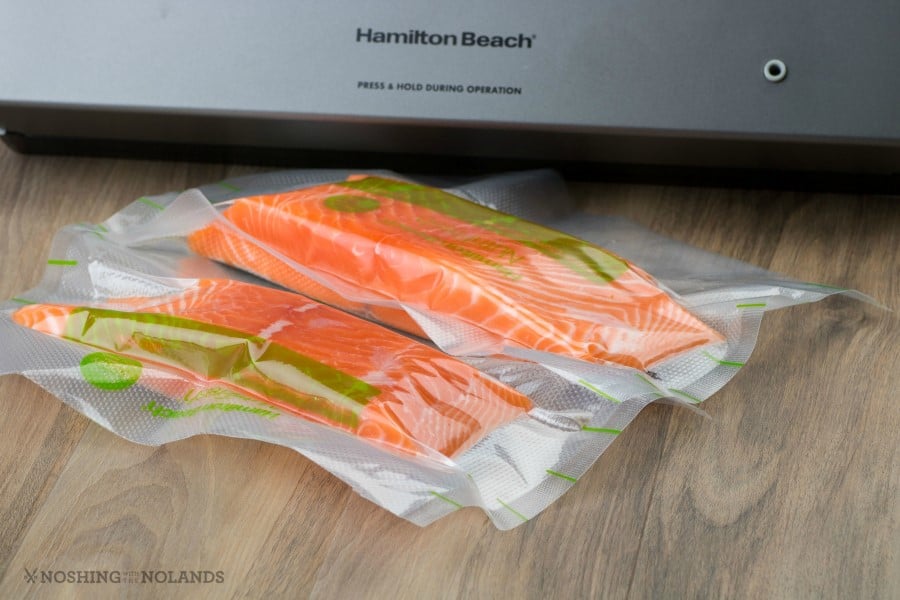 Also a necessary tool for sous vide is a vacuum sealer. Hamilton Beach has one that I love to play with. I can't wait for the farmer's market as I will be freezing lots of fresh produce this year to last us over the winter. Stay tuned for tricks and tips on that!! They also supply all the accessories you need. The vacuum sealer comes with bags and heat-seal rolls. So easy to use and you can make them to the size you like.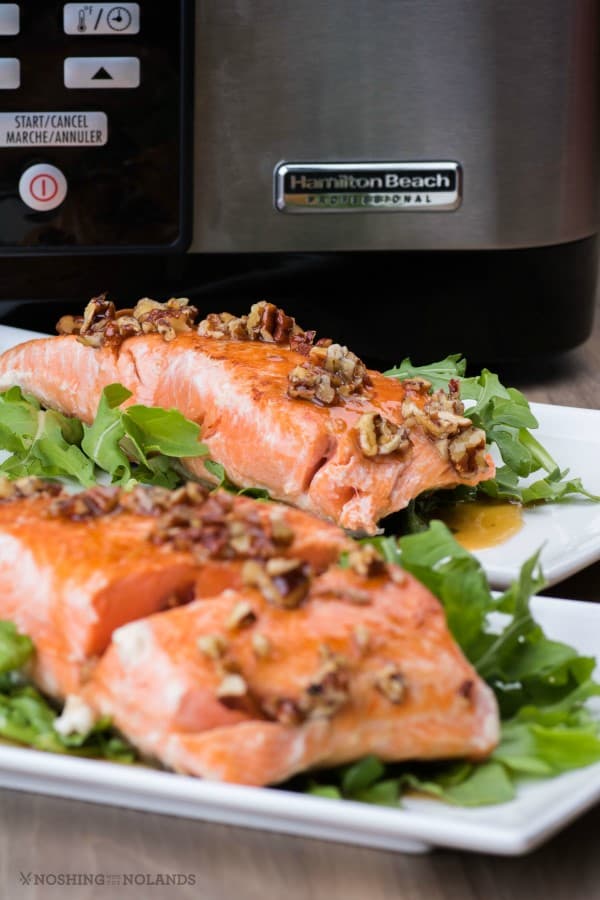 After your meat is vacuum sealed you just add warm water to the sous vide and adjust the temperature. For salmon it is 125F. Then place the packets in and cook for 20-30 min. When the sous vide dings the salmon is ready for a quick sear, sauce and serve.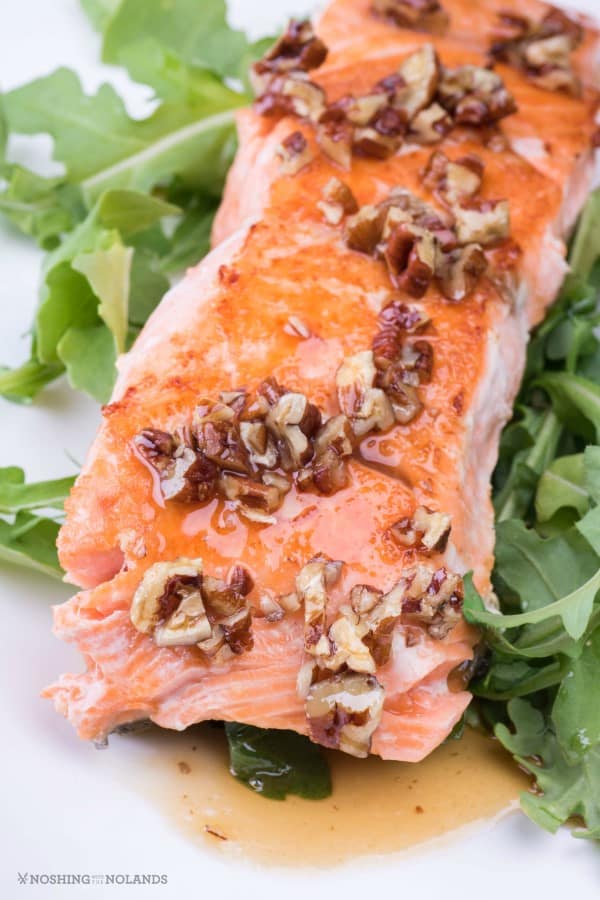 Cooking beef is a bit different as you select the temperature you want the beef to be cooked to depending on how rare or cooked you like. The meat can then rest in the water for several hours keeping it at the correct doneness you have selected. How easy is that for serving? You can sip and chat over a glass of wine with company and have no fear of your steaks being overdone.
When you want to serve all you need to do is a quick sear and serve. The meat is cooked to perfection all the way through, not with cold interiors to well done outsides. It is the best way to cook meat in my opinion, period!
The Recipe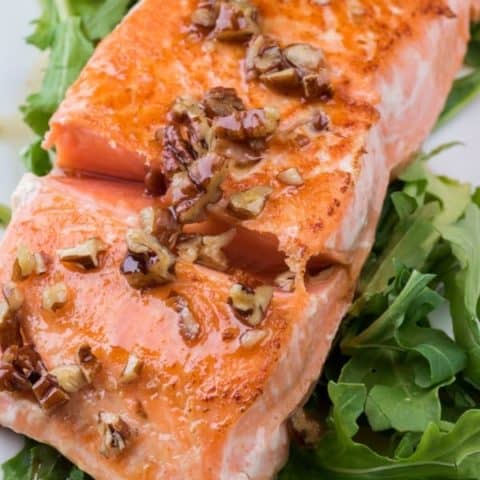 Maple Bourbon Pecan Salmon
Yield: 2-4 servings
Prep Time: 10 minutes
Cook Time: 32 minutes
Total Time: 42 minutes
This gorgeous dish is so much easier than you think with sous vide cooking and a quick sear. The maple bourbon pecan sauce is heavenly with the salmon.
Ingredients
1/2 cup pure maple syrup
1/4 cup bourbon
1/4 cup orange juice
1/4 cup pecans pieces, roasted if desired
pinch of salt
2 large salmon fillets
Salt and pepper
Instructions
Vacuum seal the salmon fillets using Hamilton Beach's vacuum sealer following the instructions and place them in the hot 125F bath. Let cook for 20-30 min. depending on desired doneness. We always cook them to 30 min.
While the salmon cooks make the sauce. Add the maple syrup, bourbon, orange juice and salt to a small saucepan and heat to simmering. Reduce to a slightly thickened sauce. Add the pecans. Set aside but keep warm.
When the salmon is done, remove the fillets from the vacuum bags, salt and pepper as desired and sear in a hot skillet in oil or butter, just until the outside is crisped. Serve with the sauce immediately.