Aunt Lil's Coconut Strawberries
Do you have a little hidden family recipe that a loved one used to make you? These Aunt Lil's Coconut Strawberries were made by Ken's aunt Lil and he remembers them well. Sweet and delicious, fun and full of summer memories for him being out on the farm.
I love how he puts the little green tops on them and dyes the toothpicks green too. These little delicacies would be great packed up for a picnic, a summer shower, BBQ, backyard gathering, potluck and more!! Kids would love them and adults would be intrigued by them.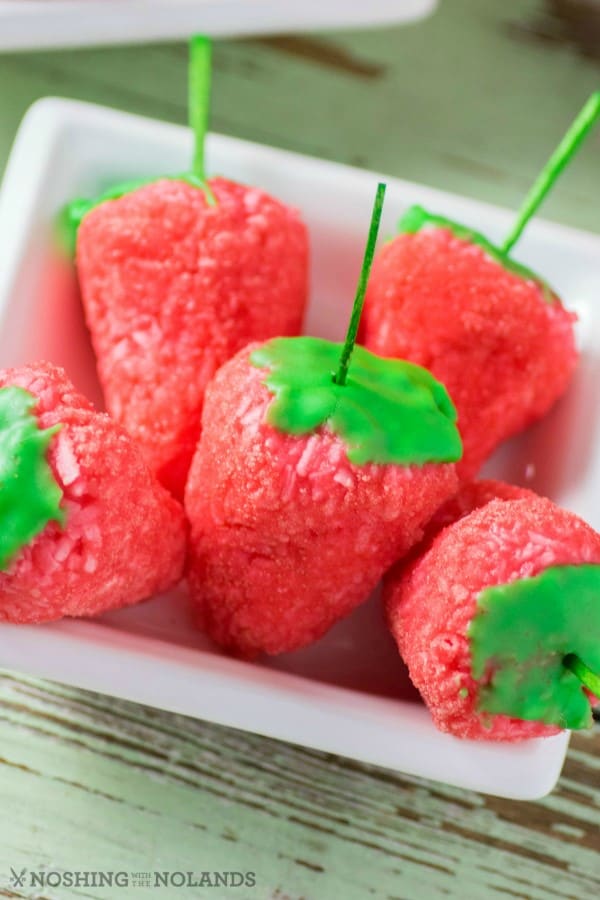 I think they are so cute and made with love and loving memories are so important. Ken has a couple other recipes of his Aunt's that he wants to share with you. So stay tuned for more!!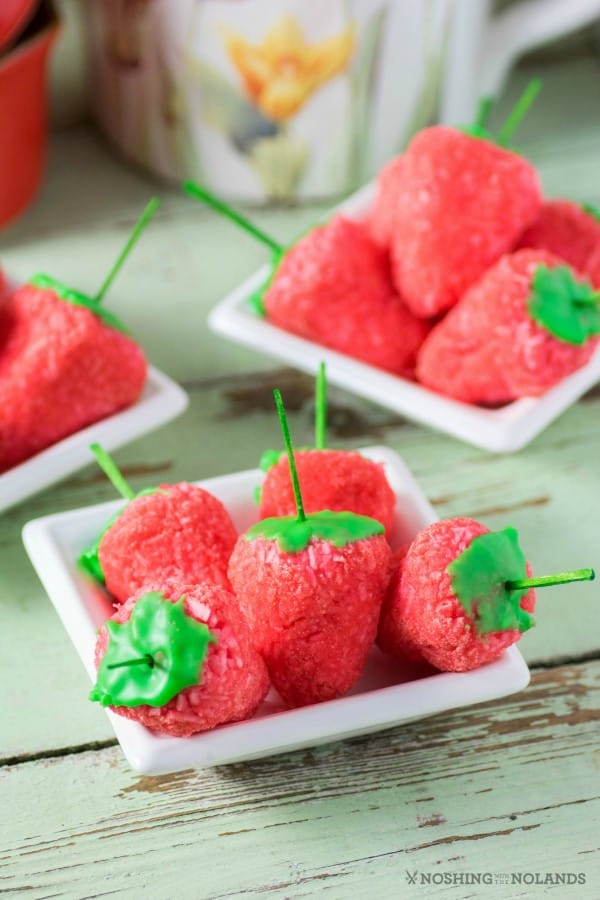 This recipe is very easy actually and for the strawberries themselves there is only 3 ingredients. Strawberry jello powder, coconut and sweetened condensed milk. The taste of these is delicious, a sugary treat that is retro cool. If you have a sweet tooth, these will be right up your alley!! Not only are they pretty for the summer months but would be gorgeous on a Christmas tray too.
I am very happy to pass this recipe down to you all to enjoy!! Have fun with it and maybe someone in your family made them too and it brings back memories for you!!
The Recipe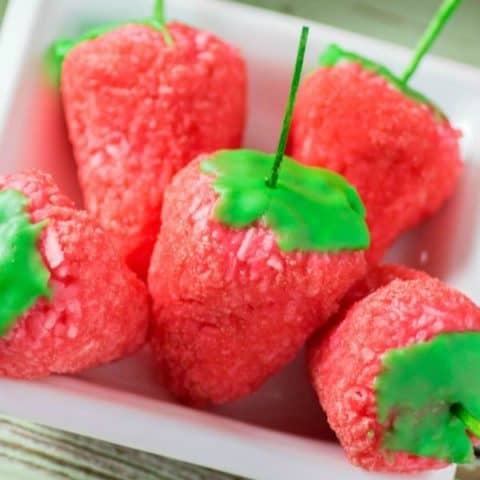 Aunt Lil's Coconut Strawberries
Yield: 24
Prep Time: 20 minutes
Total Time: 20 minutes
Aunt Lil's Coconut Strawberries are a fun sweet treat that bring back great memories for Ken of days on the farm. Start making your own memories with these delicious little bites.
Ingredients
6 oz. strawberry jello
1 (10 oz.) can sweetened condensed milk
14 oz. fine coconut
Icing
1/4 cup confectioner's sugar (also called icing or powdered sugar)
1 scant tsp. cream
4 drops green food coloring
Toothpicks dipped in green food coloring
Instructions
Reserve 2 Tbsp. jello powder. In a large bowl mix together the coconut, jello and condensed milk.Chill mixture for 1 hour. Dip 24 toothpicks into green food coloring, dipping in about 1/2 way. Let dry on wax paper.
Shape the mixture into 24 strawberries and then roll in the reserved jello powder. Mix together the confectioner's sugar, cream and food coloring together. Swipe with the back of a spoon a little green top onto the strawberries and insert the toothpick. Refrigerate in a sealed container until ready to serve.